Introduction
Powder polyester resin is a type of a high performance engineering plastic known for the versatility it provides through its properties of high density, excellent strength, and water resistance. The balance between high strength and durability that it provides has led its use in various indoor and outdoor applications, widely utilized in residential and commercial construction. Its water and corrosion resistance properties allows it to find applications in anti-corrosive coatings used in a variety of sectors such as automotive, oil and gas, aerospace, and more, thereby giving a boost to the expansion of the global powder polyester resins market size.
Powder Polyester Resins Market Trends
Growing Demand for Cost-effective Products: Powder polyester resin is used in a wide range of applications, and hence, it's processed differently depending upon the properties required for that specific application. Also, raw material prices for powder polyester are extremely volatile and keep on fluctuating. These two factors have created disparity in the powder polyester resins market, which has led to the high requirement of good quality powder polyester at an economic cost. In order to meet this demand, investments in research & development by manufacturers are high to achieve economic prices to cater to growing demand for the product in the market, and thereby gain customers. This is also a factor that is driving innovation in the powder polyester resins market space.
Robust Growth in Demand from Paints & Coatings Industry: The paints and coatings industry and construction industry are the two major end-use segments of powder polyester resins. The paints and coatings industry, in particular, is showing massive growth due to a wide variety of end uses. Powder polyester resins are used as a compounding agent along with paints to provide the necessary corrosion resistance properties that are highly desired in automotive and industrial coatings, oil and gas coatings, fabrication coatings, and more. Growth for paints and coatings is projected to be quite significant, with the market expected to witness twofold growth by 2030, and expected to provide considerable new revenue opportunities to stakeholders in the powder polyester resins market.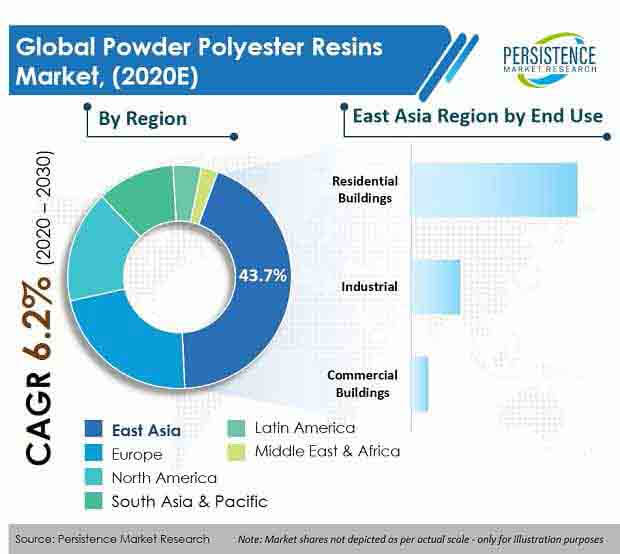 Regional Outlook of Powder Polyester Resins Market
East Asian shows significant diversity considering its trade relations, regulations, norms, and customer base when compared to other regions. All these factors, cumulatively, have helped East Asian dominate the powder polyester resins market share. Asia Pacific accounts for 45% of the global paints and coatings value share, which is dominated by East Asian countries acquiring around 70% total share, with China being the biggest market. The region also has the highest GDP growth compared to others. Increasing industrial base, growing urbanization, rising spending capacity, availability of raw materials & labor at economic pricing, and a large number of key manufacturers are some of the enabling factors associated with the dominance of the East Asian region in the global powder polyester resins market.
Key Factor for Success: Supply Chain and Cost Improvement
In-depth understanding about regional demand, growth in end-use segments, and customer behavior will be very critical for key manufacturers in the powder polyester resins market, as competition grows. Research & development to attain economic costs and good quality for rather expensively-processed power polyester resins will definitely attract customers, and thereby improve market share. Achieving only cost reduction won't be enough, but a considerable amount of focus should also be given to supply cost-effective products globally to developing regions and countries, which will provide strong growth opportunities to players in the global powder polyester resins market space.
Manufacturers' Focus: Strategic Collaborations
As the competition in the powder polyester resins market is increasing, manufacturers are indulging in collaborations and partnerships to gain an edge over competitors. There are the major factors for which collaborations are being carried out, namely improving market reach, production, and technological resources. Key manufacturers are also collaborating directly with end-use companies in order to understand their specific requirements and provide tailored products to them, ensuring continuous demand and thereby adding value to their business.
Powder Polyester Resins Market: Fairly Competitive Market
The global powder polyester resins market is fragmented in nature, and as a consequence, competition in this space is extremely high, with established players competing to gain advantage over others and rising local players trying to provide cost-effective solutions. Increasing localization is also making established players be present as close to end-use markets as possible, in order to sustain the market share they hold. Some of the key players in the global powder polyester resins market are DIC Corporation, Arkema S.A., DSM, Marpol Private Limited, Stepan Company, Anhui Shenjian New Materials Co Ltd, Evonik Industries, Tough Color Resins Private Limited, Karna Paints, and others.
Impact of COVID-19 Pandemic on Powder Polyester Resins Market
The COVID-19 pandemic has hit most industries and economies, with the powder polyester resins market too suffering due to this crisis. Disrupted supply chains and low demand from end-use industries will hurt market growth in the short term. The powder polyester resins market is expected to get back to its normal growth trajectory in the first half of 2021.
Analysts' Viewpoint
Balance of properties provided by powder polyester resins and their ability to be incorporated in different forms are major reasons behind their popularity, which is expected to increase with growth in construction and paints & coatings industries. The main focus of manufacturers in the powder polyester resins market is to provide cost-effective and broad portfolio of products to customers throughout the globe, for which, they are indulging in partnerships and collaborations. Overall demand for powder polyester resins is massively driven by end-use segments of paints and construction, which are flourishing sectors owing increase in urbanization, population, GDP, and many other micro- and macro-economic factors. Spread of COVID-19 has definitely impacted the market adversely, with slumped demand and disrupted supply chains. However, the outlook of the industry looks promising as things gradually get back on track and production improves slowly in the first half of 2021.