High Purity Quartz (HPQ) Market Outlook (2022-2032)
Worldwide sales of high purity quartz (HPQ) are expected to reach around US$ 918.8 Mn by the end of 2022. From 2022 to 2032, the global high purity quartz market is predicted to expand at 6.5% CAGR and be valued at around US$ 1.72 Bn by 2032.
| | |
| --- | --- |
| High Purity Quartz Market Size (2021A) | US$ 861.8 Mn |
| Market Projections (2032F) | US$ 1.72 Bn |
| Value CAGR (2022-2032) | 6.5% |
| Collective Value Share: Top 3 Countries (2022E) | 53.8% |
High Purity Quartz Consumption Analysis from 2017 to 2021 Vs Market Outlook for 2022 to 2032
Revenue from high purity quartz sales collectively totaled US$ 861.8 Mn in 2021. Growing consumption of high purity quartz in various end-use industries is the key driving factor for market growth.
The global high purity quartz market is a highly specialized and strictly consolidated space, with a small number of market participants manufacturing and dealing in roughly 4/5 of global demand by volume. However, the market is also seeing the entry of new players.
The global high purity quartz Industry has been characterized by constantly rising prices, increasing HPQ demand, and a lack of alternative suppliers. This is due to increased demand from end users such as the semiconductors industry and manufacturers of PV cells for solar energy. Cost of HPQ is rising due to increased demand for purity.
Going forward, the global HPQ market is slated to expand at 6.5% CAGR through 2032.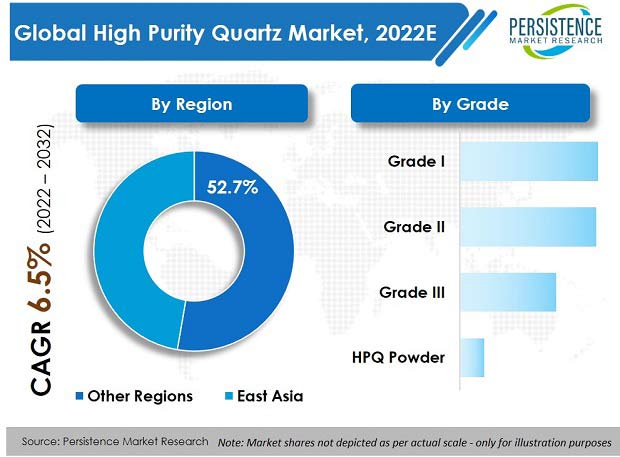 Why is There Rapidly Increasing Consumption of High Purity Quartz?
"High HPQ Demand from Manufacturers of Fiber Optics"
Growing demand for increased network bandwidth as well as rising Internet penetration across the world is driving demand for high purity quartz to be used in fiber optics. Fiber optics enable transmission over longer distances with less loss and are impervious to electromagnetic interference.
Rapidly expanding broadband market and massive investments in 3G/4G/5G infrastructure are driving significant demand for high purity quartz, particularly from major optical fiber manufacturers, majority of whom are based in the United States and China.
In the last ten years, solar PVs have rapidly progressed from a niche market to a mainstream electric source. China, Japan, India, Australia, and Thailand are expected to drive future demand for solar PVs. However, the United Kingdom and the United States will continue to see significant impact on demand. The most significant factor driving high purity quartz revenue growth is the growing solar PV industry.
"Huge Potential of HPQ in Mineral Technology"
Mineral technology start-ups are becoming more interested in high purity quartz. Because existing purification technologies are regarded as energy-intensive and non-ecological, the market is hungry for new solutions. The HPQ market is viewed as an appealing investment for companies looking to replace current production standards.
"Solar and Electronics – Key End-use Sectors of HPQ"
The market for high purity quartz is witnessing the emergence of new players, as the industry consists of significant growth opportunities from growing demand from various end-use sectors. The high purity quartz industry is gaining significant attention from key solar and electronics companies amid rising prices of HPQ and the inevitable dependency on minerals.
In recent years, the world's key solar PV and microelectronics manufacturers have been trying to integrate with HPQ suppliers and manufacturers to guard against sudden supply disruptions and price volatility. New technological partnerships are also sprouting in the global HPQ industry and are aimed at reducing the cost of high-grade silicon production.
What is Hindering Market Growth of High Purity Quartz to Some Extent?
"Highly Specialized HPQ Market – Barrier for New Entrants"
High purity quartz is regarded as a highly specialized and secretive market, with prominent suppliers reluctant to reveal their production and processing techniques for fear of losing margins to new entrants. This is considerably preventing, and, in many cases, halting the entry of a huge number of quartz players into the industry, including those with relatively high natural purity (99.9 percent or higher).
However, a few silica startups are expected to see this constraint as an opportunity to introduce efficient production techniques in order to meet ever-increasing demand for HPQ.
"Scarcity of High Purity Quartz Mines"
One of the most significant factors impeding industry growth is the scarcity of high purity quartz mines. Currently, only two prominent mines (Spruce Pine, North Carolina, U.S. and Kyshtym, Russia) account for more than 95% of global HPQ production. A number of mines in Australia, Canada, Mauritania, Russia, and Norway have reported high purity quartz potential, but none of these mines are able to produce a product meeting IOTA standards in a cost-effective and consistent manner.
Limited market size and rigid consolidation make it difficult for new small businesses to enter the high purity quartz landscape. Small- and medium-sized quartz mining verticals are hesitant to enter the market despite high margins, due to the complexities of the high purity quartz market structure.
Country-wise Analysis
What's Captivating HPQ Manufactures to Expand in the U.S.?
The United States is expected to continue to be a significant market for HPQ. The country is expected to contribute approximately 16.4% of total revenue generated by HPQ sales, globally, in 2022.
HPQ has emerged as a key strategic material in high-tech applications such as microelectronics, fibre optics, microcrystalline solar cells, semiconductor-fused quartz, and high-intensity lighting tubing. Expanding HPQ usage in the manufacture of electronic parts is expected to be the market's primary driving force.
Increasing consumption of electronics & electrical items in the region, especially in the U.S., is expected to bolster demand for HPQ over the forecast period.
Why Does China Account for Significant Share in the High Purity Quartz Market?
HPQ demand in China is expected to grow 8.5% year-on-year in 2022, defying initial concerns about how the market would fare during a global pandemic. East Asia, especially China, is expected to emerge as a key market for high purity quartz owing to the presence of several end-use industries including the electronics sector where the consumption of high purity quartz is high.
Due to the presence of numerous manufacturers and the country's high manufacturing capability of electronic devices, China is the world's leading manufacturer of electronic devices and components.
The electronics and electrical industry produces a wide range of products, from radios to smartphones. Furthermore, the sector includes hardware for the field of communications electronics, such as desktop computers, laptops, smartphones, and tablets. The growing electronics industry is favouring growth of the HPQ market and is anticipated to create more lucrative growth opportunities over the coming years.
Category-wise Insights
Will High Demand for Semiconductor ICs Benefit HPQ Suppliers?
HPQ sales are being driven by rising demand for semiconductor ICs, particularly as the Internet of Things (IoT) grows in popularity. The process of making semiconductors upstream is very similar to that of making solar cells. To make metallic semiconductor grade Si, an HPQ glass crucible is used.
Only high-grade HPQ is used for this purpose, as even the tiniest impurity in a semiconductor can cause it to be discarded completely, wasting millions of dollars. HPQ and its derivatives have a variety of applications in the semiconductor industry. Growing demand for semiconductors in various industries will parallelly drive the market for high purity quartz.
Semiconductor and solar end-use segments will remain prominent sectors for the consumption of high purity quartz during the forecast period. Semiconductor and solar panel production is anticipated to create substantial market opportunities for key HPQ producers over the coming years.
The semiconductor segment is expected to reach a value of around US$ 639.9 Mn by ear 2032.
What are the Growth Prospects for Grade III High Purity Quartz?
In terms of grade, grade III HPQ is dominating the market. The grade III segment is anticipated to account for around 44.3% of overall demand in the global market in 2022.
Grade III HPQ is made up of high purity quartz with a SiO2 concentration of more than 99.99 percent. In the context of grade III, HPQ is equivalent to the IOTA 8 standard. Semiconductor grade crucibles as well as high-end solar and semiconductor applications are some of the most common uses of grade III HPQ.
Did COVID-19 Dent the Sales Prospects of High Purity Quartz?
The global HPQ market took a big hit in 2020 due to rising demand from end-user industries. COVID-19 had a negative impact on the global economy, affecting all countries around the world. Majority of countries affected by the pandemic were forced to implement widespread shutdowns, which harmed their industrial and commercial activities.
The COVID-19 pandemic hampered the global supply chain and shipping, resulting in a drop in high purity quartz sales. Many manufacturing facilities were closed, causing supply and demand to be disrupted. It put a dent on end-use industries and spending on high purity quartz, resulting in a number of layoffs and project cancellations or delays, along with the shutdown of manufacturing plants.
However, the market is back to pre-pandemic levels and is set to expand rapidly over the coming years.
Competitive Landscape
To increase their share in the global market, key HPQ players are focusing on expanding their production capacities, investing in R&D, acquisitions & mergers, and entering emerging markets.
In order to maintain consistent revenue flow, regional HPQ manufacturers are focusing on establishing long-term relationships with direct end users.
Some of the key market developments are:
In July 2016, Anasazi Energy Corporation acquired Solar Quartz Technologies Limited (a high-tech refining and processing manufacturer in the HPQ industry) in a reverse merger deal.
In 2014, Jiangsu Pacific Quartz invested US$ 31 Mn to build a facility for the development of quartz material for photovoltaic. In 2014, Pacific Solar Quartz Material Co. began production at a subsidiary unit in Jiangsu.
Similarly, other key developments related to companies manufacturing HPQ have been tracked by the team at Persistence Market Research, which are available in the full report.
HPQ Industry Report Scope
Attribute

Details

Forecast Period

2022-2032

Historical Data Available for

2017-2021

Market Analysis

US$ Mn for Value
Tons for Volume

Key Regions Covered

North America
Latin America
Europe
East Asia
South Asia & Pacific
The Middle East & Africa

Key Countries Covered

U.S.
Canada
Mexico
Brazil
Germany
Italy
France
U.K.
Russia
Spain
BENELUX
China
Japan
South Korea
India
ASEAN
ANZ
GCC Countries
Turkey
South Africa.

Key Market Segments Covered

Key Companies Profiled

Covia Holdings Corporation
The Quartz Corp
Russian Quartz LLC
Jiangsu Pacific Quartz Co., Ltd
High Purity Quartz Pty Ltd
I-Minerals Inc.
Creswick Quartz
Nordic Mining ASA

Pricing

Available upon Request
Key Segments Covered in HPQ Industry Research
By Grade
HPQ Powder
Grade I HPQ
Grade II HPQ
Grade III HPQ
By End Use
Semiconductors
Solar
Lighting
Telecom & Optics
Microelectronics
Others
By Region
North America HPQ Market
Latin America HPQ Market
Europe HPQ Market
East Asia HPQ Market
South Asia & Pacific HPQ Market
Middle East & Africa HPQ Market