Sports Nutrition Market Outlook (2022-2032)
Expanding at a value CAGR of 9.6%, the global sports nutrition market is projected to increase from a valuation of US$ 21 Bn in 2022 to US$ 52.5 Bn by 2032-end.
| Attribute | Key Insights |
| --- | --- |
| Sports Nutrition Market Size (2022E) | US$ 21 Bn |
| Projected Sales of Sports Nutrition (2032F) | US$ 52.5 |
| Value CAGR (2022-2032) | 9.6% |
| Value Share of Top 5 Countries (2021A) | 55% |
As of 2021, by value, sports nutrition supplement consumption accounted for around 20% of the global nutraceuticals market share. North America is projected to hold more than 20% of the global market value share for sports nutrition through 2032.
Sports Nutrition Demand Analysis (2017-2021) Vs Market Estimations (2022-2032)
Over the historical period of 2017-2021, the global sports nutrition market expanded at a value CAGR of 7.6%, fuelled by an increase in the demand and consumption of products made from natural extracts, especially in North America. Market expansion is aided by increase in disposable income as well as changes in lifestyles and healthy eating habits.
Major demanding regions for sports nutrition products are North America and East Asia. Rapid rise in consumer awareness regarding several health benefits of sports nutrition supplements is fuelling demand across the world.
The U.K., in the European region, holds the highest value share of more than 15%, followed by Germany and Russia. In North America, the U.S. holds the highest market share. The East Asia and South Asia markets are expected to reach US$ 2.27 Bn and US$ 2.53 Bn, respectively, by 2032.
Over, the global market for sports nutrition is expected to expand rapidly at a value CAGR of 9.6% through 2032.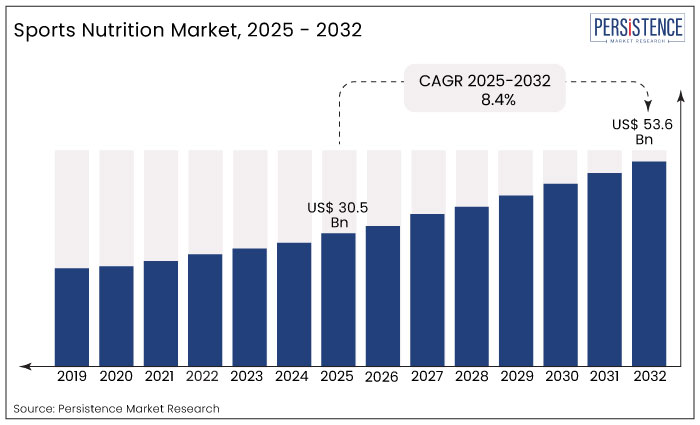 What's Driving Worldwide Demand for Sports Nutrition Products?
"Increase in Health Clubs & Fitness Centers Driving Demand for Sports Nutrition Items"
The millennial demographic is targeted by health clubs and fitness centers when it comes to signing up for memberships. Most of these health clubs make money by selling protein supplements, nutrition bars, energy drinks, and other sports nutrition goods to their members.
On the advice of medical experts, middle-aged and elderly customers are joining these exercise centers and taking nutritional supplements. Obesity and joint pain are mostly to blame for the growth in these people's participation rates.
During COVID lockdowns, the popularity of online exercise courses surged in 2020. As a result, this has become an even more effective digital platform for brand promotion. Expansion of online fitness channels would boost the sports nutrition market, which will offer incremental development prospects, according to Persistence Market Research, allowing the market to reach US$ 52.5 Bn by 2032.
"Growing Health, Wellness, & Food Fortification Trends – Boon for Sports Nutrition Providers"
Consumers have become increasingly health-conscious, with a majority allocating a large percentage of their disposable cash to fitness and well-being. They've also realized that, in addition to exercise, a healthy diet is required to achieve physical fitness. Food fortification is the addition of vital proteins, vitamins, and minerals to daily foods.
Various variables, such as increased incidence of lifestyle-related diseases and weight management, contribute to consumers' poor eating habits and inadequate nutrition consumption. High-protein foods help consumers maintain their health. Consumers are becoming more interested in sports nutrition goods such as Ready-to-Drink (RTD) products, energy bars, and nutrition snacks.
As a result, food fortification is becoming more popular, which will help the sports nutrition industry grow. With the popularity of sports in the East expanding by the day, sports academies, sports clubs, and training facilities are springing up to accommodate and train newcomers. As a result, rising interest in sports, particularly in emerging countries, is expected to propel the worldwide sports nutrition market forward.
"e-Commerce Increasing Sports Nutrition Product Transparency & Penetration"
Electronic technologies are being used more and more in the sports nutrition supply chain. e-Commerce has grown in importance as a platform for both, producers and customers. Sports nutrition product makers can promote and sell their products on a global scale, as well as connect with a far larger consumer base, thanks to rising Internet penetration.
Furthermore, customers gain from the increased use of e-Commerce in the supply chain since they have better access to products. Consumers benefit from the openness of being able to compare products and pricing on the same platform, facilitating easier decision-making. As a result of the burgeoning e-commerce business, sports nutrition supplement consumption is surging.
"Increased Use of Digital Marketing & Strategic Sponsorships for Nutritional Supplements for Sports"
Not just premier sports nutrition firms and new start-ups, but also top players in the global food and beverage sector have been intrigued by the combination of giant size and quick expansion. Consumer tastes have become puzzled as a result of the abundance of options available, making it difficult for businesses to differentiate themselves in the global sports nutrition industry.
In the end, it all boils down to how you position your product in the market, particularly in the digital realm. Although collaborations with gyms and expert suggestions are beneficial, in today's world, promoting items through content videos, sponsored partnerships, event sponsorships, and publicity stunts attract a lot of attention.
For example, Red Bull GmbH has a restricted selection of energy drinks. The brand's video portrayal, as well as tie-ins with extreme sports and music events, make it stand out, attracting the thoughts of youthful consumers.
How is Demand Growth of Sports Nutrition being Impeded?
Many foods and beverages with added sugars, such as sports drinks, have calories but lack critical nutrients and dietary fiber. Sugar-sweetened beverage use has been linked to lower milk consumption, as well as calcium, vitamin D, folate, and iron intake in children and adolescents. This may deplete the essential nutrients required by an individual for fitness and healthy diets.
Sports beverages can raise the chances of having bad oral health as tooth enamel is eroded by citric acid, which is commonly found in sports drinks. Even after the pH has been neutralized, enamel erosion continues. To neutralize acids, saliva acts as a natural buffering agent. When saliva production is reduced after exercise, athletes may exacerbate dental erosion by consuming sports beverages.
Country-wise Insights
Why Does India Account for the Largest Share in the South Asia Sports Nutrition Market?
The India sports nutrition market is witnessing significant growth in South Asia at a value CAGR of 9.5%.
High demand for sports nutrition supplements in the country is due to changes in consumers' consumption habits, increasing dietary requirements, and high production of nutritional supplements.
Which Country Leads the East Asia Market for Sports Nutrition Product Sales?
China holds a major share in the East Asia sports nutrition supplements market. This is due to increase in domestic production of sports nutrition products and also rise in consumption by the population in the country.
Moreover, increasing demand for convenience foods will have a positive impact on the market. The market in China is expected to expand through 2032 at 6.9% CAGR.
Category-wise Insights
Why are Powdered Sports Nutrition Supplements Most Demanded?
Based on form, powdered nutrition supplements are mostly demanded and consumed across the world. Market value of powder nutrition supplements in 2022 is slated to reach US$ 15.1 Bn.
Demand for sports nutrition products from nutraceutical product manufacturers is set to increase rapidly over the coming years.
How are Various Functionalities Offering Sales Opportunities for Sports Nutrition Supplement Manufacturers?
Sales of sports nutrition supplements are expected to register high growth due to their various functionalities. Based on function, the market is observing a dominance of energizing products, followed by pre-workout, hydration, recovery, and weight management products.
Energizing sports nutrition products are expected to be valued at US$ 20.9 Bn by the end of 2032.
Impact of COVID-19
With COVID-19, consumers have shifted their focus from splurging on non-essential goods and services to preserving and extending the life of critical items. Consumers are far more conscious of their consumption patterns than they were previously.
Meanwhile, to minimize COVID-19 transmission through food, the World Health Organization has recommended particular requirements for maintaining food hygiene and food safety regulations. Clean label legal sports nutrition products will only grow in popularity as a result of these trends.
Rebound of the global economy would eventually lead to a rise in per capita income and the adoption of healthier lifestyles, which will boost demand for sports nutrition items even further.
Competitive Landscape
Prominent manufacturers of sports nutrition supplements are focused on promotional activities and product launches. They are also adopting new technologies to offer better products and improve efficiency.
Driven by constant innovation and scientific evidence, Musashi offers a range of high-quality protein powders, bars, drinks, and amino acids, which are available at health and supplement stores, supermarkets, gyms, pharmacies, and online.
INC Sports Nutrition includes blends and formulas that consist of important ingredients such as BCAA, Carnitine, Creatine, and Glutamine, along with pre-workout blends that have high nutritional values.
BioThrive Sciences provides natural ingredient formulas for sports nutrition products that are nutrient-dense and high-quality.
Sports Nutrition Industry Report Scope
Attribute
Details

Forecast period

2022-2032

Historical data available for

2017-2021

Market analysis

US$ Million for Value

Key regions covered

North America
Latin America
Europe
East Asia
South Asia
Oceania
The Middle East & Africa

Key countries covered

U.S.
Canada
Germany
U.K.
France
Italy
Spain
Russia
China
Japan
South Korea
India
Thailand
Malaysia
Indonesia
Australia
New Zealand
GCC Countries
Turkey
Northern Africa
South Africa

Key market segments covered

Function
Product Form
Flavour
Sales Channel
Nature
Price Range
Region

Key companies profiled

Nestlé S.A.
Red Bull GmbH
Ajinomoto Co., Inc.
Keurig Dr. Pepper, Inc.
Nutrabolt
GlaxoSmithKline plc.
Optimum Nutrition, Inc.
Vitaco Health
Uelzena Group
Premier Nutrition Corporation
INC Sports Nutrition
Now Foods
Biothrive Sciences

Report coverage

Market Forecast
Company Share Analysis
Competition Intelligence
DROT Analysis
Market Dynamics and Challenges
Strategic Growth Initiatives

Customization & pricing

Available upon request
Sports Nutrition Industry Research Categorization
Sports Nutrition Market by Function:
Energizing Products
Rehydration
Pre-workout
Recovery
Weight Management
Sports Nutrition Market by Product Form:
Ready-to-Drink Sports Supplements
Energy & Protein Bars
Powder Sports Supplements
Sports Supplement Tablets/Capsules
Sports Nutrition Market by Flavor:
Regular Sports Nutrition Supplements
Flavoured Sports Nutrition Supplements

Fruit Punch
Berries
Citrus
Chocolate
Vanilla
Other Flavours
Sports Nutrition Market by Sales Channel:
Modern Trade
Convenience Stores
Specialty Stores
Pharmacy Stores
Online Retail
Other Sales Channels
Sports Nutrition Market by Nature:
Organic Sports Nutrition Supplements
Conventional Sports Nutrition Supplements
Sports Nutrition Market by Price Range:
Economic Sports Nutrition Products
Premium Sports Nutrition Products
Sports Nutrition Market by Region:
North America Sports Nutrition Market
Latin America Sports Nutrition Market
Europe Sports Nutrition Market
East Asia Sports Nutrition Market
South Asia and Pacific Sports Nutrition Market
Middle East and Africa Sports Nutrition Market