Introduction
Rising trend of health-on-the-go is having a positive impact on the sales of instant soup, as healthy ingredients such as pesto and turmeric, along with the incorporation of healthy vegetables and lean meat combined with different ravishing flavors suitable for the taste buds of consumers are being increasingly used in soup products.
Popular ingredients such as quinoa, different meat-free varieties, and ancient grains associated with various health benefits are also made available as instant soup. Rising demand for products that have ingredients that are beneficial to health is expected to drive the expansion of the instant soup market size, as they are known to contain vitamins.
Conagra Brands, Inc. offers healthy soup with vitamins under the brand 'Healthy Choice', with flavors such as chicken & dumplings and chicken tortilla.
Aggressive Marketing & Promotion Strategies by Manufacturers to Drive Demand
Advertisements via TV channels, heavily promoted ad campaigns, celebrity endorsements, and using famous chefs for increasing the credibility of products are initiatives being taken by manufacturers, which is propelling the growth of the instant soup market.
With consumers today quickly adopting a plethora of new platforms, retail models, and brands, manufacturers are coming up with different marketing and promotion strategies in place of traditional ones.
The new marketing model, for instance, digital marketing, has expanded at a rapid pace, and manufacturers in the instant soup market place are using it to promote their brands.
Major players such as Knorr are involved in point of sale promotions, which helps the company get directly involved with its customers; this is proven to bolster sales. Moreover, this strategy, combined with an attractive and separate store layout for products, contributes more to sales, thus driving the growth of the instant soup market.
Strong Portfolio of Healthy & Tasty Soups Augmenting Market Growth
Tier-1 market players possess a portfolio of around 100 products. As a conventional practice in the food industry, companies such as Campbell, Progresso, and Kraft Heinz have more non-vegetarian products than vegetarian products for the instant soup market.
Organic and natural products have gained popularity over the past few decades. Market share of vegetarian soups is increasing every year, and the rising vegan trend will result in a vast product portfolio of vegan soups.
Consumers are now more aware about what they consume and want clean label products, as those containing GMO ingredients can be harmful to health in the long term. Clean label products can be vegetarian as well as non-vegetarian. Though this organic and natural product trend is a demand-side one, this change in propensity of customers has increased the number of organic soup variants in the market.
Small-scale companies such as Trader Joe's, Sainsbury, and Pea Soup Andersen have a limited product portfolio in the instant wet soup market. This vast and increasing product portfolio, especially in the vegetarian instant wet soups category, tends to increase the market size of the instant soup market.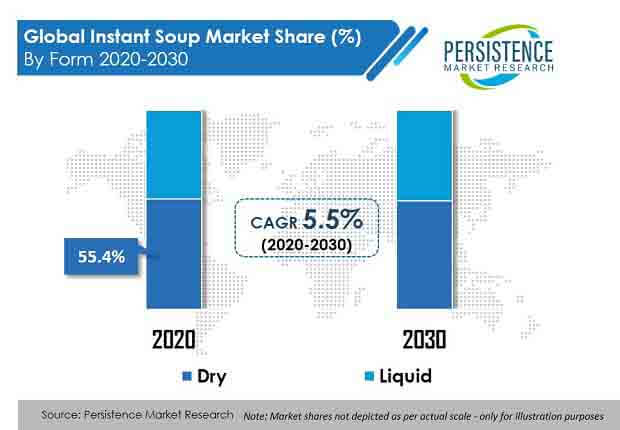 Regional Outlook of Instant Soup Market
North America has the highest value in the global instant soup market share, owing to higher consumer spending on soups and other convenience food products. Especially, retail sales of instant soup have been steady in the region from a long time.
Moreover, organic instant soups are increasingly gaining traction in the U.S., which has led to higher product sales of organic instant soup in the region. Europe will also witness a prominent market value share in global instant soup market over the forecast period of 2020-2030.
The major contributing factor is higher consumer preference for healthy soup products. Additionally, European consumers are also progressively approaching plant-based soup products, attributable to the rising vegan population across the region.
Nevertheless, the South Asia and East Asia region is projected to exhibit a higher growth rate in the global instant soup market over the forecast period. The key factor is increasing per capita expenditure on food products by the middle-class population in the region.
COVID-19 Impact on Instant Soup Market
The COVID-19 pandemic has had an adverse impact on global economic activities, as major industries have been severely hit by restrictions and lockdowns. The food & beverage industry has also faced a slowdown due to slower economic growth.
Food & beverage products have experienced a decline in sales during the pandemic. This has also impacted the sales of products such as instant soup across the world. Instant soup is now being consumed by individuals at home rather than foodservice restaurants.
Moreover, supply chain disruptions and suspension of manufacturing activities have also impacted the production of instant soup, which can led to a high pricing scenario in the foreseeable future. Nevertheless, sales of instant soup are expected to pick up speed as economic activities have resumed in different parts of the world.
Analysts' Viewpoint
The global instant soup market is expected to experience significant growth, with South Asia and East Asia projected to offer potential opportunities during the forecast period of 2020-2030. Instant soup manufacturers are creating value-addition in instant soup production by adding healthy and nutritional ingredients, which is a considerable factor for the growth of the global instant soup market in the foreseeable future.
Leading market players such as Campbell Soup Company, Nestlé, Unilever, and others are focusing on operational efficiency and offering plant-based soup products to strengthen their positions in the global instant soup industry. Developing new flavors and improvement in quality are other strategies being adopted by key players to gain a competitive edge in the global Instant soup market.
Key Segments of Global Instant Soup Market
PMR's report on the global Instant soup market offers information divided into six segments - nature, form, end use, source, distribution channel, and region.
Nature

Form

End Use

Foodservice
Retail/Household

Source

Animal-based
Plant-based

Tomatoes
Mushrooms
Corn
Others

Distribution Channel

Business to Business
Business to Consumer

Hypermarkets/Supermarkets
Convenience Stores
Discounters
Online Retail & Others

Region

North America
Latin America
Europe
South Asia
East Asia
Oceania
Middle East & Africa
Key Questions Answered in PMR's Global Instant Soup Market Report
Which region will hold the highest market share in the global instant soup market during the forecast period?
Which region is experiencing the highest growth (CAGR)?
Which factors are impacting the global instant soup market?
What are the global trends impacting the instant soup market?
What strategies must emerging players adopt to capture opportunities in various regions in the instant soup market?
What is the market structure of the global instant soup market?