Semiconductor Intellectual Property (IP) Market Outlook (2022-2032)
Worldwide semiconductor intellectual property (IP) market revenue reached US$ 5.9 Bn in 2021, with the market expected to surge to a valuation of around US$ 12.3 Bn by 2032, expanding at a high CAGR of 6.8%.
| Attribute | Key Insights |
| --- | --- |
| Semiconductor IP Market Size (2021) | US$ 5.9 Bn |
| Projected Year Market Value (2032) | US$ 12.3 Bn |
| Global Market Growth Rate (2022-2032) | 6.8% CAGR |
| Market Share of Top 5 Vendors | ~15% |
In the near future, growing usage of semiconductor IPs in the telecommunication & data center, consumer electronics, and automotive sectors will fuel demand for this technology. Increasing demand for modern SoC designs, innovation in multicore technology, increasing adoption of connected devices for day-to-day use, and continuous improvements to optimize rising chip design expenditure are expected to drive demand for semiconductor IPs.
Moreover, rising demand for teleconferencing solutions during the pandemic and growing demand for electronics from the healthcare industry due to COVID-19 are other major factors driving market growth.
Semiconductor intellectual property accounts for nearly 2% share of the global semiconductor market at present.
Semiconductor Intellectual Property Demand Analysis (2017-2021) Vs Market Outlook (2022-2032)
Semiconductor intellectual property is a unit of cell, logic, and chip layout design that can be reused by the creator party. Intellectual property in a semiconductor is usually developed with the purpose of licensing to multiple vendors for utilization as a building block in several chip designs.
In today's generation of integrated circuit (IC) designs, more and more system functionality is getting integrated into single chips (System on Chip (SoC) designs). In these SoC designs, pre-designed IP cores/blocks are becoming increasingly important. This is because most SoC designs have a standard microprocessor and a lot of system functionality that is standardized, and therefore can be reutilized across various designs.
Semiconductor intellectual property demand is estimated to increase at 6.8% CAGR between 2022 and 2032 in comparison with the 8.5% CAGR during the historic period of 2017-2021.
The global semiconductor intellectual property market is anticipated to witness an increase in revenue from US$ 6.3 Bn in 2022 to US$ 12.3 Bn by the end of 2032.
How is Semiconductor Intellectual Property Market Growth Being Driven?
"Upsurge in Use of ASIC Chips Driving Growth of Semiconductor IP-Centric Companies"
An Application-Specific Integrated Circuit (ASIC) is an Integrated Circuit (IC) chip that is tailored to a specific application rather than being designed for general usage. An ASIC is a chip that can be used in a digital voice recorder or a high-efficiency video encoder.
The peculiarity of ASIC has transformed the manufacturing of electronics. Die sizes are lowered while the density of logic gates per chip is increased. For high-level applications, ASICs are frequently favored. Satellites, ROM manufacturing, microcontrollers, and many types of applications in the medical and scientific sectors use ASIC chips as IP cores.
Cryptocurrency mining is one of the most popular ASIC applications. Mining of cryptocurrency requires more power and high-speed hardware. A general-purpose CPU cannot provide such high computing capacity at high speeds. ASIC bitcoin miners are chips built into specially designed motherboards and power supplies, constructed into a single unit.
Thus, this trending application is fueling market growth and is anticipated to continue its supremacy in the near future.
"Surging Semiconductor Usage in Defense Sector"
The defense industry has contributed majorly to the evolution of the compound semiconductor supply chain. Defense agencies provided the money and applications that allowed compound semiconductor technologies and other parts of the supply chain to flourish and grow. The necessity for high-performance technologies and solutions in defense applications is driving this trend.
Expenditure on equipment and semiconductor content is increasing in the defense sector, mirroring the rise of the strategy analytics segmentation of semiconductor content in electronic warfare, radar, and communications systems. Defense applications do not create the same volume as consumer devices, but devices for defense are characterized by higher prices, and this contributes to high market growth.
"South Asia - Fastest-Growing Semiconductor Intellectual Property Market"
South Asia & Pacific is estimated to be the fastest-growing regional market for semiconductor intellectual property. The market is expected to grow 2.5X during the forecast period.
As automotive, telecom, and data center industries rely on electronic equipment, the need for electrical and semiconductor components is increasing in these industries, necessitating the development of a new chip production design solution in the region.
In autonomous and premium vehicles, use of Microprocessor Units (MPUs), Microcontroller Units (MCUs), sensors, Analogue Integrated Circuits (ICs), interfaces, and memory is growing.
With growing importance of connected automobiles, vehicle connectivity, and electronic mobility in the automotive industry, demand for compact gadgets with high functionality and performance improvements is predicted to rise in the South Asia Pacific region.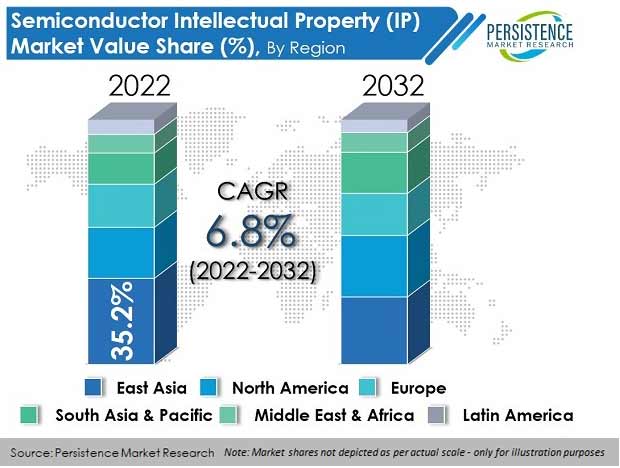 Country-wise Insights
Why is Demand for Semiconductor Intellectual Property Increasing in the U.S.?
Semiconductor IP demand in the U.S. is expected to account for nearly 77% of the North America market share through 2032. The United States is one of the largest markets for semiconductor intellectual property as it majorly contributes to semiconductor solutions.
There are around 500 fabless manufacturing companies in the U.S. Intel and Qualcomm are two firms that buy ARM processor cores to manufacture new gadgets. This area also generates a significant amount of revenue from semiconductor IP used in electrical gadgets.
The North America semiconductor IP market is driven by lower manufacturing and design costs as well as rapid expansion in the electronics industry in the region. Increasing use of various technologically advanced devices, as well as new technical advances, are pushing market demand for semiconductor IP in United States.
How Big is the Opportunity for Adoption of Semiconductor Intellectual Property in the Germany?
Germany is predicted to remain one of the most attractive markets during the forecast period. According to the study, the Germany semiconductor IP market is expected to register 5.9% CAGR over the forecast period.
The automotive industry in Germany is rapidly growing. According to figures provided by German Trade and Invest, the German automotive sector had a turnover of 379.3 billion EU in 2020. Furthermore, it accounted for almost 20% of all German industrial revenue in 2020.
Germany produces 25% of the whole passenger car sector, as well as 20% of all new automobile registrations in the region. Cruise mode, for example, is used in a large number of high-end vehicles. This technology's incorporation into vehicles is also credited to semiconductor IP designs.
As a result, the automotive sector in the country is growing at a rapid pace. Hence, demand for semiconductor intellectual property in the manufacturing of various cars is increasing.
What are the Sales Prospects for Semiconductor Intellectual Property in India?
Sales in India is estimated to increase at an impressive rate of around 8.7% CAGR between 2022 and 2032. The semiconductor IP industry is rapidly evolving with new semiconductor technologies and methodologies in India.
The semiconductor intellectual property market in India is expected to grow significantly. The country has long been seen as a promising market for large-scale business expansion and investments. Furthermore, due to high demand for consumer electronics and low-cost labor, India is projected to see significant growth in the global semiconductor market.
Majority of India's semiconductor players have been investing in developing cutting-edge electronic products with increased storage capacity, faster processor speeds, and RF-enabled and wireless communication capabilities. Such factors are contributing to growth of the semiconductor IP market in the country.
Category-wise Insights
What's Driving Demand for Innovative Processor IPs?
The processor IPs segment is expected to showcase a high market share over the coming years. This segment is predicted to provide an absolute opportunity of US$ 2.5 Bn by the end of 2032.
Intellectual property works as a lynchpin for driving innovation in 5G technology. By providing carrier aggregation, multiple-input/multiple-out (MIMO), and enhanced throughput with improved modulation and high bandwidth channels via mmWave spectrums, 5G is driving huge advances in speed, bandwidth, and data throughput for mobile and automotive applications.
To fulfil the demands of the most modern 5G chipset designs, key vendors are providing trusted solutions, ranging from high-speed analog front-ends to proven interface IP in breakthrough FinFET technologies and processing solutions.
Governments all around the world have acknowledged the value of innovation and research and development, noting that embracing and developing 5G is strongly tied to their technology sovereignty goals. 5G's important foundation in IP has enabled the technology to grow on a worldwide scale.
For instance, in May 2020, Arm Technology introduced the ARM IP for greater digital immersion. This new solution enabled innovation in the Android ecosystem for immense user experiences.
What is the Market Outlook for Licensing IP Source?
The licensing IP source segment is expected to grow 1.8X during forecast period.
Semiconductor intellectual property is an important part of platform-based design, since it allows for product differentiation and incremental enhancements. This platform allows designers to repurpose pre-qualified IP-based fundamental SoCs, decreasing time to market.
Furthermore, customer demand for sophisticated chip specifications can create an explosion of gates on a single chip, and this creates the need for integrating heterogeneous technologies.
As a result, the traditional approach of developing an electronic system from the ground up has been supplanted, and SoC has arisen as an unavoidable solution, in which all of the major functional components of a finished product are integrated into a single chip.
For instance, the processing power of Google's TPU V4 AI processor has been doubled over the previous iteration.
For the semiconductor sector, AI has more potential and the semiconductor intellectual property (IP) market is predicted to grow as a result of this.
Impact of COVID-19 Crisis
The COVID-19 pandemic has led semiconductor companies to mobilize rapidly and make both, short-term and long-term adjustments in their business models as far as the sales and distribution capabilities of their product offerings are concerned.
Worldwide supply chains were disrupted as the virus spread around the world, bringing uncertainty over quarantine period and affecting product sales. The COVID-19 outbreak also increased the adoption of digital services across all industries. Demand for semiconductor products shifted to ASICs, sensors, and memory, while consumer behavior changed rapidly.
With lockdowns easing up across China, India, the U.S., and Germany, and vaccines being rolled out by several nations since December 2020, the manufacturing sector is estimated to accelerate gradually in the near future, and the semiconductor IP market is expected to recover by mid-2022.
Competitive Landscape
Semiconductor intellectual property market players are focusing on various strategies for increasing their investments in research & development to support future semiconductor designs and technologies. In addition, companies are acquiring and entering into partnerships with other companies to develop their own semiconductor intellectual property portfolio to serve more customers and increase their market share.
In April 2021, Nvidia announced the launch of Nvidia ampere architecture GPUs for next generation desktops, laptops, and servers, making remote work possible without sacrificing quality and time.
In January 2021, CEVA, Inc. established a commercial partnership with DARPA Toolbox for technology innovation. This helped the company strengthen its technological knowledge to improve product quality and increase the efficiency of product performance.
Semiconductor IP Industry Report Scope
Attribute
Details

Forecast Period

2022-2032

Historical Data Available for

2017-2021

Market Analysis

USD Billion for Value

Key Regions Covered

North America
Latin America
Europe
East Asia
South Asia & Pacific
The Middle East & Africa

Key Countries Covered

U.S.
Canada
Germany
U.K.
France
Italy
Spain
Russia
China
Japan
South Korea
India
Malaysia
Indonesia
Singapore
Australia & New Zealand
GCC Countries
Turkey
Northern Africa
South Africa

Key Market Segments Covered

Design IP
IP Source
Region

Key Companies Profiled

Rambus Inc
Arm Ltd
Ceva Inc
Takumi Corporation
Nvidia Corporation
TES Electronic Solutions GmbH
VeriSilicon/Vivante
Digital Media Professionals

Report Coverage

Market Forecast
Company Share Analysis
Competition Intelligence
DROT Analysis
Market Dynamics and Challenges
Strategic Growth Initiatives

Customization & Pricing

Available upon Request
Semiconductor Intellectual Property Industry Outlook by Category
Semiconductor IP Market by Design IP:
Application Specific Integrated Circuit (ASIC) IP
Interface IP
Graphics IP (GPU IP)
Memory IP
Processor IP
Verification IP
Semiconductor IP Market by IP Source:
Semiconductor IP Market by Region:
North America Semiconductor IP Market
Latin America Semiconductor IP Market
Europe Semiconductor IP Market
East Asia Semiconductor IP Market
South Asia & Pacific Semiconductor IP Market
Middle East and Africa (MEA) Semiconductor IP Market