Fruit and Vegetable Powder Market Outlook (2022-2032)
Worldwide fruit and vegetable powder sales are valued at US$ 42.9 Bn in 2022. The global fruit and vegetable powder market is anticipated to progress at a CAGR of 5.6% to reach a market valuation of US$ 73.7 Bn by 2032-end.
Consumption of fruit and vegetable powder across the world accounted for 25% to 35% value share of the global fruit and vegetable extracts market in 2021.
| | |
| --- | --- |
| Fruit and Vegetable Powder Market Size (2022E) | US$ 42.9 Bn |
| Projected Sales of Fruit and Vegetable Powder (2032F) | US$ 73.7 Bn |
| Value CAGR (2022-2032) | 5.6% |
| Value Share of Top 5 Countries (2021A) | 50.6% |
Fruit and Vegetable Powder Consumption Analysis (2017-2021) Vs Market Projections (2022-2032)
During the historical period (2017-2021), the global market for fruit and vegetable powder increased at a CAGR of 4.1%.
The market is expected to witness optimistic growth trends in the near future due to several factors such as increasing demand for vegan products, rising consumption of conventional snacks, and growing health awareness among the population.
The utilization of powdered fruits and vegetables was primarily low during the introduction phase. But gradually, fruit and vegetable powder has been used for various applications such as food flavoring in the food industry and in supplements to boost the mineral and vitamin content in food.
Thus, the global market of fruit and vegetable powder industry has developed and expanded over the years and accounts for use in several applications, due to which, the market is anticipated to expand at the rate of 5.6% during the forecasted period of 2022-2032.
Some other factors driving the demand for fruit and vegetable powder include rising disposable income, increasing urbanization, and the ever-growing food industry. As such, the global consumption of fruit and vegetable powder is anticipated to reach a market valuation of US$ 73.7 Bn by 2032.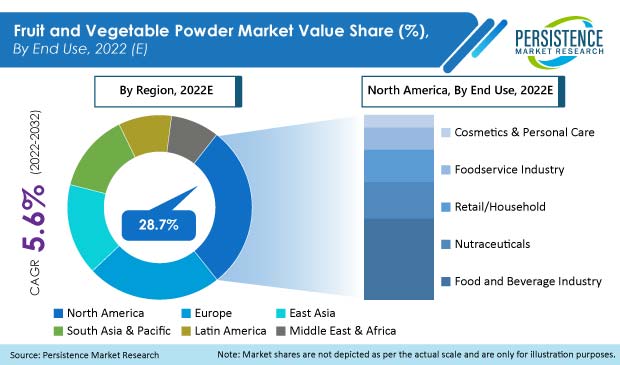 What are the Favorable Factors for Fruit and Vegetable Powder Market Expansion?
"Demand-Supply Uncertainties Associated with Seasonal Fruit & Vegetables"
Increased uncertainty in raw material availability, pricing, and manufacturing due to seasonal variations is a major factor encouraging people to utilize vegetable and fruit powders in various food products. Moreover, the increasing year-round demand for food made with seasonal food ingredients is aiding market expansion.
Seasonal demand shifts have a substantial effect on the fresh food business supply chain. Consumer demand for seasonal food tastes and flavors at any time of the year is prompting food makers and processors to introduce powdered seasonal fruit and vegetables in their final products.
Powdered fruits and vegetables are also a practical way to reduce waste, as they can be used to repurpose raw vegetables and fruits that would otherwise be thrown away. They're also easier to transport after they've been manufactured. Manufacturers are also working to ensure that flavor is not sacrificed while meeting the nutritional criteria.
Moreover, the rising popularity of convenient food products and ease of access to a wide range of products through online retail are factors that are expected to drive fruit and vegetable powder market expansion.
"Foodservice Operators Benefiting Immensely from Fruit and Vegetable Powders"
The foodservice sector has been witnessing significant growth over the past decade. Fruit and vegetable powders such as dehydrated products are in high demand among HoReCa (hotels, restaurants, and cafeterias) operators. This demand is due to off-season availability, easy handling, and longer storage. These products are preferred as they need less time for preparation since quick service is a major factor for customer satisfaction in the foodservice sector.
Over 10% of global vegetable extracts are utilized by foodservice operators. The utilization of vegetables and fruit powder in the QSR (quick-service restaurants) segment in food products such as soups, salads, and sauces is further expected to propel market growth.
The development of food technology and changing dietary requirements of consumers are also fuelling the market for vegetable and fruit powders.
"Valorisation of Fruit and Vegetable Residues as Functional Powders"
Food waste is considered a worldwide issue since it represents a constant risk to the environment and a serious operational problem for the food sector. The by-products of fruits and vegetables are a valuable source of bioactive components that can be reintroduced and reused in the agricultural food chain.
These by-products have the potential to be transformed into functional powdered ingredients, which can be further utilized to be used in food formulations to improve the nutrition profile of the food. As such, fruit and vegetable manufacturers are utilizing these by-products to increase the nutritional and healthy content of their products.
This valorisation process also contributes to the development of sustainable and healthy diets. The process also helps in reducing the environmental impact of the food industry, thereby contributing to the management of food raw materials and by-products as well.
"High Export Potential of Dehydrated & Preserved Vegetables in South Asia"
South Asia is one of the major producers of dried and preserved vegetables. India, in terms of production, domestic consumption, and export of dried vegetables, is one of the leaders in the world and has tremendous growth potential.
India produces processed vegetables such as preserved onions, cucumbers & gherkins, mushrooms, green pepper, asparagus, dehydrated garlic flakes, potatoes dried, garlic dried, etc. The major export destinations of these vegetables are the U.S., U.K., Germany, Thailand, and Canada, where the consumption of fruit and vegetable powder is high.
The export market of processed vegetables in India was valued at US$ 94.7 Mn in 2006-2007 and increased to US$ 501.65 Mn in 2020-2021.
The development of state-of-the-art cold chain logistics and quality management systems also presents several growth opportunities for harnessing this export potential.
How is Market Growth of Fruit and Vegetable Powder Being Restricted?
"Adulterated Powder – Major Issues in This Space"
Adulteration in fruit and vegetable powder is a major concern, as it can make products unhealthy and even potentially harmful for consumers. Experts are always stressing the fact that consumers should be careful about what they consume.
The use of lead chromate and starch is common and these substances are not edible and can create health issues such as complications in the liver. Fruits and vegetables are ripened artificially using calcium carbide, which can affect the final fruit powder product. This adulterant can cause problems such as ulcers, neurological disorders, memory loss, and hypoxia.
"Fruit & Vegetable Price Fluctuations"
Fluctuations in the prices of fruits and vegetables have a direct impact on the fruit and vegetable powder market. The high prices of raw vegetables can increase the cost of finished products, and thereby decrease the sales of fruit and vegetable powder. Additionally, a decline in the production of raw fruits and vegetables can dent the supply for processing industries and impact the market negatively.
As a result, players involved in the manufacturing of fruit and vegetable powder need to focus on combating price fluctuations and adulteration to retain and increase their health-conscious consumer base.
Country-wise Insights
Which Country Has a Promising Growth Outlook in North America?
The Canada market of fruit and vegetable powder market is anticipated to exhibit a growth rate of 4.9% during the forecast period (2022-2032) and reach a market valuation of around US$ 2.33 Bn by 2032.
Increasing usage of fruit and vegetable powder due to the ease of use offered by the product is set to drive market growth and increase its market share among North American countries.
Why are Food & Vegetable Powder Manufacturers Thriving in India?
In the South Asia & Pacific market, India holds the highest market share of 44.9% and is expected to surge ahead at 8.2% CAGR during the forecast period. The market in India is anticipated to reach US$ 5.85 Bn by the end of 2032.
The fruit and vegetable powder market share of India is relatively higher than that of other South Asia and Pacific countries because India sees more demand for fruit and vegetable powder from the food industry, especially in the bakery, foodservice, and retail sectors.
Category-wise Insights
Which Types of Fruit & Vegetable Powder are in High Demand?
The types of fruit and vegetable powder considered in the scope include banana, mangoes, oranges, grapes, peaches, potatoes, tomatoes, beans, onions, and others.
Among these types of products, the mangoes segment is expected to exhibit the highest growth rate of around 8.1% and top a market value of US$ 5 Bn by the end of 2032.
Mango powder is widely utilized in flavoring curries, soups, marinades, and other dishes across the world.
Will the F&B Sector Continue its Hold Over This Space?
Based on the end-use segment, the food and beverage category accounts for the highest market share of 43.6%.
However, the nutraceutical segment is anticipated to drive high sales of fruit and vegetable powder due to the ongoing trend of vegan products having multifunctional benefits.
The food and beverage category accounts for a market valuation of US$ 18.7 Bn currently and is expected to surge to US$ 30.7 Bn by the end of 2032.
Competitive Dashboard
Fruit and vegetable powder suppliers are increasingly focusing on developing innovative and new products to increase their competitive edge in the market. Companies are also emphasizing collaborations and supply chain improvements to increase their product offerings and customer base.
In 2020, International Flavors & Fragrances Inc. announced the opening of a new application, creation, and innovation center in Dubai, UAE, which would allow the company to expand and improve its in-house taste division.
LA Herbal markets its products with quality certifications to ensure their credibility.
Saipro Biotech Private Limited has established a strong supply chain, which helps the company in exporting its products to various regions across the world.
Aarakay Food Products Ltd. is constantly involved in the expansion and diversification of its product portfolio by investing in technology, people, and product innovations.
Fruit and Vegetable Powder Industry Report Scope
Attribute

Details

Forecast period

2022-2032

Historical data available for

2017-2021

Market analysis

USD million for value

Key regions covered

North America
Latin America
Europe
East Asia
South Asia and Pacific
Middle East & Africa

Key countries covered

U.S.
Canada
Germany
U.K.
France
Italy
Poland
Spain
Russia
China
Japan
South Korea
India
Israel
Turkey
Australia
New Zealand
GCC Countries
Turkey
South Africa

Key market segments covered

Nature
Type
End Use
Distribution Channel
Region

Key companies profiled

Alpspure Lifesciences Private Limited
Aarkay Food Products Ltd.
FutureCeuticals
Del-Val Food Ingredients
Döhler GmbH
Foods & Inns
Nikken Foods Co., Ltd.
KAN Phytochemicals Pvt. Ltd.
Tanisi Incorporation
Van Drunen Farms
Xinghua Lianfu Food Co., Ltd.
International Flavors & Fragrances Inc.
Drytech Industries
La Herbal
Saipro Biotech Private Limited

Report coverage

Market Forecast
Company Share Analysis
Competition Intelligence
DROT Analysis
Market Dynamics and Challenges
Strategic Growth Initiatives

Customization & pricing

Available upon request
Fruit and Vegetable Powder Industry Research by Category
Fruit and Vegetable Powder Market by Nature:
Fruit and Vegetable Powder Market by Type:
Fruit Powder

Banana
Mango
Orange
Grapes
Peach
Others

Vegetable Powder

Potatoes
Tomatoes
Beans
Onions
Others
Fruit and Vegetable Powder Market by End Use:
Food and Beverage Industry
Foodservice Industry
Nutraceuticals
Cosmetics & Personal Care
Retail/Household
Fruit and Vegetable Powder Market by Distribution Channel:
Business to Business
Business to Consumer

Hypermarkets/Supermarkets
Specialty Stores
Convenience Stores
Online Retail
Fruit and Vegetable Powder Market by Region:
North America Fruit and Vegetable Powder Market
Latin America Fruit and Vegetable Powder Market
Europe Fruit and Vegetable Powder Market
South Asia and Pacific Fruit and Vegetable Powder Market
East Asia Fruit and Vegetable Powder Market
Middle East and Africa Fruit and Vegetable Powder Market