'Powders' Leading the Way in Whey Protein Isolate Market
Whey protein isolate powder represents approximately 85 percent of total worldwide demand and shows reasonable growth rates in several areas. However, the global market has shown significant growth between 2019 and 2017 for the remaining 15 percent– i.e. the liquid whey protein isolate.
During the same era, whey protein isolate showed double-digit development. At the cost of less refined whey products, this trend towards increased demand for high-end whey protein isolate is anticipated to continue. The EU remains the major market for all whey protein isolate powders and refined ingredients, while North America dominates the global whey protein isolate market in terms of volume.
In most categories, however, demand is stagnating, but less so in pharma grade. Latin America, on the other hand, and especially East Asia, are experiencing growing demand in all the categories of whey protein isolate.
Rising public awareness of health care plays a significant role in the radical advancement to high nutrition food products. The increasing number of health problems associated with malnutrition and obesity observed worldwide has encouraged both government and organizations like the FDA (Food & Drug Administration) to promote production and consumption of whey protein ingredient.
This will fuel the global whey protein isolate market in the forecast period. The dominant trend towards protein and high protein products throughout the food and beverage industry has enhanced the growth of whey products in the forecast period.
The shift in global milk prices are expected to have an adverse impact on supply chains. The effect of this factor is more severe in the case of small-scale whey protein isolate producers that are not linked to a dairy cooperative and hampers the overall growth of whey protein isolate market.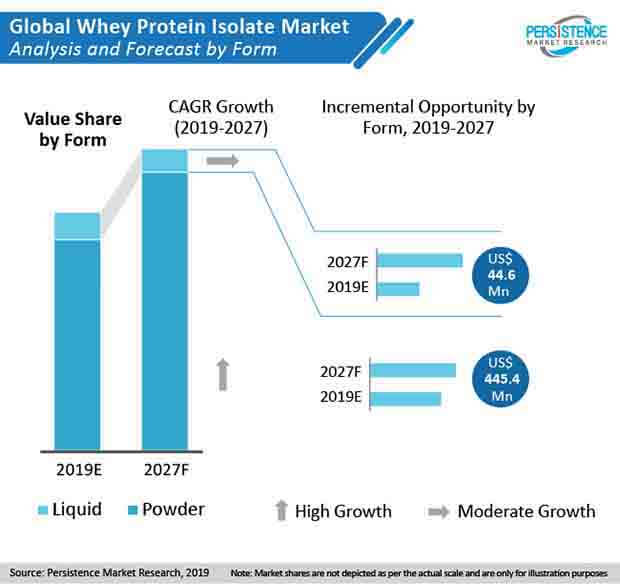 Sports Nutrition: A New Revenue Pocket for Whey Protein Isolate
Over the past decade, sports nutrition has acquired tremendous traction as the consumer base for sports nutrition has grown. Sports nutrition's general interests have also been extended from its unique vital users, such as performance athletes, to a broader spectrum of fitness and healthy living customers.
The enhanced consumption of sport-related dietary products has dramatically boosted the demand for whey protein isolate. There are plenty of commercial sports nutrition goods available today that use whey protein as the primary source of protein. Most of the other food offers from worldwide whey protein behave as meal replacements and pre-workout consumables. In sports nutrition, whey protein isolate has become a standard component.
The rise in muscle and fitness enthusiasts has increased consumer demand for protein and sport-based drinks, and other items intended to enhance efficiency. With several improvements, the use of whey protein isolate in sports products has steadily risen to create commercial availability of amino based and bio based & easily digestible whey protein isolate products.
Furthermore, whey protein isolate also provides a cost-effective option for formulating caramels with excellent eating quality and outstanding processing. With several changes, the use of whey protein isolate in sports products has continuously risen to make isolate of whey protein commercially available. This has escalated the consumption of whey protein isolate in the sports nutrition industry and will positively influence the growth of the global market.
Protein Fortification and Standardization- Propelling the Market Forward
Consumer preference for protein in regular or daily foods and increasing demand for low-fat and high-protein weight-management products are growing at a significant pace. The above factor has increased the popularity of protein fortification among consumers. Standardization of proteins is a common practice among dairy product manufacturers where protein ingredients are added in a manner that mimics the casein-to-whey ratio in natural milk.
Food fortification involves adding some useful components to a product in order to improve its functional characteristics. Through fortification, companies can enhance food quality and solve critical consumer deficiencies in minerals or vitamins. The escalating demand of fortified and standardized food and beverages will positively influxes the growth of whey protein isolate market.
Investments in Capacity Expansion to Remain Key Growth Strategy in Global Market
The leading manufacturer such Havero Hoogwegt B.V. and Glanbia Foods, Inc in whey protein isolate is focusing on expanding their current milk protein facilities, acquiring new facilities, and entering into partnerships with new distributors.
Havero Hoogwegt B.V.maintains a decent portfolio of investments to stretch its product portfolio. Also, in 2019, partnered with First Milk to consolidate its whey operations in Europe and to become the sole owner of the whey protein Isolate
In 2019, the company acquired Polymer Films LLC, aiming to expand its non-dairy products to expand its non-dairy ingredients solution business, across the globe.
Some of the major companies operating in the whey protein isolate market are
Leprino Foods
Grande Cheese Company
Davisco Foods International
Agropur, Inc.
Havero Hoogwegt B.V.
Glanbia Foods, Inc.
Arla Food Ingredients Group
Himlar CHEESE, and others.
Despite having several large players on the market, as well as several smaller companies, there are ample companies at the regional and global level that are entirely focused on being a provider of high-quality whey protein isolate. Multinationals are continually looking for ways of producing whey protein isolate that is economical, readily accessible, and can be administered to food products to enhance overall quality.
Whey Protein Isolate Market: In-Depth Assessment on Key Segments
The global whey protein isolate market is segmented on the basis of Form, Nature, Grade, End-Use and Region.
Form

Nature

Grade

Food Grade
Pharma Grade
Feed Grade

End Use

Infant formula and Baby Foods
Dietary supplements
Food Processing
Sports Nutrition
Beverages
Others (Animal Feed, Clinical Nutrition, etc.)

Region

North America
Latin America
Europe
East Asia
South Asia & Oceania
Middle East & Africa
Country-specific assessment on demand for whey protein isolate have been provided for each regional market, along with the market size valuation and forecast price point assessment, price index and impact analysis of key regional and country-wise dynamics, which were obtained through quotes from numerous whey protein isolate producers ,experts and suppliers.
Y-o-Y growth projections have also been offered on all regional markets incorporated in the report. Moreover, future trends, growth prospects and other possibilities related to the market have been answered in the report.
The report provides company-level market share analysis, which has been derived on the basis of the company's annual sales and segmental revenue in all the target end-use industries. The market has been forecasted based on constant currency rates. The report provides detailed competitive and company profiles of key participants operating in the global market.
Some of the major companies operating in the whey protein isolate market are: Fonterra Co-operative Group, Westland Milk Products, Leprino Foods, Carbery Group, AMCO Proteins, Grande Cheese Company, Milk Specialities Global, Davisco Foods International, Lactilas International, Agropur, Inc., Havero Hoogwegt B.V., Prinova Group, LLC and others