Hearing Aids Market Outlook (2021-2031)
The global hearing aids market was valued at US$ 7.4 Bn in 2020, and is expected to register a CAGR of 5.2% and reach a valuation of US$ 12.9 Bn by the end of 2031.
| Attribute | Key Insights |
| --- | --- |
| Hearing Aids Market Size (2020) | US$ 7.4 Bn |
| Projected Market Value (2031) | US$ 12.9 Bn |
| Global Market Growth Rate (2021-2031) | 5.2% CAGR |
| Share of Top 5 Countries | 57.2% |
As per Persistence Market Research's projections, Receiver-in-the-Ear (RIE) hearing aids hold a substantial share by product with around 82.3% market share in 2021. In 2020, hearing aid sales accounted for approx. 56.1% of the global hearing healthcare market share.
Demand Analysis of Hearing Aids from 2016 to 2020 Vs Market Outlook for 2021 to 2031
Hearing aid shipments accounted for a market value is US$ 7.4 Bn in 2020, mainly due to technological advancements in hearing aids and increasing adoption of smart hearing aids owing to rising incidence of noise-induced hearing loss.
Demand for hearing aid systems is expected to be driven by high prevalence of hearing loss, growing geriatric population, technological advancements leading to new product launches, reforms supporting sales of OTC hearing aids, and favourable reimbursement policies.
Hearing aid assistance products market expansion is also being fuelled by government-funded initiatives. Majority of countries with higher penetration rates are supported by publicly financed programs, or at the very least, subsidies, or full or partial reimbursements for hearing aids and hearing aid accessories.
According to the National Institute for Health and Disability Insurance, the government of Belgium spends approximately US$ 22.7 million (€20 million) per year on hearing aid reimbursements for approximately 40,000 devices. In Belgium, reimbursement is based on a fixed lump payment of US$ 569 (€ 500) for unilateral devices and around US$ 1,081.9 (€ 950) for bilateral implants.
The global market for hearing aids is expected to register a CAGR of 5.2% during the forecast period (2021-2031).
What are the Key Opportunities for Manufacturers of Hearing Aids?
Increasing focus on patient's comfort is creating huge opportunity for hearing aid providers. Fitting is one of the most important features of hearing aids. Improper fitting affects the hearing experience and can even make the hearing situation worse.
Getting a perfect-fit hearing aid requires precise measurements associated with hearing ability, the right type of hearing aid, and the accurate shape and size of the device. For better-fitting hearing aids, it is important to visit an audiologist to get help in choosing the right type of hearing aid for hearing loss.
The hearing aid market is a technologically driven space, which has witnessed the development of innovative devices such as invisible hearing aids, smart connected hearing aids (AI-, Bluetooth-enabled, which can be connected to Android or iOS).
For instance, in August 2021, Phonak launched Audéo Life, the world's first waterproof rechargeable hearing aid.
With advanced features and technology, hearing aid manufacturers are creating a better experience for patients, which is set to drive market growth over the coming years.
What Issues are Restraining Demand for Assistive Listening Devices?
Besides the high cost of hearing aids, one of the major factors impeding market expansion of the best hearing aids is the societal stigma associated with hearing loss. Because hearing loss is generally linked with negative connotations, people who suffer from it may resist getting treatment.
Many people believe that wearing a hearing aid will make them appear older, weaker, less capable, or even crippled. If left untreated, hearing loss will not only persist but will also lead to cognitive deterioration, social disengagement, despair, and ultimately dementia.
Such preconceived assumptions regarding hearing loss contribute to negative growth of the hearing aid industry.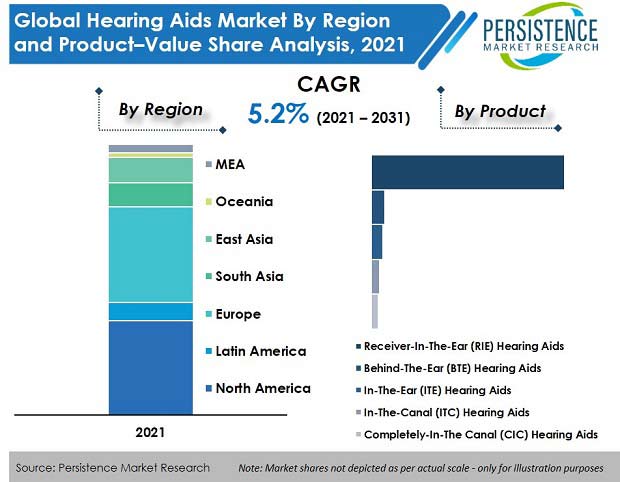 Country-wise Insights
Why is the U.S. the Largest Market for Hearing Aid Assistance Products?
"Highly Favorable Government Policies Regarding Assistive Listening Devices"
Favorable government initiatives to improve medical device access are expected to boost the sales of hearing aid systems in the U.S. market.
In the United States, around 15% of adults aged 18 and above experience hearing problems. Despite this, only one-fifth of those who could benefit from hearing aids actually use them. In October 2021, the FDA published a proposal that aims to offer a new category of Over-the-Counter (OTC) hearing aids at reduced prices. This provides a new revenue-generating opportunity for manufacturers to gain share in the OTC hearing aid category.
Such strong backing from the government and associated regulatory authorities is expected to have a positive impetus on the U.S hearing aids market in the long run.
Which Country is Considered a More Lucrative Market for Hearing Aid Suppliers in Europe?
"Germany to Remain High-growth Market for Hearing Aid Accessories"
Germany dominates the European hearing aids market with more than 25% market share.
Germany is Europe's largest and most capable market for implementing innovative hearing aid technologies. At the same time, large number of qualified medical professionals provides a strong foundation for the advancement of hearing aid technology.
Further, long-term presence of leading hearing aid brands such as Signia (formerly Siemens), ReSound One, Widex Moment, Phonak, Oticon, and Starkey vouch for a long history of producing high-quality hearing aid equipment. Presence of such leading brands has created high awareness about technologically advanced hearing aid products, and is thus widely accepted among ENT specialists, audiologists, and hearing care specialists.
In addition, growing prevalence of hearing loss and high purchasing power will further support growth of the Germany hearing aids market during the forecast period.
Category-wise Insights
Which Type of Hearing Aids is Substantially Driving Market Growth?
"Demand for RIE Hearing Aid Accessories to Remain Substantially High"
By product, Receiver-in-the-Ear (RIE) hearing aids hold the highest share of 82.3%, expanding at a CAGR of 5.3% during the forecast period.
Demand for and market size of RIE hearing aids is more because of their excellent comfort and fit. RIE hearing aid systems are small, discreet, and very versatile, and also sit behind the ear properly.
These hearing aids are known for being small and hardly noticeable, with varying sizes. Besides, the main advantage is that these assistive listening devices produce a more natural sound.
Which Hearing Aid Technology is Proliferating in the Global Market?
"Digital (Smart) Hearing Aids Gaining Huge Popularity across Geographies"
By technology, digital hearing aids are expected to hold 98.9% market share, and the trend is expected to be continued throughout the forecast period.
Improved sound quality due to selective amplification of sound, reduction in feedback that is normally associated with conventional hearing aids, comfortable listening experience, and automatically adaptation to changing and listening environments without the need for manual intervention for volume adjustments are some of the benefits associated with smart hearing aids.
Which End User Should Hearing Aid Manufacturers Target?
"Audiology Clinics to Proliferate through Hearing Aid Sales"
By end user, audiology clinics accounted for the largest market share of 47.7% in 2021, for the sales of hearing aid devices.
Before purchasing a hearing aid piece, increasing number of people are seeking the advice of a hearing aid professional. This assists them in purchasing the correct device. As a result, companies are approaching audiology clinics to demonstrate their hearing aid products.
Impact of COVID-19 Crisis
The COVID-19 pandemic led to lockdowns that resulted in various restrictions, such as social distancing, closing of schools, cancellation of conventions or meetings, and other restrictions to avoid the spread of coronavirus.
The pandemic had a negative impact on the overall sales of hearing aid assistance products owing to the postponement surgeries such of the cochlear implantation procedure, which is one of important surgeries to treat hearing issues. This resulted in a decline in hearing aid sales of leading manufacturers.
For instance, Demant's hearing segment registered a decline of 13% in 2020. Similarly, the hearing segment of the GN group witnessed downward growth by 25.6% in 2020 as compared to the previous years.
Despite all these challenges faced by the hearing aids industry and other medical sectors, the industry is slowly regaining traction with the normalization of the COVID-19 situation around the globe.
Competitive Landscape
Continuous innovations, new product launches, and innovative applications are some of the key parameters that help hearing aid manufacturers sustain their position at a global level. Furthermore, expansion of these players into the OTC segment opens up new revenue pockets and helps them capture significant share in the market.
For instance, in May 2021, Bose entered into the over-the-counter hearing aids category by selling Sound Controlled hearing aids directly to patients who suffer from mild to moderate hearing loss.
Apart from this, partnerships and collaborations are being adopted by hearing aid product manufacturers.
In September 2021, Audientes, a company offering lower-cost hearing aids to low-income countries, entered into a partnership with Hearing Wellness Clinic (HWC), a chain of hearing centres in South India, to introduce its self-adjusting hearing aids to the Indian market.
In October 2020, Starkey entered into an agreement with OrCam Technologies (Israel) to provide assistive technologies to hearing and visually impaired people.
Similarly, recent developments related to hearing aid systems have been tracked by the team at Persistence Market Research, which are available in the full report.
Hearing Aids Industry Report Scope
Attribute
Details

Forecast Period

2021-2031

Historical Data Available for

2016-2020

Market Analysis

US$ Mn for Value

Key Regions Covered

North America
Latin America
Europe
Asia Pacific
The Middle East & Africa

Key Countries Covered

U.S.
Canada
Brazil
Mexico
Argentina
Germany
U.K.
France
Italy
Spain
Russia
Poland
China
Japan
India
Australia
New Zealand
ASEAN
GCC Countries
South Africa

Key Market Segments Covered

Product
Technology
End User
Region

Key Companies Profiled

Audina Hearing Instruments
Inc., Audina Hearing Instruments, Inc.
Starkey Laboratories, Inc.
Demant A/S
BHM-Tech Produktionsgesellschaft GmbH
GN Hearing
Microson
Sonova Holding AG
WS Audiology A/S
Eargo Inc.

Pricing

Available upon Request
Key Segments Covered in Hearing Aids Industry Research
Hearing Aids Market by Product:
Behind-the-Ear (BTE) Hearing Aids
Receiver-in-the-Ear (RIE) Hearing Aids
In-the-Ear (ITE) Hearing Aids
In-the-Canal (ITC) Hearing Aids
Completely-in-the Canal (CIC) Hearing Aids
Hearing Aids Market by Technology:
Conventional Hearing Aids
Digital Hearing Aids
Hearing Aids Market by End User:
Audiology Clinics
ENT Clinics
Online Stores
Hearing Aids Market by Region:
North America Hearing Aids Market
Latin America Hearing Aids Market
Europe Hearing Aids Market
Asia Pacific (APAC) Hearing Aids Market
Middle East & Africa (MEA) Hearing Aids Market