Bio Lubricants Market Outlook (2021-2031)
The global bio lubricants market was valued at around US$ 1.4 Bn in 2021, registering Y-o-Y growth of 4.9%. Bio lubricant sales are projected to increase at a healthy CAGR of 5.2% and top a valuation of US$ 2.4 Bn by 2031.
| | |
| --- | --- |
| Bio Lubricants Market Size (2020A) | US$ 1.33 Bn |
| Projected Year Value (2031F) | US$ 2.43 Bn |
| Global Market Growth Rate (2021-2031) | 5.2% CAGR |
| Collective Value Share: Top 3 Countries (2021E) | 56.8% |
Bio lubricant sales account for roughly 1%-2% of the global finished lubricants market. As of 2020, hydraulic fluid comprises 38% to 41% of global bio lubricant consumption value, and the segment is projected to register a growth rate of around 4.5% over the projection period of 2021 to 2031.
Consumption Analysis of Bio Lubricants from 2016 to 2020 Vs Market Outlook for 2021 to 2031
Revenue from bio lubricants, including vegetable oil, synthetic esters, PAG, PAO, and others totalled US$ 1.33 Bn in 2020. The market witnessed a growth rate of 5.6% from 2016 to 2020.
The COVID-19 pandemic impacted market growth in 2020, resulting in a fall in CAGR. Due to their low cost compared to other types and high demand from the construction industry, hydraulic fluids are likely to drive market growth over the coming years. Due to expanding building activities in the residential sector, such as in China, and rising infrastructural projects in India, demand for industrial lubricants is rising.
In the global lubricants market, the bio-based lubricants segment is the fastest growing. Bio-based motor oils are being tested as a substitute for synthetic lubricants through government initiatives in the United States, Germany, and Nordic nations.
Overall, the global market for bio lubricants is slated to progress at a CAGR of 5.2% through 2031.
Bio Lubricants - Alternative for Petroleum-based & Mineral-based Oil
Bio engine oils are gaining significant traction as they are widely accepted as petroleum-based oil replacements. This promises to have a favorable influence on the environment and will aid in the resolution of associated issues. Renewable raw materials such as plant oils and animal fats are being utilized. Vegetable oil-based lubricants are known to provide a lot of environmental and long-term advantages over petroleum-based alternatives. They are also more cost-effective and have a higher degree of biodegradability.
Before being dumped into the environment, new lubricants are altered multiple times. Fresh air, freshwater, and soil have all been contaminated as a result of this, which has had a significant impact on the environment. The need for biodegradable bio-based lubricants has increased as public awareness of the environmental implications of mineral oil-based lubricants has increased.
What are the Key Opportunities for Bio Lubricant Manufacturers across the Globe?
"Green Planet Trends Driving Sales of Bio Engine Oils"
In the post-COVID-19 era, there are opportunities for sustainable solutions ranging from green buildings to sustainable lubrication. A bio lubricant is a non-toxic, rapidly biodegradable product that breaks down by a minimum of 60% in 28 days, is renewable by nature, and contains a minimum of 25% carbon from bio-sourced sources.
Bio-based lubricant products used as a 'greener' alternative to conventional lubricating oils that pollute the environment by emitting poisonous fumes. Due to its unique 'environmental benignity,' the sector is gaining tremendous traction among environmental activists.
Bio-based lubricant oils have made tremendous progress in recent years in a variety of applications that seek to make use of their superior characteristics and individuality, such as biodegradability, lower flammability, toxicity, and volatility.
What's Hindering Bio Lubricant Demand Growth to Some Extent?
"Comparatively High Cost of Bio Lube Oil"
The most significant challenge confronting bio lubricant manufacturers is the market is being hampered by the high cost of bio lubricants and their lack of lubricating properties.
Vegetable oil-based lubricants are biodegradable to a great extent, making them a suitable alternative to conventional lubricants. Their direct usage as base oils, however, is limited due to their low oxidative qualities and poor low-temperature capabilities, which contribute to higher prices, contamination, and biodegradability losses. As a result, developing cost-effective bio lubricants with a breakthrough mix of biodegradability and high lubricant characteristics is a huge task.
The price of these lubricants is a significant barrier for the market to overcome. In comparison to a regular lubricants, a bio lubricant is 30-40% more expensive. Most bio-based products are priced to compete with mid- to high-performance mineral oil products.
These factors are estimated to impact market growth to a certain extent over the decade.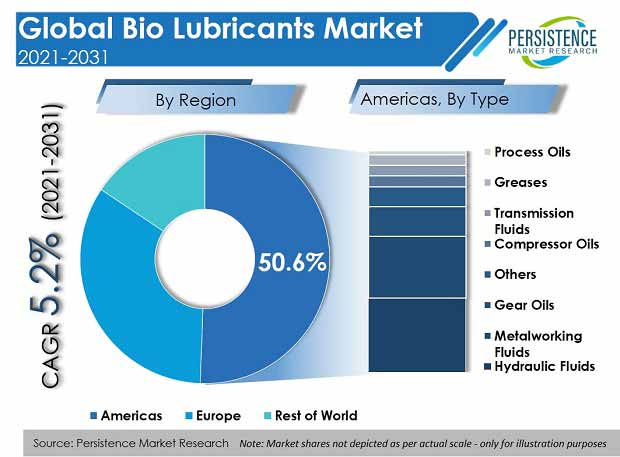 Country-wise Analysis
What's Compelling Bio Lube Oil Manufactures to Expand in China?
"Auto & Industrial Application of Bio Lube Oil High"
China is anticipated to remain a prominent market for bio oil lubricants for automotive and industrial applications, in terms of both, production and consumption. China contributed around 81.2% to the total revenue generated from the sales of bio lubricants across East Asia in 2021.
Due to their extensive set of characteristics, such as reduced friction, temperature control, heat transfer, corrosion protection, and wear and tear protection, demand for industrial lubricants is increasing for a variety of applications. Rising vehicle production in China is a primary driver for the growth of industrial lubricants, since these are frequently required for optimal machine operation.
Which Country Accounts for High Demand for Bio Lubricants in North America?
"U.S. Bio Engine Oil Market Leading North America Market Growth"
In 2021, bio engine oil demand in the U.S. expanded 4.3% Y-O-Y, overcoming initial concerns about how the market would suffer during the pandemic. Total bio lube oil sales in North America are estimated to account for 86.8% of the global market share.
North America is estimated to hold a major share in the global market and account for 47.8% value share and 44.8% volume share, followed by Europe and SAP.
Category-wise Insights
"Which Type of Bio Lubrication Oil is Most Preferred?
"Vegetable Oils Gaining More Traction than Synthetic Lubricants"
Revenue from vegetable oils increased at a robust 4.7% year-over-year in 2021, giving the overall bio oil lubricants market year-over-year growth of 4.9% in 2021.
Bio lubricants are an alternative to petroleum-based lubricants. The base stock is vegetable oils and oils derived from palm, canola, and sunflower seeds. Instead, North American businesses such as ExxonMobil Corporation, Environmental Lubricants Manufacturing Inc., and RSC Bio Solutions are creating unique biosynthetic base stock solutions that could represent the future of bio lubricant technology.
Increasing the supply of synthetic bio base stocks with high-performance standards and good value for money is propelling the bio lubricants sector forward, with high costs being the next hurdle to overcome.
Which Bio Oil Lubricant Application will Remain Significant?
"Consumption of Industrial Bio Lubricants to Remain High"
The market is divided into several segments based on end-use industry - industrial, oil & gas, and consumer automobiles. The industrial segment held a high market share in 2021 and is likely to maintain its dominance during the forecast period. Segment dominance is owing to environmental rules on lubricant disposal, ecolabels, and tax exemptions for the usage of bio lubricants.
The automotive sector is anticipated to account for the largest share of around 46% of bio lube oil demand. The automotive segment is estimated to remain a key end-use segment in the global industry for bio lubricants. One of the key drivers for the growth of the sector is growing customer preference for high-quality bio-based automotive lubricants.
In 2020, the engine oil sector dominated the automotive lubricants market, and is expected to rise at a CAGR of 5.1% from 2021 to 2031. Engine oil is widely used in diesel and light-duty vehicles. Viscosity, reliability, and wear reduction are all benefits of engine oil. It also aids in keeping the motor cool, corrosion-free, and clean.
Did COVID-19 Dent the Sales Prospects of Bio Lubricant Oil Suppliers for Automotive Application?
The global bio lubricants market is witnessed a significant downfall in the year 2020, and is expected to recover sharply after the pandemic owing to growing demand from end-use sectors such as automotive, transportation, and industrial.
Beyond the negative impact on volume demand, negative consequences of COVID 19 may result in the delaying or even extension of restrictions governing conventional lubricants. Meanwhile, the European automotive sector has urged the European Commission to relax its carbon dioxide reduction targets.
Competitive Landscape
Through acquisitions, mergers, and collaborations, key bio lubricant suppliers are focusing on strategic expansions to extend their geographic reach. Furthermore, several manufacturers are performing research & development to develop new and innovative technology in order to reduce their carbon emissions and contribute to sustainable development.
Some of the key developments are:
In 2020, Marquis Oil partnered with Vickers Oils, and is now successfully supplying quality food-grade lubricants and greases to the food sector.
In December 2021, RSC Bio Solutions and Standard Sekiyu Osaka Hatsubaisho Co., Ltd (SSOH) announced a new distribution partnership to meet growing demand in Japan for Environmentally Acceptable Lubricant (EAL) offerings for marine and industrial applications.
Similarly, other key developments related to companies manufacturing bio lubricant oils have been tracked by the team at Persistence Market Research, which are available in the full report.
Bio Lubricants Industry Report Scope
Attribute

Details

Forecast Period

2021-2031

Historical Data Available for

2016-2020

Market Analysis

US$ Mn for Value
Cubic Meter for Volume

Key Regions Covered

North America
Latin America
Europe
East Asia
South Asia & Pacific
MEA

Key Countries Covered

U.S.
Canada
Brazil
Mexico
Germany
U.K.
France
Italy
Spain
BENELUX
Nordic
Russia
China
Japan
South Korea
India
ASEAN
Australia and New Zealand
GCC Countries
Turkey
Northern Africa
South Africa

Key Market Segments Covered

Process
Application
End Use
Region

Key Companies Profiled

ExxonMobil Corporation
TotalEnergies
ROYAL DUTCH SHELL PLC
Cargill Inc.
Environmental Lubricants Manufacturing, Inc.
Kluber Lubrication
Castrol Limited
FUCHS Group
Renewable Lubricants Inc.
Polnox Corporation
BINOL BIOLUBRICANTS
Emery Oleochemicals
PANOLIN AG
VICKERS & SONS LTD
ROWE MINERALÖLWERK GMBH
KAJO Group
Balmer Lawrie & Co. Ltd

Pricing

Available upon Request
Key Segments Covered in Bio Lubricants Industry Research
Bio Lubricants Market by Type:
Hydraulic Fluids
Metalworking Fluids
Gear Oils
Greases
Process Oils
Compressor Oils
Transmission Fluids
Others
Bio Lubricants Market by Raw Material:
Vegetable Oils
Synthetic Esters
PAG and PAO
Others
Bio Lubricants Market by End Use:
Automotive Bio Lubricants

Automotive Engine Oils
Gear Oils
Hydraulic Oils
Transmission Fluids
Grease Formulation
Others

Marine Bio Lubricants Market

Hydraulic Fluids
Gear Oils
Multi-purpose Oils
Grease Formulation

Aviation Bio Lubricants Market

Engine Oils
Compressor Oils
Others

Mining Bio Lubricants Market

Pneumatic Tools
Hydraulic Oils
Gear Oils
Others

Industrial Bio Lubricants Market
Construction Bio Lubricants Market
Oil & Gas Bio Lubricants Market
Others
Bio Lubricants Market by Region:
North America Bio Lubricants Market
Latin America Bio Lubricants Market
Europe Bio Lubricants Market
East Asia Bio Lubricants Market
South Asia & Pacific Bio Lubricants Market
Middle East & Africa Bio Lubricants Market