Introduction
Lithium ion batteries provide electrical power for everything, from smartphones to power tools, and electric vehicles to aerospace components. Lithium ion batteries (LIB) are a family of batteries having high energy density, and unlike disposable lithium primary batteries, they use intercalated lithium compound instead of metallic lithium as the electrode.
Li-ion technology currently holds several advantages over other technologies, such as high energy density and low rate of self-discharge. The lithium ion battery market trajectory is forecasted to move on a significantly upward trend during the forecast period of 2020 to 2030.
Lithium Ion Battery Market Trends
Electric Vehicle Market to Power Next Phase of Industry Growth: Lithium ion battery technology has found primary usage in electronic devices such as mobile phones, smartphones, etc., and has then moved up the chain to penetrate other end-use areas such as consumer appliances, power tools, and energy storage systems.
However, the most significant development has been the scaling up of this technology for larger applications such as electric vehicles and electric bikes. Significant investments in technology development have led to differentiation among chemistries with performance attributes that are best suited to specific use cases, including electric vehicles market.
The highest demand growth for the lithium ion battery market over the next few years is expected to come from applications in electric vehicles, electric bikes, and energy storage applications.
Growing global focus on lowering carbon emissions from fossil fuel-powered vehicles and policy measures for the increased uptake of electric vehicles market will positively contribute to the growth of the lithium ion battery market size during the forecast period.
Lithium Nickel Manganese Cobalt Oxideto Retains Top Share: The chemistry of lithium ion batteries plays a significant role in the usage and application potential for multiple end-use cases.
As of today, lithium nickel manganese cobalt oxide and lithium ion phosphate jointly account for nearly 70% of the lithium ion battery market share by value. High specific energy characteristics, low internal resistance, and versatility to suit different power capacity configurations are the key factors driving the leadership of the lithium nickel manganese cobalt oxide battery type in the market.
The inherently safe nature, high current rating, and long life cycle of lithium ion phosphate chemistry is driving the demand for this type in the lithium ion battery market.
Manufacturers Focusing on Continued Cost Optimization and Lightweight Product Types: The lithium ion battery industry has witnessed significant research and development efforts over the past two decades, which have led the technology to become a common fixture in modern-day devices and equipment.
However, key lithium ion battery manufacturers and industry leaders are continuing their pursuit of further cost optimization and technology development in various aspects, to enable the technology to become competitive enough for hitherto untouched markets.
For instance, continuing efforts are being made to further improve the cost and performance parameters for electric vehicle battery applications, to spur demand in cost-conscious markets and gain an unbeatable advantage over conventional fuel vehicles.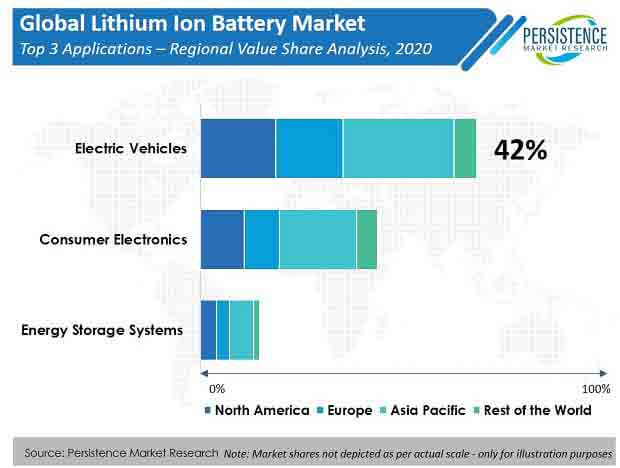 Regional Outlook of Lithium Ion Battery Market
In terms of regional distribution, the global lithium ion battery market is dominated by Asia Pacific, with the region, as a whole, accounting for nearly 40% share of the market in 2019. The region is projected to continue to be the most significant demand center for lithium ion batteries throughout the forecast period.
Further, the region is dominant on not just the demand front, but also on the supply front, with China, South Korea, and Japan accounting for the bulk of the global production capacities as well.
Competition Overview of Lithium Ion Battery Market
The lithium ion battery market is fairly consolidated in nature, with a limited number of global players dominating the scene. However, despite the absence of a large number of players, the market is intensely competitive, given the demand performance parameters required by clients.
Some of the key players operating in the global lithium ion battery market are Panasonic, LG Chem, Samsung SDI, Ultralife Corporation, Saft Groupe, and BYD Company.
Lithium Ion Battery Market: COVID-19 Impact Analysis
Factory shutdowns and downturn of auto sales during the COVID-19 pandemic signal a troubled road ahead for electric vehicle (EV) makers, while low gas prices could hit both, the EV and li-ion battery markets hard.
The pandemic's effect on the battery industry has been massive, due to its dependence on sourcing for its raw materials and electrode material from China.
The pandemic has further taken a toll on OEMs, who have moved away from historically strong Asian markets such as Japan and South Korea to low-cost Chinese sources. Post pandemic, there is high likeliness to be greater emphasis from global battery manufacturers to find a more balanced diversification of the li-ion supply chain across Asia Pacific.
Analysts' Viewpoint
Lithium ion batteries have already become ubiquitous in the consumer electronics sector, and the next growth frontier would be the automotive and energy storage industries. Significant technology developments for high capacity batteries and the continuing cost scale-down for electric vehicle batteries will improve market penetration. The next area of innovation is concerning grid-scale battery installations to improve the capability of energy storage systems. Developments in battery chemistry and materials technology will help in overcoming technical and cost barriers, and offer a promising future for the lithium ion battery market in the coming decade.
Key Segments of Lithium Ion Battery Market
PMR's study on the lithium ion battery market is divided into six significant segments - battery type, voltage, product type, operation, end user, and region. This report offers comprehensive data and information about the important market dynamics and growth parameters related to these categories.
Battery Type

Lithium Cobalt Oxide
Lithium Manganese Oxide
Lithium Iron Phosphate
Lithium Nickel Manganese Cobalt Oxide
Lithium Nickel Cobalt Aluminum Oxide
Lithium Titanate

Voltage

Less than 4.5V
4.6V to 12V
13V to 18V
19V to 24V
25V to 36V
37V to 48V
Above 48V

Product Type

Single Cell
Battery Pack/Module

Operation

Rechargeable
Non-rechargeable

End User

Electric Vehicles
E-Bikes
Electric Scooters
Energy Storage Systems
Aerospace & Aviation Systems
Railway Systems
Marine Systems
Industrial Vehicles & Equipment
Consumer Electronics
Battery-operated Power Tools

Region

North America
Latin America
Europe
Asia-Pacific
Middle East & Africa (MEA)
Oceania
Key Questions Answered in PMR's Lithium Ion Battery Market Report
Which region is anticipated to hold a prominent market share over the forecast period?
What will be the key driving factors propelling the demand for lithium ion batteries during the forecast period?
How will current trends will impact the lithium ion battery market?
Who are the significant market participants in the lithium ion battery market?
What are the crucial strategies of prominent players in the lithium ion battery market to upscale their position in this landscape?