Agarwood Chips: Meeting Luxury Needs but Nearing Extinction
In intellectual discussions about nature conservation and deforestation, there is a strong plea for attention to the social and economic relevance of highly-priced non-timber forest products such as agarwood.
Naturally produced from the heartwood of Aquilaria trees, agarwood and its products have been gaining immense popularity as highly valuable products, especially for medicine and fragrances purposes.
However, the demand for it far exceeds the available supply, which is restricted due to its nature of formation that is associated with the wounding and fungal infection of the Aquilaria trees.
Developments in the non-timber forest products landscape, in general, and the agarwood chips market in particular, warrant an in-depth understanding and unbiased analysis. Persistence Market Research (PMR), in its new offerings, brings to light various aspects and nuances, along with credible insights of this market, which can assist market stakeholders with value-creation and data-driven decision making.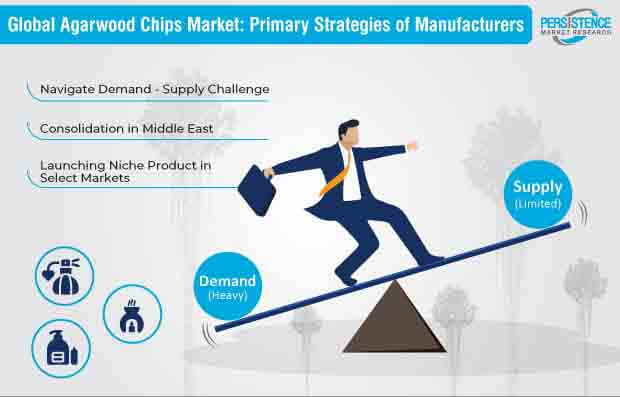 Unlocking the History and Current Developments in the Agarwood Chips Market
Non-timber forest products have a very long history, with India being one of the earliest sources of this chips for foreign markets, which are currently traded in larger quantities. In 2018, the worldwide sales of these chips closed in on US$ 30 billion. However, it is pertinent to note that, nearly 75% of these sales remained concentrated in the Middle East & Africa, East Asia, and South Asia. The trade of this between these regions is one of the oldest ongoing rituals, while this chips have high cultural value in Arabic countries.
As the wealth of consumer countries has steadily increased in recent times, the demand for this is significantly exceeding its supply. Currently, the total supply of these chips satisfies only 20% of the demand, causing a huge disruption in the market.
The exponential increase in the demand for these chips has resulted into the rapid depletion of Aquilaria trees in natural forests, and hence, these trees were listed as endangered on the CITES Appendix II.
As these factors, along with trade restrictions in major agarwood producing countries, continue to affect the prices of these chips, the mass plantation of Aquilaria trees has become a sustainable way to obtain it and to protect these endangered species.
Agarwood Chips Market: First Wave of Growth Led by the Fragrance Industry
A notable rise in the demand for agarwood chips goes hand in hand with the expansion of the fragrance industry. Popular for perfuming personal garments in traditional Arabic culture, these chips have captured huge attention as an essential ingredient for the manufacturing high-end perfumes and fragrance products.
The mass marketing of lower-priced perfumes has long been a successful formula for the fragrance industry, but as consumers, especially millennials, became distant from these products and inclined towards luxury and personalized products, a new set of trends brewed in the industry. A number perfume manufacturers are focusing on including at least one custom product and luxury label with exotic ingredients in their portfolios, which directly works to the advantage of these chip suppliers.
In addition, considering the range of limitations in this production, the development of these chips market relative to the fragrance industry remains unaffected by the high cost of products.
In lieu of foraying into other industries, market players are drawing upon the opportunities arising from the cosmetics and fragrance industry to cater to premiumization in personal care products and the increasing use of exotic ingredients in perfumes and fragrances.
In addition for offering agarwood chips, oil, and powder, a number of market players such as Po Lou Senko Agarwood Products are also introducing many innovative products using it in the category of personal care. However, the rising demand for these chips in end-use industries has led to overharvesting and persistent illegal trade, as well as the emergence of adulterated and fake agarwood chips, all of which continue to threaten market growth.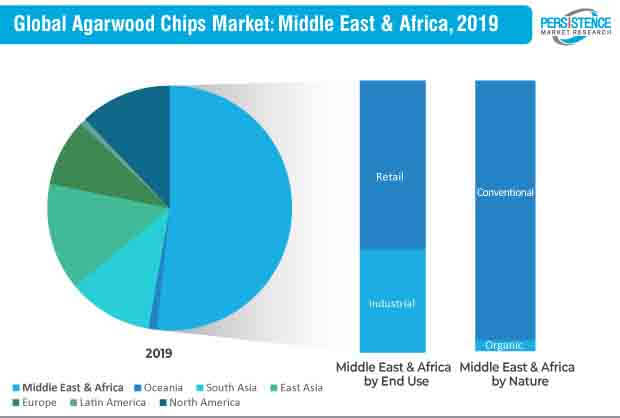 Rise and Fall of Agarwood Chips Market Players
As the plantation of Aquilaria trees and agarwood production are restricted to Southeast Asia due to climatic conditions, mass plantation remains a prominent focus area of market players in collaboration with local botanical communities and related partners in the region.
Despite great efforts, trial plantations have been successful in terms of growth, but not in it's production, or has resulted into low-grade quality. Thereby, farmers and investors have become hesitant to invest in its cultivation. In addition, considering the high value and lucrative nature of it, free exchange of information regarding sustainable production methods has also been restricted.
As these factors, along with supply-demand and knowledge gaps persist, agarwood chip manufactures target offering their products specifically in Middle Eastern countries where the cultural demand for these products remain high.
Positioned in the premium category, agrawood chip manufacturers and suppliers continue to significantly export their products to GCC countries, especially the UAE and Saudi Arabia, where the luxury and premium goods market continues to flourish. Sensing the steady influx of tourists for luxury shopping in these countries, in tune with the increase in individual income available for spending on luxury goods, agrawood chips market players are wary about expanding in other regions.
The Competitive Landscape
The global market shows a high level of consolidation, with companies such as Asia Plantation Capital, Sadaharitha plantation Ltd., Agarvina Co. Ltd., Nagaland Agarwood Company, and Assam Aromas, collectively accounting for 40-50% share of the market revenue.
Taking the nature of the product into consideration, high-quality continues to be an influencing factor, and to stay ahead in the market, key players are mainly focusing on offering products under the premium, luxury, and deluxe categories.
For instance, in 2019, Hoang Giang Agarwood Ltd launched a new premium product under its lifestyle segment - HAGA Natural Smart Oud- Coil, which provides the experience of modern scent and sophisticated living.
The development of new technologies and establishment of new plantations also remain key focus areas of regional players. Monopoly in these chips market by South Asian companies has worked to their advantage, but the limited production of it remains a main concern for these players.
The Analyst Viewpoint
Limited scope of agarwood production continues to impact supply and lead to price fluctuations, thereby hindering the global expansion of these chips market. As the purchasing power and demand for these chips remain high in the Middle East as well as North America and Europe, manufactures will need to target these demanding regions.
With new research and technologies, the gap between demand and supply may narrow, but it will not affect the increasing price trends. It will be an understatement to say that, the perfume industry will remain central to the higher growth of these chips market.
The authors of this report strongly feel that, manufactures entering into partnerships with fragrance companies, while simultaneously expanding their product portfolios, will be well-rewarded in the long run.
Agarwood Chips Market: Introduction
The most expensive wood in the world, agarwood, also known as oud or aloeswood, is the dark and aromatic resin-suffused wood formed in the species of Aquilaria, Gyrinops, and Aetoxylon trees. Generally, the Aquilaria tree is considered to be the leading producer of high-quality agarwood.
This is formed when these trees are infected by a parasitic fungus. To combat this infection, the tree begins to secrete a very special and fragrant resin that slows down the growth of the fungus, and ultimately heals the tree. This resin-soaked wood is called agarwood.
It's cultivation is done in South East Asian countries such as India, Thailand, Malaysia, and Vietnam. These chips are used in the production of perfumes and incense sticks. This has cultural and spiritual importance in Middle Eastern countries. These chips are popular due to their medicinal properties as well. The medicinal use of it has been prominent in China since ancient times.
Agarwood is categorized as an endangered species under the CITES (Convention on International Trade in Endangered Species of Wild Fauna and Flora) regulation. The production of these chips can take longer than expected, and hence, the total production of this satisfies only a few percent of the total demand for this, which ultimately affect the supply of these chips.
Use of Agarwood Chips in Personal Care & Accessories Boosting Demand in the International Market
Traditionally, agarwood was used only for the manufacturing of perfumes, incense sticks, and oils. As the number of companies entering the fragrance manufacturing market has increased, manufacturers are now introducing new products using this in the personal care and cosmetics category.
This trend is being followed by many companies, and they are introducing new and innovative products made from these, such as jewelry and accessories. Some companies are also offering products such as agarwood soap bars, tea, and biscuits made from it.
This increasing product innovation is expected to boost the demand for these chips in the international market.
Agarwood Forestry - A Sustainable Solution to Meet the Global Demand for Agarwood Chips
Agarwood plants are an endangered species under CITES conservation. The production of this is less when compared to its global demand, eventually affecting the production of these chips. Illegal trade is also threatening the industry, and agarwood chip manufacturers are seeking sustainable ways to find a solution.
Agarwood forestry is the latest trend in the manufacturing industry. A company initiates the plantation of trees on land, which is owned by the company itself. This solution has environmental as well as commercial benefits for manufacturers.
Many companies are now planning and initiating the plantation of it. This trend is expected to increase the production capacity of the industry, and satisfy the increasing demand for these chips across the globe.
Cultural Demand from the UAE Boosting Agarwood Chips Market Growth
Agarwood is an important part of Arabic culture in general. In Arabic countries, people use high-grade these chips and burn them to honor guests. They also have a tradition of using it's perfumes for special occasions and while preparing for prayers.
The high price of this is considered an indicator of its preciousness and luxury. The quality of the aroma can be viewed as an indication of status and prestige.
Agarwood is seen as a part of the heritage and cultural identity of the UAE. Thus, the continuous cultural demand for these chips in the UAE is boosting the market for these chips in the UAE.
Price Fluctuations and Trade Restrictions Resulting in Increased Prices of Agarwood Chips
Most companies try to ensure stable prices for their products to maintain their market niche. Fluctuations in import prices are always reflected on the retail prices of the end products.
Agarwood oil and other agarwood-derived perfume prices have been comparatively more stable than these chip prices, as price fluctuation has a direct impact on raw materials, while perfume products include a high percentage of production and other costs.
This all results in a rise in the prices of these chips on an annual basis. Trade restrictions in India are the major cause of the rising prices of these chips, as India is a prominent country with whom most of the importing countries have been trading for many years.
In isolated cases, the global application of CITES (Convention on International Trade in Endangered Species of Wild Fauna and Flora) is affecting the continuity of supply of these chips, which results in an increase in the prices of these chips.
After an analysis of this market, it has been observed that, agarwood is known as Gold from the Forest. Agarwood plants are now an endangered species, covered under the CITES conservation. These chips have the highest demand in Middle East countries, as the cultural and spiritual value of this is very high in this region.
South Asia is the leading producer and one of the largest consumers of it. Currently, there is monopoly in these chips production market, as South Asia is the only region that produces agarwood chips.
However, the overall chips market is facing price fluctuations due to high demand and low supply. Rising and fluctuating prices of these chips can eventually hamper the growth of this market.
Agarwood Chips Market: Segmentation
PMR's study assesses the agarwood chips market on the basis of nature, end use, distribution channel, and region. It includes a segmental analysis of the these chips market, and offer in-depth insights on how the various dynamics and trends associated with each segment will impact the growth of this market.
Nature

End Use

Retail
Industrial

Ayurveda Medicines
Incense Sticks
Personal Care & Cosmetics

Distribution Channel

Business to Business
Business to Consumer

Hypermarkets/Supermarkets
Specialty Stores
Online

Region

North America
Latin America
Europe
South Asia
East Asia
Oceania
Middle East & Africa
What are the Key Questions Answered in the Agarwood Chips Market Report? 
How is the legal framework governing the trade of agarwood and its products?
Which approaches and constraints are holding these chips market tight?
How are price fluctuations and trade restrictions of raw material affecting market development?
What are key opportunities and challenges faced by these chips market players?
What are the upcoming commercial prospects of these chips market?
How is the agarwood chips market predicted to develop in the future?
What are the key outcomes of the five forces analysis of these chips market?
What are the effective strategies adopted by key manufacturers to increase the production of these chips?