Introduction
Digitalization and centralization of enterprise processes have influenced several companies to turn to financial and distributed information technologies.
As the world has commenced the innovative journey of digital transformation, disruptive forces are becoming significantly prevalent across almost every industry. Consequently, various companies are looking for ways to integrate their critical services and processes into the same stack.
System integration allows enterprises to arrange broad array of software and hardware components into a consolidated ecosystem. The approach - as a whole - is becoming more valuable than ever before. By 2030, expansion of the system integration market size, globally, will lead to the market being worth US$ 1.2 Bn.
System Integration Market Trends
Cloud Computing to Remain Cost-effective: Modernization of companies' IT infrastructure is not completed with acquisition of new technologies. In a bid to boost modernization, market players must help customers shift specific workflows and use cases to cloud such as procurement, enterprise resource planning (ERP), payroll, and supply chain management solutions.
Cloud-based models are used as vital agent for business transformations, and are apparent deployment model of choice for modernizing existing IT infrastructure. Investments in cloud computing have risen moderately. They offer economies of scale while providing security to confidential data of companies in sync.
While yearly expenditure growth will remain steady in coming years, the global cloud computing market will hit a five-year (2017-2022) CAGR of 33.9% in public cloud services spending.
Growing Adoption of NGOSS: Conventional business support systems and operations face difficulties associated with security issues, long process cycles, and low data accuracy. Service providers in the system integration market are deploying New-Gen Operations Systems and Software (NGOSS) in an effort to address these challenges.
Telecom operators are strategically incorporating NGOSS in order to facilitate integration with innovative Internet Protocol (IP) based frameworks, potential use cases, and enhance customer service and support.
NGOSS enable mobile network operators (MNOs) to unveil and rationalize their enterprise processes, particularly from service quality and resource performance viewpoints. Further, they help MNOs handle operations swiftly and enable these processes to grow independently.
Europe remains one of the largest markets for vendors with the highest system integration market share. The European Union (EU) has rolled out innovative strategies for energy system integration that are devised to be major investment cornerstones of Green Deal as well as post-COVID-19 rebound in Europe.
In addition, the EU is investing €70 Mn in 11 new technology and trial projects to establish 5G ecosystems in Europe. These incorporate eight new projects that focus on creating top-notch European supply chain for 5G hardware and three new projects that will serve use cases in trans-border automated and connected mobility.
The system integration market in Asia Pacific (APAC) is experiencing robust CAGR, and will surpass Europe's market in coming years. Supportive government initiatives such as financial aid and subsidies has augured well for SMEs in the region.
Case in point, the Make in India initiative by Government of India emphasizes on offering 25% subsidy to SMEs. Adoption of system integration services in industrial automation domain in India will remain healthy despite COVID-19 repercussions.
China has launched its five-year plan in order to offer internet connectivity to rural and underserved areas. Further, availability of cost-effective labor and raw materials such as are influencing international players to outsource their activities such as business knowledge processing and consulting to players operating in APAC.
Deployment of system integration services in Latin America is speeding up at double-figure CAGR. Latin America is confronting increasing energy demands and has recognized in-depth assessment of energy supply and demand scenarios as priority.
The International Atomic Energy Agency (IAEA) has introduced a regional technical cooperation (TC) project to validate benefits of sub-regional energy integration such as greater energy security, reduced expenses, and stricter environmental controls. Furthermore, Mexico majorly represents system integration market in Latin America, states PMR.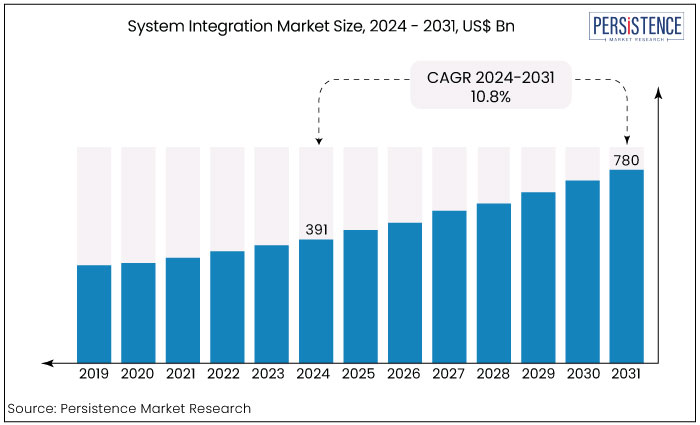 Infrastructure System Integration Services Continue to Lead: Infrastructure system integration services continue to lead the global system integration market both, in terms of revenue share and CAGR over forecast period, given mass utilization of cloud-based and network management services.
Furthermore, infrastructure system integration serves various end users to leverage single hardware and, as such, is a cost-efficient option for organizations with limited capital resources to invest in hardware.
Under the category, building management system integration captures a prominent value share as they are key components in organizations regardless of sector. System integration services analyze entire mechanical and electrical equipment such as ventilation, elevators, and lighting.
Looking ahead, application integration and configuration services will also see significant adoption over the following decade, owing to rising number of cloud-based and mobile applications.
Large Enterprises Account for 8 in 10 Installations: About 8 out of 10 system integration services will be deployed in large enterprises, and the trend will grow at tremendous CAGR through 2030.
On the other hand, onset of cloud-based models as cost-effective option has triggered adoption of system integration services among small- and medium-size enterprises (SME).
As cloud-based models help save considerable costs as well as eliminate the need for physical hardware investments, service providers are integrating cloud with system integration to reach larger customer base.
Further, PMR states that, deployment of system integration services in SMEs will register double-digit year-on-year (Y-o-Y) growth during the latter half of the forecast period, boding well for the growth of the system integration market space.
IT & Telecom Industry Holds Sway: About 25-30% of overall system integration market revenue will be realized from IT and telecom industry, attributable to surging penetration of 4G services and emergence of 5G infrastructure that contains data-intensive networks and thus result in generation of huge chunks of data.
Furthermore, increasing number of telecom subscribers utilizing smartphones and other handheld devices across the world will positively influence adoption of system integration services in IT and telecom industry.
Moving forward, demand for system integration services will remain substantial from energy and utilities and government and defense industries, with adoption in former growing at double-digit CAGR.
System Integration Market: Competitive Landscape
With leading players accounting for about 70% revenue share, global system integration market is highly consolidated. While players in the system integration market have been focusing on launching innovative solutions and services, they are also investing in strategic mergers & acquisitions (M&A), as end users are seeking to modernize and digitalize their organizations. Case in point,
Tata Consultancy Services (TCS) has rolled out Business Ecosystem Integration Services (BEIS) in order to assist enterprises integrate with larger environments and develop innovative user-centric and enhanced offerings. Primary objective of BEIS is to integrate heterogeneous and existing technology stacks - within the organization as well as outside, offering sleek communication with each other and allowing collaborations throughout companies. BEIS features three components – integration services, advisory services and operational models.
Capgemini Group has entered into an agreement with LzLabs in order to support its customers in implementing LzLabs Software Defined Mainframe® (LzSDM®). Under the agreement, Capgemini will offer technical system integration services on joint projects with LzLabs to help customers across their migration from mainframe to cloud. Their services will underpin qualification and analysis, through to discovery and, bringing customers into development on LzSDM.
Accenture has taken over PLM Systems - Turin-based boutique systems integrator in order to expand its capabilities to assist customers step up the way they create, handle and leverage product data in engineering, design, and manufacturing.
In addition to these, some other key players in the system integration market include
IBM Corporation
Cisco Systems Inc.
Cognizant
Fujitsu Limited
DXC Technology
HCL Technologies
Wipro Limited
Deloitte
Infosys
Tech Mahindra Limited
Impact of COVID-19 Pandemic on Global System Integration Market
Services have been gravely affected by the COVID-19 pandemic. Transport, tourism, and distributional services have suffered heavily as a result of mobility and travel restrictions for public health reasons, among other social distancing measures being incorporated by citizens. Disruptions in services are having an economic and trade impact, given the role of services in offering inputs for economic activities such as connecting supply chains and facilitating trade.
Negligible fluctuations are estimated to be observed on a global level, as system integration services can be deployed remotely by vendors' administration departments. However, from the perspective of procurement of these system integration services, slight declines are forecasted in growth rates of industry verticals such as BFSI and IT and telecom. But, these troughs in growth rate will recover by the end of 2021. Overall, system integration market growth rate is estimated to continue at a stagnant pace during the ongoing pandemic.
Analysts' Viewpoint of System Integration Market
With retail businesses harnessing capabilities offered by online services, the retail industry will not experience much loss during the ongoing COVID-19 pandemic, as retailers rush to procure system integration services to ensure efficient operations and sales online. Suppliers in the system integration market are boosting efforts to enhance their online businesses, as consumers adopt new habits that will contribute to long-term transition toward online services.