Introduction
Noteworthy growth in the overall construction spending, particularly in developing economies, and rising demand from residential and commercial sectors for ceramic tiles is anticipated to drive the global ceramic tiles market in a positive direction.
The global ceramic tiles market value in 2019 is estimated at US$ 97 Bn, and it is expected to reach US$ 228 Bn by the end of 2029, growing at a CAGR of ~9% throughout the forecast period. A prominent share of this growth is anticipated to come from increasing construction activities in Latin America and Asia Pacific regions.
The ceramic tiles market is anticipated to witness incremental $ opportunity of ~US$ 130 Bn between 2019 and 2029.
Growing industrialization, urbanization, and increase in disposable income in developing economies such as India, China, and Brazil are estimated to have a positive impact on the demand for ceramic tiles.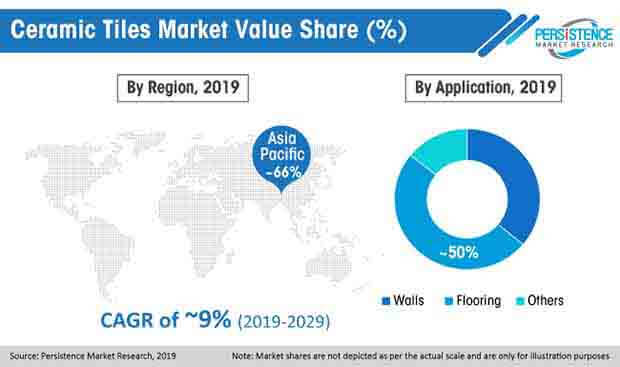 Gains Upheld by Increasing Spending on Residential Construction Sector
Over the past few years, there has been a significant increase in residential construction spending, owing to which, there has been a rise in the demand for ceramic tiles across the globe. Manufacturers are thus focusing on the production of ceramic tiles for residential usage.
Residential replacement and new installation activities are anticipated to drive growth of the ceramic tiles market. Governments are providing homes with low investments, which is pegged to support industry growth over the forecast period. In addition, the shift in consumer preference towards the usage of ceramic tiles in houses is a key factor expected to fuel the demand.
The high adoption rate of ceramic tiles in the interior construction industry, and high revenue generation from the floor tiles are anticipated to boost the global ceramic tiles market growth. The use of ceramic tiles for decorative walls is further likely to result in increased market share over the forecast period.
Global Inclination towards Dry Pressed Ceramic Tiles
Ceramic tiles are comparatively cheap than marble flooring. Moreover, they can be customized as per consumer preferences. Therefore, a shift has been observed in preference towards replacing paints, marble floors, metal slabs, and other home decor products with ceramic tiles.
Anti-skid tiles are specifically designed to reduce slippage hazards. They are used in showers, kitchens, ramps, balconies, and swimming pools for floor tiles. Demand for anti-skid tiles is increasing, owing to current growth in the industrial sector. Furthermore, growing awareness towards protection against industrial hazards is also one of the factors contributing to the growing demand for anti-skid tiles.
Technological Advancements in the Production of Ceramic Tiles
Manufacturers are focusing on technologically-advanced and environment-friendly production of ceramic tiles. Market players are utilizing advanced technologies for product development and to offer alternative solutions.
For instance, Pamesa Ceramica SL is manufacturing dry-pressed ceramic tiles in Spain, which have high water absorption property that will provide more strength and high density. The company is providing reinterpretation of K-Slate that has the same features as porcelain stoneware, and is used for enhancing indoor beauty.
Ceramic Tiles Find Applications in Upcoming Construction Projects
Increased investments in the commercial construction by governments as well as the private sector are estimated to drive demand for ceramic tiles in the market. Furthermore, a rise in the commercial sector spending has spurred the growth of the ceramic tiles industry.
Ceramic tiles are increasingly used in malls, offices, hotels, and retail stores – a key factor driving the market growth over the forecast period. Upcoming construction projects in developing economies such as GCC Countries, China, and Brazil are expected to offer significant growth opportunities for the ceramic tiles market during the forecast period.
Construction projects are anticipated to employ large quantities of ceramic tiles in big infrastructure projects, including King Abdullah Economic City in Saudi Arabia, Lusail City in Qatar, and the Oman rail network.
Analysts' Viewpoint
As per our analysts' review, the ceramic tiles market is growing at a significant rate on a global scale. The ceramic tiles market is significantly fragmented and characterized by the presence of a large number of regional players.
The Asia Pacific region is holding a prominent share of the global ceramic tiles market. Global ceramic tile manufacturers are shifting from dry pressed formulation technology to casting formulation technology, owing to the high demand for ceramic tiles.
The China ceramic tiles market is estimated create a significant market opportunity in terms of sales in the near future. The market has witnessed widespread adoption of eco-friendly ceramic tiles in developing countries and manufacturers are focusing on providing a complete range of products in various geometrical shapes & sizes.
Additionally, government initiatives to promote eco-friendly products are expected to boost the demand for ceramic tiles in the global market.
Key Segments of the Ceramic Tiles Market
PMR's study on the ceramic tiles market is divided into five significant segments- application, formulation, end use, sales type, and region. This report offers comprehensive data and information about the important market dynamics and growth parameters related to these categories.
Attribute
Details
Application
Formulation

Dry Pressed
Extruded
Casting

End Use

Residential
Non-residential

Sales Type

New Installation
Replacement

Region

North America
Latin America
Europe
Asia Pacific (APAC)
Middle East & Africa (MEA)
Key Questions Answered in PMR's Ceramic Tiles Market Report
Which region is anticipated to hold a prominent market share over the forecast period?
What will be the key driving factors propelling the demand for ceramic tiles during the forecast period?
How current trends will impact the ceramic tiles market?
Who are significant market participants in the ceramic tiles market?
What are the crucial strategies of prominent players in the ceramic tiles market to upscale their positions in this landscape?