Mushroom Powder Market Outlook (2022-2032)
The global mushroom powder market is anticipated to expand at a value CAGR of 6.3% and increase from its current value of US$ 4.51 Bn in 2022 to US$ 8.31 Bn by the end of 2032.
Rising consumer inclination toward plant-based products and an increase in health-conscious across the world are the main factors boosting the demand for mushroom powder.
| Attribute | Details |
| --- | --- |
| Mushroom Powder Market Size (2022E) | US$ 4.51 Bn |
| Projected Sales of Mushroom Powder (2032F) | US$ 8.31 Bn |
| Global Market Growth Rate (2022-2032) | 6.3% CAGR |
| Value Share of Top 5 Countries (2021A) | 49.6% |
Mushroom Powder Consumption Analysis (2017-2021) Vs. Market Estimations (2022-2032)
The global market for mushroom powder registered a value CAGR of 4.8% during the historical period (2017 to 2021).
Mushrooms are completely devoid of cholesterol, sugar, dairy, and gluten, and have extremely low calorie, salt, and fat content. Additionally, they contain large amounts of vitamins, minerals, dietary fiber, antioxidants, and other potent immune boosters known as beta-glucans.
Thus, shifting consumer preference toward consuming food products with high nutritional value is expected to drive the consumption of mushroom powder. Apart from food, mushroom powder is gaining importance in other applications such as in nutraceuticals, beverages, and cosmetics products. It has high medicinal properties and is treated as a natural ingredient that contains natural bioactive compounds.
Several health-promoting nutrients, such as a large list of antioxidants, prebiotic fibers, amino acids, and micronutrients, can be found in one scoop of a powdered mushroom mixture. It is nutrient-dense in its compressed form.
As per this latest study by Persistence Market Research, the global market for mushroom powder is expected to exhibit significant growth at a CAGR of 6.3% over the next ten years.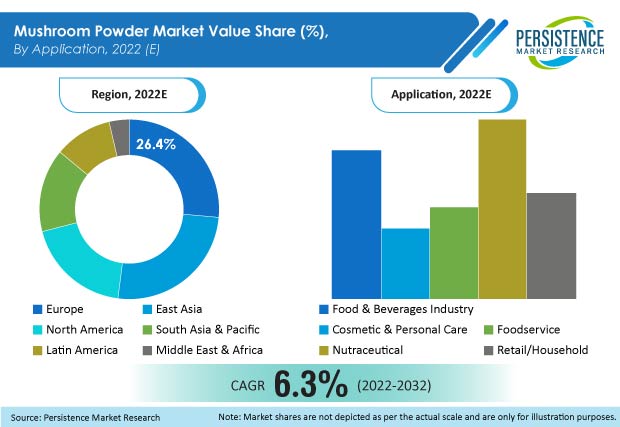 What Opportunities & Roadblocks Await Mushroom Powder Suppliers?
"Umami Flavor Produced by Addition of Mushroom Powder a Hit"
Umami is defined as the fifth taste apart from sour, sweet, salty, and bitter. It is gaining acceptance among consumers. It is found in minimal sources such as mushrooms, cheese, seaweed, and others. The addition of mushroom powder in food products can generate an umami taste, which has led manufacturers to increase its usage in their food product offerings.
Demand for spice mixes, instant soups, ready-to-prepare meals, and other convenience food is increasing among millennial consumers as such products fit well into their lifestyles. Adding mushroom powder to these food products ensures the incorporation of an umami taste as well as makes the product more appealing to health-conscious consumers, as mushrooms are perceived as healthy and natural ingredients that contain a large number of amino acids.
Consumers across the world show a habitual preference for convenience food products to save time without compromising on nutrition. The growing intensity of on-the-go consumption coupled with the rise of health & wellness trends are changing consumer eating habits and product preferences.
Mushroom powder is full of medicinal and functional properties such as strengthening the bones and teeth, reducing the risk of cancer, and others. Additionally, mushroom powder can also be used as a taste enhancer in food products, especially for consumers who have been recommended to reduce salt content in their food.
Consumers are willing to try new colors and textures of exotic mushrooms, which is expected to drive demand during the forecast period.
"Rising Demand for Natural Cosmetics Bolstering Demand for Mushroom Powder"
Mushroom products have long been utilized as dietary supplements and food additives in the form of capsules, extracts, and powders. They have also entered into various consumer product categories such as lotions, loose powder, etc. High consumer demand for products that are viewed as healthy, organic, and environment-friendly is driving an increase in the market for cosmetics with natural and/or organic ingredients.
Several mushroom components have strong anti-inflammatory and antioxidant qualities and are widely used to treat aesthetic issues such as fine lines, wrinkles, and uneven tone & texture. Manufacturers are creating a natural line of cosmetics that contain the preservative chitin, which is obtained from mushrooms and works as a natural preservative.
It is well known that a variety of mushrooms and the components they contain are beneficial for the skin and hair. This will help the development of the cosmetics industry and increase the application of different varieties of mushrooms.
Other components such as polysaccharides, proteins, phenols, and other anti-irritant and antioxidant compounds in mushrooms stimulate the skin's natural renewal processes.
For instance, shiitake mushrooms are used as a skin-rejuvenating component in Aveeno's Positively Ageless body lotion, while Cordyceps Sinensis powder and Chaga mushroom powder (Inonotus obliquus) are found in Lauder's Re-Nutriv Sun Supreme Rescue Serum.
"Time-honored Ingredients & Marketing Recommendations Creating Considerable Buzz & Opportunities"
Although the mushroom market experienced rapid expansion in recent years, manufacturers, distributors, and retailers still need to work on improving the consumer knowledge and business-to-consumer marketing of mushroom powder to customers. Advertising occurs in trade magazines and at trade exhibitions, and getting the product into retail health food stores is a top priority.
A majority of mushroom product education initiatives are conducted at the naturopath or herbalist level, with business-to-business sales taking precedence over consumer-oriented promotion. The promotion of mushroom-based products to consumers by naturopaths, herbalists, and supplement shops, as well as a broader industry effort to better educate end users on the benefits and uses of mushroom-based supplements, will be crucial to further market growth.
Time-honored ingredients are those ancient ingredients that are used in accordance with tradition and are regarded highly by consumers due to ingredients' effective health and nutritional benefits. Mushrooms were traditionally collected and cultivated in Asian countries for their health benefits. Various scientific studies over the last 20 years have also recognized the benefits of mushrooms to human health, boosting the shift to traditional ingredients and dishes.
Mushroom powder is also a traditionally used ingredient, especially in Chinese upland areas. At present, the usage of this ingredient is increasingly beneficial to manufacturers as well as consumers. Hence, the revival of time-honored ingredients is providing potential opportunities for the growth of mushroom powder manufacturers.
Nammex has used the differentiation between various mushrooms and mushroom powders to inform consumers about what they're getting. They are also using a series of YouTube videos to cover quality control in mushroom farming and the production of mushroom powder.
"Low Production of Mushrooms & Improper Storage Hindering Market Growth Prospects"
For growth, mushrooms need humidity and a comfortable temperature. The production of mushrooms has significantly decreased recently as a result of changing climatic factors such as rising temperatures and dry weather. Production of mushrooms has been greatly impacted by other factors such as contamination, not enough moisture, light, faulty spawn, etc.
Improper packaging and storage of mushrooms lead to the growth of harmful bacteria. Inadequate infrastructure for the refrigeration of fresh mushrooms is another factor that can cause spoilage. It could promote the growth of harmful bacteria that causes botulism.
As a result of improper storage and packaging, the product loses its firmness and texture. Storing fresh mushrooms in airtight packages without refrigeration can also cause browning and spoilage of the product.
Country-wise Insights
Which Regional Market Accounts for the Highest Share?
East Asia accounts for a high share of the global mushroom powder market with the market valued at 1.15 Bn in 2022 and is expected to expand at a CAGR of 5.8% through 2032.
The utilization of mushroom powder in the food and beverage industry is high in the region owing to its wide usage in ethical cuisines due to its taste and texture.
Which Country Leads the South Asia & Pacific Mushroom Powder Market?
In the South Asia and Pacific market, India accounts for a major share of the mushroom powder industry with an expected value CAGR of 6.2%. This market is expected to reach US$ 503.1 Mn by the end of 2032 as the production of mushrooms is increasing, leading to profits for small and marginal farmers. This will also lead to an increase in the number of mushroom processing facilities in India.
Category-wise Insights
Which ingredient is a Hit in the Mushroom Powder Market?
Based on ingredient type, Ganoderma Lucidum (Reishi) is a widely consumed mushroom powder and holds a market volume share of more than 25% in 2022.
Owing to its medicinal properties that help boost the immune system, reduce depression, control blood sugar, etc., the segment is expected to grow at a volume CAGR of 5.8% through 2032.
Why is Mushroom Powder Widely Used in the Nutraceutical Industry?
Based on application, the market for mushroom powder is segmented into the food & beverage industry, cosmetics & personal care, foodservice, nutraceuticals, and retail/household, among which, mushroom powder is most prominently used in the global nutraceutical industry.
The market value share of the nutraceutical industry in the mushroom powder market is around 35.3%, which is projected to reach US$ 435 Mn by the end of 2032.
Edible and medicinal mushroom powders are majorly utilized in dietary supplements because of the nutraceutical compounds that they contain, which can be consumed in the form of powder or capsules.
Competitive Dashboard
Manufacturers of mushroom powder are focusing on improving their product quality by investing in research and development activities and using various extraction processes to retain the properties of mushrooms in the powder form for maximum health benefits.
Rooted Active Naturals is utilizing a water- and ethanol-based extraction process where the mushroom is powdered and bio compounds are extracted by using water-based extraction which is converted again to powder form. It is also researching improving production quality, farming techniques, etc.
Mycelium Sona Biotech Pvt. Ltd. has a new biotechnological research and manufacturing venture to manufacture and distribute the products and is also developing mushroom biotech products.
Mushroom Powder Industry Report Scope
Attribute
Details

Forecast period

2022-2032

Historical data available for

2017-2021

Market analysis

USD million for Value

Key regions covered

North America
Latin America
Europe
South Asia and Pacific
East Asia
The Middle East & Africa

Key countries covered

U.S.
Canada
Brazil
Mexico
Argentina
Germany
U.K.
France
Italy
Spain
Russia
China
Japan
South Korea
India
GCC Countries
Turkey
Northern Africa
South Africa

Key market segments covered

Nature
Ingredient Type
Application
Distribution Channel
Region

Key companies profiled

MYCELIUM SONA BIOTECH PRIVATE LIMITED
Paul E. Stamets and Fungi Perfecti, LLC,
Om Mushroom Superfood
Rooted Active Naturals
Elite Ingredients
Nammex (North American Medicinal Mushroom Extracts)
Chitosanlab
Dr Noel's Mushroom Powder
Mahogany Organics Pvt. Ltd.
Myriad Mycology
Woodland Foods
Runherb Inc.
Nanjing NutriHerb BioTech Co. Ltd.

Report coverage

Market Forecasts
Company Share Analysis
Competition Intelligence
DROT Analysis
Market Dynamics and Challenges
Strategic Growth Initiatives

Customization & pricing

Available upon request
Mushroom Powder Industry Research by Category
By Nature:
By Ingredient Type:
Lentinula Edodes (Shiitake)
Ganoderma Lucidum (Reishi)
Inonotus Obliquus (Chaga)
Hericium Erinaceus (Lion's Mane)
Ophiocordyceps Sinensis (Cordyceps)
Others
By Application:
Food and Beverage Industry
Cosmetics and Personal Care
Foodservice
Nutraceutical
Retail/Household
By Distribution Channel:
Business to Business
Business to Consumer

Hypermarkets/Supermarkets
Specialty Stores
Online Retail
By Region:
North America
Latin America
Europe
South Asia and Pacific
East Asia
Middle East & Africa