Market Overview
The push towards organic farming methods - no chemicals, better soil management and more biodynamic methods - isn't new. Organic farming began long back, and is more of a resurgence of how things used to be, although with advanced equipment, streamlined supply chains, and the benefit of modern marketing strategies and retailing techniques. Organic produce's public profile become significant in the early 2000s when consumers started realizing the connection between diet, health and the environment.
As consumers today are inclined towards clean labels and seeking transparency in everything they consume, organic has emerged as a promising approach to address these concerns. In light of these beneficial aspects of organic approaches and after gauging the futuristic opportunistic value of organic fertilizers, Persistence Market Research (PMR), in its latest business intelligence, assesses how eco-friendly fertilizers are altering the big picture of farming, thereby shaping the gain prospects of organic fertilizer market.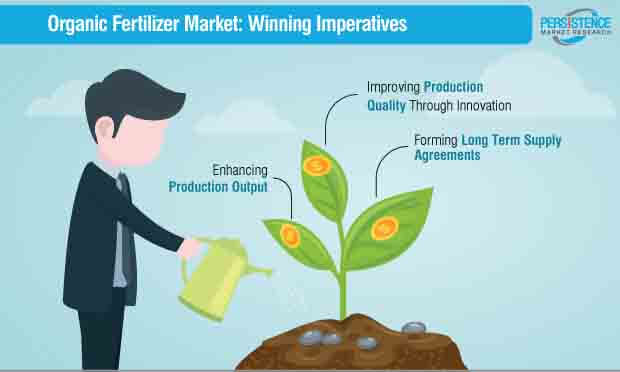 Beginning from Deep Down Inside – The Evolution
Farmers in the ancient times added manure to land but, eventually the organic fertilizer supply began to dwindle. The advent of organic farming concept has been in place for over 1,000 years when ancient agriculture practitioners began cultivation near the river belt and relied solely on natural resources. However, the high demand for food overshadowed the demand for organic fertilizer over time. In the 1950s synthetic fertilizer witnessed an unwavering adoption, fueled by claims and promises of higher yields and potential role in ending the grave volatility that farmers face in parallel with the uncertain forces of nature.
As synthetic fertilizers gained traction, organic fertilizers fell out of fashion, which looked more like swapping real food for supplements. The time bounced back once again in the favor of organic fertilizer when synthetic variants began to lose a part of their lucrativeness due to trade-offs, and expenses that followed those undeniable gains.
Agricultural runoff from synthetic fertilizer contributed significantly to excess nitrogen in the air and water over the years, leading to myriad environmental and human health concerns, thereby highlighting the dire need for shifting to organic fertilizers. This upside-down journey of organic fertilizer coupled with the recent and steady rise in its adoption is even recognized by PMR, which estimated that the value of organic fertilizer market reached ~US$ 6,179.6 Mn in 2018. PMR opines that organic fertilizer market is marching at a steady pace, and is envisaged to grow at 1.8X during 2019-2029.
Compelling Trends that are Shaping the Market Growth
Eco-Aspect: A Vital Revenue Pocket for Organic Fertilizer Manufacturers
Organic farming, composed of organic fertilizers as an integral virtue, continues to remain a lucrative bet for the expanding agricultural industry, in line with growing organic food appeal to consumers as a healthy and ethical choice. Beyond ethics, organic fertilizers are gaining significant traction on account of numerous environmental benefits, such as enhanced soil structure and water conservation. Growing awareness among farmers about the nutritional benefits of plant based and animal based fertilizers and their role in promoting growth of earthworm and other pharmaceutical microbiological activities vital for plant growth are fueling adoption of organic fertilizers. Animal based organic fertilizers are garnering significant traction over plant based variants owing to their good aeration and water retention capabilities that enhance the soil fertility.
Organic Fertilizers – Laying the Base for Healthier Food Production
Growing health and wellness trend has been laying a strong foundation for organic foods, with an increased number of health-minded consumers seeking better food quality and safety. This goes in line with the growing consumer awareness about the harmful effects of foods that are grown using synthetic fertilizers, thereby, propelling farmers to look out for equal substitutes in organic fertilization.
Favorable Government Initiatives & Subsidies Uplifting Adoption
In view of the increasing demand for sustainable method of agriculture, various governments of both developed and developing countries have been taking initiatives to propel farmers to convert land into organic. For instance, the European government under its CAP policy, rural development program has set out 30% budget for supporting organic farming. Targeted subsidies, market investments, capacity expansion and research support for organic agriculture are the key governmental initiatives that are likely to favor the sales of the organic fertilizers in the years to come.
Lucrativeness of Europe Magnifying for Stakeholders
Government support coupled with growing awareness about the positive impact of using organic fertilizers on human health and soil quality have been driving the growth of the Europe organic fertilizer market. Moreover, the enforcement of stringent regulations on leveraging synthetic fertilizers are creating lucrative growth avenues for market players. The use of animal waste products as organic fertilizers continue to remain key source of choice in the European organic fertilizers market. Additionally, PMR analysis shows that Europe represents ~56% of the overall global organic land under cereal cultivation, thereby, continues to remain linchpin for sales of organic fertilizers for cereals and crops production.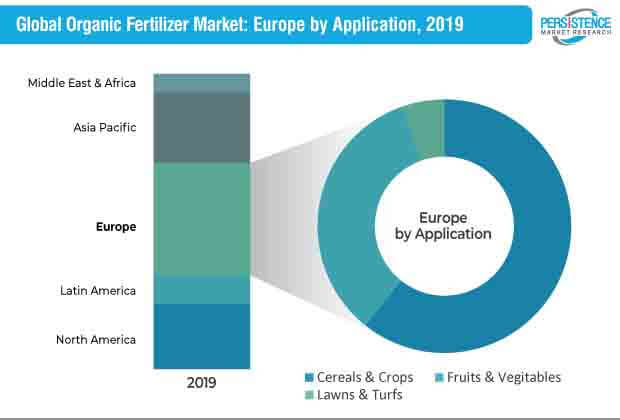 Winning Imperatives 
Stakeholders Banking on Robust Customer Relationships for Long-Term Gains
In view of the increasing demand for organic fertilizers owing to the growing health and wellness trend in line with an increased number of health-minded consumers, companies are focusing on strengthening their customer relationships. As the market heads into a scenario that has a large number of companies at play, formation of long-term relationships with end users has become a key imperative for companies that are eying security of their organic fertilizers sales. Several market players have also strengthened their focus on retaining existing customers, while increasing their expanding their footprints across the regional markets through joint ventures with local players or distributors.
Production Expansion: Key to Higher Gains
The escalating demand for organic food products is likely to create a dire need for large scale development of organic fertilizers in the forthcoming years, which in turn will create a wide field of opportunities for stakeholders. Sensing the growing demand for organic fertilizers, market goliaths have shifted their focus on expanding their organic fertilizer produce to capitalize on the growing unmet demand from consumers. For instance, in February 2019, BioStar Organics, a waste-to-energy company opened a new organic fertilizer plant in Washington with an aim to produce up to 500,000 gallons of SuperSix organic liquid fertilizer annually.
In Focus - Consumer Demand Trends & Latest Organic Farming Methods 
A large number of organic fertilizers market players are shifting their focus towards leveraging the latest approaches of farming to improve the quality of their products, in line with the increased demand for value-ensuring produce. Significant focus on analyzing market trends and consumer demand patterns has also become instrumental for manufacturers that are eying diversified product offerings to ensure uninterrupted revenue generation.
Organic Fertilizer Market - Under High Degree of Fragmentation 
In March 2019, Italpollina SpA announced the acquisition of Horticultural Alliance, Inc., which specializes in plant health and maintenance with organic approach, and is based in Florida (USA). Apart from this, Italpollina SpA also established a new subsidiary in the U.S. for manufacturing and distributing organic fertilizers across the North America region.
In January 2019, ILSA S.p.A introduced a novel organic fertilizer named ETIXAMIN BIO-K, a hydrosoluble powder and an efficient potassium and nitrogen organic fertilizer for fertigation and foliar application. The combined action of sulphur, nitrogen, and potassium effectively accelerates the development and ripening of fruits, while allowing the farmers to boost their final organoleptic characteristics more than the products used in the conventional agriculture.
The organic fertilizer market can be characterized by the presence of a large number of unorganized companies playing at different levels in the industry. The strengthening consumer shift from synthetic fertilizers to organic variants owing to the extensive benefits of the later is at play as a growth catalyst for stakeholders.
Market forerunners, such as Italpollina spa, True Organic Products Inc., California Organic Fertilizers Inc., Sustane Natural Fertilizer Inc., Biostar Renewables, and ILSA S.p.A are marking their direct presence in local markets through mergers and collaborations with regional players. These frontrunners are fueling their march towards business expansion by emphasizing on acquisition of regional and local players to infiltrate into the untrodden market. Growing focus on adopting unique strategies, such as rapid product innovation and production expansion continues to fuel the competition in the organic fertilizer market.

Analyst's Viewpoint 
Future Looks Bright for Organic Fertilizers' Adoption
As the organic fertilizer market showcases an uptick in adoption, analysts have an optimistic outlook of the market. The organic sector is changing at an unprecedented pace, with new definitions, policies, certifications, products, and even new consumers continually being added to the fold. The shift to organic fertilizer is inevitable given the support of the strengthening bottom line. Amid the large number of players operating in the market, companies that are focusing on manufacturing cost-effective variants to eliminate consumer reluctance pertaining to high costs of organic fertilizers are likely to strengthen their market standing. Modernized manufacturing facility that can create fertilizers capable of meeting the evolving as well as consumer specific demands will play an instrumental role in driving the position of stakeholders.
Organic Fertilizer Market - Segmentation
PMR's study analysis the organic fertilizer market based on the form, source, application and region. The report sheds light on the market dynamics and rapidly altering trends related to the different segments, and how they are shaping the growth of the organic fertilizer market.
Form
Source

Plant Origin
Animal Origin

Application

Cereals & Crops
Fruits & Vegetables
Lawns & Turfs

Region

North America
Latin America
Europe
APAC
MEA