Market Overview
Shift in consumer lifestyles and rising working population have led to increased sales of convenience foods. Manufacturers in the organic beef market are working toward offering more ready-to-eat products to increase their consumer base. Several key players involved in the production of organic beef are offering processed products such as ground beef, patty, chucks, and steak beef, among others products, to diversify their product portfolios.
Manufacturers of organic beef products are also increasing their presence on e-Commerce sites to cater to the rising demand from consumers. Easy availability of organic beef products through online retail is aiding the expansion of the organic beef market size.
Organic Beef Market Trends
Increasing Demand for Organic Products from Hospitality Sector: Awareness about incorporating a healthy lifestyle with clean eating has increased, which, in turn, has had a positive impact on the market for organic food. Thus, foodservice providers such restaurants and QSRs have started offering products made from organic foods to attract more customers and increase sales
Easy marketing of organic food is one of the reasons that has enabled restaurants to increasingly adopt the organic trend. Customers are attracted toward farm-fresh food that offers health benefits along with being free from pesticides. Organic food is also considered to be more appetizing than conventional food, thus driving restaurants to increasingly incorporate organic food in their menus, a factor that will aid the growth of the organic beef market over the coming years.
Rising Consumer Inclination toward Product Transparency & Traceability Benefitting Market: Customer will to understand how food is produced and where it comes from has increased in the last few years. As such, demand for product transparency is high, as consumers are tracing the journey and nature of their food. Emphasis on food safety issues has raised awareness of the possible risks behind food that is being consumed
With contamination of meat products being a very common issue, there has been increased customer demand for transparency for organic meat. After regulations and labeling, it is difficult to track whether the livestock is actually grown with the recommended norms, hence, demand for traceability by health-conscious consumers is increasing.
Increasing Support from Governments for Organic Food Products: Government initiatives are gradually encouraging organic products to reduce environment degradation. One initiative is the Cattleman's Financial Corporation, by the Government of Canada, which encourages breeders of livestock by providing financial assistance, as organic food for cattle increases expenses. Thus, increasing government encouragement and support for organic food products brings an opportunity for existing manufacturers to expand and increase the penetration of organic products, such as organic beef, along with increased export opportunities.
In 2019, USDA announced increasing the number of certified organic operations by expanding programs and services for organic producers and handlers, by funding organic research and certification cost-share assistance.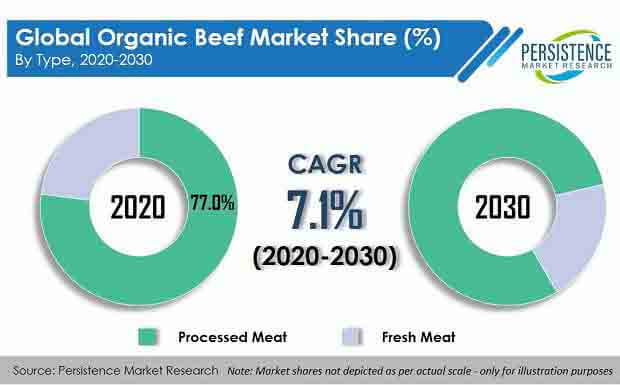 Regional Outlook of Organic Beef Market
North America and Europe will gain prominent organic beef market shares during the forecast period (2020-2030). European consumers are prioritizing health and wellness, which led them to consume more chemical-free and organic food products. Beef is one of the key consumed meat products in Europe, which is further creating a better consumption rate of organic beef products.
North America exhibits a leading share in global organic beef market. A major considerable factor is the availability of a higher number of organic beef manufacturers across the region. Consumers are also increasingly adopting the consumption of organic meat products and organic beef. Moreover, millennial consumers in the region are becoming more demanding regarding the consumption of high protein yogurt and healthy food products.

COVID-19 Impact on Organic Beef Market
The COVID-19 virus outbreak is anticipated to have a moderate impact on the global organic beef market. Since the start of the pandemic across the world, the food and beverage industry has been witnessing moderate oscillation. Consumption patterns have changed and the impact on demand and supply is becoming higher than expected. However, the criteria of consumers seeking organic food products has not changed much, and demand is still robust across the industry.
Organic beef is an emerging market in the food & beverage industry, as the organic food consumption trend had rapidly risen over the past decades. Organic beef is becoming one of the products that is contributing to consumer safety and healthy lifestyle. The COVID-19 disease outbreak has partially impacted the procurement of raw material, processed organic beef production, and other related activities. During the lockdown across the world, production of organic beef was adversely affected. Nevertheless, opening up of economic activities is a potential growth opportunity for the organic beef market in the coming months and years.
Analysts' Viewpoint
The global organic beef market is projected to exhibit substantial growth, with South Asia and East Asia expected to offer beneficial growth opportunities during the forecast period of 2020-2030. Foodservice providers and food manufacturers are preferring organic beef due to rising consumer inclination toward organic food products, which will subsequently benefit the global organic beef market space in the foreseeable future.
Leading market players such as Blackwood Valley, Stream Farm, Coolanowle Organic Meat, and others are focusing on business expansion and targeting towards increasing the retail sales of organic beef products in the global organic beef market. Product diversification and improvement in quality are other strategies adopted by key players to gain a competitive edge in the global organic beef market.
Key Segments of Global Organic Beef Market
PMR's report on the global organic beef market offers information divided into three segments - type, distribution channel, and region.
Type

Fresh Meat
Processed Meat

Distribution Channel

Business to Business
Business to Consumer

Hypermarkets/Supermarkets
Convenience Stores
Specialty Stores
Online Retailers

Region

North America
Latin America
Europe
South Asia
East Asia
Oceania
Middle East & Africa