Organic Honey Market Outlook (2022-2032)
The global organic honey market is currently valued at US$ 852.7 Mn, and is anticipated to progress at a high CAGR of 7.8% to top a valuation of US$ 1.8 Bn by the year 2032.
| | |
| --- | --- |
| Organic Honey Market Size (2022E) | US$ 852.7 Mn |
| Projected Sales of Organic Honey (2032F) | US$ 1.8 Bn |
| Value CAGR (2022-2032) | 7.8% |
| Value Share of Top 5 Countries (2021A) | 47% |
Europe dominates the global market for organic honey, accounting for 25.3% value share in 2022, followed by the Middle East & Africa with a share of 23.6% in the global market. The food & beverages sector is among the leading industries utilizing organic honey with a share of more than 60% in the global market. By value, organic honey accounts for 9% to 15% of the global honey market.
Organic Honey Consumption Analysis (2017-2021) Compared to Market Outlook (2022-2032)
The global market for organic honey expanded at a CAGR of 6.5% from 2017 to 2021. Increased demand from the food & beverage industry is driving market growth, as consumers have become more aware of the health benefits that organic foods provide. By the end of 2021, the worldwide organic honey sales registered a worth of US$ 785.5 Mn, with an absolute opportunity of US$ 67.3 Mn in 2022 over 2021.
With growing demand for organic honey from consumers and manufacturers increasing their offering of organic honey in the foodservice industry, market players are set to witness promising growth.
Different kinds of honey have distinct smells and tastes, as well as different nutrients and energy levels. The nutritional profile of various forms of organic honey is another important reason that is increasing its use in a variety of businesses.
Going forward, the global market for organic honey is expected to rise at a value CAGR of 7.8% over the projected period of 2022-2032.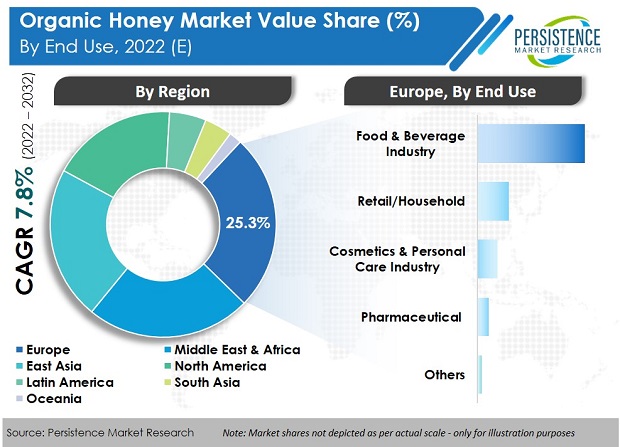 Which Factors are Driving Sales of Organic Honey?
"Rising Demand for Natural Sweeteners Benefiting Organic Honey Suppliers"
Demand for natural sweeteners is significantly increasing as young consumers are preferring them over artificial sweeteners because of increasing health concerns. Natural sweeteners are safe and secure for consumption and also provide nutritional benefits to the body. This is the reason why consumers are looking for natural organic sweeteners as a replacement to white sugar for tea, coffee, yogurt, baked food, and many other applications.
Natural sweeteners contain proteins, polyphenols, amino acids, and terpenoids, which offer safety, security, delicious taste, and high-quality nutrients to the finished products that are widely used by health-conscious consumers.
Nature Nate's Honey Co. offers organic honey, which is the best alternative for artificial sweeteners, and is used in tea, coffee, yogurt, granola, etc.
"Growing Use of Organic Honey in Alcoholic Beverages"
Honey wine is brewed from organic honey, yeast, and water. The product is very popular in many regions of the world. Demand for this beverage is increasing due to its recognition as one of the oldest alcoholic beverages enjoyed by ancient Greeks, Romans, and Africans. This gives an extra Unique Selling Point (USP) to the product in the market.
High production of alcoholic beverages is driving demand for organic honey. Consumption of alcoholic drinks is increasing among adults, and honey wine is the best healthy alternative to regular alcoholic drinks. Honey wine possesses several benefits such as containing various minerals, vitamins, and enzymes, which makes it a healthy choice for consumers.
Increased Consumption of Organic Honey in Asia Pacific Region
Supply of organic honey has witnessed significant year-on-year growth as consumers are adopting a healthy lifestyle. Organic honey is ethically produced; it is pure, safe, secure, high in quality, and delivers healthy nutrients. Organic honey has antimicrobial, antibacterial, and anti-inflammatory properties that help cure various diseases.
This increases demand for organic honey in food and non-food applications around the world. India and China are emerging markets for organic honey products, as customer preferences are shifting toward organic honey due to growing awareness of the ill-effects of artificial sweeteners, and hence, these countries are offering lucrative opportunities for organic honey manufacturers in the Asia Pacific region.
What Restraints are Organic Honey Manufacturers Encountering?
"Wide Availability of Organic Honey Substitutes"
Sugar and artificial sweeteners are substitutes for organic honey. Artificial sweeteners are obtained from natural substances such as herbs or sugar. Artificial sweeteners contain much more sugar as compared to refined sugar, which is widely used in jams and jellies, baked food, dairy products, soft drinks, and many more. Besides, cost of production of organic honey is also higher than regular honey and its substitutes.
Artificial substitutes such as aspartame and acesulfame are used to sweeten soft drinks, saccharin and sucralose are used to sweeten food and drinks, and stevia is obtained from a herb that is used for sweetening food and drinks. These substitutes for organic honey are easily available in the market and come at a more affordable price. Thus, strong presence of substitutes in the market will hamper growth of the organic honey market to some extent.
Are Government Norms for Organic Honey Production Acting as Demand Accelerators?
Governments have begun to put greater focus on strengthening the beekeeping sector to produce hive products on a big scale while maintaining high-quality standards and operating ethically. This is done in some developing economies, such as India, after considering the potential for promising growth in this industry.
Such kind of government interventions will ensure the environment and honeybee colonies' long-term viability. Organic honey will be produced using a smoke-free and non-invasive approach. Farmers and beekeepers will earn more money as a result of the government's involvement.
As per the Indian Ministry of Agriculture and Farmers Welfare, the Government of India invested US$ 57.75 million in beehives in 2020 as part of the Atma Nirbhar Abhiyan scheme. Honey output in India climbed by 242 percent between 2006 and 2020, while exports increased by 265 percent during the same time period.
Why are We Seeing Increased Use of Organic Honey in Personal Care & Cosmetics?
Organic honey is becoming increasingly popular in the personal care sector because of the change in consumer behavior. Consumers are becoming increasingly aware of the contents used in personal care products, and are taking steps to avoid any potentially dangerous components. Organic honey is utilized as a gentle exfoliator in the cosmetics industry to keep moisture in products, maintain aroma, and nourish the skin.
Organic honey also has antibacterial characteristics, due to its high pH, which aids in the killing of bacteria and fungi. Organic honey is utilized as an antibacterial ointment for the same reason. Organic honey in the personal care & cosmetics sector is also used to treat a variety of skin and hair issues, including acne, skin disorders, and hair loss.
Madhava Ltd. sells organic honey that can be applied gently to the skin to rejuvenate it and treat skin problems.
Country-wise Insights
Which Countries in Europe are Showing Promising Growth Potential?
"Italy & Spain Leading Market Growth in Europe"
Italy and Spain are European markets that are set to grow the fastest during the projected period. The market for organic honey is expected to develop at a significant CAGR in these nations. For the predicted period, the CAGRs for Italy and Spain are 10.4% and 8.5%, respectively.
How is the East Asia Market Performing?
"Regional Market Growth being Driven by China & Japan"
China, followed by Japan and South Korea, are significant economies in East Asia. Due to the large use of honey as a commodity of traditional relevance for cultures and practices and medicinal characteristics, China holds a market share of more than 80% in the East Asia organic honey market.
Category-wise Insights
Which Type of Organic Honey is Most in Demand?
"High Popularity of Buckwheat & Sourwood Organic Honey"
Buckwheat and sourwood honey are two of the most popular varieties of organic honey worldwide. Buckwheat honey has a market value share of 26.4%, whereas, sourwood honey has a market value share of 12.2%.
There is rising use of these varieties of honey for moisturizing, skin care, antioxidants, and other therapeutic purposes.
Which End-use Industry is Showing Highest Growth Outlook for the Forecast Period?
"Surging Use of Organic Honey in Pharmaceuticals Industry"
During the forecast period, pharmaceutical and retail/household industries have the largest growth potential. Demand for organic honey from the pharmaceuticals industry is set to increase at a value CAGR of 7.4%, while from the retail/household sector, it is predicted to increase at a value CAGR of 6.9%.
These industrial segments offer significant business potential for organic honey producers and suppliers.
Competitive Landscape
Manufacturers of organic honey are engaged in offering it for various applications to meet rising demand of different target industries. They are also focusing on increasing their production capacity and investing in research & development.
Latest technological integration for processing, detection, quality-enhancing, etc., will help organic honey producers provide their products at competitive prices. This is expected to benefit them in producing organic honey more sustainably.
Wedderspoon Organic Inc. is engaged in cost-effective process research and development through effective and comprehensive research in the areas of product quality and satisfaction. The company places considerable emphasis on ensuring that manufacturing procedures are cost-effective, safe, and provide the best possible quality.
Organic Honey Industry Report Scope
Attribute

Details

Forecast period

2022-2032

Historical data available for

2017-2021

Market analysis

USD million for value

Key regions covered

North America
Latin America
Europe
East Asia
South Asia
Oceania
Middle East & Africa

Key countries covered

U.S.
Canada
Germany
U.K.
France
Italy
Spain
Russia
China
Japan
South Korea
India
Thailand
Malaysia
Indonesia
Australia
New Zealand
GCC Countries
Turkey
Northern Africa
South Africa

Key market segments covered

Type
End Use
Distribution Channel
Region

Key companies profiled

Heavenly Organics, LLC
Nature Nate's Honey Co.
Y.S. Eco Bee Farms
Manuka Health New Zealand Limited
Barkman Honey, LLC
Wedderspoon Organic Inc.
Rowse Honey Ltd.
Hilltop Honey Ltd.
Madhava Ltd.
GloryBee
Wholesome Sweeteners Inc.
Lamex Food Group Ltd.
Under the Mango Tree Naturals and Organics Private Limited
Amish Honey Inc.
Little Bee Impex Pvt. Ltd.

Report coverage

Market Forecast
Company Share Analysis
Competition Intelligence
DROT Analysis
Market Dynamics and Challenges
Strategic Growth Initiatives

Customization & pricing

Available upon request
Organic Honey Industry Research by Category
Organic Honey Market by Type:
Manuka Honey
Sourwood Honey
Buckwheat Honey
Rosemary Honey
Dandelion Honey
Eucalyptus Honey
Others
Organic Honey Market by End Use:
Food & Beverage Industry

Bakery & confectionary
Dairy & Desserts
Sauces & Marinades
Beverages
Others

Cosmetics & Personal Care Industry
Pharmaceuticals
Retail/Household
Others
Organic Honey Market by Distribution Channel:
Business to Business
Business to Consumer

Hypermarkets / Supermarkets
Convenience Stores
Specialty Stores
Online Retail
Organic Honey Market by Region:
North America Organic Honey Market
Latin America Organic Honey Market
Europe Organic Honey Market
East Asia Organic Honey Market
South Asia Organic Honey Market
Oceania Organic Honey Market
Middle East & Africa Organic Honey Market