Market Overview
With use cases of healthcare chatbots booming and increase in conversation and messaging channels and languages, end users are looking to adopt platform-based deployment models in order to fulfill their evolving conversational AI demands and requirements. Development- or modification-related coding for every little addition or change in requirements can be tedious for end users with limited skills to harness. This results in elongated deployment and time-to-market.
Suppliers are offering Low Code and No Code platforms with Do-It-Yourself (DIY) features, which help address such development-related challenges. These platforms have all the possible features for various use cases in one place, and end users gain the ability to customize their healthcare chatbots with just a few clicks.
Low Code and No Code chatbot customization platforms are deployed by suppliers to help end users enhance their organizational agility, efficiency, and effectiveness with negligible requirement of coding skills. As such, the global healthcare chatbots market size is projected to expand at an excellent CAGR of 21% through 2030.
Healthcare Chatbots Market Trends
Suppliers Harnessing PaaS Deployment Models as Technological Transformation Gathers Pace: With accelerated technological transformation, traditional operation models, structures, and processes are bound to change, as organizations across the healthcare vertical strive to cope with the dizzying pace of change. This will get reflected on how technology is being delivered or deployed to practices and hospitals. Platform-as-a-Service (PaaS) deployment models have already made their presence felt, and are likely to become the most preferred delivery model for end users looking towards software procurement. This factor will aid the progress of the global healthcare chatbots market over the coming years.
Demand for Technical Integration & Personalization Complementing Cognitive Intelligence: Reinforcement learning capabilities help healthcare chatbots consider user corrections with repeated usage. This, in turn, enhances the suitability of responses offered by healthcare chatbots. Machine Learning (ML) abilities accommodate user intent recognition in healthcare chatbots. Other features such as humanization, dialog management, task automation abilities, interaction channels, reporting and monitoring, regulation of compliance and security, and ease of implementation are some instances taken into consideration by prospects wishing to procure AI-based chatbots for healthcare applications, which bodes well for the growth of the healthcare chatbots market.
End Users Relying on Conversational AI Bots to Partially Automate Mundane Operations: Today, patients and medical professionals believe in smart treatment over rugged treatment. Mundane redundant patient treatments limit the ability of professionals to efficiently perform core operations, thus hindering treatment productivity. High demand for private virtual assistants such as Alexa is being observed for complementing healthcare and medical operations. AI-based healthcare chatbots facilitate easy patient data searches, appointment management without hassle, task allocation, and easy and quick knowledge repository access. These factors will surge demand over the coming years, thereby aiding the growth of the global healthcare chatbots market.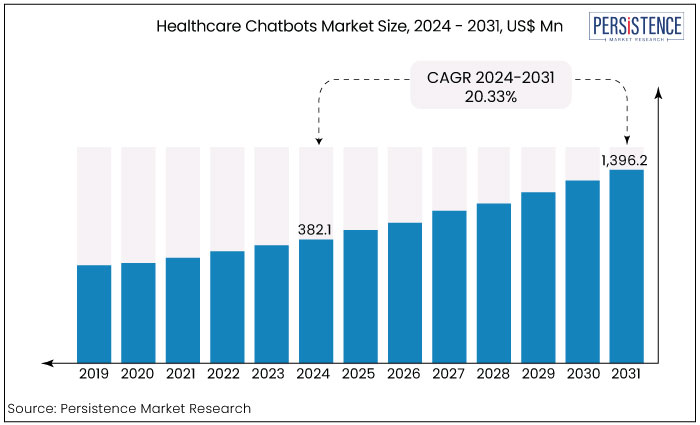 Impact of COVID-19 Pandemic on Global Healthcare Chatbots Market
A spike in growth rate is estimated to be observed on a global level. With nationwide lockdowns and social distancing measures legislated across the globe, physicians and patients are preferring conversing remotely or implementing the use of healthcare chatbots. Key economies such as India, Oceania, Germany, and the U.K., with high historic growth rates, are likely to continue with their adoption trend with no relation to the ongoing COVID-19 pandemic.
Economies in Southeast Asia & Pacific and Europe have been reporting high adoption rates historically, and these solutions are likely to cater to the surge in demand from patients. Therefore, adoption of new solutions is likely to drop as customers and clinicians have just realized the true potential of existing applications such as Practo (in India) and Sanofi (in France), which were previously not gaining traction.
Partial lockdowns imposed in the U.S. lacked the grit required to restrict the spread of coronavirus infections. Eventually, responsible civilians were the ones taking the initiative to ensure social distancing. In order to help them, healthcare organizations started procuring healthcare chatbots to facilitate smart and remote diagnosis and treatment, thus resulting in a surge in adoption rate, a factor boosting the growth of the healthcare chatbots market.
Analysts' Viewpoint
A suppression in CAGR in the healthcare chatbots market will be witnessed between 2020 and 2024. This suppression can be owed to a sudden surge in adoption in 2020, followed by a decline, as the growth rate stabilizes to match its historic trend. Economies in Southeast Asia Pacific and Europe will acknowledge the true potential of existing applications, as vendors strive to up-sell and cross-sell additional integrations during the ongoing COVID-19 pandemic.
Healthcare Chatbots Market: Segmentation
PMR's research study on the global healthcare chatbots market offers a detailed market segmentation, wherein, key segments have been discussed in detail. The segmentation of the healthcare chatbots market has been offered on the basis of solution, type, application, and region. Every segment has been analyzed in detail and data pertaining to the growth of each segment has been included in the study.
Attribute
Details

Solution

Chatbot Platforms
Services

Development Services
Integration Services
Support Services

Type

Scripted Chatbots
Contextual Chatbots
Messaging Chatbots
Others

Application

Medical Data Repositories
Personal Assistance
Automated Patient Support
Marketing and Sales
Others

Region

North America
Latin America
Europe
East Asia
Southeast Asia and Pacific
Middle East and Africa