Foodservice and Food Processing Industry is Attuned towards Using Butter as a Key Ingredient in Food Products
Butter is widely used in the food industry for manufacturing various food products and also for sauce-making and frying. It is used in flavoring various packaged foods or snacks such as cookies and wafers.
Demand for unique taste profiles and textures by millennial is expected to create opportunities for manufacturers of butter. Besides, the demand for butter is growing in the foodservice industry due to the increasing consumption of fast food in developing economies as a result of busier lifestyles, higher expenditure over out-of-home food consumption.
Most of the younger generation and working-class demographic consume fast food at least once a day. This growing trend of consumption of fast food has a significant impact on the butter market, as butter is widely used for frying and for flavoring a variety of fast food products.
Butter is also a staple in households, hence manufacturers are launching various butter-based products such as spreadable butter, flavored butter, low-fat butter, and many others to attract consumers.
Land O' Lakes, Inc., a dairy products manufacturing company, launched two new spreadable butter products. The two butter products are LAND O LAKES Less Sodium Butter with Canola Oil and LAND O LAKES Light Spreadable Butter with Canola Oil. This product has 50% less fat and calories, and less cholesterol than regular butter.
Increasing Popularity of Premium and Organic Dairy Products to Create Opportunities for Manufacturers
Growing per-capita income boosts spending power. Additionally, consumers prefer premium products such as organic butter. In U.S. and Western European countries, organic butter flavour is gaining popularity as compared to conventional butter.
Especially, supermarkets/hypermarkets stores are selling a wide range of organic dairy products, attracting customers who spend more on premium, branded, and organic food products. Moreover, consumers are aware of the benefits of healthy products and choose to purchase them despite high prices.
The premiumization trend and demand for organic products is expected to create lucrative opportunities for manufacturers in the global butter market. The manufacturers are expanding their product portfolio by offering the premium class butter that includes organic butter, flavored butter, low-sodium butter, and lew saturated fat butter.
Sodiaal International SA is focusing on organic products. As a part of its strategic roadmap, the company stated that it is going to launch organic products such as fresh organic mountain milk, Marguerite organic fresh milk, developments in organic butter by private labels and further new references to be added in its range of organic segment till the end of 2019.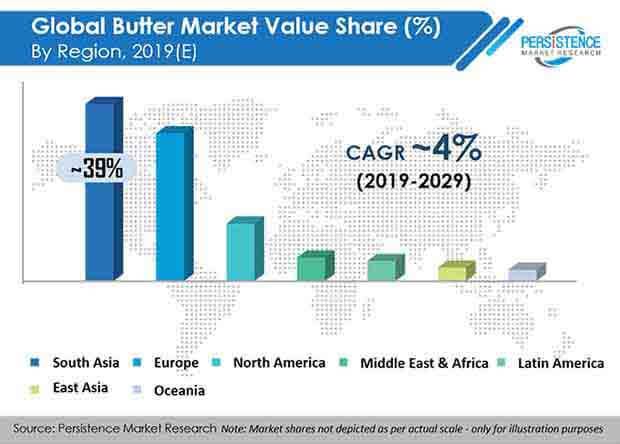 Regional Landscape of Global Butter Market
South Asia is anticipated to show a higher growth rate in the butter market. Change in lifestyles and increasing disposable incomes propel the demand for vibrant snacks with added flavor and taste. Consumers show more preference for flavored snacking products and other food products.
Hence, manufacturers are offering their products in various consumer delighted flavors. As the butter is more popular, the leading South Asian brand Britannia Industries Limited stated offering its cookies in a butter flavor under the name Good Day Butter Cookies.
Countries in Europe also consuming more butter than before, domestic consumption of butter in Europe is relatively strong and resultant, the export shipments from European countries are low. In the year 2018, Germany, France, U.K., Spain, and Italy imported more than ~559,300 tons of butter.
For instance, the preference of consumers in European countries is shifting in favor of butter over other vegetable oils and fats. This shift in favor of butter consumption is attributed to a more positive health assessment of dairy fat and a change in taste in comparison to oils and fats.
According to PMR's study, Europe and South Asia are estimated to hold ~ 70% of the market share in the global butter market. As the demand for dairy products is high in Europe and South Asia, the production of these products is higher in these regions. In the year 2018, India alone produced 6 Mn Tones of butter, which was the highest production of butter by any country in 2018.
Butter is one of the most popular dairy products in Europe after cheese, and various companies have named their butter "European-style Butter" and "Irish Butter" as consumption of European butter is a trend in various European and American countries. Saputo Inc., a Canadian dairy company and Glanbia Plc, a world-class nutrition company, both offers European-style butter in North America and Europe respectively.
South Asia and East Asia are projected to show significant growth rates during the forecast period. However, risks associated with high cholesterol in butter is hindering the market to reach up to its full potential. Along with that, the various standards and regulations for butter set by food authorities in different regions could harm the growth of the global butter market.
FSSAI standards for butter are: the product should have moisture: 16% (w/w, maximum), milk Fat: 80% (w/w, minimum), milk solids (no fat): 1.5% (w/w, maximum), common salt: 3.0% (w/w, maximum).
Analyst's Viewpoint
The global butter market is evolving at a significant rate, with South and East Asia anticipated to witness the highest growth rate during the forecast period of 2019-2029.
The evolution of marketing strategies targeting a diverse consumer base, development of healthy products, and innovative products with added flavor bolsters demand for butter across the world.
Market players are increasing their investments in the research and development of nutritional products such as garlic-based or herb-based butter that have potent medicinal properties. Manufacturers may benefit from strategic partnerships with leading discount supermarket chains. For instance, in March 2018, Graham's Family Dairy signed a three-year deal with Lidl UK (a leading food retailer in Europe) to supply dairy products.
High-calorie content and health risks associated with high cholesterol in butter could restrain the growth of the butter market.
Key Segments of the Global Butter Market
PMR's study on the global butter market offers information divided into 5 important segments- nature, form, end-use, distribution channel, and region.
Nature

Form

Spreadable
Non-spreadable

End-use

Food Processing Industry
Foodservice Industry
Retail/Household

Distribution Channel

Business to Business
Business to Consumers

Supermarkets/Hypermarkets
Specialty Stores
Convenience Stores
Online Stores
Others

Region

North America
Latin America
Europe
South Asia
East Asia
Oceania
Middle East & Africa
Key Questions Answered in PMR's Global Butter Market
Which region will hold the highest market share in the global butter market during the forecast period?
Which region is experiencing the highest growth (CAGR)?
Which factors are impacting the global butter market?
Which are the global trends impacting the butter market?
What strategies must emerging players adopt to capture opportunities in various regions in the butter market?
What is the market structure of the global butter market?