Introduction
Butter fat fraction is stearin and olein milk fat fraction with different melting points and SFI's (solid fat index). This butter fat faction is obtained from a physical process. These butter fat fractions are of two different types such as industrial fat fraction, and value added fraction. The process used to obtain butter fat fraction is the slow cooling of melted fat.
A short stabilization time is required during the fractionation temperature. The crystals are then separated by vacuum filtration using a perforated disc which is made up of stainless steel from the liquid oil. This is the way to obtain butter fat fraction. The fractionation temperatures used to obtain butter fact fraction are 29, 26, 23 and 19°C for winter butter fat fraction. For summer butter fat fraction 29°C and 19°C are used.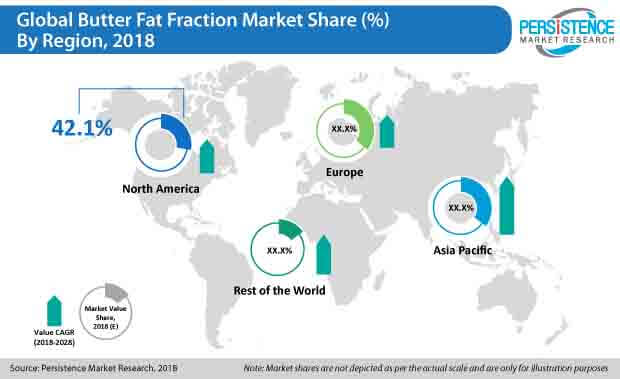 Infant Nutrition Products Gaining Ground, Thereby Pushing Demand for Butter Fat Fraction
According to the United Nations Department of Economic and Social Affairs, in 2017, the total world population stood at 7.6 billion, and is estimated to increase by approximately one billion by 2030, and reach 9.8 billion by 2050.
This constantly growing population is expected to increase the demand for infant nutrition products. The demand for infant formula is significantly high in China as well as in certain countries in Asia Pacific, owing to the high infant population coupled with increasing urbanization.
Moreover, the increasing population with high birth rates is one of the major factors boosting the demand for infant nutrition products in the developing countries of Asia Pacific. Infant mortality rate has also reduced considerably in these regions during the past few years.
For instance, the birth rate in India stood at 19.3 births/1,000 population in 2016, which is relatively higher as compared to developed countries such as the U.S., U.K., etc.
In addition, the infant mortality rate per 1,000 live births has also decreased in developing countries. In 2013, the infant mortality rate in India stood at 40.0 as compared to 42.0 in 2011. The increasing population and high birth rate is expected to have a favorable impact on the infant nutrition market in developing countries.
Butter Fat Fraction as a Key Ingredient in Functional Food & Beverages
The functional food and beverage segment offers ample growth opportunities for butter fat fraction, owing to the rising awareness among consumers related to the consumption of such products, as they offer a plethora of associated health benefits such as neuronal and cognitive development, healthy gut, supports healthy microbiota, etc.
Currently, due to low production yield and high pricing, almost all butter fat fraction ends up as an ingredient in infant formula and medical nutrition. However, through R&D, manufacturers can scale up the production, lower the operational costs, and cater to the surging demand from the functional food and beverage segment.
Focusing on Tie-ups with Specialty Ingredient Manufacturers & Biotechnology Companies
Key players can focus on collaborating with specialty ingredient manufacturers for a win-win situation, as specialty ingredient manufacturers can share their expertise and knowledge, such as clinical studies, patents, etc., on the ingredient, while key players can provide resources such as capital for scaling-up production, establishing distribution channel, logistics, marketing, work force, etc., for large-scale production.
For instance, AAK AB, a Swedish-based company which produces specialty vegetable oils and fats, collaborated with Enzymotec, which is an Israeli-based specialty chemical manufacturer, to develop bio-active lipid ingredients, by creating a new company - Advanced Lipids. The newly created company utilizes the Enzymotec expertise on lipid technologies and AAK's international strength in food safety, production, and logistics.
Rise in Premium Infant Nutrition Products
There has been a meteoric rise in the number of premium infant formula brands in developed as well as developing countries. Rising disposable income and purchasing power of parents, in turn, is boosting the demand and adoption of premium infant formula products across the globe. Rising health consciousness and zeal to provide the best available products to their children among consumers is changing their buying behavior.
Consumers are now opting for the best high-quality infant formulas, which is further strengthening the growth of the market for premium nutrition products. Moreover, most premium infant formula products offer a specialty ingredient to stand out of the crowd and justify their higher pricing.
For instance, Abbott Laboratories offers HMO in its Similac PRO-ADVANCE series, while Mead Johnson offers MFGM (Milk Fat Globule Membrane) in its infant formula.
The increasing urban population coupled with changes in consumer lifestyles is also fueling the demand for premium infant formula products, especially in case of elite customers, thus increasing the demand for specialty ingredients.
Major key players in the premium infant formula market are Mead Johnson, Nestlé, and Abbott Laboratories, whose premium products include Enfamil PREMIUM Infant, NAN Starter Infant Formula, and Similac PRO - Advance Infant Formula, respectively.
Taxonomy of the Butter fat fractions Market
By Ingredient Type

MFGM ((Milk Fat Globule Membrane)
Phospholipid
Ganglioside

By Region

North America
Europe
Asia Pacific
Rest of World