U.S. Egg Replacement Market Outlook (2022-2032)
The U.S. egg replacement market is valued at US$ 229.5 in 2022 and is expected to expand at a CAGR of 6.2% to reach US$ 419.2 Mn by 2032.
Consumption of egg replacements in the U.S. is predicted to increase at a volume CAGR of 5.2% to reach 34,152 tons by the end of 2032.
| Report Attribute | Details |
| --- | --- |
| U.S. Egg Replacement Market Size (2021) | US$ 218.1 Mn |
| Estimated Market Value (2022E) | US$ 229.5 Mn |
| Projected Sales of Egg Replacements (2032F) | US$ 419.2 Mn |
| Market Growth Rate (2022-2032) | 6.2% CAGR |
| Dry Egg Replacement (2022) | 17,522 Tons |
U.S. Egg Replacement Consumption Analysis (2017-2021) Vs. Market Estimations (2022-2032)
The U.S. egg replacement market was valued at US$ 218.1 Mn in 2021 after having registered a value CAGR of 4.9% during the historical period (2017-2021).
Egg replacements are primarily plant-based eggs mainly developed to reduce the consumption of eggs. Plant-based eggs possess similar properties to eggs such as binding properties, and high protein, vitamins, minerals, and nutritional content.
Demand for vegan eggs is being fuelled due to rising concerns about obesity, cardiovascular diseases, and other ailments caused due to animal-based products. Furthermore, the vegan initiative taken by various societies is making people shift from animal-based diets to plant-based/ vegan diets.
Strengthening partnerships among distributors and manufacturers is pushing the egg replacement market in the United States in the forward direction. Manufacturers are striving to expand their product offerings with product innovations such as identifying novel natural ingredients or sources for egg replacers and improvised taste and texture to be identical to eggs.
Market players are also launching different variants of egg replacers to cater to the evolving needs of manufacturers seeking low-cost ingredients as well as for customers looking for various healthy food products.
The U.S. market for egg replacements is expected to offer an incremental opportunity of US$ 189.7 Mn by 2032.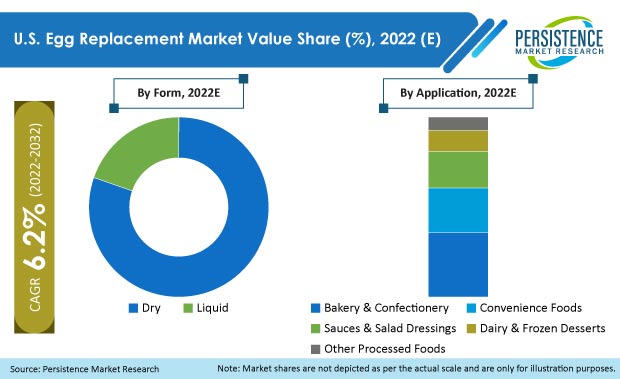 Why is Rapid Growth Predicted for the U.S. Egg Replacement Market?
"Rising Inclination toward Vegetarian/Vegan Products Driving Demand for Egg Alternatives"
The potential likelihood of the impact on vegan or vegetarian food products is expanding worldwide. Customer demand for vegan foods has been supported by increasing awareness of healthier eating options. This is attributed to several diseases affecting animals as well as growing concerns about animal welfare.
In 2021, according to a global analysis conducted by the National Science Foundation (NSF) of the U.S., around 88% of food industry practitioners said that they expect demand for plant-based products to increase, and more than 70% said they thought customers choose plant-based items for a healthier lifestyle, while 60% believed it to be more environmental-friendly.
"Gluten-Free, Non-GMO Egg Replacement Ingredients - An Emerging Trend"
Owing to the rising incidence of health issues such as obesity, diabetes, blood pressure, and others, consumers are more inclined toward maintaining a healthy lifestyle. They are seeking gluten-free food products, especially bakery products. This has led many manufacturers to expand their product offerings by introducing gluten-free and non–GMO egg replacement ingredient solutions.
U.S.-based Fiberstar offers a non-GMO clean label egg replacer ingredient to customers. The ingredient is derived from natural citrus fiber and enables full or partial replacement of eggs for food applications such as dairy-based desserts, baked goods, meat products, mayonnaise, gluten-free bakery products, and others.
"Increased Cost of Eggs to Benefit Demand Growth for Egg Replacement Products"
Egg prices are rising significantly due to supply constraints, which have occurred due to the avian flu. Thus, many food manufacturers are seeking to control costs by reducing the egg content in their products, which is a factor driving market growth.
In 2015, it was estimated that the price of eggs increased by 80%, due to avian flu in the U.S. Retail egg prices rose from an average of US$ 1.22 per dozen in mid-May 2015 to US$ 1.95 in June 2015 in the country, which was an increase of approximately 60% in just a month.
Even in recent years, the price of eggs has been increasing by approximately 35% to 50% in the U.S. every year, which will be a concerning issue for several food service industry players.
According to statistics provided by USDA, which follows the food commodity market, the average year-to-date profit on Grade A eggs was around US$ 1.46 a dozen, which is more than US$ 1.01 a dozen in 2021 and US$ 1.00 a dozen in 2020.
"Production & Handling of Eggs – Matter of Concern"
Apart from consumer concerns, complicated egg processing methods, food safety related to egg handling, expensive chilled egg storage, consumer demand for cage-free eggs, and various other factors are prompting food manufacturers to invest in simplified alternatives.
Moreover, a major factor limiting the use of eggs is their relatively short shelf life. However, the shelf life of egg replacers is an average, of three years, and is easy to process, handle, and store. This is a primary factor influencing food manufacturers to opt for egg replacers in their products.
"Availability of Egg Substitutes at Lower Prices"
Egg replacers are derived from various plant-based sources such as wheat, corn, potatoes, soy, algae, and others. These are easily available raw materials at a low cost. These are commonly grown food crops in almost all parts of the world.
These plants are known to adapt to a range of climatic conditions. As a result, the cultivation of these grains is economic, and easy for manufacturers to produce egg substitutes at low prices.
Owing to versatile properties and nutritional importance, plant-based egg replacers for the bakery industry are gaining popularity, and growers are encouraged to increase cultivation.
What's Limiting Market Growth of Egg Replacement Products in the U.S.?
"Negative Perception Regarding Plant-based Egg Replacers"
Consumers across the world are looking for more proteins in their diets, for which, they include eggs in several dishes; however, there is a lack of familiarity with plant-based proteins among consumers.
Some consumers find it undesirable to consume due to the texture and taste of plant-based egg replacers. They have the perception that plant-based proteins are hard to find and are not as nourishing as animal-based proteins. Such a negative perception and lack of awareness of vegan/plant-based egg replacers are restricting the market from reaching its full potential.
"Population Allergic to Soy & Pea Sources"
Prime sources of egg replacers are soy and pea, as they are rich in protein content and give a similar taste and texture of eggs. Sensitivity toward soy causes a hyper reaction of the immune system and sometimes even leads to anaphylaxis, which is a medical emergency and needs immediate treatment and attention.
The population sensitive toward soy and peas is increasing globally, as one in ten adults is suffering from sensitivity toward allergens such as soy and peas, and over 50% face high severity. Manufacturers are striving to produce allergen-free egg replacers so that the population suffering from soy and peas allergies can consume these products.
Category-wise Insights
Why are Dry Egg Replacements Popular in the U.S. Market?
Dry egg replacements have higher potential due to easy logistics, lower packaging costs, and user-friendly applications.
The market share of dry egg replacers is estimated to be around 80.3% in 2022 and the segment is expected to increase by value CAGR of 6.4% during the forecast period.
Which Ingredient Type in Egg Replacements is Majorly Demanded in the U.S.?
Based on ingredient type, the market is divided into five distinct segments - plant-protein blends, polysaccharides/starch/hydrocolloids-based, legume-based, soy-based, yeast-based, and others.
Plant-protein blends hold 35.1% market share, followed by legume-based and polysaccharides/starch/hydrocolloid-based egg replacements.
In Which Application are Egg Replacements Most Widely Used?
The bakery & confectionery industry holds a major value share of approximately 35.9% of the U.S. egg replacement market in 2022. The primary reason for this is higher shelf life, binding, texture, and other properties possessed by egg replacements.
Dairy & frozen desserts hold the least volume share at around 7.8% in 2022. The volume share of dairy & frozen dessert applications in 2022 is 1,608 tons, which is estimated to reach 2,514 tons by the end of 2032.
Competitive Landscape
Prominent manufacturers of egg replacement products are focused on the expansion of their businesses through strategic partnerships, mergers, and acquisitions. Key market players are strategically investing in manufacturing facilities to increase their market share going forward.
In 2021, Archer Daniels Midland Company (ADM) set up a plant-based innovation lab at its Biopolis research hub in Singapore.
In 2019, Cargill, Incorporated invested US$ 75 million to increase its PURIS pea protein production in the U.S. to meet surging market demand.
U.S. Egg Replacement Industry Report Scope
Attribute

Details

Forecast period

2022-2032

Historical data available for

2017-2021

Market analysis

USD Million for Value

Key market segments covered

Ingredient Type
Application
Form

Key companies profiled

Puratos
Cargill, Incorporated
Archer Daniels Midland Company (ADM)
All American Foods
Fiberstar
Natural Products, Inc.
J&K Ingredients, Inc.
Manildra Group USA
Ingredion
Devansoy Inc.

Report coverage

Market Forecasts
Company Share Analysis
Competition Intelligence
DROT Analysis
Market Dynamics and Challenges
Strategic Growth Initiatives

Customization & pricing

Available upon request
U.S. Egg Replacement Industry Research by Category
U.S. Egg Replacement Market by Ingredient Type:
Plant-protein Blends
Polysaccharides/Starch/Hydrocolloids-based
Legume-based
Soy-based
Yeast-based
Others
U.S. Egg Replacement Market by Application:
Bakery & Confectionery
Convenience Foods
Sauces & Salad Dressings
Dairy & Frozen Desserts
Other Processed Foods
U.S. Egg Replacement Market by Form: