U.S. Potato Flour Market Outlook (2022-2032)
The U.S. potato flour market is anticipated to expand at a high-value CAGR of 6.4% and increase from its current valuation of US$ 106.8 to reach US$ 198.1 Mn by the end of 2032.
More than 40% of the potato flour produced in the United States is used as an ingredient in the making of bakery products.
| Report Attribute | Details |
| --- | --- |
| U.S. Potato Flour Market Size (2022E) | US$ 106.8 Mn |
| Projected Sales of Potato Flour (2032F) | US$ 198.1 Mn |
| U.S. Market Growth Rate (2022-2032) | 6.4% |
| U.S. Consumption of Potato Flour (2022) | 55,296 Tons |
| Market Share of Potato Granules (2022) | 56.5% |
U.S. Potato Flour Demand Analysis (2017-2021) Vs. Market Projections (2022-2032)
Historically, from 2017 to 2021, the U.S. market for potato flour registered a compounded annual growth rate (CAGR) of 5.9%.
Demand for products offering several health benefits is witnessing an upward trend in the United States. Potato flour is a fine powder made from dehydrated potatoes, which is a good source of essential nutrients such as vitamin A & carbohydrates and contains a low level of glycemic index, which helps in lowering blood sugar levels and reduces the risk of heart disease.
Due to the various processing techniques, the market is bifurcated into potato flakes and potato granules. Flakes are fine crumbs and pieces, while granules exist in the form of powder.
This multi-purpose flour sees high demand from the food sector, which will majorly boost the prospects of the potato flour industry in the U.S. Consumption of potato flour in the U.S. is likely to surge as the vegan population grows and plant-based production increases across the country.
Potato flour has strong demand among U.S. consumers and has gained prominence in the retail/household industry due to its versatile nature, wherein, it's primarily used as a thickener, binder, and flavor enhancer in soups and other processed foods.
Key factors that have fueled market growth in recent years have been increasing health awareness, growing preference for nourishing plant-based sources, rising standards of living, rapid urbanization, changing lifestyles, and growing disposable income of the population.
In the U.S., potato flour is expected to show significant demand growth and register a CAGR of 6.4% over the forecast period of 2022-2032.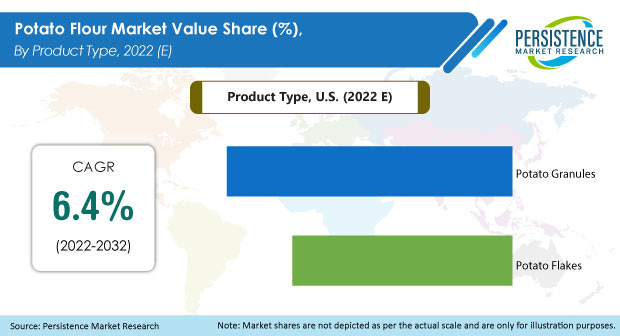 Which Market Factors are Shaping Demand for Potato Flour in the U.S.?
"Bakery Sector Bringing Growth Opportunities for Potato Flour Manufacturers"
The baking industry plays an important role in the U.S. market and demand for various baked products among consumers is increasing at a rapid rate due to changing lifestyles and the rising trend of dining out. Potato flour is a versatile ingredient that bakery experts prominently use to produce several innovative products.
Potato flour, being a multi-purpose grain-free flour, has several functions, and its low-protein content makes it highly suitable for tender baking applications such as cakes, muffins, pie crusts, and some cookies. Flour, when incorporated into baking, provides a distinctive flavor and texture that makes it more useful in pancakes, quick bread, muffins, and banana bread. It has an excellent water-retention capacity that aids in producing moist yeast bread and rolls.
Also, many food creators have found that sweet potato flour added to bakery products extends their shelf life significantly. Longer shelf life not only ensures product usability for a longer period but also reduces the chances of processed product oxidation with the amount of antioxidants in them.
"Potato Flour - The Ideal Alternative to Wheat Flour"
Potato flour is a farinaceous food product made from whole peeled potatoes that is fine in texture. On other hand, wheat flour is a powder containing gluten made by grinding grains. Potato flour, being a gluten- and grain-free product, is gaining traction among consumers. Home bakers, food manufacturers, and culinary professionals across the U.S. prefer it as an ideal substitute for wheat flour.
Potato flour is mostly chosen over wheat flour due to its ability to lower the risk of celiac disease, which is an autoimmune disorder. Gluten present in wheat, barley, and rye flour may cause inflammation that has a negative impact on the small intestine's lining, which causes digestion issues. Potato flour is low in protein and is very easy to digest due to the presence of resistant starch and helps in blood sugar management.
Furthermore, the trend of incorporating gluten-free diets among U.S. consumers is increasing due to growing awareness of the negative impact of gluten, which might cause serious health issues. Moreover, various pieces of evidence indicate that U.S. retail sales of gluten-free products continue to grow and consumers are preferring them more than ever.
As a result, potato flour is considered one of the best plant-based foods because it has an equivalent level of nutritional value, thereby driving its consumption.
"Consumers Opting for More Organic Food Products"
Organic food is considered healthy as it is grown naturally without the use of artificial chemicals such as pesticides and fertilizers. Moreover, consumer behaviors and purchasing habits have changed as they are highly health-conscious and prefer to buy products that do not contain synthetic additives. Similarly, in the U.S., the organic food market has accelerated rapidly and rising consumer preference for naturally-grown foods has opened up new market opportunities for food manufacturers.
Major U.S. manufacturers, suppliers, and distributors are introducing organic potato flour in their product lines, while some producers of conventional products have also introduced organic food to their portfolios. As a result, potato flour is expected to flood supermarkets, conventional stores, and direct-to-consumer markets. Furthermore, due to rising disposable income, consumers are ready to pay more for organic products, which are likely to propel the potato flour market across the U.S.
"Premium Price of Potato Flour Decelerating Market Growth"
Potato flour is a powder or set of granules that are prepared through dehydrating potatoes using state-of-the-art equipment, and the complete process - from growing the potatoes to producing the flour or flakes - is scrutinized by a quality assurance team.
The making of potato flour is a complex and longer process than the production of other types of flour. The drying process also involves more labor and equipment than the boiling process. High production costs involved in manufacturing potato flour make the final product more expensive, which may adversely affect market growth to some extent, with potato flour available at a higher price in the U.S. market as compared to other types of flour.
Major players with expertise emphasize on the whole process that requires a significant financial commitment and a group of specialists with in-depth knowledge of high-quality flour, raising the cost of production and acting as a market restraint.
For instance, Bob's Red Mill Natural Foods offers 25-lb packs of whole organic wheat flour on its website for US$ 38.39, while the price of potato flour is US$ 86.18 for the same sized pack.
Category-wise Insights
Why are Potato Granules Most Widely Used in the U.S.?
Based on product type, the potato granules category holds the largest market share. However, potato flakes are anticipated to boost over sales because of increasing demand in the food industry.
The market value share of potato granules is 56.48% in 2022, which is projected to reach US$ 60.3 Mn by the end of the forecast period in the U.S. market.
Which End Use of Potato Flour Will Account for High Revenue Streams?
Based on end use, the potato flour market is segmented into the food industry, foodservice, and retail/household. The food industry holds a major value share in the U.S. market at 64.1% in 2022, with the segment currently valued at US$ 68.5 Mn.
Competitive Dashboard
Companies involved in the production and distribution of potato flour are focusing on offering clean label and non-GMO certified products in the U.S. marketplace. Manufacturers are emphasizing providing potato flour according to the benchmark set by various end-use industries.
Moreover, consumers nowadays make choices and buy products by reading the information and attributes present on the labels. Thus, major players are leveraging this opportunity and using it as a key strategy to drive their potato flour sales across the United States.
Emsland Group, one of the prominent companies involved in the production of dehydrated potato products, offers clean label potato flakes across the U.S.
Tradin Organic Agriculture B.V. has acquired a high level of certifications from several international organizations to make its products globally acceptable, including USDA organic, GMP certified, Kosher certified, no MOQ, no harmful pesticides, and non-GMO.
U.S. Potato Flour Industry Report Scope
Attribute

Details

Forecast period

2022-2032

Historical data available for

2017-2021

Market analysis

USD million for value

Key market segments covered

Product Type
End Use
Distribution Channel

Key companies profiled

Bob's Red Mill Natural Foods
Idaho Pacific Holdings
Edward & Sons Trading Co.
Kipuka Mills.
American Key Food Products.
Shiloh Farms
Authentic Foods
Barry Farm
King Arthur Baking Company
Keystone Potato Products
Carrington Farms
ONSET WORLDWIDE, LLC
HTY USA
TRADIN ORGANIC AGRICULTURE B.V.
Olu Foods.
AGRANA Beteiligungs-AG
Emsland Group
Lamb Weston Holdings, Inc
Basic American Foods
Oregon Potato Company
The American Golden Foods
McCain Foods Limited
Agrarfrost GmbH & Co. KG
Goodrich Cereals
Hearthy Foods
Cadoro

Report coverage

Market Forecast
Company Share Analysis
Competition Intelligence
DROT Analysis
Market Dynamics and Challenges
Strategic Growth Initiatives

Customization & pricing

Available upon request
U.S. Potato Flour Industry Research by Category
U.S. Potato Flour Market by Product Type:
Potato Granules
Potato Flakes
U.S. Potato Flour Market by End Use:
Food Industry

Bakery Products
Other Processed Foods
Soups & Sauces
Savory

Food Service
Retail/Household
U.S. Potato Flour Market by Distribution Channel:
Business to Business
Business to Consumer

Convenience Stores
Hypermarkets
Online Retail
Specialty Stores
Other Retail Channels