U.S. Salt Market Outlook (2022-2032)
The U.S. salt market is forecasted to expand at a CAGR of 3.5% and increase from its current market size of US$ 2.97 Bn to US$ 4.19 Bn by the end of 2032.
The Midwest, Northeast, and Southeast regions of the U.S. are major markets for salt.
| | |
| --- | --- |
| U.S. Salt Market Size (2022E) | US$ 2.97 Bn |
| Consumption of Salt (2022F) | 55,378 KT |
| Projected Sales of Salt (2032F) | US$ 4.19 Bn |
| Value CAGR (2022-2032) | 3.5% |
U.S. Salt Consumption Analysis (2017-2021) Vs. Market Estimations (2022-2032)
During the historical period (2017-2021), the salt market in the United States experienced an annual value-based growth rate (CAGR) of 3.5%.
Salt is one of the most basic minerals extracted naturally and used in various applications, hence demonstrating strong demand across the U.S. market. The low cost and high availability of salt, coupled with an easy producing process, is gaining traction, thereby attracting various end-user industries around the globe.
Mankind is considered among the largest users of salt, which intakes it to support physiological functions and eating habits. Furthermore, in the U.S., salt for daily nutrients and utilization in cooking & food production will continue to strongly influence consumption. Also, salt for animal feed or livestock continues to provide steady growth to the market.
Key players from the U.S. are focusing on utilizing advanced state-of-the-art manufacturing systems, with companies progressively aiming to offer quality salt for household and commercial uses. Manufacturers of salt are focusing on strengthening their production capabilities and expanding their businesses across the United States.
As per this latest study by Persistence Market Research, the U.S. market for salt is expected to exhibit steady growth at a CAGR of 3.5% between 2022 and 2032.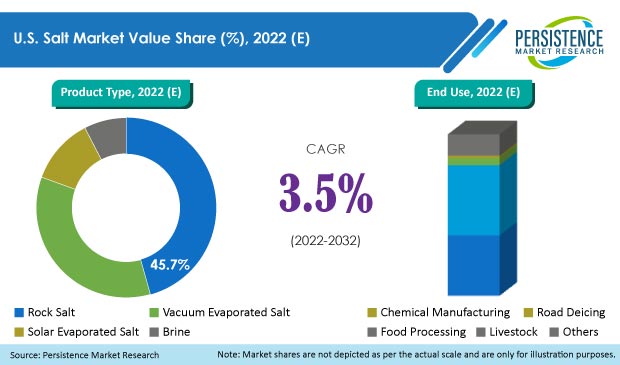 What are the Key Trends Driving the Salt Market in the U.S.?
"Utilizing of Solar Evaporation Process to Manufacture Salt"
Salt is principally produced using three manufacturing processes: inland brines or seawater solar evaporation, brine mined rock salt, and extraction through solution mining. Furthermore, the momentous growth of the salt-based industry in the U.S has resulted in the growth of industrial salt production through the solar evaporation process.
Owing to the availability of longer coastlines and salty lakes, salt manufacturers in the U.S. are producing salt by utilizing the solar evaporation process. Solar evaporation's reasonable cost and easy processing further drive the acceptance of this method by various manufacturers/producers in the U.S. industrial salt market.
For instance, in January 2022, the United Salt Corporation secured certified renewable Texas wind and solar resources from TXU Energy to cover its energy usage for manufacturing salts.
"Rising Demand for Salt as Deicer"
Heavy winter weather conditions in the U.S. can lead to precarious conditions for drivers and pedestrians. Deicers are utilized to combat this, which is a substance that melts or prevents the formation of ice. The upward trend of using salt as an ideal deicer is being witnessed in the U.S. Salt's ability to melt snow is exhibiting promising benefits in maintaining safety and continues to prove to be a cost-effective mineral that aids in keeping roads open for drivers and passengers. It acts as a deicer by releasing the bonds that hold these hazards to the pavement and allowing snowplows to completely remove them from the road.
The usage of salt is unlike the usage of abrasives such as cinders or sand, which are frequently used to improve road traction in the winter. Abrasives are inert and have no effect on melting points, and therefore, they don't melt snow or ice.
Overall, the U.S. salt market will be driven by the growing demand for salt as a natural deicer.
"Growing Production of Processed Food & Beverage Products Promoting Market Growth"
The food and beverage market has seen rapid growth over the past decade and is expected to grow further over the coming years. Market players from the U.S. and across the world are constantly focusing on expanding their production capacities to capitalize on the growing demand for foods and beverages.
Salt, which is utilized as a flavoring agent, enhancing the shelf life and other value-added uses in food products, is expected to bolster product sales significantly.
According to the USDA (U.S. Department of Agriculture), the processed food industry is the prime revenue-generating sector in the region. Growing demand for processed foods in the country is creating substantial demand for ingredients such as salt in various industries.
The applications of salts are expanding into global markets, which is anticipated to fuel the demand for food-grade salt. Moreover, vacuum salt is majorly used in the food industry due to its high purity and consistency. The high demand for food-grade salt in the processed food and beverage industry is expected to drive the vacuum salt market in the U.S. over the forecast period.
"Impact of Salt on Infrastructure & Natural Ecosystem Stunting Market Expansion"
Frequent utilization of road salts in colder regions of the world promotes safe travel for commuters and commercial operators. Salt exhibits numerous potential benefits; however, there are some restraining factors regarding its usage.
Road salt is perceived as an emerging pollutant. Moreover, the accumulation of road salt on the surface and in groundwater might lead to various problems. Salt causes salinity spikes in affected water bodies and rapid changes in the aquatic environment.
Salt is corrosive and can cause damage to vehicles, bridge decks, roads, parking lots, and aquatic ecosystems. The adverse effects of sodium chloride are leading to growing concerns in North America. Various committees have been formed to focus on environmentally safe alternatives to salt. Calcium magnesium acetate, hydrochloric acid, and potassium chloride can be used as alternatives to salt for deicing
U.S. Salt Market Insights
Which U.S. States Account for Higher Consumption of Salt?
Based on states, the U.S. salt market is divided into Northeast, West, Southwest, Midwest, and Southeast. Among these, Midwest, Northeast, and Southeast are dominating the U.S. salt market, holding value shares of 36.2%, 34.6%, and 14.8%, respectively, in 2022.
These regional markets are demonstrating promising growth for the forecast period and are expected to register CAGRs of 4.4%, 4%, and 3.4%.
Which Type of Salt Has the Highest Demand Growth Potential in the U.S.?
The product types considered in the scope of the U.S. salt market report include solar evaporated salt, rock salt, brine, and vacuum evaporated salt. Among these, brine is set to exhibit the highest growth rate of around 3.9% and reach a market valuation of US$ 330 Mn by the end of 2032.
Vacuum evaporated salt is majorly used in the food industry due to its potential benefits. The high demand for food-grade salt in the processed food and beverage industry is expected to drive the sales of vacuum salt over the forecast period.
Which End Use of Salt Accounts for High Sales Growth?
Based on end use, the market for salt in the United States is segmented into chemical manufacturing, road deicing, food processing, livestock, and others, among which, salt is prominently used in road deicing for the road safety of daily commuters and commercial vehicles.
The market volume share of road deicing in the U.S. is around 43.5%, which is projected to reach 32,022 KT by the end of 2032.
Why is More Than 99% Purity Salt Popular across the U.S.?
Based on purity type, the salt market is segmented into 95% - 99% and more than 99%. Among these, purity of more than 99% holds a value share of 38.8% in the fiscal year 2022. It will exhibit high market growth of around 3.7% and is expected to reach a market valuation of US$ 1.66 Bn by the end of 2032.
Moreover, salt with a purity grade of 95% - 99% is also gaining strong demand across the U.S. and is unveiling continuous growth opportunities for the forecasted period.
Competitive Dashboard
Prominent manufacturers of salt are focusing on research and development activities and are partnering with various other players to increase their footprint and revenue. Collaborating with different players benefits a company to integrate the latest technology and enhances its brand presence. Moreover, companies are also emphasizing quality management systems to increase customer satisfaction and thereby positively impact their customer base.
In November 2021, Compass Minerals International, Inc. acquired an approximate stake of 45% in Fortress, a fire retardant company. Through this partnership, the company invested US$ 45 million in FORTRESS. It will expand the FORTRESS magnesium chloride-based retardant portfolio, which offers unique properties in abating fire risks and fighting wildfires. Moreover, it will help to counterbalance the seasonality of its core deicing salt business.
American Elements uses ultra-high purity refining (99.999%) and nanoscale materials for various industrial fields, including energy, electronics, automotive, green technology, and pharmaceuticals.
In October 2020, Cargill, Incorporated introduced its kosher certified salt named "Diamond Crystal. Diamond Crystal salt is crafted the way chefs want. The company delivers salt to enhance the authenticity of cuisines.
In January 2021, K+S AG pharmaceutical salt was used by Biontech/Pfizer for the development of corona vaccine "comirnaty". K+S AG salts are used in the saline solution for the transportation of vaccines.
U.S. Salt Industry Report Scope
Attribute

Details

Forecast period

2022-2032

Historical data available for

2017-2021

Market analysis

USD Million for Value

Key market segments covered

Product Type
End Use
Purity Type
U.S. Region

Key companies profiled

A&B Ingredients, Inc.
Ahir Salt Industries
American Elements
American Rock Salt
Cargill, Incorporated
Champion Salt LLC
Gustav Heess
Compass Minerals International
Detroit Salt Co.
Hutchinson Salt Co.
K+S AG
Mitsui & Company
Morton Salt, Inc.
Pure Salt
Rock Salt Today
Salins IAA
SaltWorks
ULTRAVIOLET, Inc.
United Salt Corporation
U.S. Salt LLC

Report coverage

Market Forecast
Company Share Analysis
Competition Intelligence
DROT Analysis
Market Dynamics and Challenges
Strategic Growth Initiatives

Customization & pricing

Available upon request
U.S. Salt Industry Research by Category
By Product Type:
Solar Evaporated Salt
Rock Salt
Brine
Vacuum Evaporated Salt
By End Use:
Chemical Manufacturing
Road Deicing
Food Processing
Livestock
Other
By Purity Type:
By Region (U.S.):
Northeast
West
South
Midwest
South East