Single Domain Antibody Platforms Market Outlook (2022-2032)
The global single domain antibody platforms market was valued at US$ 23.8 Mn at the end of 2021, with an estimated CAGR of 10.6% for the next ten years to reach US$ 72.6 Mn at the end of 2032.
Single domain antibodies used in pharmaceutical and biotechnology companies held a market value of US$ 9.3 Mn in 2021, accounting for over 39% of the overall market share. Single domain antibody platforms market accounted for 6.1% share of the global custom antibody market in 2021.
| | |
| --- | --- |
| Single Domain Antibody Platforms Market Size (2022) | US$ 26.4 Mn |
| Projected Market Value (2032) | US$ 72.6 Mn |
| Global Market Growth Rate (2022-2032) | 10.6% CAGR |
| Market Share of Top 5 Countries | 55.6% |
Sales Analysis of Single Domain Antibody Platforms (2015 to 2021) Vs. Market Outlook (2022 to 2032)
The global single domain antibody platforms market expanded at a CAGR of 8.9% over the last six years (2015-2021).
Increasing incidence of immune disorders, viral infections, and cancer is leading to the rising demand for innovative treatments to achieve better results, which, in turn, is fuelling revenue growth of single domain antibody platforms.
According to the International Agency for Research on Cancer, global cancer burden is estimated to have increased with 19.3 million cases worldwide in 2020.
Thus, single domain antibodies used for the discovery and development of biologic-based drugs for the treatment of cancer will drive market growth over the coming years.
R&D investments are also anticipated to increase across the world, which will bolster the growth of the market.
According to the American Society of Clinical Oncology 2022, federal funding provided for cancer research has led to significant growth in diagnosis, prevention, treatment, etc. Congress invested US$ 1.25 billion in funding for cancer research and development. This further led to an increase in funding for the National Institutes of Health (NIH), including a US$ 120 million increase in the National Cancer Institute.
Top market players are concentrating on the creation and introduction of innovative immunotherapies using single domain antibodies to treat different cancer types and infectious disorders. The need for single domain antibody-based therapies is rising as a result of the increased acceptance of novel therapeutics, which is expected to fuel the market for single domain antibody platforms as well.
In 2019, Cablivi, developed by Sanofi, became the first approved single domain antibody for the treatment of TTP, a rare blood disorder.
The global single domain antibody platforms market is predicted to surge ahead at a CAGR of 10.6%, with recorded sales expected to reach US$ 72.6 Mn by the end of 2032.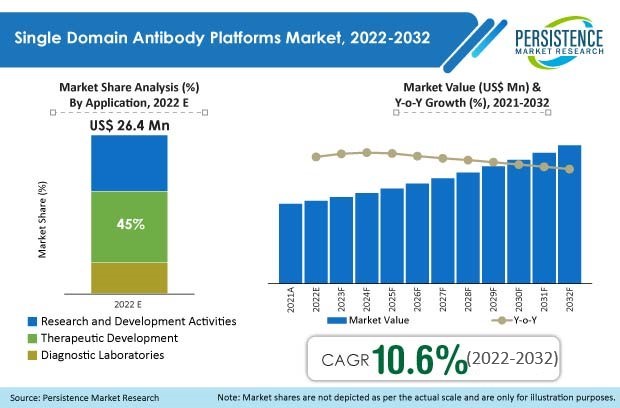 What Opportunities Await Single Domain Antibody Platform Manufacturers?
"Rising Use of Single Domain Antibodies in Drug Development and Development of New Cancer Treatment"
Rapidly increasing collaborative activities by single domain antibody service provider companies with research institutes, biopharmaceutical companies, and clinical research organizations (CROs) are expected to propel the market growth over the forecast period. Market players are entering into collaborations to develop and upgrade key healthcare technologies as well as develop new products and services.
For instance,
In December 2020, GenScript ProBio's Berkeley Lights Beacon platform was used by Initium Therapeutics strategically to expand its antibody-drug pipelines by collaborating with GenScript ProBio to widen its distribution network.
Additionally, prioritizing developing nations and raising R&D expenditures will accelerate market expansion. The potential for outsourcing biotech projects has increased by the availability of skilled labor in developing nations such as China and India, at affordable prices.
What's Restraining Demand for Single Domain Antibodies to Some Extent?
"Stringent Regulatory Approvals, Lack of Skilled Professionals, & High Maintenance of Antibodies"
As biologics progress through commercialization and clinical trials, regulatory requirements will become more and more stringent. The approval of biological products in the U.S. requires a Biologics License Application (BLA).
The product, as well as the process, must be validated and exclusively monitored against critical quality attributes (CQAs) throughout the manufacturing process.
Regulatory bodies must approve not only the end product but also the process, CQAs, antibodies, consumable cell lines, and equipment that went into production, to gain approval. The long times associated with waiting for regulatory approvals will hamper the growth of the single domain antibody platforms market to some extent.
Camelid species may not be readily available to all researchers and animal husbandry because it necessitates specialized facilities. It is necessary to utilize more than one animal and analyze the consistency of particular immunization processes, such as DNA immunization, to avoid the heterogeneity of immune responses. This can be a key challenge to maintain process efficiency and is a major restraint to market growth.
The handling of recombinant antibodies required specialized laboratory training. Additionally, lack of experience in research laboratories has hampered the growth of the single domain antibody platforms market due to inadequate practice in handling recombinant antibodies.
Unfortunately, there is a shortage of qualified experts working in research and development. Low pay ranges, difficult roles, and insufficient laboratory training are all contributing factors to the shortage of trained experts.
Country-wise Insights
Why are Single Domain Antibody Platform Manufacturers Targeting the U.S.?
"Growing Cancer Prevalence & Focus on Enhanced Treatment Options"
In 2022, the U.S. is estimated to account for a market share of more than 86% in the North American single domain antibody platforms market.
As per the American Cancer Society journal, the estimated number of new cancer cases will increase by approximately 1.9 Mn by the end of 2022 in the U.S.
These figures indicate the rising incidence of cancer and the increase in research and development of new drugs to develop better treatment options in the country.
Inhibrx, Inc., a company based in the U.S., has four differentiated clinical-stage biologic therapeutic candidates in the pipeline designed from a core single domain antibody platform for the treatment of cancer.
How is Demand for Single Domain Antibodies Shaping Up in Germany?
"High Level of Research Activities Ongoing in Germany"
Germany is projected to account for 30.8% of Europe's single domain antibody platforms market share in 2022 and is projected to exhibit steady growth at a CAGR growth rate of 10.5% through 2032.
The German market for single domain antibody platforms is being propelled by new molecular technologies that could rapidly diagnose infectious diseases or cure diseases such as cancer with better diagnostic tools and immune therapies.
Moreover, Germany holds the largest market share in Europe due to the presence of many major players in the country, which also increases the accessibility of products in the country.
Why is China Emerging as a Prominent Market for Single Domain Antibody Platforms?
"Increasing Strategic Collaborations and Agreements"
In 2022, the China single domain antibody platforms market is estimated to be valued at US$ 1.5 Mn with a market share of 46.6% in the East Asia single domain antibody platforms market.
Several market players are focusing on expansion through global agreements for commercialization, thus contributing to market growth in China.
In September 2020, GenScript ProBio received global rights to develop and commercialize a SMAB (single domain antibody fused to monoclonal Ab) bispecific antibody molecule for REMD Biotherapeutics Inc. (REMD).
Such agreements would drive the Chinese market and will offer lucrative opportunities for local manufacturers.
What is the Outlook for India Regarding Single Domain Antibody Platforms?
"Newer Policy Announcement for Business Expansion"
India will account for 37.8% market share of the total value of the South Asia single domain antibody platforms market and reach US$ 0.9 Mn in 2022.
India, a developing country in the South Asian region, has announced government policies for new start-up companies as well as for MNCs across domains, including biotechnology. As per these policies, start-up companies in India are exempted from tax for the first three years after establishment, and the costs for patent protection are subsidized.
Thus, favorable government policies are expected to drive demand for single domain antibody platforms in India.
Category-wise Insights
Which Platform Type of Single Domain Antibodies Accounts for High Market Growth?
"High Demand for Bispecific Single Domain Antibodies"
The multispecific single domain antibody segment, among other platform types, will account for the highest market share of 31.7% by revenue in 2022, followed by the bispecific single domain antibody platform type at a growth rate of 9.4% in 2022.
Multi-specific single domain antibodies bind multiple targets (more than one) with one nanobody molecule and target two or more antigens. Due to this factor, the segment accounts for the increasing demand for multispecific single domain antibodies.
Which Animal Sources are Widely Used for Single Domain Antibodies?
"Camelid Antibodies Dominate among Other Animal Sources"
Camelids antibodies are projected to dominate the market with a revenue share of 91.6% in 2022.
Camelid antibodies are much smaller in size and can detect various epitopes with minimum steric hindrance, powering the growth of this segment.
Which Application of Single Domain Antibodies is Most Popular?
"Therapeutic Development Continues to Account for Highest Market Share"
Therapeutic development will hold the highest market share of around 45% in 2022 and is projected to dominate over the forecast period as an application, with a growth rate of 10.3% CAGR.
Single domain antibodies are highly effective in immune therapy, cancer treatment, and anti-viral therapy. Thus, innovative cancer treatment methods and high demand for adopting single domain antibodies in drug development will lead to rapid segment growth.
Competitive Landscape
Leading single domain antibody platform providers are aiming at collaborations and accreditation to drive their product demand and sales footprint across countries. Single domain antibody manufacturers are focused on innovative drug development and product patenting for gaining high market revenue.
In June 2021, GenScript Biotech Corporation entered into a license agreement with Ligand Pharmaceuticals for the OmniAb® platform.
In February 2021, Kaneka Eurogentec received GMP accreditation for a new mRNA manufacturing facility for COVID-19 vaccine production.
Similarly, recent developments related to companies manufacturing single domain antibody platforms have been tracked by the team at Persistence Market Research, which are available in the full report.
Single Domain Antibody Platforms Industry Report Scope
Attribute

Details

Forecast Period

2022-2032

Historical Data Available for

2015-2021

Market Analysis

US$ Million for Value

Key Countries Covered

U.S.
Canada
Brazil
Mexico
Argentina
Germany
France
Spain
Italy
U.K.
BENELUX
Russia
India
Thailand
Malaysia
Indonesia
China
Japan
South Korea
Australia
New Zealand
Turkey
GCC Countries
South Africa

Key Market Segments Covered

Platform Type
Animal Source
Application
End User
Region

Key Companies Profiled

Creative BioLabs A
Synbio Technologies
ProSci Incorporated
BioCat GmbH
Antibody Design Labs
GenScript
Oak BioSciences, Inc
Rockland Immunochemicals, Inc
Hybrigenics Services
NeoClone Biotechnology International LLC
Kaneka Eurogentec S.A
ProteoGenix

Report Coverage

Market Forecast
Competition Intelligence
DROT Analysis
Market Dynamics and Challenges
Strategic Growth Initiatives

Customization & Pricing

Available upon Request
Key Segments in Single Domain Antibody Platforms Industry Survey
Single Domain Antibody Platforms Market by Platform Type:
Multi-specific Single-domain Antibody
Bispecific Single-domain Antibody
Multivalent Single-domain Antibody
Mono-specific Single-domain Antibody
Single Domain Antibody Platforms Market by Animal Source:
Single Domain Antibody Platforms Market by Application:
Diagnostic Development
Therapeutic Development
Research & Developmental Activities
Single Domain Antibody Platforms Market by End User:
Diagnostic Laboratories
Clinical Laboratories
Academic & Research Institutes
Pharmaceutical & Biotechnology Companies
Single Domain Antibody Platforms Market by Region:
North America Single Domain Antibody Platforms Market
Latin America Single Domain Antibody Platforms Market
Europe Single Domain Antibody Platforms Market
South Asia Single Domain Antibody Platforms Market
East Asia Single Domain Antibody Platforms Market
Oceania Single Domain Antibody Platforms Market
Middle East & Africa Single Domain Antibody Platforms Market