Single-Use Bioprocess Systems Market Outlook (2022-2032)
The global single-use bioprocess systems market recorded a CAGR of 11.9% in the last six years from 2015 to 2021. Worldwide revenue from single-use bioprocess systems was US$ 5 Bn in 2021, with the market forecasted to surge ahead at a CAGR of 14.4% to reach a valuation of US$ 22.2 Bn by the end of 2032.
According to this study by Persistence Market Research, overall, single-use bioprocess systems accounted for approximately 26.5% revenue share of the global bioprocess technology market in 2021.
Many end users view single-use systems (SUS) as an economically viable strategy to attain the highest level of productivity and process efficiency. SUS equipment is therefore extensively used throughout the biomanufacturing phase, especially in the production of pre-commercial biopharmaceuticals. Opportunities have been generated for the industry's product providers as a result.
One of the key factors driving the market for single-use bioprocess systems is that there are several vendors in the market who are offering sustainable disposables for the production of biopharmaceuticals and other commercial purposes. Reusable stainless steel bioreactors, which are used in conventional bioprocessing systems, have several drawbacks.
The primary driver anticipated to propel market growth is the introduction of single-use bioprocess systems that come with benefits such as less cleaning and sterilization requirements as well as possible cost reductions when compared to conventional stainless steel mixers.
Additionally, the development of automation in the bioprocessing sector has emerged as another major trend drastically increasing the efficiency of biomanufacturing. By enabling prediction and process parameters, the adoption of analytical models based on big data and machine learning is projected to improve product yields.
Moreover, rising amount of investments in single-use bioprocess systems for research and development to create sustainable solutions will further boost market growth over the next ten years.
| | |
| --- | --- |
| Single-Use Bioprocess Systems Market Size (2022) | US$ 5.8 Bn |
| Projected Market Value (2032) | US$ 22.2 Bn |
| Global Market Growth Rate (2022-2032) | 14.4% CAGR |
| Market Share of Top 5 Countries | 52% |
How Can Single-Use Bioprocess System Manufacturers Grow?
"Technological Adoption – Transforming Single-use Bioprocessing Systems Sector"
With ongoing technological upgradation and high investments by companies to make unique single-use bioprocess systems, the focus has shifted from conventional steel bioreactors to disposable single-use bioreactors that are easier and cheaper to use. Furthermore, they provide high energy efficiency and reduce the chances of cross-contamination. For instance, companies such as ThermoFisher Scientific, Eppendorf AG, Merk KGaA, and Danaher Corporation, are developing single-use bioprocessing systems and components.
In September 2021, Merck released the ProCellics Raman Analyzer with Bio4C PAT Raman software for upstream monoclonal antibody and vaccine process development and manufacture, which provides a GMP-ready platform for in-line and real-time monitoring of cell culture crucial process parameters and critical quality attributes.
In April 2020, GE Life Sciences changed its name to Cytiva with the takeover by Danaher
In January 2017, Eppendorf launched the BioFlo 120 fermenter/bioreactor instrument capable of microbial fermentation as well as mammalian cell culture applications for research and development.
The introduction of new technologies is expected to result in higher adoption rates, which will, in turn, drive market growth during the forecast period. Manufacturers are also investing a lot of time in research and development for the production of single-use bags as they are easily disposable and provide efficient temperature resistance, strength of usage, and are also quite durable. The successful launch of disposable bags of various sizes will help market leads expand their businesses with a larger product portfolio and capture a share in untapped markets.
Furthermore, with increased demand for disposable sensors and probes in the biopharmaceutical industry, new market entrants are also trying to expand their businesses by offering a wide range of products.
Can the Market Be Adversely Affected in Any Way?
"Increasing Cost of Consumables and Rising Industrial Pollution"
The single-use bioprocess systems market's rising consumable product costs are anticipated to somewhat hinder market expansion. Over the coming years, the market is anticipated to be hampered by the industry's contribution to the impact of industrial pollution on the planet.
In actuality, just a small portion of the world's total plastic consumption is produced by businesses using single-use bioprocessing. However, low and mid-sized market participants' unwillingness to invest in environment-friendly product development for the biopharmaceutical industry is causing industrial pollution, which is expected to somewhat impede market growth in the years ahead.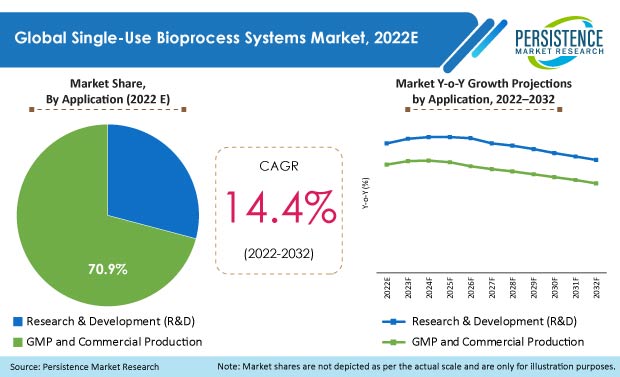 Country-wise Insights
Why is the U.S. a Lucrative Market for Single-Use Bioprocess Systems?
"Increasing R&D Funding for Innovative Single-Use Bioprocess Systems"
The U.S. accounted for 85% share of the North American single-use bioprocess systems market in 2021 and is expected to hold on to this huge share through 2032.
Expansion of biopharmaceutical R&D and the availability of major biopharmaceutical manufacturing facilities in the U.S. have been important factors in the country's supremacy. Additionally, the North American region is home to a large number of contract manufacturing businesses that use disposables in their daily operations.
Investments in this market have increased as a result of this trend. For instance:
With over US$ 20 billion in net cash, GE Healthcare sold its Biopharma division to Danaher Corporation in March 2020. The biopharma division is currently known as Cytiva.
How is the Single-Use Bioprocess Systems Market Shaping Up in China?
"Growing Biopharmaceutical Industry Raising Demand for Single-Use Bioprocess Systems Services"
China held 45.8% share of the East Asia single-use bioprocess systems market in 2021. With the expanding biopharmaceutical manufacturing sector in China, the country has become a strong market for single-use technology.
The Chinese bioprocessing sector has traditionally been seen as a conservative and cautious industry when it comes to implementing new technologies; however, recently, many of the facilities that are expanding are planning to incorporate some of the most cutting-edge technologies, such as contemporary single-use technologies (SUT) and modular components.
A majority of Monoclonal Antibody (mAb) developers in China are developing biosimilar/bio better mAbs against several known targets. Hence, lately, there has been a huge adoption of single-use bioprocess systems.
For instance:
In February 2021, Wuxi Biologics, one of the major CDMOs operating in China, started a GMP-compliant operation using nine 4,000-liter single-use bioreactors.
Why is Germany an Established Player in the Market for Single-Use Bioprocess Systems?
"Expansion of Companies to Meet Demand for Complex Antibodies"
Germany held the largest market share of 26.4% of the European single-use bioprocess systems market in 2021.
With many companies expanding their production plants in Germany to meet the demand for complex antibody production and commercial biomanufacturing, the demand for single-use bio-processors is very high.
For instance, disposable single-use bioreactors greatly increase flexibility since they enable quicker ramp-up of capacity and decrease the burden for preparation.
Category-wise Insights
Which Component Majorly Drives Market Growth?
"High Demand for Single-Use Bioreactors across Regions"
Under the component segment, bioreactors held 43.9% share of the global market in 2021.
Factors such as the growing number of biopharmaceutical companies and CMOs in developed regions (North America and Europe) and the growing demand for the development and manufacturing of biologics across all regions are increasing the usage of single-use bioreactors owing to their added advantages over conventional bioreactors, thus accelerating segment growth.
Which Application of Single-Use Bioprocess Systems is Most Prominent?
"Increased Demand for Drug Discovery and Pharmaceutical Products"
GMP and commercial production held the largest market share of 71.4% in 2021.
Because of the high demand for drug discovery and the commercial use of pharmaceuticals, monoclonal antibodies for laboratory usage, and cell culture, the GMP and commercial production segment is leading and will continue to hold this position throughout the forecast period.
Which End User Accounts for Greater Adoption of Single-Use Bioprocess Systems?
"Rapidly Growing Number of Biopharmaceutical Companies"
Biopharmaceutical companies accounted for a larger share of 52.1% in 2021.
Biopharmaceutical companies use single-use bioprocess systems to cater to the rising demand for biologics production in a safe environment and cost-effective way. Numerous biopharmaceutical companies have started investing in extending their manufacturing capacity through the installation of new disposable equipment to keep up with shifting client demands for vaccine manufacturing and related bioprocessing services.
The COVID-19 pandemic also increased the flow of investments into the bioprocessing sector, which is pushing the demand for single-use bioprocess systems. As such, the demand for single-use bioprocess systems in biopharmaceutical companies will continue to rise.
Competitive Landscape
To strengthen their market presence and expand their product lines in the global market, leading manufacturers are focussing on various market strategies such as mergers and acquisitions, expansion of their production facilities, and collaborations with various other companies to boost their sales of single-use bioprocess systems.
For instance:
Thermo Fisher Scientific Inc. launched the Thermo Scientific DynaSpin single-use centrifuge system on September 28, 2022, at the BioProcess International Annual Conference in Boston, Massachusetts, to provide the finest single-use option for mass cell culture harvesting.
A contract extension with the U.S. Departments of Defence and Health & Human Services was announced by Corning on March 26, 2021.
To advance its Vertical-Wheel single-use bioprocessing technology and cater to the need for cell treatment, PBS Biotech, a producer of single-use bioreactors, signed a private investment round with BroadOak Capital Partners for US$ 10 million.
Single-Use Bioprocess Systems Industry Report Scope
Attribute

Details

Forecast Period

2022-2032

Historical Data Available for

2015-2021

Market Analysis

USD Billion for Value

Key Countries Covered

U.S.
Canada
Brazil
Argentina
Mexico
Germany
France
U.K.
Italy
Spain
Russia
BENELUX
Nordic Countries
Russia
India
Thailand
Malaysia
Indonesia
Vietnam
Philippines
China
Japan
South Korea
Australia
New Zealand
Turkey
GCC Countries
Northern Africa
South Africa

Key Market Segments Covered

Component
Application
End User
Region

Key Companies Profiled

Thermo Fisher Scientific
Sartorius Stedim Biotech
Danaher Corporation
Merck KGaA (Millipore)
Corning
Avantor
CESCO Bioengineering Co. Ltd.
PBS Biotech, Inc.
Distek, Inc.
Eppendorf AG
Celltainer Biotech B.V.
Getinge (Applikon Biotechnology)
Cellexus Ltd.
Parker Hannifin Corp
Mettler-Toledo International, Inc.

Report Coverage

Market Forecast
Competition Intelligence
DROT Analysis
Market Dynamics and Challenges
Strategic Growth Initiatives

Customization & Pricing

Available upon Request
Single-Use Bioprocess Systems Industry Research Segmentation
By Component:
Bioreactors

Cell Culture Bioreactors
Fermentation Bioreactors

Mixers
Bioprocess Containers
Transfer and Storage Bags
Sampling Systems
Filtration Systems
Chromatography Columns
Probes & Sensors
Tubing Assemblies
Connectors & Clamps
Filling Systems
By Application:
Research & Development (R&D)
GMP and Commercial Production
By End User:
Biopharmaceutical Companies
Contract Research Organizations
Contract Manufacturing Organizations
Research Institutes
By Region:
North America
Latin America
Europe
South Asia
East Asia
Oceania
Middle East & Africa