North America Roasted Grain Ingredients Market Outlook (2022-2032)
The North America roasted grain ingredients market has reached a valuation of US$ 4.13 Bn in 2022 and is set to reach US$ 5.85 Bn by the end of 2032, expanding at a value CAGR of 3.5%.
At present, North America accounts for 20% share of the worldwide consumption of roasted grain ingredients.
| Attribute | Key Insights |
| --- | --- |
| North America Roasted Grain Ingredients Market Size (2022E) | US$ 4.13 Bn |
| Projected Sales of Roasted Grain Ingredients (2032F) | US$ 5.85 Bn |
| Value CAGR (2022-2032) | 3.5% |
North America Roasted Grain Ingredient Consumption Analysis (2017-2021) Vs. Market Estimations (2022-2032)
The market for roasted grain ingredients in North America expanded at a CAGR of 2.3% between 2017 and 2021.
Roasted grains are the right choice for various applications as they are a great source of energy and proteins, and also improve the taste and texture of finished products. The roasting process breaks down the cellular structure of grains, which increases their digestibility, allowing them to be absorbed easily.
Roasting maize helps in increasing the speed of starch availability. The starch derived from roasted corn becomes more soluble as compared to raw corn. Roasted corn increases the energy and required nutritional value of animals, making room for more forage in their diet.
Demand for roasted grain ingredients is rising significantly. Manufacturers are offering products that impart flavor, and color, and have a longer shelf-life. Consumers are also on the lookout for products sourced from food grains as they prefer naturally nutritious products.
Based on a detailed study by Persistence Market Research, between 2022 and 2032, the North America roasted grain ingredients market is expected to expand at a CAGR of 3.5%.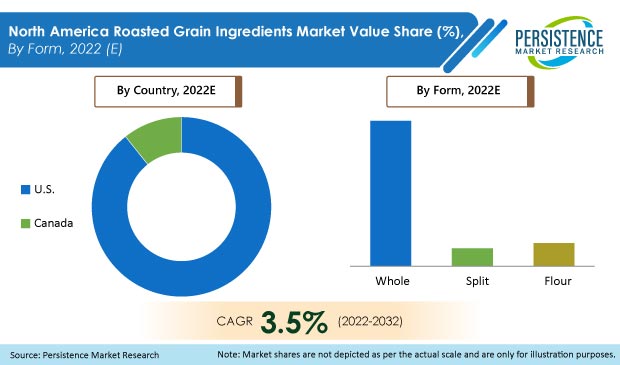 What's Driving Demand for Roasted Grain Ingredients in North America?
"Changing Lifestyles & Premiumization Impacting Market Growth"
Beverages that are derived from roasted grain ingredients offer several advantages such as better quality, consistency in taste, and a variety of flavors, thus helping accelerate the alcoholic and non-alcoholic beverage market.
Furthermore, improvements in economic conditions across the North American region have led to increased disposable incomes and a higher standard of living, which have contributed to the rising trend of premiumization and consumption of alcoholic drinks and beverages. The North American beverage market has benefitted from the increasing number of women consuming alcohol.
For example, premium high-strength ready-to-drink cocktails have been on the rise, both in the U.S. and Canada, as consumers seek convenient alternatives to suit their active lifestyles.
"Pairing Options to Enhance Flavors of Food & Drinks Influencing Sales of Roasted Grain Ingredients"
Consumers are willing to try and experiment with new flavors in beverages to meet their expectations for better taste, thus expanding the variety of drink options in the beverage sector. Alcoholic drinks have a long history of being paired with meals, reflecting culinary traditions.
However, currently, alcoholic drinks such as beer, spirits, and high-strength ready-to-drink malt beverages, including cocktails, have also become equally appealing and are paired with different food categories, thereby heightening the overall drinking experience by experimenting with various flavors.
For example, the hybrid trend, particularly in the spirits category, where alcoholic drinks such as beer are mixed with rum or tea, has gained immense popularity, and is typically visible on supermarket shelves, thus offering opportunities for manufacturers to launch beverages catering to the growing consumer demand for unique flavors and taste.
"Increasing Demand from Home Brewers & Microbrewers Providing Lucrative Opportunities"
The evolution of craft brewers and distillers is being led by market players who strive to distinguish themselves through quality and brand differentiation. The craft brewing sector is currently undergoing a minor revolution in terms of choosing and promoting new flavors and varieties.
Many midscale malt houses are being opened to cope with the growing demand for local malt in the brewing industry. Recently, many new malt houses have been built in New York, Delaware, Ohio, Colorado, and Canada in an attempt to target the lucrative craft beer and spirits market.
Key players are also responding to the new demands from the craft beer industry. The growth of microbreweries is giving rise to the need for a lower quantity of malts and ingredients. Market players such as Weyermann Specialty Malt and Riverbend Malt House are offering smaller quantities depending on the scale of the brewery. These smaller quantities also serve brewing giants for testing purposes and innovation.
"Increasing Preference for Plant-based Ingredients Stimulating Market Growth"
Applications of ingredients derived from plants are creating a relatively stable condition for manufacturers in the food and beverage industry. Manufacturers are increasingly favoring plant-based ingredients in different food products as they offer several health benefits.
Increasing awareness of the benefits of plant-based ingredients and environmental concerns are all shaping customers' choices. Plant-based products are helpful in blood sugar management and heart health owing to the high presence of fibers and other components that help in absorbing carbohydrates or cholesterol.
Moreover, plant-based ingredients also help improve gut health, which enables the better absorption of nutrients from food and improves the immune system. Due to all these reasons, demand for roasted grain ingredients is expected to grow steadily in the near future.
"Manufacturers of Roasted Grain Ingredients Capitalizing on Niche Segments"
Food grains have long been a major part of the American diet, and due to the growing number of health-conscious consumers, natural food ingredients are gaining even more popularity. The nutritional properties, health benefits, and affordable price points of roasted grains help position them as stand-alone products or as ingredients in various food products.
Looking at the trend for versatile ingredients, such as roasted grains, flour, and malts, manufacturers are opting for specialization and differentiation in their product offerings. Key market players are identifying consumer niches and offering specialized products. They are also focused on catering to consumer-specific requirements for organic products as well as products that have not undergone technological breeding.
For instance, McGeary Organics, Inc. has created a niche for itself by exclusively offering organic products for various sectors.
How is Demand Growth of Roasted Grain Ingredients Being Affected?
"Fluctuation in Food Grain Prices"
Fluctuations in the production and prices of food grains have a direct impact on roasted grain ingredient production. The high prices of food grains can increase the cost of finished products, and hence, can impact the sales of roasted grain ingredients.
The food production crisis is a major global phenomenon that occurs mainly due to the unavailability of sufficient resources necessary for production.
In the global food ingredients market, food grains hold a significant market share. In the farming of conventional grains, fertilizers and various chemicals are used. These pesticides and fertilizers have a negative impact on human health and cause several health issues. Due to increasing awareness regarding the potentially hazardous effects of these chemicals, consumers are looking for organic substitutes.
Deficits in the supply of grain ingredients arise due to the combination of factors such as climate change and land use. Various factors play a role in the production of grains, such as the availability of water, water quality, availability of manure and pesticides, etc.
Furthermore, wheat and barley are cultivated and utilized for daily consumption by a majority of the population. Thus, only a limited amount remains for other commercial uses of roasted grain ingredients. This may hinder market growth of the product to some extent.
Country-wise Insights
Why Does the U.S. Lead the North American Roasted Grain Ingredients Market?
The U.S. shows dominance for roasted grains and accounts for a market share of more than 80% in North America.
The U.S. is a promising market due to increasing health & wellness consciousness, along with increasing dietary restrictions due to food allergies, sensitivities, and intolerances. Besides, high consumer inclination toward vegetarian diets is also boosting the market for roasted grain in the country.
Why is the Flour Form of Roasted Grains Showing High Growth Potential in Canada?
In the food processing sector, the flour of roasted grains is utilized significantly to impart aroma, texture, and flavor to finished food items. There is also high usage of roasted grain ingredients in the beverages industry as they possess less Diastatic Power (DP) and provide color, body, taste, and texture to the final product.
The flour of roasted grains segment is showing the highest growth potential in Canada and is expected to register a value of CAGR of 4.8% during the forecast period (2022-2032).
Category-wise Insights
Which End Use Accounts for High Usage of Roasted Grain Ingredients?
Convenience food application of roasted grains holds a major share in the North American market at approximately 52.6% in 2022 and is projected to reach US$ 2.17 Bn by 2032.
Due to the rise in the working population and fast-paced lifestyles, consumers are opting for instant, nutritional-rich, and easily accessible food options. Roasted grains are suitable for various types of food preparation such as pasta, bread, porridge, bakery blends, and baby foods, although most of the use of roasted grains is in soups and flakes in breakfast cereals.
Why is Roasted Barley Consumed the Most in North America?
Barley is a great source of soluble fiber implicated in hypoglycaemia and hypocholesterolemia in non-insulin-dependent diabetes. Whole-grain barley contains low fat, calories, and protein, but is a rich source of dietary fiber as compared to whole-grain oats.
Furthermore, in whole-barley grain, beta-gluten content is equivalent to or greater than that in whole-grain oats, which makes it an ideal option for consumption in several end-use segments.
The roasted barley segment is expected to be valued at US$ 2.53 Bn in 2022 and is expected to hold 61.2% market value share by 2032.
Competitive Landscape
Key manufacturers of roasted grain ingredients in North America are focused on introducing new products and exploring new application areas. Market players are also expanding their production and storage capacities to cater to rising domestic and global demand.
In February 2021, Siemer Milling doubled its wheat storage capacity at its mill in West Harrison, Indiana. This move increased its storage capacity from 1 million to 2.2 million bushels. The new storage consists of two steel bins, each with a capacity of 600,000 bushels.
In September 2020, Siemer Milling increased its Hopkinsville, Kentucky, production capacity by adding a whole wheat milling unit and also expanding the capacity of its existing mills. The capacity increased from 5,500 to 7,000 cwt/day of conventional flour.
North America Roasted Grain Ingredients Industry Report Scope
Attribute
Details

Forecast period

2022-2032

Historical data available for

2017-2021

Market analysis

USD Million for Value

Key countries covered

Key market segments covered

Type
Nature
Form
End Use
Region

Key companies profiled

Boortmalt
Briess Malt & Ingredients
Bunge Limited
Epiphany Craft Malt
Great Western malting Co.,
Malteurop Group
McGeary Organics, Inc.
Mennel Milling
Muntons Malted Ingredients Inc.
Proximity Malt
Rahr Malting Company
Riverbend Malt House
Siemer Milling Company
Simpsons Malt
Weyermann Specialty Malting

Report coverage

Market Forecasts
Company Share Analysis
Competition intelligence
DROT Analysis
Market Dynamics and Challenges
Strategic Growth Initiatives

Customization & pricing

Available upon request
North America Roasted Grain Ingredients Industry Research by Category
By Type:
Barley
Soybean
Wheat
Corn
Others
By Nature:
Organic Roasted Grain Ingredients
Conventional Roasted Grain Ingredients
By Form:
Whole Roasted Grain Ingredients
Split Roasted Grain Ingredients
Flour Roasted Grain Ingredients
By End Use:
Beverages
Bakery
Convenience Foods
Animal Feed
Others
By Country
U.S. Roasted Grain Ingredients Market
Canada Roasted Grain Ingredients Market