Even Automobiles Can Catch High Fever!
---
Date : Aug 02, 2017 Author : Nikhil Kaitwade Category : Automotive and Transportation
Carbon fiber look adds to the appearance of the highly functional and effective Lava Shield Mat, a classic appearance and functionality combination!
Automotive heat shields are a vital component in the vehicle as they are designed to protect the other vehicle components from the excessive heat which is generated during vehicle operation. This is carried out by either absorbing the heat, reflecting it or dissipating it. They are used to cool the vents in the engine. Now-a-days, the automotive heat shields are made from aluminum to get higher performance.
A race inspired look with the help of carbon fiber on the new lava shield mat is introduced by Heatshield Products, a family owned company which is involved in exhaust wraps, heat shields, heat protective sleeves as well as thermal insulation of the best quality. This new introduction, besides good looks, it also shows enhanced capabilities for heath deflection.
Superior protection from heat and deflection of heat ensures good vehicle component security and both these functionalities are offered by the new Lava Shield Mat along with an added stylish look by using carbon fiber which supports the new product's appeal and sale. Lava Shield Mat as a thermal barrier is an excellent choice for protection of firewalls, fuel tanks, transmission tunnels and many other components. The inbuilt adhesive feature of the Lava Shield Mat allows it to adhere to any surface which is clean.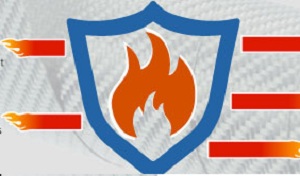 Lava Shield Mat is manufactured from a special formulated material which is a volcanic rock based material showing thermal barrier property. The new innovation can handle higher temperatures, almost of the order of 1200 degrees Fahrenheit of a direct unceasing heat and up to 2000 degree Fahrenheit of discontinuous heat. It is available in two different thicknesses of 0.007 inches and 0.025 inches and is able to fit in smaller and tight spaces owing to its thin dimensions.

Even if the air space between this heat shield mat and the heat source is less than one inch, the effectiveness of the heat shield mat is not compromised. The material which is from volcanic rock based formulation makes the product chemical and acid resistant can is able to withstand severe automotive surroundings wherein protection from heat is essential at its maximum level.
Not only is its functionality as a superior heat barrier, but also the look of this automotive heat shield is enhanced owing to the carbon fiber. This implies that the Lava Shield Mat can be used in applications where appearance is equally important and essential as functionality. To brief the features of the Lava Shield mat, the new automotive heat shield product from Heatshield Products:
It is capable enough to reduce the radiant heat almost up to 80 percent.
It can be used to protect hoods, firewalls, floor boards, body panels etc..
It can easily withstand a direct continuous heat up to 1200 degrees Fahrenheit and an intermittent or a discontinuous heat of the order of 2000 Fahrenheit.
It can be easily installed with the help of an inbuilt adhesive backing which can adhere on any surface which is clean.
---