Engine compartment segment will be a highly attractive application segment in the foreseeable future
The application of automotive heat shields in engine compartments is estimated to account for a substantial market share in 2017 and is expected to maintain its dominance in the global automotive heat shield market throughout the forecast period. The engine compartment and exhaust system heat shield segments are estimated to grow as two highly attractive market segments over the forecast period. In terms of value, the engine compartment segment is projected to bag a prominent market share of around 40% in 2017 and is expected to gain 120 BPS by 2025.
The engine compartment segment in the global automotive heat shield market is anticipated to create total incremental opportunity of more than US$ 2,000 Mn between 2017 and 2025. In a case of other application segments, the exhaust system and turbocharger segments are likely to grab more than 20% market share throughout the forecast period.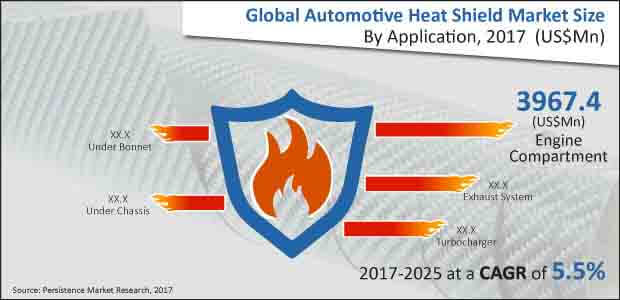 Rise in demand for high mobility and high-performance vehicles fuels the application of automotive heat shields
The automotive component industry has always been under the scanner of regulatory authorities and is required to adhere to various guidelines issued from time to time. Such regulations existing in the automotive industry compel OEM manufacturers to develop products that are compatible with the present regulatory environment. These regulations also demand lesser vehicle carbon emissions, due to which manufacturers focus on minimizing the engine size by reducing the number of cylinders.
Also, in order to maintain the output power of the engine, a boosting device called turbocharger or super charger is added, which is provided with a heat shield for effective operation. Increasing penetration of turbochargers across spark ignition and compression ignition engines is expected to act as a significant factor driving the adoption of automotive heat shields, as turbochargers mandatorily need to be equipped with heat shields.
The application segment of the global automotive heat shield market has witnessed significant growth, which can be attributed to the sales of high-performance cars, both in the OEM & aftermarket segments. High speed and raw power define the performance of these cars, which is why these cars require effective heat shield solutions for ensuring safety.
Increasing power and speed increase the heat generated by key components such as engine parts and the exhaust. Automotive heat shields plays a crucial role in preventing heat generation within the interior of the vehicle, thereby ensuring driver safety and enhancing vehicle performance. Luxury and sports models are equipped with efficient and high-quality heat shields to ensure advanced temperature control with less space utilization and enhanced safety and durability of components.
Luxury cars have become obligatory status symbols in society. With stabilizing economies across different regional markets such as the U.S. and Canada, the sales of luxury vehicles is expected to maintain an upward growth trend in the next few years, which in turn is estimated to supplement the growth of the automotive heat shield market, as the amount spent per car on automotive heat shields is significantly high for luxury vehicles. Similarly, in regions such as Latin America and Asia Pacific, agriculture and construction sectors among others are undergoing rapid expansion owing to the reform policies and initiatives under national development programs.
Such activities and projects are creating immense demand for various equipment such as tractors, loaders, and tippers. These HMVs are designed with much endurance to perform difficult tasks and have more powerful engines that release more heat for which effective heat shields are required. These factors are creating a positive impact on the global market.
Steady growth in demand for automotive head shields is expected over the forecast period
In terms of value, the global automotive heat shield market is estimated to be valued at more than US$ 9,700 Mn in 2017 and is slated to expand at a CAGR of 5.5% over the forecast period, to be valued at close to US$ 15 Bn by the end of 2025. The global automotive heat shield market is projected to represent incremental opportunity of more than US$ 5,000 Mn between 2017 and 2025.
Market Segmentation
Attribute
Details

By Product Type

Single Shell
Double Shell
Sandwich

By Application

Under Chassis
Under Bonnet
Engine Compartment
Exhaust System
Turbocharger

By Sales Channel

By Material

By Vehicle Type

By Region

North America
Europe
Latin America
Asia Pacific (APAC)
Middle East & Africa (MEA)
- Companies Covered in This Report -
Federal-Mogul Corporation
Progress-Werk Oberkirch AG
Dana Holding Corporation
Talbros Automotive Components Ltd.
ElringKlinger AG
Sumitomo Riko Company Limited
LYDALL INC
Morgan Advanced Materials Plc.
AUTONEUM HOLDING AG.
Carcoustics International GmbH
Datsons Engineering Works Private Limited
J&S GmbH Automotive Technology
ACS Industries, Inc.
Happich Gmbh
Heat Shield Products Inc.
HKO Isolier-und Textiltechnik GmbH
ISOLITE GmbH
FITWEL GASKET COMPANY (INDIA) PRIVATE LIMITED
Thermo-Tec Automotive Products Inc.
TKG Automotive
Others.