Increasing initiatives of governments across the world in the field of energy conservation to positively impact the thermal insulation material market:Introduction
In most countries across the world, governments are actively promoting construction of zero energy buildings, which is increasing demand for thermal insulation products globally. According to the Concerted Action for the Energy Performance of Buildings Directive (a joint initiative of member states of the European Union and the European Commission), all buildings constructed in member states should comply with zero-energy standards by 2020. Energy conservation in buildings in China and Japan has become stringent in recent years.
China's residential energy standard requires new buildings to be 65 percent more energy efficient than those constructed in the 1980s. Other APAC countries are also implementing stringent regulations for energy conservation. In 2014, the Energy Conservation Building Code (ECBC) was adopted in Andhra Pradesh, India. Under this code, commercial and public buildings in the state are expected to cut costs and slash energy use by 40%–60%.
Global Thermal Insulation Material Market Analysis By Material Type
Plastic foam segment in the global thermal insulation material market is expected to exhibit highest growth during the forecast period, and is estimated to register a moderate annual growth by 2015 end. Demand for plastic foam material type is considerably higher in Asia Pacific, and is expected to represent a robust annual growth by 2020 end, owing to higher preference for this material type in the region. Growth of this segment is anticipated to be driven by increasing global demand for LNG and LPG, and also growth in demand for refrigerators and air conditioners in the OEM market.
Annual growth of fibreglass segment is expected to be moderate by 2015 end, which is relatively close to that of plastic foam segment. This trend is expected to continue over the forecast period. This segment is likely to witness steady growth from 2017 to 2020 aided by growing demand for fibreglass thermal insulation material in North America and Europe.
Support from thermal insulation material market associations in these regions is expected to drive growth of this segment. Increasing number of supermarkets and growing demand for packaged food is also expected to boost growth of this segment.
The others segment includes cellular glass, slag wool and other mineral materials. Revenue of this segment is estimated to increase sluggishly by 2015 end. However, it is expected to witness moderate growth between 2017 and 2020. Growth of this segment is expected to be driven by increasing number of FPSO and FSRU plants in China, South Korea and Japan.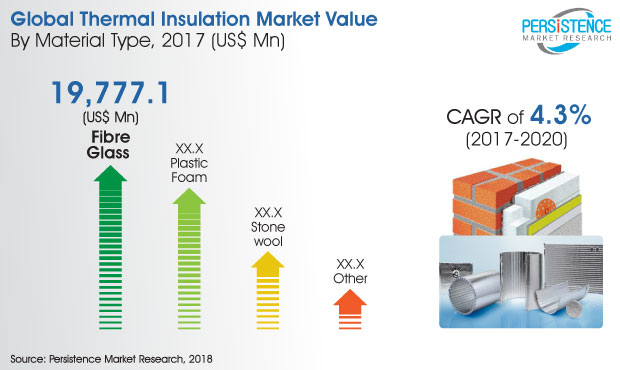 Manufacturers are concentrating on making thermal insulation materials lightweight by reducing the thickness
Key manufacturers of thermal insulation materials are focusing more on increasing the overall performance of materials. Application-specific materials are designed in a way to reduce assembly and overall installation time due to reduced thickness of material etc. Low thickness materials often provide benefits in material handling and also enhance the load bearing capacity of the building structures, thus enabling the designers and architects to design an efficient building structure.
OEMs are demanding lightweight thermal insulation materials such as plastic foam in order to ensure lighter weight of end-products. For instance, heavier insulation material is used in refrigerators and incurs more in terms of labor costs for installation. On the other hand, lightweight thermal insulation material requires less effort and time for installation.
As a latest trend many products are undergoing miniaturization by not compromising over the performance parameters. Thus, lightweight products become a preferred choice for manufacturers for complex and high quality end product designs.
Market Taxonomy
Attribute
Details
Material Type

Plastic Foam
Stone Wool
Fibreglass
Other

Temperature Range

−160?C to −50?C
− 49?C to 0?C
1?C to 100?C
;101?C to 650?C

Region

North America
Latin America
Western Europe
Eastern Europe
APEJ
Middle East & Africa
Japan
- Companies Covered in This Report -
Saint-Gobain S.A.
Kingspan Group
Dow Chemicals Company
Asahi Kasei Corporation
BASF SE
Owens Corning
Bayer AG
E. I. du Pont de Nemours and Company
Rockwool International
Berkshire Hathaway (Johns Manville)
Others