Potato Starch Market Outlook (2022-2032)
The global potato starch market is anticipated to expand at a CAGR of 4.8%, being currently valued at US$ 10.27 Bn in 2022. As such, potato starch sales are predicted to be worth US$ 16.48 Bn by the end of the year 2032.
| | |
| --- | --- |
| Potato Starch Market Size (2022E) | US$ 10.27 Bn |
| Projected Sales of Potato Starch (2032F) | US$ 16.48 Bn |
| Value CAGR (2022-2032) | 4.8% |
| Value Share of Top 5 Countries (2021A) | 34.4% |
Potato starch consumption accounted for around 15% to 20% value share of the global food ingredients market in 2021.
Potato Starch Demand Analysis (2017-2021) Vs Market Estimations (2022-2032)
Historical value CAGR of the potato starch market was 3.3% over the period of 2017-2021. The market is anticipated to register growth in terms of volume (MT) at a comparatively higher CAGR of 4.3% over the forecast period, i.e., 2022-2032.
Demand for potato starch from bakery, dairy alternatives, confectionery, soups & sauces, and meat & seafood is anticipated to be more due to the increasing sizes of these industries.
With growing population and increasing living standards, consumers are consuming products that fit their checklist in terms of ingredients, labels, and other such factors. Due to such consumer trends, major industries such as food & beverages, pharmaceuticals, cosmetics & personal care, etc., are switching to ingredients and additives that just do not solve a single purpose but an array of requirements, and in such a scenario, potato starch is turning out to be a promising ingredient.
Demand for potato starch from the bakery segment is anticipated to surge at a CAGR of 6% while demand for organic potato starch is expected to increase at 4.5% CAGR, which is higher than that of conventional potato starch.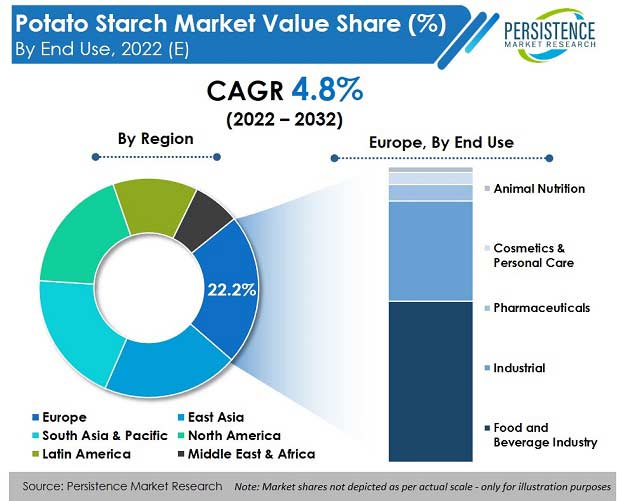 What are the Demand Accelerators for the Global Potato Starch Market?
"Increasing Demand for Starch Ingredients Propelling Market Growth of Potato Starch"
Starches are used in numerous industrial applications, mainly as viscosifiers, emulsifiers, deforming, encapsulating, and sizing agents. They have gained popularity in industrial applications due to their ability to impart textural characteristics and aid in the formation of gels or films.
From a production point of view, these starches are required to be chemically or physically modified to improve their performance or provide functional properties in various industrial applications.
The genetics behind the biosynthesis of these starches come into play. Native starches are being increasingly modified to allow the alteration of physical and chemical properties, and are termed modified starches. Native and modified are the only two categories of starches that are commercially consumed due to their numerous applications in molding the physical properties of end products.
"Rising Potato Starch Usage in Paper Industry"
Paper manufacturing consists of several major steps, including stock preparation, sheet forming, pressing, drying, and surface finishing. Starch is among the most crucial ingredients in papermaking, and it is so vital that starch consumption by weight in papermaking and conversion is ranked third after cellulose fiber and mineral pigmentation.
Starch is used for flocculating & retention aiding, as a bonding agent, as a surface binding agent for coatings, as an adhesive for corrugated boards, laminated grades, and other products.
Majorly utilized starch types include potato starch, maize starch, wheat starch, and tapioca starch, with potato starch consumption topping the list in the papermaking industry. Refined starches are supplied throughout the industry in powder form or as slightly aggregated pearl starch. Most starches for use in papermaking are specialty products that are modified for controlled hydrolysis or oxidation.
In the paper manufacturing industry, potato starch is a much more preferred type of starch as compared to the other starch types available in the market. Unmodified potato starch is highly preferred over other types for manufacturing coated paper due to its firm foaming properties, unparalleled binding properties, and lower moisture retention properties. These properties result in better coating and also reduce the load on the drying section, which aids in improving the mechanical efficiency of the overall process of papermaking.
"Growing Textiles Industry Demanding Potato Starch"
Application of potato starch as an active ingredient in textile making/weaving has observed an increase over the last two decades. Potato starch in the textile industry works as an adhesive sizing agent, and its variants are used for coating threads because they aid in increasing thread strength and prevent breaking during the weaving of the fabric.
Moreover, the entire industry designates potato starch as a promising sizing material for staple fiber yarns made from wool, rayon, linen, and also for the mixtures of these fibers with manmade fibers.
Many market players serving the textile industry are focusing on improving the characteristic features of starch.
For instance, AGRANA is a starch manufacturer that provides biologically degradable special potato starches, which, by using ultrafiltration treatment, can be removed even when used in combination with synthetic sizing agents.
"Rising Demand for Gluten-free Alternatives Offering Growth Opportunities"
The food industry is evolving at an exceptional pace, which is a direct consequence of the ever-evolving consumer demand for label-friendly end products. The food industry, especially the bakery industry, is observing increased demand for gluten-free edibles, as it is among the top utilizers of wheat flour, which is a direct and easily available source of gluten protein.
Health issues related to a gluten-based diet include celiac disease and non-celiac gluten sensitivity. Due to growing awareness and health management expenses, consumers often end up avoiding gluten-based diets.
Wheat-based foods, barley, rye, triticale, malt, and brewer's yeast are among the most widely available sources of gluten. These ingredients are found in bread, pasta, cereals, baked goods, snacks, sauces, beverages, and other food products.
Potato starch is an effective alternative to wheat flour, especially in bakery applications. It does not differ a lot from wheat flour in its physical appearance and chemical composition, and also does not contain even small amounts of gluten.
What's Stunting Potato Starch Demand Growth to Some Extent?
"Availability of Potato Starch Substitutes Hampering Market Growth"
When it comes to substitutes and/or alternatives to potato starch, the market is flooded with many options such as corn starch that is suitable for thickening and frying applications, wheat flour for bakery applications, arrowroot powder for gluten-free baking and thickening sauces, rice flour for baking and thickening, and tapioca starch for baking and thickening applications. All these substitutes are hindering market growth of potato starch in some way or the other.
Moreover, many alternatives are already being increasingly utilized in numerous food applications, such as sweet rice flour in gluten-free baking, corn starch in frying applications, arrowroot as a replacement for potato starch in gluten-free bread, water chestnut flour in bakery applications, as well as wheat, ground matzo, and coconut flour.
These substitutes are gaining ground because they offer more health benefits over potato starch and are much more easily available. In industrial applications, when high-temperature processing is required, modified corn starch is used instead of potato starch as it gets cracked at higher temperatures. Increasing popularity of potato starch substitutes / alternatives has the potential to suppress market growth over the coming years.
Country-wise Insights
Who is Leading Market Growth in the European Market?
In the European region, Nordic, BENELUX, the U.K. and Spain are set to experience the highest value CAGRs of 5.4%, 5.1%, 4.9% and, 4.3%, respectively, over the forecast period of 2022-2032.
This is due to fact that end-use industries are evolving in these geographies, and hence, an optimistic potato starch demand outlook is anticipated from them.
Will the U.S. Continue to Attract Potato Starch Suppliers?
The U.S. holds a monopoly in the North America potato starch market with a market share of more than 80%.
The U.S. market is valued at US$ 2.05 Bn and is expected to reach US$ 2.74 Bn by the end of 2032. Overall, the U.S. market is representing an absolute $ opportunity of US$ 50 Mn in 2022 over 2021.
Category-wise Insights
Why is Native Potato Starch Highly Sought-after?
Native product type of potato starch accounts for a majority share in the global market with more than 50% in 2022. Segment value is estimated at 3.9 Mn (MT) in 2022, and is expected to register growth at a CAGR of 4.5% over the forecast period.
Which End Use Segment Accounts for Major Potato Starch Demand?
The food & beverages segment holds a majority market share due to numerous sub-segment applications of potato starch. This is because the demand matrix for ingredients and additives is evolving and need for such versatile ingredients is observing a dominance.
Demand for potato starch from the food & beverage sector is anticipated to register growth at 5% CAGR over the forecast period.
COVID-19 Impact on Potato Starch Industry
This unprecedented pandemic had repercussions on the global market for potato starch as resulted in reduced Y-o-Y growth in 2020 as compared to 2019. This dip in demand was due to the imposed lockdowns as precautionary measures to restrict the spread of this novel virus, which led to the shutting down of industries, and hence, demand for raw materials was also low.
As we move forward, the market scenario is evolving due to the increasing size of end-use industries. As demand for end products such as paper, textiles, food & beverages, etc., increases, the need for ingredients is also likely to be more. This results in an optimistic market demand outlook for potato starch for the years ahead.
Competitive Dashboard
Key manufacturers of potato starch are coming up with innovative ways of increasing production capacity due to growing demand for their end products from various end-use industries. Key vendors are also emphasizing on providing tailor-made custom solutions to their clients to increase their customer base. They are also investing in new machinery to increase the efficiency of their processes.
In 2021, AGRANA Beteiligungs-AG ended its longest-ever potato starch processing campaign. In this campaign, the company processed around 322,000 MT of potato starch in 189 days.
In September 2020, Avebe started a new distribution center at its production site in Ter Apelkanaal. With the new construction, the company has quadrupled the storage capacity of the existing location.
In 2019, Cargill, Incorporated invested US$ 200 Mn in starch processing units in Germany. This investment has diversified the company's starch and sweetener portfolio.
In November 2019, Emsland Group constructed a new dextrin plant at its Kyritz processing plant. With this, the company increased its production capacity of dried starches and dextrin. The company expanded its starch product portfolio with the addition of a new clean-label pea starch - Empure ES300.
Emsland Group is constantly focusing on strengthening its processing sites by unveiling new equipment. It has invested US$ 40 million in the construction of a new roller drying plant for the processing of pea and potato starch. Emsland Group is focusing on the research and development of new products to satisfy the growing demand for starch solutions.
Potato Starch Industry Report Scope
Attribute

Details

Forecast period

2022-2032

Historical data available for

2017-2021

Market analysis

US$ million for value

Key regions covered

North America
Latin America
Europe
East Asia
South Asia and Pacific
The Middle East & Africa

Key countries covered

U.S.
Canada
Germany
U.K.
France
Italy
Spain
Russia
China
Japan
South Korea
India
Thailand
Malaysia
Indonesia
Australia
New Zealand
GCC Countries
Turkey
Northern Africa
South Africa

Key market segments covered

Product Type
Nature
End Use
Region

Key companies profiled

Agrana Beteiligungs-AG
Avebe
Cargill, Incorporated
Emsland Group
Euroduna Food Ingredients GmbH
Hanseland Ltd.
Ingredion
Ingreto Ingredient Solutions
Lyckeby Starch AB
Meelunie B.V.
Novidon
Pepees S.A.
PPZ Trzemeszno Sp. z o.o.
Roquette Frères S.A.
Royal Ingredients Group
Škrobárny Pelh?imov a.s.
Südstärke GmbH
Tate & Lyle
Tereos
Vimal PPCE
Others

Report coverage

Market Forecast
Company Share Analysis
Competition Intelligence
DROT Analysis
Market Dynamics and Challenges
Strategic Growth Initiatives

Customization & pricing

Available upon request
Potato Starch Industry Survey by Category
Potato Starch Market by Product Type:
Modified Potato Starch
Native Potato Starch
Potato Starch Market by Nature:
Organic Potato Starch
Conventional Potato Starch
Potato Starch Market by End Use:
Food and Beverages

Dairy Alternatives
Bakery
Confectionery
Soups & Sauces
Snacks & Savory
Meat & Seafood
Infant Formulae
Others

Industrial
Pharmaceuticals
Cosmetics & Personal Care
Animal Nutrition
Potato Starch Market by Region:
North America Potato Starch Market
Latin America Potato Starch Market
Europe Potato Starch Market
East Asia Potato Starch Market
South Asia and Pacific Potato Starch Market
Middle East and Africa Potato Starch Market