Edible Insects Market
Global Market Study on Edible Insects: Consumption of Insects as a Whole to Gain Maximum Traction During 2017 - 2024
Edible Insects Market Segmented By Beetles, Caterpillar, Hymenoptera, Orthoptera, True Bugs Insect Type As a Whole and As an Ingredient Product Type
Introduction
With increased demand for animal-based feed and to food the large population, insects are being used as a source of food. Owing to the lower ecological footprint required for the production of insects. Consumption of insects also depends on human health issue and culture. Increased demand for edible insects is also resulting in the development of new technologies used to harvest insects in a more efficient way.
Along with harvesting of insects, companies are also focusing on storing edible insects to keep them fresh for a long time. However , there are still some major factors hampering the market growth including safety and health issues, and legislative requirements. Companies are also focusing on developing various edible insect ingredients. Edible insects are also being offered along with the information on their nutrient contents.
According to the report by Persistence Market Research, the global edible insects market is expected to see a significant growth between 2017 and 2024. The global market for edible insects is estimated to reach US$ 722.9 Million revenue. Many countries are also focusing on imposing guidelines on edible insects. Edible insects are also being considered as an important part of food security. Insects are also said to be grown quickly and can be farmed in large quantities in a small area.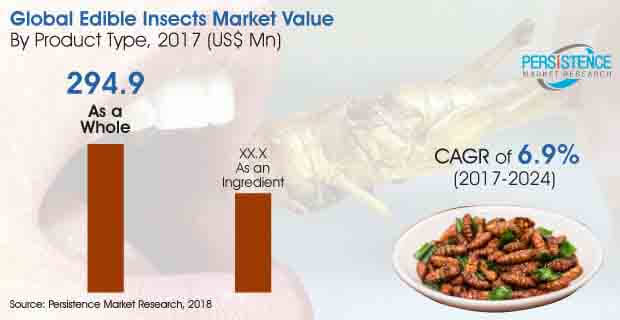 Find Out More about the Report Coverage
Companies
Thailand Unique
Kreca Ento-Food BV
Nordic Insect Economy Ltd.
Entomo Farms Ltd.
Enviro Flight,LLC
Proti-Farm
Exo Inc.
ENTOTECH
Deli Bugs Ltd.
Eat Grub Ltd.
Others
Edible Insects as a Whole to Gain Maximum Traction in the Market
Compared to the ingredients, edible insects as a whole is likely to be consumed on a large scale. In Asian countries such as Thailand and China, edible insects are sold as a whole to be consumed by people. Moreover, they are also the part of street food in these countries. With the rising preference for edible insects as a whole, companies are also providing packed edible insects as a whole in dried, BBQ, and raw form.
Companies are also moving towards providing food-grade certified insects for consumption. Moreover, activities such as insect harvesting requires very less investment and it is considered as the best way to earn for the poorest section of society. However, companies are finding new ways to offer edible insects with maximum nutrition value.
Moreover, the demand for edible insects is also growing due to the number of benefits offered by them. The demand for edible insects has also increased owing to the rise in globalization. Edible insects are being produced by adopting wild harvesting, farming and semi-domestication. These methods also require very minimal investment.
Asia Pacific is considered to be the largest region accounting for maximum edible species, with increasing population and rising food demand, the dependency on edible insects is also increasing. The availability of insects also depends on geographical regions, while some of the countries in Asia Pacific are dominated by the particular type of edible insects.
Harvesting, gathering, and processing insects is also becoming an important business in some countries especially for locals as very little investment is required. Various types of insects are considered edible including caterpillar, orthoptera, beetles, true bugs, etc. However, among these, beetles are likely to be consumed on a large scale in the near future.
Customize this Report
Explore Intelligence Tailored to Your Business Goals.
Our Clients