Automated Endoscope Reprocessors Market Outlook (2022-2032)
The global automated endoscope reprocessors market has reached a valuation of US$ 434.6 Mn and is predicted to expand at a CAGR of 6.9% to reach US$ 843.1 Mn by the end of 2032. According to the recent study by Persistence Market Research, dual basin automated endoscopic reprocessors led the market with a share of 50.7% at the end of 2021.
Sales of automated endoscope reprocessors (AERs) accounted for approximately 17% share of the global endoscope reprocessing market in 2021.
| | |
| --- | --- |
| Automated Endoscope Reprocessors Market Size (2022) | US$ 434.6 Mn |
| Predicted Market Value (2032) | US$ 843.1 Mn |
| Global Market Growth rate (2022-2032) | 6.9% CAGR |
| Market Share of Top 5 Countries | 61.8% |
Sales Analysis of Automated Endoscope Reprocessors (2012 to 2021) Vs. Market Outlook (2022 to 2032)
Automated endoscope reprocessors are medical devices that are widely used in healthcare settings to reprocess or sterilize endoscopes, which include duodenoscopes and their associated accessories. These devices are sterilized with high-level disinfection every time before getting in contact with a patient. This helps kill microorganisms at great intensity, thereby making them safe for reuse. These medical devices fall under class II devices.
Worldwide sales of automated endoscope reprocessors increased at a CAGR of 5.4% between 2012 and 2021, especially boosted by the advent of the COVID-19 pandemic. Looking ahead, demand for AER systems will continue to be strong, offsetting any industry margin compressions.
A wide number of healthcare facilities utilize automated endoscope reprocessors as patient flow is in constant growth. The use of reprocessors across the medical sector will grow strongly over the coming years owing to the minimal drawbacks and positive outcomes associated with these devices. The development of novel technologies to cater to the demand for high-quality reprocessors at minimal investments will drive overall market expansion.
To obtain a high level of cleaning and disinfection, the European Society of Gastroenterology and Endoscopy Nurses and Associates (ESGNA) and SGNA strongly advises using automated endoscope disinfectors.
According to a publication on Clinical Gastrointestinal Endoscopy in 2019 about cleaning and disinfecting gastrointestinal endoscopy equipment, there are 20 million GI endoscopies carried out in the U.S., annually.
Thus, owing to the aforementioned factors, the global market for automated endoscope reprocessors is expected to expand at a CAGR of 6.9% during the forecast period (2022 to 2032).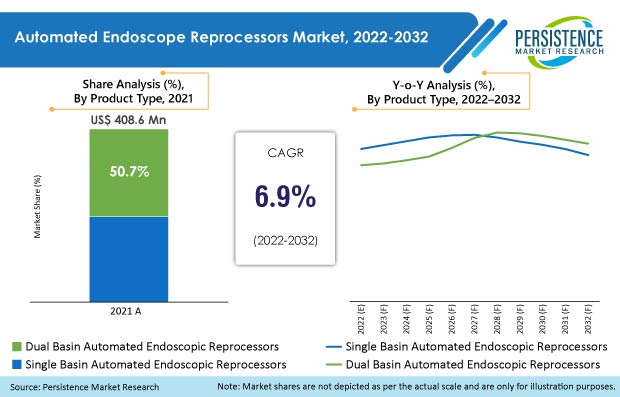 What Opportunities Lie Ahead for AER Manufacturers?
"Infection Control & Prevention Using AER – A Key Factor"
High-income economies such as the U.K. and U.S. are predicted to provide a favorable environment for innovative reprocessing technologies through increased focus on the development of reprocessors with unique product designs to prevent cross-contamination and improve patient safety.
Through the integration of cutting-edge technology in AERs, businesses are anticipated to profit from increased emphasis on research and development. Pass-through automated endoscope reprocessing is one such method. In the near future, these solutions are anticipated to completely transform cleaning processes.
As stated by the World Gastroenterology Organization, the adoption rate of AERs is increasing as manual soaking of the endoscope puts the patient at risk for various infections.
How is Demand for Automated Endoscope Reprocessors being Restrained?
"Growing Threat of Infection Spread & Proliferation"
Automated endoscope reprocessors play an important role in healthcare facilities, and have superior qualities, yet come with a few drawbacks.
Failure to properly disinfect/sterilize endoscopes and their accessories before usage may lead to adverse effects on patients undergoing any procedure. Failure to adopt the standard process while reprocessing the endoscope may lead to disease transmission from one patient to another.
The FDA reports some evidence suggesting the survival of several harmful microorganisms on endoscopes despite multistep reprocessing.
These microorganisms include pathogenic microbes, which can cause diseases (e.g., Salmonella spp.), or microbes that cause contamination, assuming the microbial burden is adequate as well as host factors are tolerant.
In the ordered progression of relative protection from high-level disinfection (HLD), vegetative microorganisms such as Salmonella spp. are the most vulnerable to disinfectants, while mycobacteria are less susceptible and bacterial spores are the hardest to kill.
Nevertheless, almost all bacteria are easily killed by HLDs. Hence, following standardized protocol in cleaning the endoscopic instruments and accessories has been made mandatory by several governments.
Country-wise Insights
Why is China a Highly Lucrative Market for AER Suppliers?
"Presence of a Large Workforce in China"
China held approximately 65.7% share in the East Asia AER market in 2021 and is projected to display growth at a high CAGR rate of 6.5%.
China has the second-largest economy at the global level. China's revenue is generated by improvements in productivity, and this is linked to the highest population of China and its workforce.
Over the last four decades, China's GDP increased by 10% per year. This expansion was fuelled by productivity advances within sectors and gains from resource reallocation between sectors and ownership groups.
These factors will market China a highly lucrative market for AER manufacturers over the coming years.
How is the U.S. AER Market Faring?
"Standardized Controls for Manufacturing in the U.S."
The U.S. dominated the North American region with a market share of 92.4% in 2021 and is expected to continue to experience the same growth throughout the forecast period.
The U.S. market is one of the largest and most competitive in the world. Because of this, it possesses longer production runs of goods, lowering the unit cost per worker dramatically.
Furthermore, the FDA also reminds facilities that rigorously following manufacturers' instructions, guiding protocols linked to devices, reprocessing and maintenance, best practices, and reporting adverse event information to the FDA are all critical.
These are prime drivers for the design and production of automated endoscope reprocessors in the country.
What Makes Germany a Lucrative AER Market?
"Robust Healthcare Assurance for All Citizens"
The Germany AER market is set to exhibit a high CAGR of 7.1% during the forecast period.
Germany is renowned for being an economic giant and a supporter of the political stability of the European Union. This balanced nation has a robust economy, a large pool of skilled workers, and a sound social infrastructure.
All citizens in Germany are guaranteed access to free healthcare because contributions support the nation's healthcare system. The need for automated endoscopes is growing as a result of these medical sector advancements, which is fuelling market growth in the country.
Category-wise Insights
Which Product is Driving Overall Sales Growth in the Market?
"High Preference for Dual Basin AER Systems"
Dual basin automated endoscopic reprocessors are expected to exhibit high growth at a CAGR of 6.8%, with a projected market share of over 50% by 2032.
Dual basin automated endoscopic reprocessing systems have features of monitoring each endoscope channel consecutively for any blockage, providing a high level of disinfection, which explains their immense popularity across the world.
Which AER Modality is Highly Preferred across Regions?
"Huge Preference for Standalone AER Devices"
Standalone automated endoscopic reprocessors accounted for a high revenue share of 87.9% in 2021 and are expected to display gradual growth over the forecast period.
With high demand for protective medical equipment, as well as rising cases of infectious diseases, the need for easy-to-use, mobile endoscope reprocessors is expected to be high over the coming years.
Competitive Landscape
With several manufacturers of automated endoscope reprocessors that have patented products, the overall market is highly consolidated. To meet consumer demand and expand their customer base, these companies are resorting to mergers and acquisitions, partnerships and collaborations, and new product launches.
On March 1, 2022, Olympus launched the 72DL PLUS ultrasonic thickness gauge, which is expected to deliver precision thickness measurements at high speed in a portable, easy-to-use device.
On October 1, 2020, Olympus announced the market availability of OER-Elite, next-generation automated endoscope reprocessors.
Automated Endoscope Reprocessors Industry Report Scope
Attribute

Details

Forecast Period

2012-2021

Historical Data Available for

2022-2032

Market Analysis

Key Regions Covered

North America
Latin America
Europe
South Asia
East Asia
Oceania
The Middle East & Africa

Key Countries Covered

U.S.
Canada
Brazil
Mexico
Argentina
U.K.
Germany
Italy
Russia
Spain
France
BENELUX
India
Thailand
Indonesia
Malaysia
Japan
China
South Korea
Australia
New Zealand
Turkey
GCC
Israel
Northern Africa
South Africa

Key Market Segments Covered

Product
Modality
End User
Region

Key Companies Profiled

Steris plc. (formerly Cantel Medical)
Olympus Corporation
Johnson & Johnson
Getinge AB
HOYA Corporation
Ecolab Inc.,
Ottomed Endoscopy
ARC Group of Companies Inc.,
SHINVA MEDICAL INSTRUMENT CO., LTD.,
Custom Ultrasonics, Inc.

Pricing

Available upon Request
Key Segments Covered in AER Industry Research
AER Market by Product:
Single Basin Automated Endoscopic Reprocessors
Dual Basin Automated Endoscopic Reprocessors
AER Market by Modality:
Stand-alone Automated Endoscopic Reprocessors
Table/Bench Top Automated Endoscopic Reprocessors
AER Market by End User:
Hospitals
Ambulatory Surgical Centers
Specialty Clinics
AER Market by Region:
North America AER Market
Latin America AER Market
Europe AER Market
South Asia AER Market
East Asia AER Market
Oceania AER Market
Middle East and Africa (MEA) AER Market