Automated Cell Counters Market Outlook (2022 - 2029)
Automated cell counters are commonly used in laboratory tests to count cells. The increased frequency of illnesses such as HIV, measles, diphtheria, and chronic diseases such as cancer and the other blood disorders is a significant factor driving the market growth. The importance of cell count in COVID-19 patients is likely to boost the market in the coming years. The Global Automated cell counters market is expected to witness a CAGR of 5.8% from USD 6,499.2 Million in 2022 to USD 9,636.8 Million in 2029.
| | |
| --- | --- |
| Automated Cell Counters Market Size (2022) | US$ 6,499.2 Mn |
| Projected Market Value (2028) | US$ 9,636.8 Mn |
| Global Market Growth Rate (2022 - 2029) | 5.8% CAGR |
| Share in parent market | 57.6% |
Automated Cell Counters Market Demand Analysis (2014-2021) v/s Market Outlook (2022 - 2029)
Every year, the number of people suffering from various ailments increases, thereby creating a market for automated cell counters. Furthermore, the rise in the prevalence of various types of cancers is driving the automated cell counters market. The global automated cell counters market is expected to grow rapidly in the upcoming period because they are commonly used in laboratory testing to count cells. Cell counting, as the name suggests, is a counting method used in medical applications that is essential in research and clinical activities. Many therapy procedures need cell counts in order to carry out additional procedures. Cell counting is a common diagnostic and research laboratory practice in biotechnology, pharmacy, and medicine. Automated cell counters are intended to solve the challenges associated with manual cell counting. Automated cell counters are important in determining blood cell concentrations, presence of pathogens, harmful effects of drugs on model cells, etc.
Key Drivers to the Automated Cell Counters Market
Increasing Prevalence of Chronic And Infectious Diseases
The rising prevalence of chronic and infectious diseases such as cancer, AIDS, sepsis, malaria, influenza, measles, cholera, and vector-borne diseases such as chikungunya and polio are important factors driving the growth of the global automated cell counting market. The growing necessity for cell counting in the diagnosis and treatment of such life-threatening diseases will boost the automated cell counting market. According to the World Health Organization (WHO), it is estimated that roughly 37.7 million people globally had HIV at the end of 2020 in November 2021. Furthermore, according to the same source, 680,000 people had died from HIV-related causes in 2020. As a result, the rising incidences of infectious diseases are expected to significantly boost the market growth.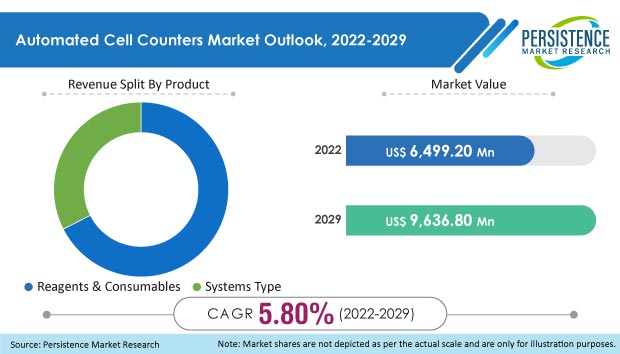 Scientific and Technological Advancements
Big Data technologies are assisting researchers in identifying patterns between new diseases and genetic factors. This is likely to yield positive outcomes for future studies, as the capacity to identify illnesses has the potential to significantly cut patient costs and result in better quality treatment going forward. Medical image analysis software and informatics platforms in automated cell counters have revolutionized cell-based research, which is likely to drive the demand for device-automated cell counters. Rapid scientific and technological advancements are projected to drive market growth in the long run.
Increased Government and Corporate Funding
Increased investments by governments and corporations have enabled tremendous expansion in the global healthcare sectors. These significant investments are enabling research centers, educational institutes, hospitals, and the other medical establishments to table the latest technology in the market. The increasing inflow of funding is likely to generate enormous potential prospects for the Automated Cell Counters market.
Restraints to the Automated Cell Counters Market
"High Costs, Scarcity of Skilled Professionals, and Poor Healthcare Infrastructure"
People are hesitant to invest money in cell counting procedures for medical or research purposes due to the high expense of the apparatus, equipment, and procedures. Furthermore, in impoverished nations, undeveloped healthcare infrastructure and obsolete technology limit the growth of automated cell counting. In addition, scarcity of trained specialists is impeding the expansion of the automated cell counting market. The healthcare industry is also experiencing a serious scarcity of trained workers and skilled doctors, which will impede market growth in the long run.
Impact of COVID-19 on Arthroscopy Devices Market
The COVID-19 outbreak had a significant impact on the market for automated cell counter devices. During the pandemic, there was a considerable rise in the use of automated cell counting devices, as eosinopenia and lymphopenia were potential indicators of COVID-19. The increasing importance of cell count in COVID-19 patients fueled market growth during the pandemic and is expected to keep driving the market growth in the coming years.
Competitive Landscape
The Automated Cell Counters Market is moderately competitive. The major players in the automated cell counters market are implementing innovative and differentiated methods to fulfill product demand and dominate the regional market. To increase their global market presence, these companies are adopting new strategies and policies, like post-sales and service agreements, extensive research for developing new products, partnerships, mergers and acquisitions.
Automated Cell Counters Market Industry Report Scope
Attribute

Details

Forecast Period

2022 - 2029

Historical Data Available for

2014-2021

Market Analysis

US$ Mn/Bn for Value

Key Regions Covered

North America
Latin America
Europe
Asia Pacific
Middle East & Africa

Key Countries Covered

U.S.
Canada
Germany
Italy
France
U.K.
Spain
Russia
India
China
Japan
UAE
Australia

Key Market Segments Covered

By Product

Key Companies Profiled

Danaher Corporation
Biotek Instruments, Inc.
Alere Inc.
Bio-Rad Laboratories, Inc.
F. Hoffmann-La Roche Ltd
ChemoMetec A/S
Logos Biosystems
Beckman Coulter, Inc.
NanoEnTek Inc.
Olympus Corporation

Customization & Pricing

Available upon Request
Automated Cell Counters Market Categorization
Automated Cell Counters Market by Product
Systems Type
Reagents & Consumables
Automated Cell Counters Market by Application
Blood Analysis
Urine Analysis
Microbial Cell Count
Cell Line Viability
Others
Automated Cell Counters Market by Region
North America
Latin America
Europe
Asia Pacific
Middle East & Africa (MEA)