Automated Cell Counters Market
Global Market Study on Automated Cell Counters: Enhanced Reproducibility & Reduced Turnaround Time to Boost Growth
Automated Cell Counters Market Segmented by systems and reagents and consumables Product Type for blood analysis, urine analysis, microbial cell count, cell line viability
Prevalence of AIDS and Cancers to Necessitate High Demand for Automated Cell Counters
In 2017, an estimated 37 million people worldwide were diagnosed with HIV. The management of HIV is a major challenge for medical professionals. One of the primary factors required for the management of the disease includes finding the absolute count of lymphocytes that express CD4+and CD8 receptors, which is carried out through automated cell counters that are available across various diagnostic centers and research labs.
Increase in the prevalence of various diseases each year is consequently boosting the demand for automated cell counters. In addition, increase in the incidence of various cancers is another factor driving the automated cell counters market.
The development of novel treatments for cancer has become one of the primary concerns. Two major procedures for identifying possible causes of cancer include finding the genetic and environmental factors that contribute to cancer development and studying the characteristics of cancer cells as well as healthy cells. This requires reliable, fast, and detailed cell count & cell analysis. For instance, automated cell counters, such as NucleoCounters, provide several solution platforms to meet such requirements.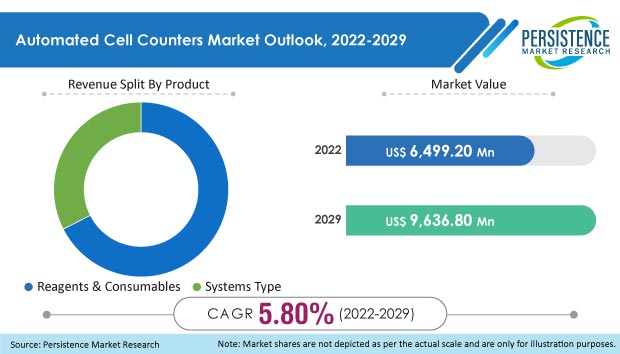 Find Out More about the Report Coverage
Companies
Company Profiles:
Danaher Corporation
Biotek Instruments, Inc.
Alere Inc.
Bio-Rad Laboratories, Inc.
F. Hoffmann-La Roche Ltd
ChemoMetec A/S
Logos Biosystems
Beckman Coulter, Inc.
NanoEnTek Inc.
Olympus Corporation
Integration of Flow Cytometry with Hematology Analyzers is expected to drive the Adoption of Automated Cell Counters across the World
Automated cell counters, such as flow cytometry hematological analyzer, provide higher accuracy and faster results among all hematological analyzers and other automated cell counters available in the market. Besides differentiating three major blood cell types (erythrocytes, leukocytes, and platelets), these automated cell counters can also quantify subpopulations of the leukocyte lineage and provide an extended complete blood cell count.
Based on cell counting efficiency, 100 cells are typically characterized by a manual coulter-based hematology analyzer, whereas modern hematological analyzers/automated cell counters are capable of analyzing 7,000 to 10,000 cells in few minutes. The integrated technology that involves fluorescent-based imaging of flow cytometry and digital differential technology of hematology analyzers is expected to drive the adoption of automated cell counters worldwide.
Customize this Report
Explore Intelligence Tailored to Your Business Goals.
Advancements in Enhanced Image Analysis and Improvised Informatics Solutions are expected to drive the Market
Advancements in medical image analysis software and informatics platforms in automated cell counters have transformed cell-based research, which is expected to drive the sales of device-automated cell counters in the long-term. With developments in image analysis, it is also possible to capture images in real-time and produce cell-based results that are efficient and reproducible.
Nowadays, deep and powerful visualization of cell images and their kinetic measurements is possible using automated cell counters. For instance, automated cell counter systems, such as IncuCyte (Sartorius), are capable of offering flexible as well as customizable tools for various researchers and biologists. This enables quick image capture and a rapid assessment of results meant for research publication & other needs.
With rapid advancements in science and technology, it has become possible to capture pictures and videos of cell analysis in HD mode using automated cell analyzers. Advanced automated cell counters are designed to capture high-quality HD images in different phases as well as present reproducible images in red and green fluorescent contrasting forms for differential cell analysis. Using, 4x, 10x, or 20x objectives on an automated turret, these devices address a variety of parallel applications.
Market Research Methodology - Perfected through Years of Diligence
A key factor for our unrivaled market research accuracy is our expert- and data-driven research methodologies. We combine an eclectic mix of experience, analytics, machine learning, and data science to develop research methodologies that result in a multi-dimensional, yet realistic analysis of a market.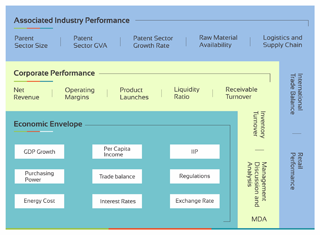 Offshore Facilities to Boost Device Production
The manufacturers of automated cell counters are investing in manufacturing facilities abroad to leverage the cheap domestic labor, avail resources in different regions, boost their proximity to customers, and rearrange their distributor & customer-related strategies.
For instance, in July 2014, Thermo Fisher Scientific invested US$ 10.7 Mn for the development of life science facilities in Lithuania. This facility is expected to create 110 new jobs by the end of 2017, and will produce and distribute cell & molecular biology products worldwide.
Explore Persistence Market Research's expertise in promulgation of the business !
Automated Cell Counters Market: Competitive Landscape
This section of the automated cell counters market report features the profiles of the key players operating in the automated cell counters market based on their marketing and differential strategies. Examples of some of the key players featured in this report include Danaher Corporation, ChemoMetec A/S, F. Hoffmann-La Roche Ltd, Nexcelom Bioscience LLC., Oxford Optronix Ltd, ALIT Life Science Co., Ltd., Luminex Corporation, and Merck KGaA, among others.
The key manufacturers operating in the automated cell counters market are keen on implementing new and differentiating strategies to meet not only product demand, but also dominate the regional market.
These companies are focused on adopting new strategies and policies, such as increasing post sales & service agreements, effective technological & distributorship collaborations, promoting research & development for the introduction of new products for the treatment of automated cell counters, continuous product lunches, joint ventures, partnerships, and mergers & acquisitions.
Automated Cell Counters Market: Additional Questions Answered
Some of the additional questions addressed in this report on the automated cell counters market are as follows:
What is the revenue potential of the automated cell counters markets across Latin America, South Asia, and Middle East & Africa?
Who are the key competitors and what are their portfolios in the automated cell counters market?
What are the major challenges influencing the growth of the automated cell counters market?
How is intervention from regulatory authorities shaping the growth of the automated cell counters market?
Research Methodology
The automated cell counters market has been estimated based on an installed base approach. The market was studied by estimating the base year market size in different regions/countries. In addition, the market was estimated based on number of installations of automated cell counters, the typical replacement cycle, as well as new sales volume in the top 20 countries worldwide.
Other qualitative factors analyzed during market value estimation include awareness about the usage of automated cell counters, which include product adoption, regional product penetration, and the availability of reagents and consumables for automated cell counters.
This information was further validated with rigorous primary research, which includes interviews, surveys, in-person interactions, and viewpoints of seasoned analysts, as well as secondary research, which includes verified paid sources, authentic trade journals, and resourceful databases.
The research study on the automated cell counters market also includes the top trends and macro as well as microeconomic factors shaping the automated cell counters market. With this approach, the report on the automated cell counters market estimates the industry attractiveness of every major segment in the automated cell counters market over the forecast period.
Our Clients