Antibody Library Technology Market
Global Market Study on Antibody Library Technology: Rising Prevalence of Rare Diseases Surging Demand Across Regions
Antibody Library Technology Market Segmented By Phage Display, Ribosome Display, Yeast Display, Mammalian Cell Surface Display Technology for Research Applications, Drug Discovery & Development
Antibody Library Technology Market
About the Report
Increasing need for highly targeted therapies to treat conditions such as cancer, rare diseases, and neurological disorders is surging demand for antibodies, which are well-known targeted therapy agents. Demand for better precision using antibody therapy is enabling broader adoption of antibodies, especially in drug discovery. Drug discovery starts with target identification & validation, and antibodies are the gold standard when it comes to detection of a specific biomolecule or biological pathway. Additionally, technological advancements, need for therapeutic antibodies, and requirement for automation in research are also increasing usage of antibody library technology.
Persistence Market Research, in its latest research report, tracks global sales of antibody library technology in more than 20 high-growth markets. Comprehensive assessment of some of the key challenges and unique growth factors for antibody library technology has been discussed and analyzed in detail. The report also dives deep into the reasons why this technology is used the most in drug discovery and development, leading to high demand from biopharmaceutical companies.
Find Out More about the Report Coverage
Companies
MorphoSys AG
Abzena Plc.
XOMA Corporation
AvantGen Inc.
Creative-biolabs
AbCheck s.r.o.
Philogen S.p.A.
Adimab LLC
Invenra Inc.
AnaptysBio, Inc.
Abgent Inc. (WuXi AppTec company)
Vaccinex Inc.
AxioMx Inc.
Future Outlook Even Better than Historical Years
Antibody library technology provides in vitro method for the generation of highly specific, recombinant, humanized or fully human monoclonal antibodies, which can be used for desired target screening. Different display technologies are used for the display of antibody libraries, which can optimize affinity and specificity of antibody or antigen-binding residues on the antigen-binding fragment.
New display-less technology is expected to produce dramatic improvements in all aspects of antibody libraries, including library size, affinity maturation, selection methods, etc. However, with increased realization of display technologies, in vitro display technologies would span several territories, including basic research, clinical research, industrial research, development, and commercialization.
Customize this Report
Explore Intelligence Tailored to Your Business Goals.
According to Persistence Market Research's analysis, antibody library technology sales have been expanding at 2.6% CAGR over the last 5 years, by are projected to forge ahead at 4% CAGR from 2020 to 2030.
A slew of new antibody drugs was launched for diagnostics and treatment of rare disease over the last decade, and development of more are currently underway. With leading antibody library manufacturers expecting demand to surge amid the COVID-19 pandemic, antibody library technology sales are set to grow steadily through 2030. The pandemic crisis has triggered the fast-tracking of antibody drug approval, a trend most welcome by biotechnological and pharmaceutical companies. In 2020, Avantgen developed and launched Novel Human Antibodies "mAbs" to diagnose SARS-COV-2 Infection and treat COVID-19. These developments present a positive growth outlook for this market space.
Market Research Methodology - Perfected through Years of Diligence
A key factor for our unrivaled market research accuracy is our expert- and data-driven research methodologies. We combine an eclectic mix of experience, analytics, machine learning, and data science to develop research methodologies that result in a multi-dimensional, yet realistic analysis of a market.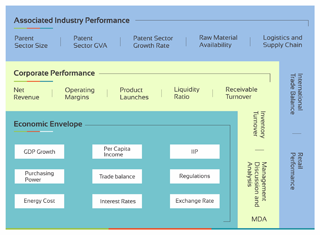 Will Technological Advancements Influence Demand for Antibody Library Technologies?
Monoclonal antibodies are extensively used for basic research, biomedical research and therapeutic purposes, diagnostics, and prophylactic & analytical applications. Most biotechnology companies are subscribing to in vitro antibody library platforms instead of in-house in vivo generation of monoclonal antibodies, which, in turn, influences demand for antibody library technologies.
Conventional molecular display technologies have limitations and shortcomings, and new 'display less' technologies are being developed, which have shown successful isolation of antibodies up to subnanomolar affinities. E.g. periplasmic expression and cytometric screening (PECS) technology – a display-less technology developed by the University of Texas. Further improvements in antibody library technologies will allow relatively fast and more automated selection of high-affinity binders in less time.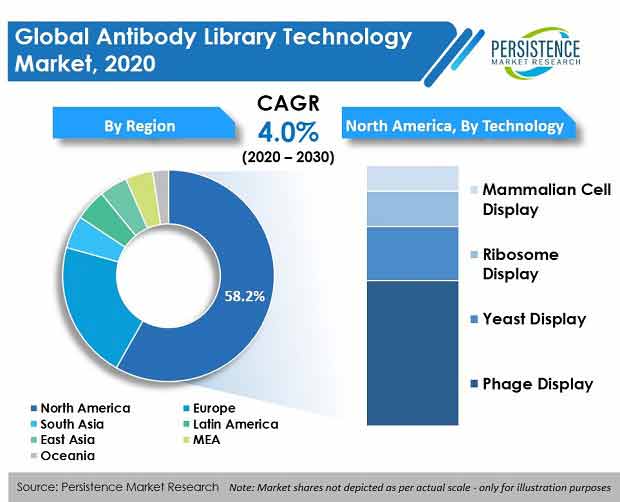 Explore Persistence Market Research's expertise in promulgation of the business !
Country-wise Insights
How are Antibody Library Technologies Flourishing in the U.S.?
Persistence Market Research has projected North America to remain as one of the most lucrative markets throughout the forecast period. One of the key factors supporting expansion is the region's high healthcare spending. Rising prevalence of chronic diseases such as cardiovascular and blood diseases is also expected to Increase focus on biomedical, stem cell, and cancer research. As per the American Cancer Society estimates in 2018, around 1,735,350 people are diagnosed with cancer in the U.S. every year, with more than 609,640 deaths. Thus, there is increasing focus on cancer and stem cell research. Stem cell therapy is a widely used technique to treat cancer and blood-related diseases. Therefore, an increasing number of biotechnology and biopharmaceutical companies are adopting advanced research antibody products to study stem cells, which is expected to fuel antibody library technology usage in the U.S. Furthermore, the U.S. remains one of the largest markets for life science in the world, which invariably makes it a lucrative pocket for antibody library technology manufacturers.
Complimentary healthcare policies, combined with high per capita healthcare spending, leads to a favorable environment for the adoption of antibody library technologies in the U.S. Also, the presence of leading players such as MorphoSys AG, Abzena Plc. and XOMA Corporation is supporting growth in the U.S. Strategies undertaken by these companies include product launches and clinical collaboration, which will continue supporting overall expansion in the U.S. market space.
Are U.K.'s Antibody Library Technology Sales Expanding Rapidly?
European governments are supporting the use of antibody library technologies for drug discovery and development. For instance, the European Commission's Joint Research Centre has released some recommendations from the European Union (EU) Reference Laboratory on Non-Animal-Derived Antibodies to be used as an alternative to animal testing (EURL ECVAM). Various biological research and development activities are taking place in the U.K. For example, in 2019, the merger of Amgen and Nuevolution to expand small molecule screening capability. This acquisition is focusing on syntheses DNA-encoded small molecules, and screens them for activity against targets. Thus, increase in research & development activities as well as government support is aiding antibody library technology sales in the U.K. Persistence Market Research identified Europe as the second-leading market, a position it is likely to hold on to through the forecast period.
Increasing healthcare expenditure also represents scope for the expansion in the U.K. According to the Organization for Economic Co-operation and Development, the U.K. spent nearly £2,989 per person on healthcare in 2017. With healthcare spending in the U.K. forecast to surge significantly, sales prospects are likely to get better.
Why is Innovation Key to Succeed in the German Antibody Library Technology Market Space?
According to the Federal Statistical Office report, Germany healthcare spending is increased by 4% in 2018 from 2017. In 2018, Germany's healthcare spending estimated for 11.7% of the GDP. Furthermore, in 2019, healthcare spending is expected to grow to 407.4 Bn Euros, conferring a profitable landscape for the expansion of the Antibody Library Technologies.
Also, the presence of companies such as YUMAB GMBH is supporting the expansion in Germany. YUMAB libraries contain more than 100 billion unique antibodies and advanced in vitro selection technologies to provide the highest success rates in drug discovery. Growth strategies adopted by these companies are expected to aid the expansion in Germany.
Why are Sales in India Tied Closely to Research Activities?
Most Indian pharmaceutical and biotechnological companies with significant drug discovery and development activities have reported considerable R&D expenditures. The Government of India has taken several initiatives, including a biotechnology industry collaboration, to develop new technologies. The National Rural Healthcare Mission was launched by the government of India to boost healthcare expenditure. The government has spent US$ 1.1 billion in the 11th Five-Year Plan, which is expected to reach at US$ 3.7 billion in the 12th Five-Year Plan, on biotechnology, to boost the pace of innovation, research, and development. Also, the National Biotechnology Development Strategy (NBDS) has been planned by the Department of Biotechnology (DBT) to reinforce the industry's human resources and infrastructure, to promote growth and trade. Government initiatives to spend more on research & development of biotechnological products, such as antibodies, is expected to drive the antibody library technology market in South Asia, specifically in India.
Is Rising Prevalence of Cancer in China Surging Antibody Library Technology Usage?
While the U.S. and U.K. will continue leading the industry, growth in China and East Asia is expected to take place at an accelerated pace. As per GLOBOCAN estimates in 2018, around 4,285,033 new cancer cases were diagnosed in China. In the face of this rising cancer incidence, existing cancer treatment is not sufficient for achieving ideal outcomes, and as such, China is encouraging the development of antibody libraries to achieve success in cancer immunotherapy. In 2019, there were 279 anti-PD-1 and PD-L1 trials out of 365 registered in China, which contributed to 76% of cancer immunotherapy trials in the country. These figures are indicative of opportunities for wider penetration in China, and subsequently in East Asia, for the development and discovery of antibodies.
Category-wise Insights
What's the Market Share of Drug Discovery & Development?
The drug discovery and development segment will continue accounting for over half of the global share among applications through the forecast period. According to Persistence Market Research, the segment is anticipated to hold a more than 66% of the market by the end of 2030. During the past decade, in vitro methods for antibody display and library screening have enabled a fast selection procedure to identify lead candidates. Wide exploitation of these technologies in the future is projected to create high demand for antibody library technologies for drug discovery and development applications.
Why Does Phage Display Antibody Library Technology Hold the Highest Share?
Phage display technology will account for more than 50% of the overall share through the forecast period. In phage display technology, antibody fragments are fused to bacteriophage coat protein. This allows the production of billions of phage, each one of which displays an antibody fragment with a unique specificity on its surface and contains the gene encoding the fragment inside the coat. These highly diverse phage populations can be screened for desired target and antibody fragment, and the desired specificity can be selected and amplified. The technology can create antibody libraries of sizes up to 109 fragments. Examples of commercially available phage-displayed antibody libraries include HuCAL (MorphoSys AG), Llama VHH Naïve Library (Abzena Plc.), etc.
Opportunities Abound in Antibody Library Technologies
According to Persistence Market Research, antibody library technology demand will be higher in drug discovery and development. While drug discovery and development will continue leading, the research application segment is anticipated to grow at an accelerated pace over the coming years. Increasing government funding and investments by biotechnology companies in research and development activities of antibody library technologies, and surging healthcare expenditure around the world, will aid expansion of the segment.
With antibodies being the most successful biotechnology drug type, pharmaceutical and biotechnological companies are trying to add antibodies to their pipeline to mitigate patent expiry. Partnerships between technology developers and companies that already have therapeutic antibody development will help combine research capabilities, and thus, speed up the drug development process and growth of the market.
Competitive Landscape
Companies operational in the antibody library technology market are aiming at strategic collaborations with academic institutes to bridge the gap between early scientific discovery and its translation into new medicine. This permits the merging of research expertise of academics in targets, disease biology, etc., with the industry's developmental and resources expertise.
For instance, in February 2019, a collaboration took place between the Medical University of South Carolina (MUSC) and Cumberl and Emerging Technologies (CET), to develop new biomedical products.
Similarly, in October 2018, Amicus Therapeutics established a research alliance with the University of Pennsylvania, to accelerate and develop novel gene therapies.
Companies are also entering into clinical collaborations with established players in the monoclonal antibody therapeutics market.
For instance, Vaccinex Inc. and Merck signed a Clinical Collaboration agreement to Evaluate Pepinemab in Combination with KEYTRUDA in Advanced, Squamous Cell Cancer, in September 2020.
Most biotechnological companies are launching new services with novel approaches to strengthen technology platforms, and to speed up the discovery process in life science research.
For instance, in 2019, Creative Biolabs launched a broad antibody design and conjugation service, to become the leading association of global clients in custom ADC field.
Similarly, WuXi AppTec launched the DNA Encoded Library (DEL) service package "DELight" to accelerate the early drug discovery process.
Transition from a technology provider to a drug development organizer is being observed in the market. Majority of biotechnological companies are entering into partnerships with pharmaceutical companies for the development of antibody therapeutics by conducting different programs.
For instance, MorphoSys is involved in 96 partnership drug development programs, with renowned companies such as GlaxoSmithKline Plc., Galapagos AG, Roche, Bayer AG, Novartis AG, Janssen, Pfizer Inc., Boehringer Ingelheim GmbH, OncoMed, etc. MorphoSys receives contractual payments, royalties, license fees, and success-based payments for technologies.
Some of the leading companies operating in the market are:
AnaptysBio, Inc.
MorphoSys AG
XOMA Corporation
Abzena Plc.
AvantGen Inc.
Adimab LLC
AbCheck s.r.o.
Philogen S.p. A.
Creative-Biolabs
Invenra Inc.
Abgent Inc. (WuXi AppTec company)
AxioMx Inc.
Vaccinex Inc.
*The list is not exhaustive, and only for representational purposes. Full competitive intelligence with SWOT analysis available in the report.
Scope of Report
Attribute

Details

Forecast Period

2020-2030

Historical Data Available for

2016-2020

Market Analysis

USD Million for Value and Units for Volume

Key Regions Covered

North America
Latin America
Europe
East Asia
South Asia
Oceania
Middle East & Africa

Key Countries Covered

US
Canada
Germany
U.K.
France
Italy
Spain
Poland
Russia
China
Japan
South Korea
India
Thailand
Malaysia
Vietnam
Indonesia
Australia
New Zealand
GCC Countries
Turkey
Northern Africa
South Africa

Key Segments Covered

Technology
Application
End User
Region

Key Companies Profiled

MorphoSys AG
Abzena Plc.
XOMA Corporation
AvantGen Inc.
Creative-Biolabs
AbCheck s.r.o.
Philogen S.p. A.
Adimab LLC
Invenra Inc.
AnaptysBio, Inc.
Abgent Inc. (WuXi AppTec company)
Vaccinex Inc.
AxioMx Inc.

Report Coverage

Market Forecast
Brand Share Analysis
Competition Intelligence
DROT Analysis
Market Dynamics and Challenges
Strategic Growth Initiatives

Customization & Pricing

Available upon Request
Antibody Library Technology Market by Category
Technology
Phage Display
Ribosome Display
Yeast Display
Mammalian Cell Surface Display
Application
Research Applications
Drug Discovery & Development
Others
End User
Biopharmaceutical Companies
Contract Research Organization
Academic & Research Institutes
Region
North America
Latin America
Europe
South Asia
East Asia
Oceania
The Middle East and Africa (MEA)
Key Questions Answered in Report
Q1. Which is the most lucrative market for antibody library technologies?
North America currently leads the global market for antibody library technologies. Sales in North America will be over 58% of total demand throughout the forecast period.
Q2. Which is the most-used antibody library Technology?
Phage display technology is highly sought-after in every market. Demand for phage display technology is expected to remain high, especially due to its ability to create antibody libraries of sizes up to 109 fragments.
Q3. Who are the end users of antibody library technologies?
Biotechnology companies are eyeing relatively small-scale companies that have fewer funds. Investors are not willing to finance small companies due to their underperformance capital-constrained business. However, this may benefit the sector by stimulating mergers and acquisition activities.
For instance, in January 2019, Takeda Pharmaceutical acquired Shire plc, which is expected to increase the R&D spending for the expansion of its biotechnology platform.
Q4. Which are some of the leading companies offering antibody library technologies?
Some of the leading companies offering antibody library technologies are AvantGen Inc., Abzena Plc., XOMA Corporation, MorphoSys AG, Creative-Biolabs, AbCheck s.r.o., and Philogen S.p.A. among others.
Q5. Which application is driving sales of antibody library technologies?
Drug discovery and development in biological science mainly depends on government grants and research funding, which motivates research and development activities in antibody library technologies.
For instance, The Department of Business Innovation & Skills (BIS), Government of U.K., updated its R&D policy in 2015, under which, it invested US$ 304.58 Mn in the 'Growth Accelerator' program to help the commercialization of innovative products. Increase in investments in drug discovery and development using antibodies around the world are fuelling demand for antibody library technologies.
Our Clients