Oncology Drugs Market Outlook (2022-2032)
The global oncology drugs market is set to record a market value of US$ 202.9 Bn in 2022 and expand at a CAGR of 5.5% to reach US$ 347.3 Bn by the end of 2032.
As studied by Persistence Market Research, sales of oncology drugs accounted for 12.7% revenue share of the global pharmaceutical drug formulation market in 2021.
| | |
| --- | --- |
| Oncology Drugs Market Size (2022) | US$ 202.9 Bn |
| Projected Market Value (2032) | US$ 347.3 Bn |
| Global Market Growth Rate (2022-2032) | 5.5% CAGR |
| Market Share of Top 5 Countries | 66.3% |
Sales Analysis of Oncology Drugs (2012 to 2021) Vs. Market Predictions (2022 to 2032)
The global oncology drugs market recorded a historic CAGR of 8.9% from 2012 to 2021.
In terms of the volume of clinical trial activities, investment in therapeutics, the number of therapies in clinical development, the number of novel active substances being introduced, and the amount of money spent on these drugs, oncology is the therapy area that has experienced the greatest innovation.
As per the Chinese Medical Association, there will be around 4,820,000 new cases of cancer in China and the U.S. in 2022, and 3,210,000 and 640,000 cancer fatalities, respectively.
Breast cancer, lung and bronchus cancer, colon and rectum cancer, prostate cancer, stomach cancer, liver cancer, oesophageal cancer, thyroid cancer, and bladder cancer are the most frequently detected cancers.
In 2020, China was the source of 24% of newly diagnosed cases and 30% of cancer-related fatalities globally. Cancer is the leading cause of death in China and other wealthy countries.
GLOBOCAN 2020 predicts that there will be 9,958,133 cancer-related deaths and 19,292,789 new cases of cancer worldwide in 2020. China has seen an increase in the incidence and mortality of cancer since 2000, as well as in the number of new cases and fatalities from the disease.
Oncology in China needs to expedite transformational ecosystem-shaping operations rooted in the local environment if it is to make headway in reducing the country's cancer burden and ensuring that patients obtain better, more convenient, and inexpensive treatment options. China's expansion in oncology innovation is currently being fueled by a wave of new, oncology-focused biotech firms and higher-quality cancer research.
Thus, it is projected that the market for oncology medications will grow globally as a result of the increased incidence of different cancers, particularly in developed nations. The global oncology drugs market is forecasted to expand at a value CAGR of 5.5% to reach US$ 347.3 Bn by 2032.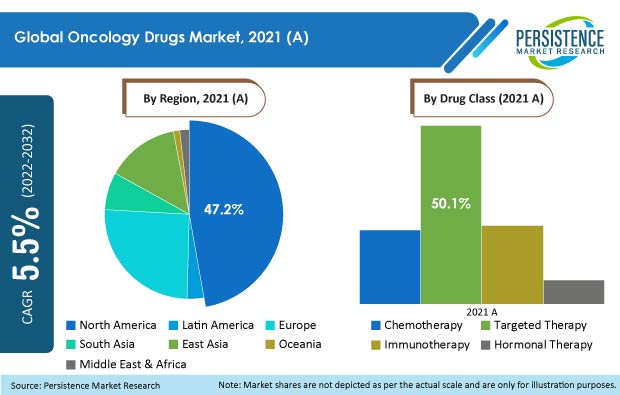 How Can Oncology Drug Manufacturers Grow?
"Increase in Funding for Cancer Research"
Increased investments in anti-cancer medications and financing for cancer research are being witnessed. Governments, the private industry, and organizations are the main sources of R&D financing.
For example, NCI received US$ 6.9 billion from the Consolidated Appropriations Act of 2022, an increase of US$ 353 million net over FY 2021.
In FY 2022, US$ 194 million will be allocated to the Cancer MoonshotSM, and US$ 50 million will go to the Childhood Cancer Data Initiative.
Increased funding for cancer research from several sources will lead to greater business prospects in the market.
Also, the oncology drugs market is anticipated to experience tremendous growth prospects due to the increased focus on the research and development of treatments and therapies for lung, colorectal, multiple myeloma, and prostate cancer.
Furthermore, it is anticipated that partnerships between major players in the pharmaceutical sector and funding initiatives and reimbursement regulations to address the unmet diagnostic and therapeutic needs of patients with life-threatening diseases such as cancer will foster market expansion. Additionally, the pipeline for cancer treatment will rise as a result of pharmaceutical companie's growing interest in the creation of medications for various malignancies.
What is Hurting Oncology Drugs Market Expansion?
"Unavailability of Cancer Drugs in Underdeveloped Regions"
One of the main reasons limiting the growth of the oncology drugs market globally is the lack of availability of a majority of major anti-cancer drugs in undeveloped and developing nations.
For instance, only patients in the U.K., Germany, and the United States have access to more than 40 of the 55 cancer drugs that were first introduced between 2012 and 2016.
These drugs are not available in a majority of countries due to manufacturers not applying for regulatory clearance, delays or denials of authorization, or manufacturers waiting for the outcome of reimbursement agreements before launching the drug in the country.
A study found that less than 20% of anti-cancer drugs are offered in a majority of growing pharmaceutical markets.
Patients in LMICs (which make up more than 45% of the world's population) do not have access to more than 50% of cancer medications on the WHO EML.
This is due to a variety of factors, including a poor healthcare system, improper infrastructure, and additional obstacles such as disrupted diagnostics settings, lack of or unequal distribution of the healthcare system, as well as complex and nuanced financial and logistical challenges such as high costs, a lack of quality assurance, frequent stockouts, and complicated regulatory pathways.
32% of EML medications are only available at full price in low-middle income countries, while 5.2% are completely unavailable. The comparable percentages for low-income countries (LIC) are significantly worse, at 57.7% and 8.3%.
The WHO EML lists medications that are only available for full price as an out-of-pocket expense, and many of them are completely unavailable due to unstable supply.
There is a severe lack of availability, with new, more expensive targeted agents having a significantly lower availability. The high cost of cancer medications, limited coverage provided by public insurance programmes, exclusion from the EML, and limited or non-availability of these medications at facilities are further barriers to the access and usage of cancer medications.
Country-wise Insights
Why is the U.S. a Lucrative Market for Oncology Drug Manufacturers?
"New Oncology Treatments Being Approved in the Country"
The U.S. accounted for 91.6% share of the North American oncology drugs market in 2021.
The U.S. market for oncology drugs is anticipated to grow as more novel active substances for the treatment of cancer are approved and released.
For example, in 2021, 22 novel active substances for the treatment of solid tumours and haematological cancers were introduced, including two diagnostic agents.
A few other factors that will support regional growth include favourable R&D activities by industry participants and technological advancements in cancer diagnosis and treatment techniques.
What is the Stance of Germany in the Market for Oncology Drugs?
"Rising Prevalence of Cancer and Strong R&D Initiatives by Key Players"
Germany held 23.4% share of the Europe oncology drugs market in 2021.
The market has expanded as a result of the rising expense of drugs and cancer treatments. The development of cancer therapies has also been accelerated through significant investments made in R&D efforts. Additionally, a rise in cancer prevalence and supportive government policies for cancer medicines have accelerated market expansion in Germany.
Why is China Emerging as a Prominent Market for Oncology Drugs?
"Huge Government Investments in R&D Sector in China"
China held the largest market share of 61.4% of the East Asia oncology drugs market in 2021.
Due to the significant government participation in China, manufacturers have concentrated on growing their production capacity to meet the unexpected and overwhelming demand for conducting a thorough survey of symptomatic patients and those who are not symptomatic of cancer. It is also projected that China's increased cancer incidence will help the market for oncology drugs in the country expand.
Category-wise Insights
Which Oncology Drug Class is Driving High Market Growth?
"Advantages of Targeted Therapy over Other Oncology Drugs"
The targeted therapy segment held 50.1% share of the oncology drugs market in 2021.
This high share can be attributed to the discovery of molecular targets used by cancer cells. The understanding of cancerous cells and their metabolism at the molecular level has improved because of recent advancements in gene therapy and cellular technologies. The need for targeted drugs to treat cancer will be fuelled by this consideration.
Which Indication are Oncology Drugs Most Widely Used For?
"Rapidly Rising Prevalence of Breast Cancer and Growing Demand for Targeted Therapies"
In 2021, the breast cancer indication segment had the highest market share of 15.8%. This can be attributed to the rise in breast cancer cases globally.
According to estimates from Breastcancer.org, around 281,550 new cases of American women with invasive breast cancer are expected to be diagnosed in 2021.
This will drive focus primarily on early diagnosis and treatment, driving market expansion.
Competitive Landscape
Key market players are pursuing acquisitions to either increase the number of products in their portfolios or expand the range of the business in which they operate.
GSK purchased Sierra Oncology, a biopharmaceutical business with headquarters in California, in July 2022.
AstraZeneca announced the acquisition of TeneoTwo in July 2022 to bolster its pipeline for treating haematological cancers.
Tidal Therapeutics, a cutting-edge mRNA-based research platform with applications in oncology, immunology, and other disease areas, was purchased by Sanofi in August 2022.
Boehringer Ingelheim Ltd. purchased Abexxa Biologics in September 2021 to increase its focus on cancer immunology and immunotherapy research.
Oncology Drugs Industry Report Scope
Attribute

Details

Forecast Period

2022-2032

Historical Data Available for

2012-2021

Market Analysis

USD Billion for Value

Key Countries Covered

U.S.
Canada
Brazil
Argentina
Mexico
Germany
France
U.K.
Italy
Spain
Russia
BENELUX
India
Thailand
Malaysia
Indonesia
China
Japan
South Korea
Australia
New Zealand
Turkey
GCC
Northern Africa
South Africa

Key Market Segments Covered

Drug Class
Route of Administration
Indication
Distribution Channel
Region

Key Companies Profiled

GlaxoSmithKline
AstraZeneca plc
AbbVie
Pfizer Inc.
Amgen Inc.
Gilead Sciences, Inc.
F. Hoffmann-La Roche Ltd
Bristol-Myers Squibb Company (Celgene Corp)
Novartis AG
Johnson & Johnson
Merck & Co.
Eli Lilly and Company
Sanofi S.A
Bayer AG

Report Coverage

Market Forecast
Competition Intelligence
DROT Analysis
Market Dynamics and Challenges
Strategic Growth Initiatives

Customization & Pricing

Available upon Request
Key Segments in Oncology Drugs Industry Research
By Drug Class:
Chemotherapy

Alkylating Agents
Antimetabolites
Anti-tumour Antibiotics
Topoisomerase Inhibitors
Mitotic Inhibitors
Others

Targeted Therapy

Monoclonal Antibodies
Small molecule Inhibitors

Immunotherapy

Immune Checkpoint Inhibitors.
Cell Therapy and Gene Therapy
Oncolytic Virus Therapy
Immune System Modulators
Others

Hormonal Therapy
By Indication:
Breast Cancer
Lung Cancer
Prostate Cancer
Multiple Myeloma
Colorectal Cancer
Non-Hodgkin's Lymphoma
Kidney Cancer
Chronic lymphocytic Leukaemia
Melanoma
Others
By Route of Administration:
By Distribution Channel:
Hospital Pharmacies
Retail Pharmacies
Others
By Region:
North America
Latin America
Europe
South Asia
East Asia
Oceania
Middle East & Africa