Rising popularity of electric bikes and bicycle tourism to benefit the global bicycle market.
---
Date : May 30, 2018 Author : PMR Editorial Staff Category : Automotive and Transportation
Electric Bicycles Power Up as Most Opportunistic Segment through 2026
Biking is the new driving—to protect the environment, avoid serpentine traffic and elevating fuel prices, promote overall well-being and health, and most importantly, reduce carbon footprint. These are some reasons that have reportedly pushed the sales of bicycles in the last few years. The trend only seems to grow.
Can cycling be beneficial for local economies?
What if, other than just physical and environmental health, cycling could also give a boost to the tourism, create employment opportunities, and push money into local economies? Referred to as 'cycle tourism', a study published by German Environment Agency in 2017, stated that cycle tourists out to see and enjoy everything the countryside has to offer, would benefit the following three segments of local economies:
1. Ecology - Increased use of public transportation, resource use and conservation, CO?-reduction and compensation, renewable energy sources, waste management, landscape and habitat protection, long-drawn-out stays and conservation of biological diversity.
2. Society - Support of local culture, prevention of discrimination, transparent communication, insight into local culture, integrate the local population, fair working conditions, equivalent distribution of incomes, respect requirements of the local populations and preservation of town, village and landscape.
3. Economy - Selection of independent products, regionally adapted products, flexible infrastructure, reduction of regional poverty, creation of regional jobs, long-term business success, use of local products and services and long-term added value.
Electric Bikes is the way ahead
Adding to tourist experience is the bike that the cyclists use. Many people often would like to travel by bike but are unable to do so for a number of reasons. Logistic problems such as carrying clothing, tools, and camping gear, coupled with a few deterrents, including varying fitness levels of family members, cycling in mountainous terrain, and long distance travelling tend to make touring on conventional bikes difficult. The answer to these problems is - Electric Bikes.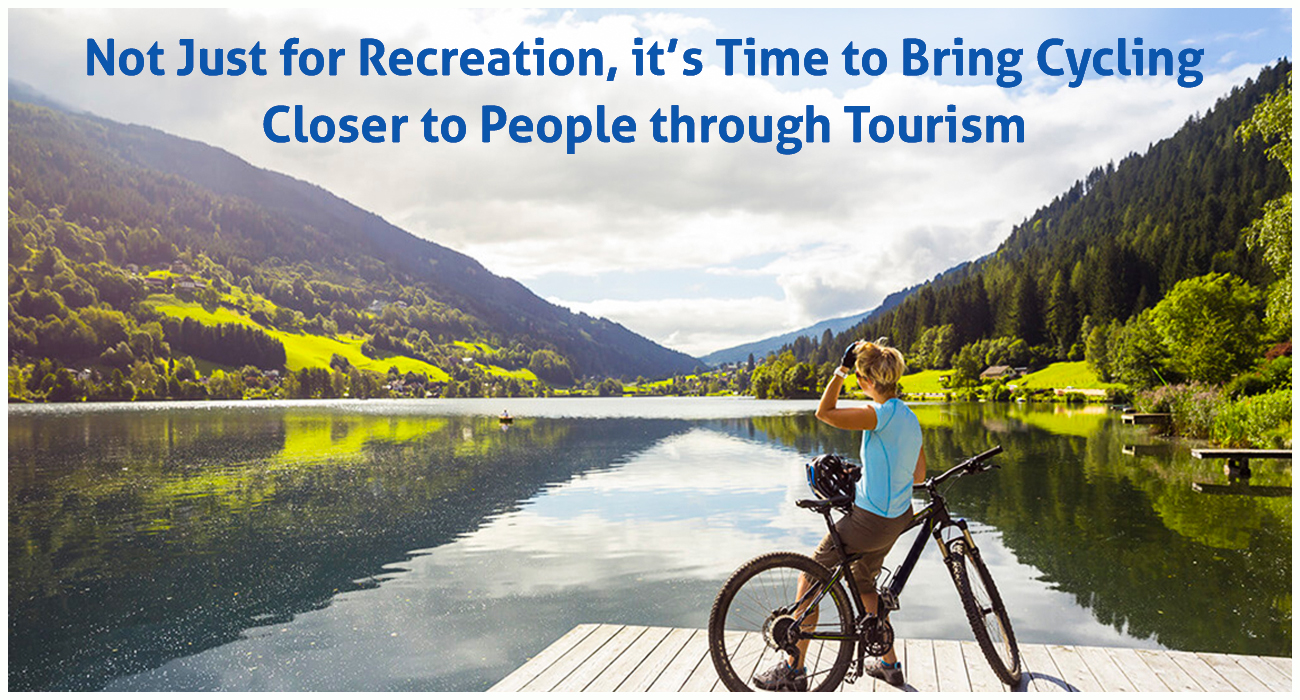 China leading the e-bikes market : According to a recent research published by Persistence Market Research, electric bicycles have been gaining popularity since the recent past. With an increasing number of national as well as international cycling events, the electric bicycles segment is likely to be a lucrative playing field for stakeholders in the global bicycle market. Estimated at a moderate CAGR of 4.2% over 2018-2026, the global bicycle market will possibly reach a revenue equating US$ 80 billion by the end of 2026. In 2017, this market was valuated at US$ 55 billion and is foreseen to witness growth at a promising pace in near future.
With a growing consumer base, the electric bicycle will represent an attractive segment throughout the assessment period, 2018-2026, with China expected to be the key contributor in the electric bicycle segment. Additionally, factors such as favorable business scenario and relatively cheaper labor costs have resulted in elevated investments in electric bicycles in Latin America bicycle market. With emerging technology and potential of this bike genre, most of the key vendors are prioritizing new product launches, especially electric and adventure/mountain bicycles.
E-Bikes are the saviors for cycle tourists
Whether it is effortless cycling, getting to destinations faster, covering more distance per day with the same effort, balancing out varying fitness abilities, or just enjoying the countryside holiday without breaking a sweat, riding an e-bike can be less exhausting than a conventional bicycle.
---