Silicone Sealants: A Go-to Solution for Joining Materials
The continuous search for new chemical compositions of industrial adhesives and sealants that can withstand large amounts of stress goes hand in hand with the evolution brewing in the architecture and manufacturing industries. High unmet needs in industrial and consumer applications have spawned constant developments in these products in terms of enhancing bonding performance and specialized functionality.
Understanding the importance of this market, Persistence Market Research (PMR), in its new business intelligence, analyzes how new sealant technologies are being developed to address the limitations associated with conventional fastening techniques. The study also turns the spotlight on actionable insights and thorough analysis of the silicone sealants market, which can arm stakeholders with the necessary facts and statistics of the market, so as to make well-informed decisions.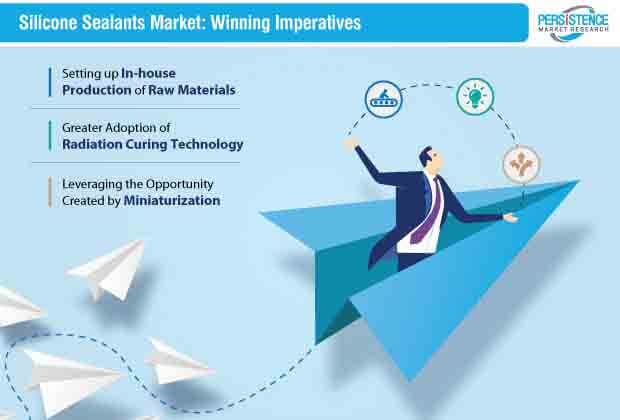 Silicone Sealants Market: Unsealing the History and Evolution
The invention of silicone sealants didn't come about until the 1980s, as scientific curiosity regarding the improvement of adhesive properties remained nonexistent. With the growing limitations of conventional fastening and soldering techniques, silicone sealants and other advanced adhesives have gained their very own eminence, and have emerged as an alternative to these techniques. The global sales of silicone sealants closed in on US$ 3 Bn million in 2018, and the number of stakeholders competing for a significant piece of the market continues to increase with each passing year.
Advanced macromolecular chemistry and state-of-the-art curing process have allowed silicone sealants to outperform conventional bonding techniques. However, manufactures are being challenged with the fact that, these adhesives, upon curing, actively react with the air around them and release harmful volatile organic compounds (VOCs). As regulatory agencies such as the Environment Protection Agency (EPA) set strict rules to reduce VOC emissions from consumer products by 90,000 tons per year, silicone sealant manufacturers are being forced to innovate their products.
Maintaining Balance between General Grade and Structural Grade
The demand for silicone sealants has recently been based on the waves swirling around lightweight materials in automobiles, miniaturization of electronic components, and high structural stability requirements in various applications. While the industry-wide prevalence of general grade silicone sealants continues to influence strategies, manufacturers are shifting their focus toward boosting the production of structural or architectural grade silicone sealants to capitalize on the rapidly-growing construction industry. In addition, product development and innovation strategies are highly influenced by the continuous replacement of organic sealants with silicone variants for better adhesive properties and long-lasting nature.
As tightness in silicone supply and spike in the prices of raw materials continue to suppress the silicone sealants market, leading players are incorporating vertical integration to manufacture raw materials at their in-house facilities. To minimize such short-term disruptions and cater to customer demand, key manufacturers are directing their investments towards increasing production capacity. These factors are significantly aligned with Wacker Chemie AG's strategic move to establish a new silicone production site in South Korea, in 2018, to produce silicone sealants and specialty silicones for the electronics and construction industries.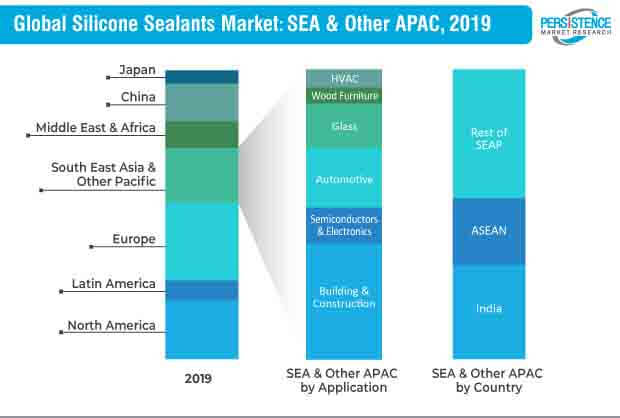 The Competitive Landscape
The silicone sealants market shows a fair level of consolidation, with frontrunners of the market such as 3M, Henkel AG & Co. KGaA, Arkema (Bostik), Wacker Chemie AG, BASF SE, Sika A.G., and H.B. Fuller collectively accounting for one-third share of the total revenue.
As low-cost and effectiveness of silicone sealants as compared to welding techniques continue to be growth influencing factors, a number of silicone sealant market players are making strategic investments and expanding their manufacturing facilities in countries where operating costs are relatively low. Surging industrialization and growing digitalization and connectivity in countries such as China and India also work to the advantage of these strategies. Apart from the manufacturing perspective, leading players are viewing these countries from a target market perspective, and have made great efforts to enhance their distribution channels to boost sales.
Establishing long-term contracts and the acquisition of industry-related companies continue to remain the key focus areas of market contenders. For instance, in 2018, GCP Applied Technologies completed its acquisition of R.I.W. Limited, a U.K.-based supplier of waterproofing products that offers products for commercial and residential construction applications, and aligns with GCP's 'Specialty Building Materials' segment.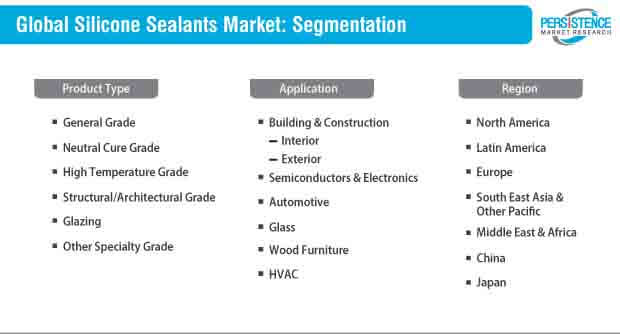 The Analyst Viewpoint
Report authors maintain a positive outlook of the silicone sealants market, which is estimated to register a CAGR of around 4% during the period of 2019-2029. With evolving trends in the semiconductors & electronics industry to miniaturize overall component sizes, manufactures will need to develop products with superior dimensional stability and wear-resistance so as to align with these trends. To accommodate the upswings in raw material costs, manufacturers will need to strengthen their supplier relationship management, and invest in the pre-booking of new capacities, while strictly monitoring their inventory levels to meet the ever-increasing demand.
Silicone Sealants Market: Growing Investments in the Construction Industry to Propel the Demand for Silicone Sealants 
The demand for silicone sealants continues to be dominated by the construction industry, accounting for around 40% share in the overall market. Silicone sealants are used in a variety of applications, ranging from sanitary, kitchen, construction joints, and renovation, as well as other interior and exterior applications in buildings & construction.
The silicone sealants market is anticipated to witness healthy growth over the estimated period. The silicone sealants market growth is expected to be mainly driven by growing investments in construction projects, and subsequent growth in the automobile industry.
Strong adhesive properties and long-lasting adhesion properties are anticipated to propel the demand for silicone sealants across the construction and automobile industries, and is expected to position silicone sealants as the go-to sealant types in the coming years.
Other specialty grade and structural/architectural grade segments are projected to witness slightly high Y-o-Y growth as compared to other product types over the forecast period, due to the increasing use of energy efficient materials in construction, and the use of silicone sealants in other industrial applications.
Silicone Sealants Market – Key Research Findings
The global silicone sealants market was valued around US$ 2.9 Bn in 2018.
The silicone sealants market is expected to witness healthy growth, with a CAGR of around 4% over the forecast period of 2019–2029.
The South East Asia and Other Pacific (SEAP) and Europe markets are expected to emerge as prominent regional markets in the global silicone sealants market by the end of the forecast period.
Growing urbanization in key Asian countries is expected to position South East Asia as one of the fastest-growing regions in the silicone sealants market, registering a growth of around 6% over the forecast period of 2019-2029.
China and SEAP are anticipated to create high growth opportunities for the manufacturers of silicone sealants, given the high number of construction projects in the pipeline and the growing automobile industry in the region.
The aforementioned regions are estimated to register a combined incremental opportunity of more than US$ 760 Mn during the forecast period.
The construction industry is expected to remain as a prominent consumer of silicone sealants, placing the building & construction segment with a prominent share in terms of market value and volume.
The construction industry is expected to reach a market value of US$ 1.2 trillion by the end of 2020, owing to the fuelling investments in the sector. This is projected to create significant demand for silicone sealants in the coming years.
Top 3 Factors Shaping the Silicone Sealants Market
Use of Energy-Efficient Materials in Structural Glazing to Promote the Growth of the Silicone Sealants Market
Silicone sealants are increasingly being used as a replacement for conventional mechanical fastening and welding methods to join two different materials. One of the key areas where silicone sealants are widely used is in structural glazing applications, especially energy-efficient glazing, as they exhibit superior adhesive properties and also reduce the overall weight of components that they are applied to, as compared to other joining methods. Silicone sealants also provide better rigidity to structural glazing, and give better protection against wind and moisture, as they form a waterproof seal that works against the infiltration of air and water. The use of energy-efficient glass in structural glazing has thereby increased the demand for silicone sealants, as they are more capable of providing better adhesion properties.
Increasing Vertical Integration to Counter Rising Raw Material Prices - Prominent Trend Moving Forward
Major players in the silicone sealants market are incorporating vertical integration to manufacture raw materials at their in-house facilities. This trend is being followed primarily due to the increasing raw material prices and rising cost of procurement from third-party vendors. With the incorporation of vertical integration of the sealant manufacturing process, manufacturers are able to stay competitive and profitable in the rapidly-growing silicone sealant market.
VOC Emission from Silicone Sealants Expected to Cause a Dent in Overall Market Growth
The market growth of silicone sealants is mainly restrained by the harmful environmental effects they have on the surroundings. Silicone sealants, upon curing, react with the air around, and release nitrogen and other volatile organic compounds (VOC). Some types of silicone sealants are also capable of releasing carcinogen agents, thus, increasing the risk of working around them. With a number of countries turning towards eco-friendly and sustainable solutions, the use of environmentally-damaging products is expected to cause a dent in the growth of the silicone sealants market. With several governments placing stringent regulations pertaining to the release of VOCs, the overall growth of the silicone sealants market is expected to take a hit in the coming years.
Silicone Sealants Market: Structure Analysis
The global silicone sealants market represents a fairly fragmented competition landscape, wherein, leading companies hold around 30-35% of the revenue share.
Top companies in the silicone sealants market include 3M, Henkel AG & Co. KGaA, Arkema (Bostik), Wacker Chemie AG, BASF SE, Sika A.G., H.B. Fuller, and Dow, among others.
The presence of a large number of domestic manufacturers as well as a significant number of manufacturers in China offering low-cost products have fragmented the silicone sealants market significantly around the globe.
Prominent players in the silicone sealants market are concentrating on the expansion of manufacturing facilities, along with the vertical integration of manufacturing capabilities, to counter volatile raw material prices.
Silicone Sealants Market - Segmentation
PMR's study analyzes the silicone sealants market on the basis of product type, application, and region. The report offers in-depth insights of the dynamics and changing trends associated with each segment, and how they are impacting the growth of the silicone sealants market.
Attribute
Details

Product Type

General Grade
Neutral Cure Grade
High Temperature Grade
Structural/Architectural Grade
Glazing
Other Specialty Grade

Application

Building & Construction
Semiconductors & Electronics
Automotive
Glass
Wood Furniture
HVAC

Region

North America
Latin America
Europe
South East Asia & Other Pacific
MEA
China
Japan