Membrane Filtration Market Outlook (2022-2032)
Worldwide revenue from the membrane filtration market was US$ 20.3 Bn in 2021, with the global market estimated to surge ahead at a value CAGR of 7.1% to reach US$ 42.9 Bn by the end of 2032.
Overall, membrane filtration product sales accounted for 20.8% revenue share of the global filtration & separation market in 2021.
| | |
| --- | --- |
| Membrane Filtration Market Size (2022) | US$ 20.3 Bn |
| Estimated Market Value (2022) | US$ 21.6 Bn |
| Projected Market Value (2032) | US$ 42.9 Bn |
| Global Market Growth Rate (2022-2032) | 7.1% CAGR |
| Market Share of Top 6 Countries | 48.9% |
Sales Analysis of Membrane Filtration (2017 to 2021) Vs. Market Outlook (2022 to 2032)
The global market for membrane filtration recorded a CAGR of 4.4% over the 2017 to 2021 historical period.
The membrane filtration process is a method in which molecules of varied sizes as well as traits can be separated physically. Membranes are made of different types of materials. With reverse osmosis (RO), they are often referred to as thin-film composite membranes.
Five membrane filters are used most commonly: reverse osmosis, ultrafiltration, Nano filtration, and microfiltration, along with chromatography filters. They are differentiated based on the size of their pores. The principal advantage is that is less expensive than many other similar technologies, besides their installation costs being lower.
Demand for membrane filtration will continue to be strong in the near future. Rise in waterborne disease across the world is one of the primary causes of morbidity & mortality in humans. However, the adoption of proper filtration technologies can help avoid pathogens, pollutants, and other waterborne contaminants.
As stated by WHO on March 21, 2022, approximately 2 billion people around the globe use a water source that is contaminated with fecal matter.
Contaminated water is prone to the transmission of diseases such as diarrhea, cholera, dysentery, typhoid, and polio. These contaminated waters cause around 485,000 diarrhoeal deaths each year. The development of novel technologies to cater to the demand for membrane filtration will drive overall market growth.
The global membrane filtration market is predicted to exhibit high growth at a value CAGR of 7.1% and reach a market size of US$ 42.9 Bn by 2032.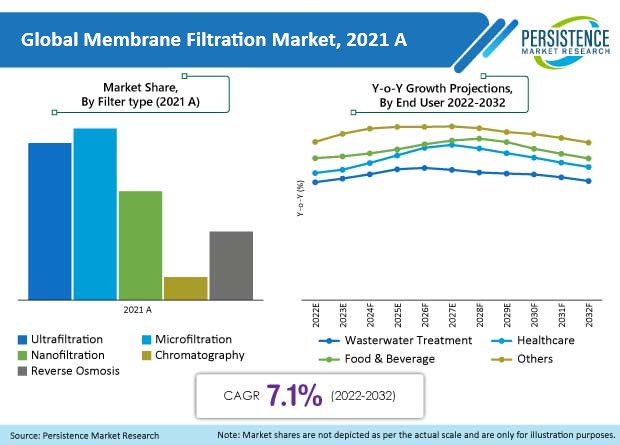 How Can Membrane Filtration Product Manufacturers Grow?
"Growing Need for Membrane Filtration in Desalination Plants"
The market is set to present an opportunistic outlook owing to government initiatives taken for water treatment. Market growth will further be propelled by rising investments in desalination plants across the world.
Demand for water filtration has risen dramatically due to industrialization, urbanization, and ongoing population growth. These factors have led to the contamination of fresh water. A majority of the current global water scarcity problem is due to the release of contaminated water by industrial, manufacturing, and production units.
There is a need for increased water filtration and desalination capacity in emerging countries. As a result, governments are putting pressure on chemical companies to develop better water treatment technologies. As such, several corporations are investing in membrane filtering systems.
The UK's Natural Environment Research Council (NERC), Engineering and Physical Sciences Research Council (EPSRC), and India's Department of Science and Technology (DST) collaborated on a program to improve the understanding of the transport, transformation, interactions, and effect of natural and man-made pollutants on the environment, and try a determine the collective risk of all these factors on the masses as well as nature.
Desalination plants will become more common as water scarcity worsens. After decades of slow improvement, desalination is used increasingly to provide drinking water around the world. Although the cost of treating salt water for drinking water has fallen, it is still an expensive option with environmental implications that have to be addressed.
Freshwater scarcity and the need for additional water supplies are already serious in many dry areas of the world, and they will only get worse. Investments in desalination plants will create substantial opportunities for membrane filtration system suppliers.
What Can Dent Membrane Filtration Market Expansion?
"Industry's Requirement of Large Amount of Raw Material"
Membrane filtration requires a large number of raw materials to manufacture. The availability and cost of these required raw materials are determined by supply and demand trends.
Low-cost alternatives to traditional materials such as alumina and zirconia, which can be used in the filtration of water, have been under continuous exploration. Polymeric microfiltration membranes have witnessed a significant increase in the trans-membrane pressure after two to three years of service due to irreversible fouling in almost all the industries they are used in.
An increase in trans-membrane pressure increases power usage and cost and decreases the membrane life, and consequently, increases maintenance costs.
Another major restraint for this market is stringent regulatory & sustainability policies for these filters related to the environment.
Negative factors of commercial activity are the most common causes of environmental problems, which means that economic factors contribute external costs to society through pollution without paying the associated social costs.
Individuals tend to overexploit the environment to their benefit in the absence of control. As a result, market mechanisms alone will not be able to solve environmental issues. Therefore, strict environmental regulations are implemented in a majority of countries. Environmental restrictions in wealthy countries are always stricter than in developing ones, making public opinion sensitive to the possible detrimental impacts of environmental policies on international trade and economic competitiveness.
Country-wise Insights
What Makes the U.S. a Large Market for Membrane Filtration?
"High Importance Given to Clean & Filtered Water"
The U.S. dominated the North American market with a share of about 79.4% in 2021 and is expected to continue to experience high growth throughout the forecast period.
Because of the ever-expanding healthcare industry, North America is likely to dominate the global market over the forecast period. Furthermore, the market is likely to benefit from the growth of the food processing industry as well as the rising importance of clean water.
For example, RO and other treatment systems perform more efficiently with the pre-treatment with microfiltration. Membrane filtration is usually employed to move water through filters in water treatment plants or domestic plumbing. This is a prime driver for the design and production of membrane filters within the country.
What is the Outlook for the Germany Membrane Filtration Market?
"Rising Investments in More Efficient Facilities"
The Germany membrane filtration market is set to exhibit a CAGR of 5.8% over the decade.
Market players such as Koch Membrane systems; Merck KgaA, etc., are focussing on new launches as well as expansion efforts to establish themselves as the dominant face in the market.
For example, Merck invested around €440 million to expand its membrane filtration business.
Koch Membrane Systems has taken a similar initiative in April 2021 by expanding its tubular membrane products and launching INDU-COR™ HD (High Density) – an enhanced technology designed to treat various industrial waste streams.
Because of these advances in the industry, demand for membrane filtration systems is increasing and driving market growth.
Will India Be a Lucrative Market for Membrane Filtration Technology?
"Ever-expanding Food & Beverage Industry"
India held 32.4% share in the South Asia membrane filtration market in 2021 and is projected to display growth at a high CAGR of 9.5% during the forecast period. This high growth is owing to the ever-expanding food & beverage industry in the country.
India's food sector is expected to reach US$ 535 Bn by 2025-2026. Growing at a rate of around 11%, currently, it holds around 32% share of the global food industry, says data published by the Indian Brand Equity Foundation (IBEF) on Dec 21, 2020.
The statistics presented above are a testament to the high growth rate of the membrane filtration market in the country.
Category-wise Insights
Which Type of Membrane Filtration Filter is Most Widely Used?
"Microfiltration – The Way Forward"
Microfiltration is expected to exhibit high growth at a CAGR of 7.4% throughout the forecast period, with a projected market share of 33.3% by 2032.
These filters withstand chemical cleaning while maintaining good selectivity, along with permeability during operation, resulting in multidisciplinary advancements in the field of polymeric, inorganic, composite, and biomimetic membrane manufacturing.
In Which Industry is Membrane Filtration Most Widely Used?
"High Need to Combat Rising Prevalence of Waterborne Diseases"
Wastewater treatment held the highest market share of 49.5% in 2021.
Growing prevalence of waterborne diseases as well as the associated increasing need for good quality water has driven this segment to be a dominant fragment propelling the sales of the overall membrane filtration market.
Competitive Landscape
With several competitors in the membrane filtration filter production sphere, the market is highly fragmented. To meet consumer demand and expand their customer base, companies are implementing mergers and acquisitions, partnerships & collaborations, and new product launches.
In April 2022, Evoqua Water Technologies completed the acquisition of Frontier Water Systems.
In June 2022, Merck collaborated with Agilent Technologies to enhance the company's bioprocess product strength.
In December 2021, DuPont Water Solutions launched TapTec™ Plus HF in India. TapTec™ Plus HF is made from advanced thin-film membrane technology and provides a unique balance of reliability and value for performance.
Membrane Filtration Industry Report Scope
Attribute

Details

Forecast Period

2022-2032

Historical Data Available for

2017-2021

Market Analysis

US$ Mn for Value

Key Regions Covered

North America
Latin America
Europe
South Asia
East Asia
Oceania
The Middle East & Africa

Key Countries Covered

U.S.
Canada
Brazil
Mexico
Argentina
U.K.
Germany
Italy
Russia
Spain
France
Nordic Countries
Russia
BENELUX
India
Thailand
Indonesia
Malaysia
Japan
China
South Korea
Australia
New Zealand
Turkey
GCC
South Africa

Key Market Segments Covered

Filter Type
End User
Region

Key Companies Profiled

LG Chem
Pall Corporation
Koch Membrane Systems Inc.
Merck KGaA
SUEZ (Degremont)
DuPont Water Solutions (DuPont De Numours)
GEA Group Aktiengesellschaft
Evoqua Water Technologies
The 3M Company
Veolia Waters Technologies
Hydranautics (Nitto Denko Corporation)
Synder Filtration, Inc.
Pentair plc.
DIC Corporation
Sartorius AG
Asahi Kasei Corporation
Pervatech B.V.

Report Coverage

Market Forecast
Competition Intelligence
DROT Analysis
Market Dynamics and Challenges
Strategic Growth Initiatives

Customization & Pricing

Available upon Request
Key Segments Covered in Membrane Filtration Industry Research
Membrane Filtration Market by Filter Type:
Ultrafiltration
Microfiltration
Nanofiltration
Chromatography
Reverse Osmosis
Membrane Filtration Market by End User:
Wastewater Treatment
Healthcare
Food & Beverage
Others
Membrane Filtration Market by Region:
North America Membrane Filtration Market
Latin America Membrane Filtration Market
Europe Membrane Filtration Market
South Asia Membrane Filtration Market
East Asia Membrane Filtration Market
Oceania Membrane Filtration Market
Middle East and Africa (MEA) Membrane Filtration Market