Market Overview
Speaker membranes/diaphragms are critical components in a speaker, and affect its overall performance. Made from different materials, speaker membranes find application in various industries. Technological advancements in speakers have led to innovations for a clever design in membranes.
Rising urbanization is set to forge ahead the expansion of the speaker membrane market size due to rising application in consumer electronics, automobiles, and commercial installations. Diversity in consumer requirements and increased per-capita income have generated the need for advanced speaker membranes in smart speakers and has proliferated the use of ingenious materials,
Speaker Membrane Market Drivers
Growing Use of Metal Diaphragm Technology (MDT): Growing use of metal diaphragm technology has led to the adoption of different metals as membrane materials for speakers. A lot of speaker manufacturers embed their speakers with metal cones, which provide optimum sound quality and flawless performance, even under a wide range of ambient temperatures.
Diaphragms are known for reducing listener fatigue and providing product reliability, particularly for high-end applications. They are finding increasing use in compression drivers with focused materials such as aluminum, titanium, and beryllium. Their fast transmission characteristics and low energy storage make metal diaphragms a preferred technology. These factors contribute to the overall growth of the speaker membrane market.
Advanced Technologies Expected to Influence Market Growth: Rapid innovations and increasing R&D infrastructure have influenced the speaker membrane market in the past few years, and will continue to do so in future. Manufacturers are focusing on production of customer-centric and customer-oriented products, by introducing advanced technologies. Products such as Alexa and Google Echo are gaining attractive responses from end users, and their demand is increasing with time. Consumers demand different varieties of AI-assisted speaker technologies, where speaker membrane material will play a crucial role and likely improve performance characteristics. Speaker membranes for tweeters and woofers will find considerable opportunities in such applications, and positively drive the growth of the speaker membrane market.
Growing Popularity in Smart Speakers: Consumer appetite for smart speakers is gaining significant traction, owing to all-important newly launched devices with improved feature sets and audio performance. Smart speakers such as Bluetooth speakers have seen large adoption in the past few years, accounting for a remarkable share in smart speaker technology and overall speaker industry. With different demands arising from end users using such devices, there is an ongoing trend to manufacture smart speakers and provide speaker membranes adhering to such requirements.
A wide range of Bluetooth speakers are available in the market. With the market being at a nascent stage, wide demographics has given rise to geo-specific trends in customization of speakers and development of speaker membranes, accordingly, boding well for the growth of the global speaker membrane market.
Increasing Use in Home Theater Applications: Home audio equipment trends have evolved over the past few years, with bring-home technology owing to products having consumer-centric features, size, and quality. Home audio consists of different speaker types covering mid-range speakers to full range speakers. Since a lot of the audience has been staying indoors for the past few months, there is a rising trend in installing home theater audios where speakers/residential audio equipment are required. Owing to these trends, there is increased production of speaker cones for such speakers, which find way into indoor applications. Such speakers are soft dome, water floating types, and have cabinet constructions and bass diaphragms.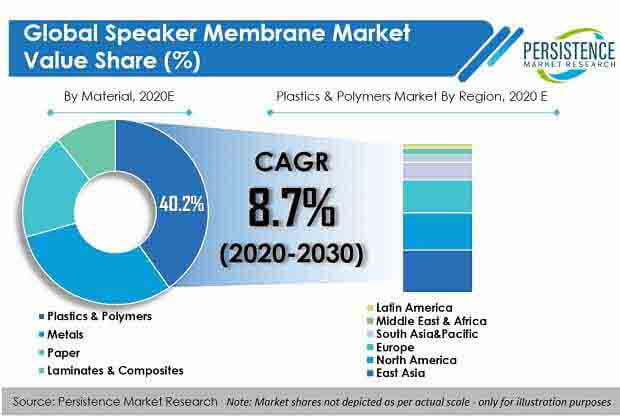 Manufacturers' Focus: Rapid Developments and Brand Agility
To be able to cater to different product demands and working conditions, manufacturers, in the past few years, have arrived at a comprehensive perspective toward their products. Speaker membranes manufactured today have to adhere to critical performance standards and ensure optimum product functioning.
Since these characteristics determine the functionality of entire speaker unit, the supply side is being more vigilant toward the market. This has given rise to competitive factors and brand agility, and has led to the development of manufacturing and distribution networks seen through regional expansions.
Global Speaker Membrane Market: Competition Overview
The speaker membrane market is stipulated to be highly fragmented in nature, with a few players occupying minimum share in the global market. Some of the active and leading participants in the speaker membrane market include Murata Manufacturing Co. Ltd, CX Technology Corporation, Loudspeaker Components LLC, and GuoGuang Electric Company Ltd.
COVID-19 Impact on Speaker Membrane Market
The pandemic caused by coronavirus is having a detrimental effect on the world economy. It has also affected the speaker membrane market due to shortage of labor, trade restrictions, supply chain disruptions, and declining demand from end-use industries. However, with most people staying at home, smart speakers have witnessed increased demand across the world. All in all, the COVID-19 pandemic will have an adverse effect on the speaker membrane market in the short term.
Analysts' Viewpoint
As more audio devices intend to capture the market, they will be accompanied by surging needs from consumers. The contribution of these factors and industry growth outlook will be crucial in the speaker membrane market, and will provide favorable opportunities in the future.
Key Segments of Speaker Membrane Market
PMR's study on the speaker membrane market is divided into three significant segments - material, end use, and region. This report offers comprehensive data and information about the important market dynamics and growth parameters related to these categories.
Attribute
Details

Material

End Use

Full-range Speakers
Tweeters
Mid-range Speakers
Woofers & Sub-woofers

Region

North America
Latin America
Europe
South Asia & Pacific
East Asia
Middle East & Africa