Marine Buoys Market
Global Market Study on Marine Buoys: Surging Maritime Industry to Positively Impact Market Growth
Marine Buoys Market Segmented By Mooring Buoys, Anchor Buoys, Signalling Buoys, Cardinal Buoys, Beacon Buoys, Fender Buoys, Lifebuoys Product in Plastic, Metal, Wood Material for Aquaculture, Fishing, Ports, Navigation
Marine Buoys Market: About the Report
With marine buoys being highly sought-after for use in weather forecasting, maritime monitoring, navigation safety, and also recreational water sports, the global marine buoys market is set to expand 1.6X by 2030. PMR's report dives deep into the reasons as to why, in this highly fragmented market space, demand for plastic-based marine buoys is witnessing a surge. North America and East Asia will be high demand centers for marine buoys over the next ten years. The report also elaborates on how the COVID-19 pandemic has adversely affected the marine industry, and how this will play out for the global marine buoys market over both, the short-term and long-term fut
Find Out More about the Report Coverage
Companies
James Fisher and Sons plc
Marine Instruments S.A.
Wealth Marine Pte Ltd
JFC Marine Ltd.
Walsh Marine Products
AXYS Technologies Inc.
Ocean Scientific International Ltd (OSIL)
A-Laiturit
Pharos Marine Automatic Power
Mediterraneo Señales Maritimas S.L
Zeni Lite Buoy Co., Ltd
Floatex Srl
Fugro N.V.
Fendercare Marine Solutions Limited
Sealite Pty Ltd
Plastech Industrial Co
Marine Buoys Market Trends
Mandatory Marine Buoys Installation for Maritime Security: Maritime transport is the backbone of international trade and the global economy. As such, maritime security is an umbrella term used to classify issues in the maritime domain that are often related to national security, marine environment, economic development, and human security. Coastal surveillance and maritime security systems require the integration and presentation of information, as without the right knowledge, equipment, and safety measures in place, the seas are a dangerous place to be. Finding and safely navigating a narrow channel in a vast expanse of water has always been a challenge for mariners. Navigational aids such as marine buoys help mariners determine their position with respect to land, and guide them safely around newly discovered hazards or hidden dangers to navigable waters, and also help protect the environment, as well as improving safety and supporting commerce. These factors are driving demand and will aid the expansion of the marine buoys market, globally
Lifebuoys & Cardinal Buoys High in Demand with Growing Recreational & Water Sports Activities: With water sports gaining popularity as a recreational activity among millennials, there has been a surge in such activities. Emerging countries such as India, China, and Mexico have become prime attractions for people who want to indulge in water sports, as they have vast coastal areas. Tourists in these countries opt for more popular options such as rafting, waterboarding, scuba diving, and kayaking, amongst other activities. However, during all these thrilling water-based activities, it is important to stay safe with life-saving appliances. Lifebuoys are ring-like floatation devices that prevent people from drowning, which is the most important safety appliance used during water sports. Owing to this factor, the marine buoys market will experience optimistic growth over the coming years.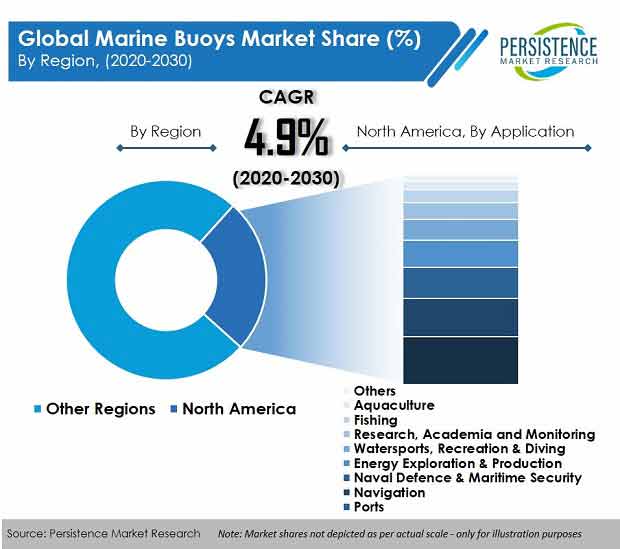 Rising Usage of Marine Buoys in Data Gathering & Monitoring Purposes: Data buoys have become critical for weather forecasting and data monitoring purposes. They are gaining importance in these applications due to rising use of digital technologies around the globe. Applications such as hurricane or cyclone forecasts, seasonal forecasting, satellite monitoring, maritime security, and ocean navigational aids are using marine buoys to gather and monitor data for controlling and predictive analysis purposes. Crucial application of marine buoys for weather forecasts and maritime monitoring will boost market growth in the years to come.
Plastic Marine Buoys Trending Globally: Buoys were traditionally made from iron, but are now available in different forms of plastic materials, such as polypropylene, polyamide, polyester, elastomer, and polyethylene. These buoys are lightweight in construction, have maximum buoyancy, and are economical in manufacturing. They don't warp with time, and are attractive as compared to conventional buoys. Use of polyethylene foam core ensures that the buoy will not absorb water even if the skin is punctured, resulting in increased lifespan. They are used in marine navigation, boat mooring, nautical communications, and weather observation applications. Marine buoys made from polyethylene are resilient, easy to handle, self fendering, and require minimal maintenance. These diverse applications indicate the future growth direction of the global marine buoys market.
Customize this Report
Explore Intelligence Tailored to Your Business Goals.
COVID-19 Impact on Marine Buoys Market
COVID-19 has led to major difficulties for the global marine buoys market space, as vessels are prohibited from entering certain ports, forcing them to be on territorial waters for an extended period of time. This leads to additional costs that are under the light of dispute. Global maritime trade is anticipated to plunge by 4.1% in 2020 due to unprecedented disruptions caused by the COVID-19 pandemic. New waves of the pandemic disrupting supply chains and economies might cause a steeper decline. The pandemic has sent shockwaves through supply chains, shipping networks, and ports, leading to plummeting cargo volumes and foiling growth prospects. However, the global shipping industry will be at the forefront of efforts toward a sustainable recovery, as a vital enabler of the smooth functioning of international supply chains. At the peak of the crisis, when the contraction of cargo volumes brought an additional challenge to structural market imbalance, the container shipping industry adopted more discipline, cutting capacity and reducing costs to maintain profitability instead of market share. With implications of the COVID-19 impact on the global maritime trade and supply network, sales of marine buoys are anticipated to go down as well. However, as the marine industry is estimated to witness immediate recovery, outlook of the marine buoys market also remains optimistic.
Market Research Methodology - Perfected through Years of Diligence
A key factor for our unrivaled market research accuracy is our expert- and data-driven research methodologies. We combine an eclectic mix of experience, analytics, machine learning, and data science to develop research methodologies that result in a multi-dimensional, yet realistic analysis of a market.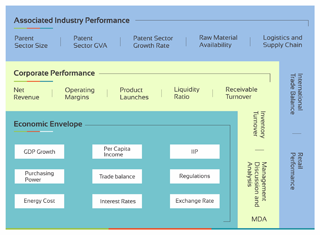 Marine Buoys Market: Structure Analysis
The global marine buoys market is highly fragmented at global and regional levels. Top 10 players account for around one-fourth of the global marine buoys market share (tier-1 manufacturers). Some of the leading players included in the report are James and Fisher PLC, Fugro N.V., Marine Instruments S.A., and AXYS Technologies Inc.. To gain a competitive advantage in this space, market participants are involved in different marine projects that seek installation of buoys, investments in R&D, promotion of sustainable manufacturing, partnerships, product innovation, and acquisition activities with regards to high market growth.
Explore Persistence Market Research's expertise in promulgation of the business !
Analysts' Viewpoint
The global marine buoys market is estimated to witness steady growth as demand surges for different applications in oceanographic and maritime industries. Rising demand can also be attributed to growing prominence of sea trade and increasing commercialization of waterways, seas, and oceans. With a rising population, increased preference for water sports and recreational activities will further boost the growth of the marine buoys market.
Our Clients