Liquid Embolic Market Outlook (2021-2031)
The global liquid embolic market was valued at US$ 231.9 Mn in 2020, and is projected to experience a noteworthy 8.9% CAGR to reach a market valuation of approximately US$ 580.5 Mn by 2031.
| | |
| --- | --- |
| Liquid Embolic Market Size (2020) | US$ 231.9 Mn |
| Projected Market Value (2031) | US$ 580.5 Mn |
| Global Market Growth Rate (2021-2031) | 8.9% CAGR |
| Market Share of Top 5 Countries | 53.5% |
Liquid embolic vials hold a substantial share of 82.7% in the global market. Liquid embolic products have been used to treat arteriovenous malformations. Their use in the treatment of aneurysms is limited to a small group of patients, but the most important concern is to prevent the migration of the liquid to the parent vessel.
In 2020, liquid embolic product sales accounted for approx. 7.5% of the global embolotherapy market that was worth around US$ 3 Bn.
Liquid Embolic Demand Analysis (2016 to 2020) Vs Market Outlook (2021 to 2031)
The global market for liquid embolics expanded at 4.2% CAGR over the past 5 years from 2016 to 2020.
Embolization is a minimally invasive procedure or treatment that has the potential to block one or more blood vessels or abnormal vascular channels. Various embolic agents are placed through certain ways, such as through catheters into the blood vessels, in order to inhibit blood flow to a specified area. The embolization procedure makes use of embolization devices and products to discontinue bleeding or to inhibit the flow of blood to a tumor or abnormal area of tissue.
Liquid embolic agents comprise n-Butyl Cyanoacrylate (NBCA) and ethyl vinyl alcohol copolymers present in dimethyl sulfoxide that is marketed as Onyx. These liquid embolic agents are used widely in the embolization process because liquid formulations have a well-established role in the therapeutic embolization of blood vessels.
Liquid embolic product demand is anticipated to increase at a substantial rate over the next ten years at a CAGR of around 8.9%, and observe an incremental $ opportunity of US$ 333.4 Mn from 2021 to 2031. Demand for liquid embolic vials will remain the highest throughout the forecast period as compared to that of liquid prefilled injectables.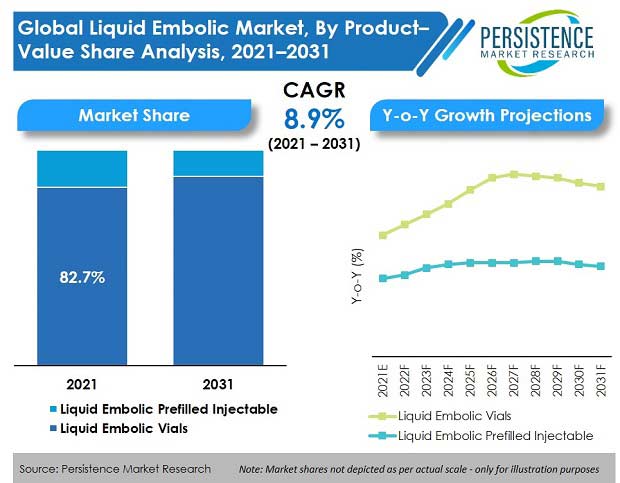 What are the Key Opportunities for Liquid Embolic Product Manufacturers?
Tumor embolization has an abundant opportunity due to rising cases of tumours in the world population. Tumor embolization is a minimally invasive process, in which, a small catheter is directed into the feeding arteries of a tumor for shutting down the blood supply to the tumor or delivering tumor-killing therapy directly to the tumor.
Companies developing liquid embolic agents could expand their market share and enhance their sales by pursuing regulatory approvals for indications beyond neuro interventional.
Also, prevalence of cancer is rising continuously since the last few decades, due to a combination of environmental and lifestyle factors, and variations in screening and diagnosis. Increasing rates of obesity in adolescents and young adults also tend to add to rising chronic disease prevalence such as diabetes, cardiovascular disease, and some forms of cancer. According to GLOBOCAN 2020, an estimated 19.3 million new cancer cases were detected in 2020.
Embolotherapy during cancer treatment at a very young age can be achieved using the liquid embolic procedure. Furthermore, growing demand for neurovascular embolization devices owing to rising prevalence of cerebral aneurysm cases and associated risk such as neurological disorders and loss of cognitive functions is also adding market growth globally.
Also, advancements in research & development provide an array of opportunities for emerging as well as established liquid embolic product suppliers to mark their presence.
What are the Factors Restraining Demand for Liquid Embolic Systems?
Liquid embolic product sales are restricted by several problems, such as balloon deflation, catheter entrapment, and problems in deploying the device to the directed lesion.
Additionally, the risk associated with the liquid embolic procedure is very high, such as the chances of targeting the wrong blood vessels during surgical procedures.
Further, there are a limited number liquid embolic agent manufacturers due to intense competition from alternative transcatheter embolization devices, which is expected to limit liquid embolic systems market growth to some extent.
Country-wise Insights
What Makes the U.S. the Largest Regional Liquid Embolic Market?
The U.S. dominated the North America liquid embolic market with an aggregate market share of 79.9% in 2021, and is expected to continue experiencing great progress throughout the forecast period.
Unhealthy lifestyle habits such as consumption of junk food, stress-related smoking and alcohol consumption, and sedentary lifestyle are some of the major reasons for the increasing prevalence of chronic diseases amongst the population. Some of these chronic diseases such as high blood pressure, migraine, and bAVM have led to increased demand for liquid embolic products and agents in the U.S. market.
According to National Institute of Health data of March 2019, at least 75 to 80 percent of cancers in the U.S. are associated with lifestyle changes.
Why is Germany Set to Be a Lucrative Market for Liquid Embolic Product Suppliers in Europe?
Germany is expected to dominate the European market for liquid embolics with a share of 23.7%, with the market expanding at a CAGR of nearly 8% over the forecast period. The share of Germany is very high due to the large number of clinical trials/research conducted in the country, especially in the cancer-related field.
For instance, according to EUREC, there are a total of 53 research ethics committees in Germany, out of which, 33 are related to Faculties of Medicine/Universities, 17 are related to Medical Associations in the States, and 3 are related to States governments.
Thus, due to active participation of the government in the research and innovation in the healthcare and cancer market, suppliers of liquid embolic products are expected to have a great opportunity to grow during the forecast period from 2021 to 2031.
What Makes South Korea an Emerging Market for Liquid Embolics?
South Korea held nearly 7.6% share in the East Asia liquid embolic market in 2020, and is projected to expand at a CAGR of 7.8% during the forecast duration. This high growth is primarily due to rising prevalence of cardiovascular diseases in the country.
For instance, according to WHO data published in 2018, deaths associated with coronary heart disease in South Korea reached 26,172 or 10.56% of total deaths.
Category-wise Insights
Which Liquid Embolic Product is Driving Market Growth?
By product, liquid embolic vials will lead the market with a share of nearly 82% over the forecast period.
Liquid embolic vial products provide ease of use for large volume treatments and require less storage space as compared to individual small volume vials.
Also, the packaging of liquid embolic vial is environmental friendly. For instance, Onyx 34L LES packaging with 6 ml vials have environmental friendly packaging made from 98% recyclable content.
Thus, all these factors are set to fuel demand for liquid embolic vials during the forecast period from 2021 to 2031, globally.
Why Does Brain Arterio-Venous Malformations (bAVM) Hold a High Market Share?
Brain arterio-venous malformations lead the liquid embolic industry, by indication, with 44.1% revenue share in 2021. This trend is expected to continue during the study period as well. High share of this segment is attributed to the severity of bAVM.
Arteriovenous malformations are an abnormal tangle of vessels where the arteries are directly in connection with the veins. The capillaries serve to decrease blood pressure as blood flows from the arteries to the veins. Without capillaries to slow blood flow, high pressure blood flowing into the veins makes them widen and sometimes rupture and cause hemorrhage.
The chief blood vessel present in this type of brain AVM can lead to fluid building up in the brain and the head swelling. Also, bleeding brain AVM is life-threatening and requires emergency medical care.
Which End User Drives Most Demand for Liquid Embolic Products?
Based on end user, the hospitals segment leads with more than 60% market share. Large number of people admitted to hospitals for the treatment of various diseases such as cancer and cardiovascular diseases is the reason behind the high revenue share of hospitals as far as liquid embolic products are concerned.
Impact of COVID-19
COVID-19 was anticipated to dent the liquid embolic market due to lockdowns and temporary shutdowns of economies and industries. Healthcare providers shifted their practice and purchasing priorities to meet the demand of this global pandemic.
Although tumor and cardiovascular diseases prevalence was very high and a large number of people were affected, manufacturers continued to focus on providing COVID-19-related products to the market.
Despite the crisis conditions, available liquid embolic vials were utilized for tumor embolization. This helped the market sustain during the pandemic phase.
Considering the resurgence of the virus infection, telehealth is now expected to gain traction. This trend is expected to create a short–term drop in demand for liquid embolic agents and products, thus limiting market growth to some extent.
Competitive Landscape
Followed by new Product launches and approvals, agreements, collaborations and partnerships have emerged as key growth strategies adopted by liquid embolic product providers. By focusing on these strategies, key stakeholders are expanding their geographic footprint and strengthen their existing product portfolios across geographies.
In December 2020, Terumo Corporation announced that the WEB™ Embolization System, an intravascular aneurysm treatment device, has been launched in Japan.
Liquid Embolic Industry Report Scope
Attribute

Details

Forecast Period

2021-2031

Historical Data Available for

2016-2020

Market Analysis

US$ Mn for Value

Key Regions Covered

North America
Latin America
Europe
South Asia East Asia
Oceania
The Middle East & Africa

Key Countries Covered

U.S.
Canada
Brazil
Mexico
Germany
U.K.
France
Italy
Spain
Benelux
Russia
China
Japan
South Korea
India
Thailand
Indonesia
Malaysia
Singapore
China
Japan
South Korea
Australia
New Zealand
Turkey
Egypt
North Africa
South Africa
GCC Countries

Key Market Segments Covered

Product
indication
End User
Region

Key Companies Profiled

Medtronic
Meril Life Sciences Pvt. Ltd.
Johnson & Johnson
Microvention Inc.
Terumo Corporation
Guerbet
Emboflu

Pricing

Available upon Request
Key Segments Covered in Liquid Embolic Industry Research
Liquid Embolic Market by Product
Liquid Embolic Vials
Liquid Embolic Prefilled Injectables
Liquid Embolic Market by Indication
Brain Arterio-Venous Malformations (bAVM)
Tumor Embolization
Radiology
Cardiology
Liquid Embolic Market by End User
Hospitals
Ambulatory Surgical Centers
Independent Speciality Centres
Liquid Embolic Market by Region
North America Liquid Embolic Market
Latin America Liquid Embolic Market
Europe Liquid Embolic Market
East Asia Liquid Embolic Market
South Asia Liquid Embolic Market
Oceania Liquid Embolic Market
Middle East & Africa (MEA) Liquid Embolic Market