UAE Liquid Eggs Market Outlook (2022-2031)
Consumption of liquid eggs in the UAE stood at around US$ 2,836.3 '000 in 2022 and is slated to increase at a CAGR of 5.4% to reach a market valuation of US$ 4,548.4 '000 by the end of 2031.
| Attribute | Key Insights |
| --- | --- |
| UAE Liquid Eggs Market Size (2022E) | US$ 2,836.3 '000 |
| Projected Market Size (2031F) | US$ 4,548.4 '000 |
| Value CAGR (2022-2031) | 5.4% |
UAE Demand Analysis of Liquid Eggs (2016-2021) Vs. Market Estimations (2022-2031)
Between 2016 and 2021, the UAE market for liquid eggs expanded at a value CAGR of 4.3%.
Liquid eggs are a great alternative to whole eggs and are also majorly utilized in the food service industry as they are more convenient than shell eggs and also easy to store.
To boost product quality and gain a competitive advantage, many market players are adding liquid eggs to packaged products and beverages. They can also be used for pre-prepared microwaveable food products.
Demand for liquid eggs has been consistently increasing in several end-use industries owing to the versatility that these eggs offer in producing many end products. Operational flexibility and high nutritional content are responsible for the wide acceptability of liquid eggs across various end-use industries, including animal feed, pharmaceuticals, personal care & cosmetics, and retail/household.
The UAE liquid eggs market is predicted to expand at a value CAGR of 5.4% through 2031.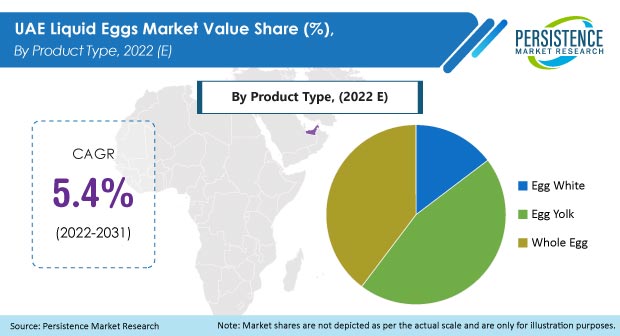 Which Factors are Aiding UAE Liquid Eggs Market Expansion?
"Market Benefiting from Changing Lifestyle & Buying Patterns of Customers"
Rapid urbanization and changing living patterns are driving demand for liquid eggs, not only in the UAE but across the world. Liquid eggs are a convenient and better substitute for shelled eggs.
Growing health concerns among consumers are also provoking them to opt for better alternatives as compared to shelled eggs. Moreover, there is a risk of contamination in shelled eggs, which is mitigated by the manufacturers of liquid egg products, making them an ideal choice for consumers over other products.
Various factors influencing the buying patterns of consumers include the easy availability of products, safety, hygiene, changing lifestyles, price range, improved functionality of products, etc. These factors influence consumers to opt for liquid egg products.
New-age consumers are showing interest in knowing the origin of food ingredients, the manufacturing process of the company, and the quality of the ingredients used. Increased use of chemicals in production and awareness regarding health problems associated with contaminated foods have led consumers to demand transparency.
The advancement and availability of technology have enabled consumers to trace the journey of food products, from sourcing to consumption, and ensure the safety and quality of the products. Many companies supplying liquid eggs are attracting consumers with a transparent and traceable supply chain based on their preferences.
For instance, EggStation sources its raw materials from audited and traceable sites, which enables it to share the complete information, from raw materials to finished products, with its customers.
"Rising Demand for Cage-free Liquid Eggs"
Cage-free liquid egg products are the same in nutritional terms as traditional liquid egg products. However, consumer awareness about animal welfare and its implications on food safety is increasing, which is driving demand for cage-free liquid eggs.
Eggs produced in traditional ways involve chickens raised in cages with little very room to move. Due to poor cleanliness levels, the traditional method of husbandry has been a cause for worry in the eggs business.
Contrarily, cage-free eggs allow hens to have roaming, dusting, and perching areas, which contribute to the overall health of the hens. Moreover, most cage-free produced eggs are certified by various regulatory bodies.
"Convenience and Ease of Use Driving Sales of Liquid Eggs"
Rising demand for liquid eggs can be mainly attributed to the convenience offered by them over shelled eggs. Liquid eggs are considered safer as they reduce the risk of contamination and are processed hygienically. They also come in user-friendly packaging, making transportation and handling simple.
Due to their user-friendly nature and tetra packaging, liquid eggs also mitigate the problem of spoilage and breaking that are associated with shelled eggs. Liquid eggs are also preferred over shelled eggs because of the functionality of their usage. They can be directly used in food processes without any hassle of breaking the eggs and then using them.
Some of the crucial elements that guarantee market expansion for the egg liquid industry include operational flexibility, annual availability, and longer shelf life.
Many key players like Egg Solutions, Cargill Inc., and others are continuously innovating convenient, easy-to-store, and easy-to-pour packaging with extended shelf life.
How is UAE Market Growth of Liquid Eggs Being Restricted?
"Growing Vegan Trend – Hurdle for Market Growth"
Liquid eggs are one of the healthiest and most nutritious foods consumed in various countries around the world. Nonetheless, widespread adoption of vegan diets has resulted in a drop in the use of egg-based goods.
Vegan food items are becoming increasingly popular in industrialized nations, which is negatively influencing the demand growth for liquid eggs. Even though sustainable farming procedures for liquid eggs are becoming more common, consumers' strong dedication to plant-based diets is restricting liquid egg sales to some extent.
Furthermore, some of the most well-known key players in the market have been attempting to develop egg-free alternatives. Plant-based protein is being used by manufacturers to create egg substitutes. Pea protein is a significant component in the development of plant-based egg substitutes.
GCC countries have unfavorable climatic conditions and limited water resources and arable land, which makes production activities difficult. Due to this, the region primarily depends on the import of food products. Thus, the liquid eggs sold in these regions come at high prices due to processing costs and very limited resources.
A majority of the GCC land also lacks freshwater supply, which limits production facilities and business growth in the region. Because of production limitations and rising food demand, the UAE's reliance on imports is likely to persist.
According to Alpen Capital, over 85% of the food requirement in the GCC region is met through imports, exposing the region to global price fluctuations and causing inflationary pressure due to supply chain disruptions.
Category-wise Insights
Will the Food Industry Continue Leading Market Growth?
Based on end-use segment, the food industry holds the largest volume share of 57.2% in the UAE liquid eggs market.
Liquid eggs are majorly used for cooking and are convenient for people to store and prepare meals as and when they wish to do so.
Why is Demand for Liquid Egg Whites Rising Rapidly?
On the basis of product type, demand for egg whites is expected to show promising growth at a volume CAGR of 5.5% in the market.
Demand for egg whites is expected to grow owing to the health benefits and nutritional value that they provide. The egg whites segment is expected to reach a market valuation of US$ 725.9 '000 by the end of 2031.
Competitive Landscape
Key suppliers of liquid eggs are focusing on providing good quality products by ensuring multiple tests and following various guidelines. Market players are also collaborating with small companies to increase their production of eggs and supply products in international as well as local markets.
Al Zain Farms LLC is focused on providing its customers with the highest quality products. It constantly upgrades its quality checks and systems to keep up with the fast-changing global market.
Bana Food Industry strives to improve its product offerings by partnering with locals and small companies to produce healthy and quality food products for consumers.
Egg Station has research laboratory facilities where several tests are conducted before eggs are cracked to check for freshness, color, and various microbial and functional properties.
EggTech SA strives to ensure the highest quality standards for its products. The products offered by the company are Halal certified, HACCP certified, and Food Standards Agency certified.
UAE Liquid Eggs Industry Report Scope
Attribute
Details

Forecast period

2022-2031

Historical data available for

2016-2021

Market analysis

USD Million for Value

Key country covered

United Arab Emirates

Key market segments covered

Product Type
Source
End Use
Distribution Channel

Key companies profiled

Al Zain Farms LLC
Anako
Bana Food Industry Company
Bumble Hole Foods Ltd.
Cargill, Incorporated
Egg Station
EggTech SA
Egyptian Pasteurized Egg Products Company
Global Food Group B.V.
Gures Group
Kor Yumurta
Ovostar Union
Rana Tavukculuk
Rose Acre Farms
Rossgro

Report coverage

Market Forecast
Company Share Analysis
Competition Intelligence
DROT Analysis
Market Dynamics and Challenges
Strategic Growth Initiatives

Customization & pricing

Available upon request
Key Segments in UAE Liquid Eggs Industry Survey
UAE Liquid Eggs Market by Product Type:
Liquid Egg Whites
Liquid Egg Yolks
Liquid Whole Eggs
UAE Liquid Eggs Market by Source :
Cage-free Liquid Eggs
Conventional Liquid Eggs
UAE Liquid Eggs Market by End Use:
Foodservice Industry
Retail/Households
Food Industry

Prepared Food & Snacks
Convenience Food
Bakery
Frozen Desserts
Sauces & Savouries

Pharmaceuticals
Cosmetics and Personal Care
Dietary Supplements
Animal Feed and Pet Food
UAE Liquid Eggs Market by Distribution Channel:
Business to Business
Business to Consumer

Hypermarkets/Supermarkets
Convenience Stores
Specialty Stores
Online Stores