Liquid Eggs Market Outlook (2022-2032)
The global liquid eggs market is projected to expand at a value CAGR of 4.3% and increase from a current market valuation of US$ 3.88 Bn to US$ 5.88 Bn by the end of the forecast period (2022-2032).
East Asia is projected to hold more than 25% of the global market value share for liquid eggs by 2032. At present, revenue from the sales of liquid eggs accounts for around 2.5% to 3.5% value share of the global eggs market.
| Attribute | Key Insights |
| --- | --- |
| Liquid Eggs Market Size (2022E) | US$ 3.88 Bn |
| Projected Sales of Liquid Eggs (2032F) | 5.88 Bn |
| Value CAGR (2022-2032) | 4.3% |
| Value Share of Top 5 Countries (2021A) | 70.6% |
Consumption Analysis of Liquid Eggs (2017-2021) Vs. Market Forecasts (2022-2032)
During the historical period (2017-2021), the global market for liquid eggs registered a value CAGR of 3.7%.
Liquid eggs are a supplement that contains a significant amount of magnesium, calcium, iron, zinc, etc. These eggs also provide the body with the necessary energy to start the day as they are high in protein and also ideal for strong bones, muscle development, and muscle recovery as they get absorbed easily in the body.
A major factor that drives the market for liquid eggs is increasing demand from the food industry, as these offer convenience, are easy to prepare, and bind and emulsify foods that can be used to prepare dips, sauces, mayonnaise, salad dressings, etc.
Worldwide consumption of liquid eggs is projected to increase at a CAGR of 4.3% to reach a market size of US$ 5.88 Bn by 2032.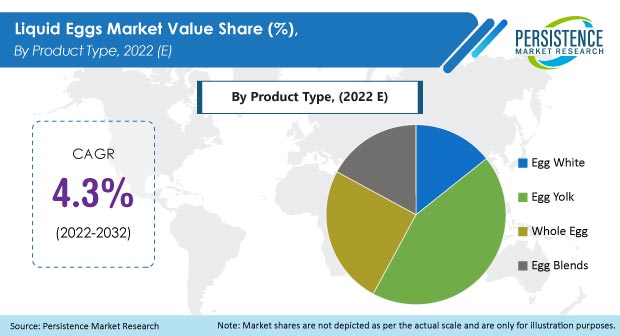 Why is Worldwide Consumption of Liquid Eggs Increasing?
"Increasing Preference for Liquid Egg Whites"
Liquid egg whites are prepared by the pasteurization of egg water and are continuously monitored for pathogenic organisms and refrigerated for storage. Liquid egg whites contain pure proteins and have fewer calories, which is one of the reasons for the rising demand for this product.
Consumers are progressively moving toward health-consciousness, which has led them to cut fat and cholesterol from their diets. Since liquid egg white concentration comprises water and high protein content, consumers are preferring it over other fewer protein products.
This growing demand has also led to higher production of liquid egg products, as manufacturers are also keen to meet consumer needs and are seeing substantial growth in sales. Manufacturers of liquid eggs are also focusing on new product launches to increase the functionality of these products.
"Demand for Free-range Liquid Eggs Rising Rapidly"
The popularity of liquid eggs has been increasing over the past few years as they are considered more safe and nutritional as compared to shell eggs. Eggs have been farmed in conventional ways where chickens grow in cages and have minimum space to roam around.
This conventional way of farming has raised concerns in the egg industry due to improper hygiene and an increase in pathogenic microbial load leading to various diseases, which has led to an increase in the cage-free farming of eggs. Liquid egg suppliers are also promising to increase the production of free-range liquid eggs.
Consumers have become more aware and are keen to know the sources and farming practices of egg products. Hence, key players in the liquid eggs market are now more focused on offering liquid egg products that are derived from cage-free hens.
Margaret's Eggs, a U.S.-based liquid egg producer, majorly focuses on the sustainable sourcing of its eggs from farmers who supply free-range eggs. This ensures that the hens are not treated with any harmful chemicals.
"Convenience Offered by Liquid Eggs Aiding Food & Foodservice Industry"
Due to the convenience, ease of handling, and longer shelf life than shell eggs, liquid eggs are widely utilized by the food industry and other commercial food manufacturers. Due to their functional properties to thicken, gel, emulsify, foam, color, and flavor various food products, as well as change their technical and organoleptic properties, eggs are a multifunctional ingredient.
Demand for liquid eggs is increasing in the foodservice industry as it requires a huge amount of egg products for its daily operations, and liquid eggs are a more convenient and easy option for this. Additionally, more assurance of food safety and nutritional properties are also influencing foodservice providers to adopt liquid eggs.
Institutional caterers and HoReCa sectors are witnessing higher customer reach, owing to growing consumer preferences for takeaway food products. Liquid egg producers are also targeting foodservice providers to establish long-term partnerships.
"Increasing Demand for Liquid Eggs from Nutraceutical Industry"
Liquid eggs come with various health benefits and nutritional properties, which is creating lucrative opportunities for market players. They can be beneficial ingredients for dietary supplements that support the vitamin and protein content in the body. Nutraceutical manufacturers are offering egg protein supplements, egg white protein powder, and other eggs based products.
Consumption of egg whites is also believed to boost vitamin availability and protect the body from different microorganisms. These health-beneficial properties are promoting the usage of liquid eggs in the nutraceutical industry and are creating significant opportunities for liquid egg producers.
What are the Major Factors Hindering the Demand Growth for Liquid Eggs?
"Chances of Food Contamination"
The use of pooled unpasteurized eggs in food preparation considerably raises the risk of food contamination when combined with improper handling. An egg dish made with raw pooled eggs may not be harmful if prepared properly. Pooling eggs allows one contaminated egg to contaminate a much bigger batch of eggs.
In a warm setting, the batch of disease-causing bacteria from the pooled eggs can act as a reservoir and spread to other foods or surfaces that come into contact with food via utensils and the hands. When cooking eggs and egg products, it is important to follow the appropriate food safety precautions to ensure that the food is fit for human consumption.
Country-wise Insights
Which Country Leads the Liquid Eggs Market in Europe?
The market for liquid eggs is predicted to exhibit significant growth in the European market. France accounts for a major share in the region at around 21%, with the expected market valued to be US$ 279.1 Mn by 2032.
Demand for liquid eggs in the country is expected to grow due to increasing inclination toward nutritional diets and protein-rich processed food items that are produced utilizing high-quality liquid eggs.
How is the Latin America Liquid Eggs Market Shaping Up?
Mexico holds the largest share in the Latin American market, followed by the Brazil liquid eggs market, due to growing health awareness among consumers regarding healthy eating habits.
The market share of Mexico in the Latin American region is around 38.4%, which is expected to be valued at US$ 59.2 Mn by the end of 2032.
Category-wise Insights
Why are Liquid Egg Yolks Exhibiting High Demand Growth?
Based on product type, egg yolk products are widely utilized and consumed as they contain low-fat content, which makes them a natural emulsifier for a variety of products, from bakery products to mayonnaise and salad dressing.
The market value share of liquid egg yolks is 43.6% in 2022, which is expected to be valued at US$ 2.58 Bn by the end of 2032.
Which End-use Industry Accounts for Highest Liquid Egg Consumption?
The prepared food and snacks segment in the food industry is showing the highest growth potential for the forecast period. The food industry is set to register a value CAGR of 4.5%, while the prepared food and snacks industry is expected to record a value CAGR of 5.1% as far as the use of liquid eggs is concerned.
High demand for various liquid egg products in the food industry provides a promising growth opportunity for manufacturers.
Competitive Dashboard
Key manufacturers of liquid eggs are focused on the expansion of their businesses and product innovation to strengthen their position in the global market. To achieve a competitive edge, liquid egg producers are seeking various certifications in manufacturing egg products, which will help them gain the trust of consumers and ensure the quality of products.
Nest Fresh Eggs has acquired various certifications such as non-GMO, USDA organic, cage-free, American Humane Certification, Humane Farm Animal Care Certification, and kosher for providing high-quality egg products.
Eggstation has earned certifications such as HACCP SGS, FSSC 22000, and Halal India for the processing of eggs under strict hygiene conditioning.
Newburg Egg Corporation has acquired certifications such as kosher, Food and Drug Administration Agency (FDA), Safe Quality Food (SQF), and USDA. The company also oversees the entire production process of eggs, from laying to shipping, along with supervising food safety, and has an on-site lab for immediate tests.
Liquid Eggs Industry Report Scope
Attribute
Details

Forecast period

2022-2032

Historical data available for

2017-2021

Market analysis

USD Million for Value

Key regions covered

North America
Latin America
Europe
South Asia and Pacific
East Asia
The Middle East & Africa

Key countries covered

U.S.
Canada
Brazil
Mexico
Argentina
Germany
U.K.
France
Italy
Spain
Russia
Poland
India
Thailand
Malaysia
Indonesia
China
Japan
South Korea
Australia
New Zealand
South Africa

Key market segments covered

Product Type
Source
End Use
Distribution Channel
Region

Key companies profiled

Nest Fresh Eggs Inc.
Cargill, Incorporated.
Ovostar Union NV
Global Food Group BV
Rose Acre Farms
Ready Egg Products Ltd
Bumble Hole Foods Limited
NewburgEgg Corp.
Rembrandt Enterprises, Inc.
D Wise Ltd.
Vanderpol's Eggs Ltd.
Eggland
Nature Egg LLP
Margaret's Eggs
Lodewijckx NV

Report coverage

Market Forecast
Company Share Analysis
Competition Intelligence
DROT Analysis
Market Dynamics and Challenges
Strategic Growth Initiatives

Customization & pricing

Available upon request
Liquid Eggs Industry Research by Category
Liquid Eggs Market by Product Type:
Liquid Egg White
Liquid Egg Yolk
Whole Liquid Eggs
Liquid Egg Blends
Liquid Eggs Market by Source:
Cage-Free Liquid Eggs
Conventional Liquid Eggs
Liquid Eggs Market by End Use:
Foodservice
Household
Industrial
Food Industry

Prepared Food & Snacks
Convenience Food
Bakery
Frozen Desserts
Sauces & Blends

Pharmaceuticals
Cosmetics & Personal Care
Dietary Supplements
Animal Feed & Pet Food
Others
Liquid Eggs Market by Distribution Channel:
Business to Business
Business to Consumer

Modern Trade
Convenience Stores
Food & Drink Specialty Stores
Traditional Groceries
Online Retailers
Liquid Eggs Market by Region:
North America Liquid Eggs Market
Latin America Liquid Eggs Market
Europe Liquid Eggs Market
South Asia and Pacific Liquid Eggs Market
East Asia Liquid Eggs Market
Middle East & Africa Liquid Eggs Market