Industrial Rubber Market Snapshot (2022-2032)
Newly-released data on the global industrial rubber market shows that sales have reached US$ 57.2 Bn in 2022 and are projected to register a growth rate of 6.4% to climb to a market value of US$ 106.4 Bn by the end of 2032.
As per the research, Persistence Market Research has anticipated that industrial rubber consumption across the globe is expected to witness 5.6% year-over-year growth in 2022. East Asia is anticipated to remain the most prominent regional market for industrial rubber suppliers.
| Report Attribute | Details |
| --- | --- |
| Industrial Rubber Market Size (2021A) | US$ 54.2 Bn |
| Estimated Market Value (2022E) | US$ 57.2 Bn |
| Projected Market Value (2032F) | US$ 106.4 Bn |
| Value CAGR (2022-2032) | 6.4% |
| Collective Value Share: Top 3 Countries (2022E) | 46.2% |
Consumption Analysis of Industrial Rubber (2017 to 2021) Vs. Market Outlook (2022 to 2032)
Revenue generated through the sales of industrial rubber reached a total of US$ 54.2 Bn in 2021, increasing at 1% during the historical assessment period of 2017–2021.
Sales were hampered and witnessed a substantial downfall owing to a novel coronavirus outbreak in 2020. However, with the steep recovery of end-use industries and production at full potential during the early part of 2021, demand for industrial rubber got back on track and witnessed a remarkable growth rate.
Throughout the assessment period of 2022–2032, the market is anticipated to experience a significant growth rate. Rapid growth shown by numerous end-use industries, including the automotive and construction industries, is the primary cause of the market's explosive growth. Primary drivers of the market's nimble growth rate throughout the projection period are numerous plans and announcements intended to encourage the continued expansion of end-use industries.
Worldwide demand for industrial rubber is predicted to increase at a healthy CAGR of 6.4% between 2022 and 2032.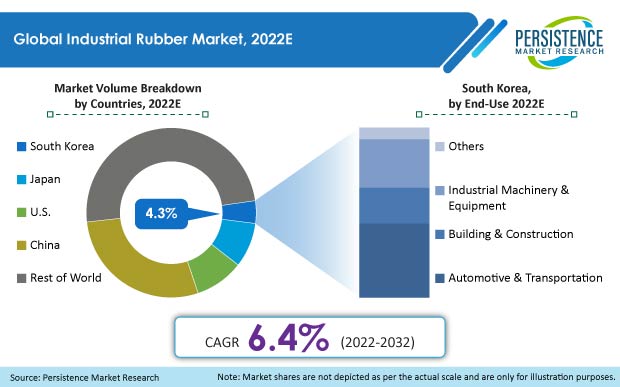 What is the Commercial Potential of Industrial Rubbers?
Industrial rubber finds application across a huge spectrum of end-use industries. Its applications cover almost every end-use industry, ranging from automotive, and construction, to electrical, and many more. With applications in such a wide spectrum of end-use industries, any fluctuations in the market of any industry directly or indirectly impact industrial rubber sales.
However, despite such a wide spectrum of applications, the global industrial rubber market is dominated by tire manufacturing. Tire manufacturers are likely to consume more than 40% of global rubber production.
Will Remarkable Rise in Automobile Sales Propel the Demand for Tires?
The automotive industry is growing at a healthy rate and this trend is forecasted to continue. Among all the types of vehicles, passenger vehicles crossed one and half million units a year. The global automotive part manufacturing market was worth US$ 2.86 trillion in 2021
Further drilling down into the usage of rubber in industries reveals that the automotive industry alone uses around 40% of the world's total rubber production. This includes products such as tires, tubes, suspension rubber parts, belts, fan belts, mountings, hoses, etc. These products require replacement as part of vehicle maintenance; therefore, ever-increasing vehicle demand and maintenance will drive industrial rubber market growth.
China and the United States are leading regions that underline the surge in new automotive such as cars and trucks; the luxury car market is dominated by Audi, Mercedes-Benz, and BMW.
The automotive industry, directly and indirectly, dominates the rubber industry. Direct intervention means that original equipment tires and many other elastomeric parts fitted to vehicles at the time of manufacture, as well as replacement parts such as tires and wiper blades, and, to a lesser extent, other parts indirectly affect the market.
Will Environmental Hazards Due to Industrial Rubber Application Cause a Dent in Market Growth?
The rate of market expansion is being constrained by growing awareness of the negative effects related to rubber manufacturing and shelving products, such as air and water pollution from (ADS and RSS) dried rubber sheets. Due to chemical leaks and high-temperature vulcanization, many gases, fumes, aerosols, and vapors are released during the manufacture and storage of rubber products.
Rubber production has an environmental footprint. This is due to its significant pollution emissions. Large amounts of effluents are produced by the industrial rubber industry's rapid development. Wastewater from the rubber manufacturing industry may have real and long-lasting risks if it isn't properly treated before being released into the environment.
With governments tightening their noose over emissions and environmental footprints across the globe, rubber manufacturers find a place at the top. With the growing trend of sustainability, rubber manufacturers have to employ various solutions to comply with the regulations imposed, which is controlling the growth rate of the market.
Country-wise Analysis
Why Does the U.S. Account for High Industrial Rubber Demand?
The U.S. is one of the leading consumers of industrial rubber. Revenue generated from industrial rubber sales in the United States is expected to reach US$ 10.5 Bn by the end of 2032.
Growing demand from numerous end-user industries, including building & construction, electrical & electronics, and healthcare, among others, has been driving the industrial rubber market in the United States over recent years. Besides, the market is expected to be driven by the rising sales of electric vehicles and autonomous vehicles over the coming years.
What is the Industrial Rubber Market Outlook for China?
China is among the fastest-growing economies in the world. The country is the second-largest economy and is anticipated to be the largest consumer and producer of industrial rubber in the world.
China consumes more than one-fourth of the industrial rubber produced across the globe, while it contributes more than 13% of overall rubber production.
End-use industries such as automotive, construction, and industrial manufacturing are relishing high growth rates in the Chinese market and creating a huge demand for rubber products in the country. Extraordinary growth in end-use industries based in China is propelling the country's market growth.
With a large number of manufacturers present in the country, China is the largest producer of synthetic rubber in the world. However, a majority of the production is consumed domestically. Moreover, various key manufacturers have expanded their production facilities in the country to capture various benefits offered by the country for manufacturers.
Category-wise Insights
Why is Synthetic Industrial Rubber the Preferred Option?
Synthetic rubber is emerging as a popular industrial rubber type. Using synthetic rubber is becoming a trend across regions, especially in developing countries where synthetic rubber withholds the ability to change the market scenario over the coming years with increased usage in the automotive tire manufacturing industry and other manufacturing industries.
Even though natural rubber still plays a crucial role in the remaining 40%, artificial rubber, which is made from hydrocarbons derived from petroleum, accounts for 60% of the rubber used in the tire industry. Synthetic elastomers deform when under stress and then return to their original shape once the stress is gone (hysteresis). These properties of synthetic rubber provide an edge to them over natural rubber in the production of high-performance tires, which are in great demand.
Synthetic industrial rubber additionally offers different unique properties, most notably in durability and rolling resistance. It's especially used for passenger automobiles and motorcycle tires because it offers proper traction performance.
How is Rising Infrastructure Development across Developing Nations Driving Market Growth?
Global construction output is expected to develop at a faster pace than the world's GDP over the decade. This is because Asian economies keep on industrializing and the U.S. is recovering from the severe downturn amid the worldwide economic crisis. The coming years are forecasted to witness a faster-growing construction market with new technologies and advanced commercial, industrial, and residential projects.
Extensive variety of rubber materials are used in the construction business; they have the capacity for fixing, electrical protection, flame resistant protection, development joints, and numerous others. Some of the industrial rubber products used in the construction industry are bearings, window seals, facade seals, expansion joints, and many more.
Competitive Landscape
The global industrial rubber market is a highly consolidated space where key player accounts for a majority of the market share. Prominent manufacturers are emphasizing R&D to discover new application areas for industrial rubber products. Small and medium players are engaged in strengthening their market presence through strategic collaborations and mergers with leading market players.
For Instance,
In March 2022, Asahi Kasei announced plans to begin manufacturing polymerized styrene-butadiene rubber using sustainable butadiene at its plant in Singapore.
On 16th May 2022, Exxon Mobil began increasing its production capacity for olefinic elastomers at its Texas site. The project has a capacity of 400 KT per annum.
On 4th April 2022, Kraton Corporation announced a significant investment in its alpha methyl styrene resins facility in Niort, France. Kraton expects a 15% production increase by 2023.
Similarly, other key developments related to companies manufacturing industrial rubber have been tracked by the team at Persistence Market Research, which are available in the full report.
Industrial Rubber Industry Report Scope
Attribute

Details

Forecast Period

2022-2032

Historical Data Available for

2017-2021

Market Analysis

US$ Mn for Value
Kilo Tons for Volume

Key Regions Covered

North America
Latin America
Europe
East Asia
South Asia Pacific
MEA

Key Countries Covered

U.S.
Canada
Brazil
Mexico
Germany
Italy
France
U.K.
Spain
NORDICS
BENELUX
Russia
Poland
China
Japan
South Korea
India
ASEAN
ANZ
GCC Countries
Turkey
South Africa

Key Market Segments Covered

Rubber Type
Processing Type
End Use
Region

Key Companies Profiled

Asahi Kasei Corporation
Exxon Mobil Corporation
Greenville Industrial Rubber & Gasket Co.
Eni S.p.A.
Kraton Corporation
BRP Manufacturing
Sinopec Corporation
JSR Corporation
Sumitomo Chemical Co. Ltd
Denka Company Limited
Ube Industries, Ltd.
Zeon Corporation
Bridgestone Corporation
Goodyear Tire & Rubber Corporation
Ansell Limited
Kossan Rubber Industries Bhd
Yokohama Rubber Company Ltd.
Tokyo Zairyo Co., Ltd.
Kuraray Co., Ltd
Kumho Polychem
LG Chem Ltd
Industrial Rubber & Gasket Inc
Indag Rubber Limited
Harrisons Malayalam LTD
GRP Ltd
Bangkok Synthetics Co., Ltd. (BST)
Assco, s.r.o.
SIBUR
DuPont de Nemours, Inc.

Pricing

Available upon Request
Key Segments Covered in Industrial Rubber Industry Research
Industrial Rubber Market by Rubber Type:
Natural Industrial Rubber
Synthetic Industrial Rubber

SBR
Polybutadiene Rubber
Butyl Rubber
Nitrile Rubber
Chloroprene Rubber
EPDM
Silicone Rubber
Others
Industrial Rubber Market by Processing Type:
Injection Melding
Compression Melding
Extrusion
Others
Industrial Rubber Market by End Use:
Automotive & Transportation

Marine
Aerospace and Aviation
Railways
Automobile

Building & Construction
Industrial Machinery & Equipment
Textiles & Fabrics
Others
Industrial Rubber Market by Region:
North America Industrial Rubber Market
Latin America Industrial Rubber Market
Europe Industrial Rubber Market
East Asia Industrial Rubber Market
South Asia Pacific Industrial Rubber Market
MEA Industrial Rubber Market