Introduction
Industrial operations are often subject to a wide variety of operating environments and extreme temperatures. Manufacturers are focusing on developing high viscosity index oils, which are formulated to withstand variations in temperature.
With the incessant demand from end-use sectors, the industrial lubricants market is expected to witness steady growth in the years to come. The global market for industrial lubricants is estimated to account for US$ 28 Bn by the end of forecast period, witnessing a moderate CAGR.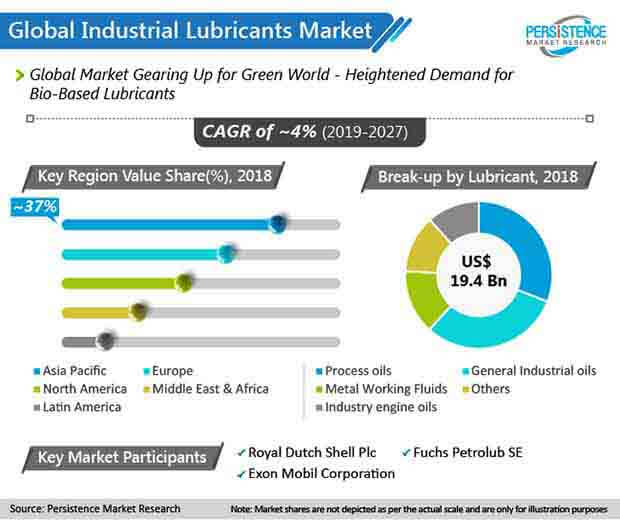 Industrial Demand to Drive Value-Pool Growth
End users of industrial lubricants include oil & gas industry, manufacturing industry, railway & marine as well as heavy equipment manufacturing. Among these, the oil & gas industry is estimated to capture major share in the global industrial lubricants market. In the oil & gas industry, onshore and offshore activities face extreme temperature variations, resulting in the need for unplanned downtime for maintenance and repair. Lubricants help in maximizing service life of machine components and enhancing energy efficiency.
Additionally, lubricants used in the manufacturing industry help expand the lifespan of bearings and machineries. Thus, production costs, time, and manpower requirement are reduced, and operations become more efficient and reliable.
Collectively, oil & gas and manufacturing industry segments accounted for more than half of the total global industrial lubricants market volume share in 2018.
Bio-based Lubricants Hold Double Digit Growth Potential
Several tons of synthetic lubricants are washed off into water bodies creating negative impact on the environment and causing health-related issues.
Biodegradable sources such as edible oils are used to manufacture bio-based lubricants. Aside from the environmental advantages, bio-based lubricants provide better lubrication, superior viscosity/pressure performance, and lower volatility. Rising fuel economy as well as emission regulations for synthetic lubricants across the world are projected to bolster bio-based lubricants demand.
Industrial Lubricants Market – Competitive Landscape
The global industrial lubricants market is fairly consolidated with the top companies holding two-thirds of the total market share. The remaining share is acquired by medium-sized as well as small-sized players, who exhibit tough competition among themselves.
On the supplier front, synthetic penetration is rising among mid-tier suppliers as well as retailers. These players are striving to market their own brands of synthetics in competition to those from the primary established market players.
Manufacturers are inclining towards bio-based lubricants with growing regulations on the governmental front. For example, key players in Europe are increasing the manufacturing of bio-based lubricants to comply with the REACH regulations.
Key players in the industrial lubricants market are focusing on innovative product developments and expanding their technical marketing and brand building budgets. Prominent players covered in the industrial lubricants market report include FUCHS PETROLUB SE, Royal Dutch Shell PLC, BP PLC, etc.
Analyst's Viewpoint
After an extensive study of the global industrial lubricants market, our analyst has concluded that the market is a fairly consolidated one. Leading companies/manufacturers hold prominent i.e., two-thirds share of the overall global market.
The market is expected to remain consolidated over the forecast period. Emergence of bio-based lubricants, due to growing environmental concerns as well as stringent governmental regulations, is expected to generate more demand for bio-based industrial lubricants.
Key Segments of Industrial Lubricants Market
PMR's study on the industrial lubricants market is divided into four significant segments- lubricant type, end-use industry, source, and region. This report offers comprehensive data and information about the important market dynamics and growth parameters related to these categories.
Attribute
Details

Lubricant Type

Process oils
General Industrial oils
Metal Working Fluids
Industry engine oils
Others

End-Use Industry

Energy Generation
Oil & Gas
Manufacturing
Railway & Marine
Heavy Engineering Equipment

Source

Region

North America
Latin America
Europe
Asia Pacific
Middle East & Africa