Ice Cream Mixes Market Outlook (2022-2032)
During the forecast period of 2022-2032, the global ice cream mixes market is anticipated to progress at CAGR of 2.3%. The market is currently valued at US$ 6.49 Bn, and is expected to reach US$ 8.13 Bn by 2032.
| Attribute | Key Insights |
| --- | --- |
| Ice Cream Mixes Market Size (2022E) | US$ 6.49 Bn |
| Projected Sales of Ice Cream Mixes (2032F) | US$ 8.13 Bn |
| Value CAGR (2022-2032) | 2.3% |
| Value Share of Top 5 Countries (2021A) | 55.14% |
Worldwide consumption of ice cream mixes held around 15% to 20% value share of the global food ingredients market in 2021.
Demand Analysis of Ice Cream Mixes (2017-2021) Vs Market Estimations (2022-2032)
During the historical period (2017-2021), demand for ice cream mixes registered a compounded annual value-based growth rate (CAGR) of 1.5%. Ice cream mixes are popular as they offer various flavors, tastes, textures, and other sensorial perceptions, which makes then a vital component for the manufacturing of ice cream.
Ice cream mixes are used for manufacturing various types of ice creams, such as those from soft-serve ice cream mixes and hard serve ice cream mixes. Rise in the consumption of ice cream mixes in various flavor and varieties has made producers utilize advanced ice cream mixes and state-of-the-art manufacturing techniques to deliver high-quality ice cream.
Moreover, offering authentic flavor, color, texture, and taste in ice creams are among some of the main strategies adopted by manufacturers of ice cream mixes.
Factors such as busy lifestyle and changes in dietary patterns have resulted in a rise in the consumption of fast foods, which offers a huge opportunity for ice cream mix manufacturers. Prominent market players are expected to continue expanding their production capacity and enhance their capabilities and capacities with the incorporation of modern technologies.
The ice cream mixes market is expected to experience significant growth and is projected to register a CAGR of 2.3% over the forecast period of 2022-2032.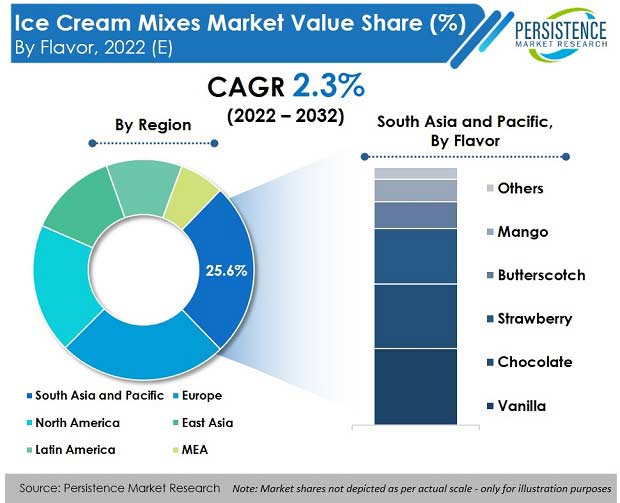 How is Demand Growth of Ice Cream Mixes Being Driven?
"Ethnic Flavor Delivered by Ice Cream Mixes Driving Usage"
Demand for ice cream mix products does not indicate slowing down across the globe as more consumers pick ice cream ingredients that provide texture and ethnic flavor to their desert.
For instance, consumers are more inclined toward Mexican-based flavors, with offerings such as mango chili, churro dulce de leche, and mango salsa all popping up on foodservice ice cream menus.
Additionally, ice cream flavor inspired by South Asian beverages are prominent in the foodservice sector, such as Jeni's Mango Lassi Frozen Yogurt, which is located in Ohio, and Ample Hills Creamery's chai-flavored ice cream.
Matcha and Thai tea ice cream flavor have emerged in Coolhaus ice creams from California, and Noona's Toasted Rice ice cream from New York was inspired by noo-roong, a classic Korean delicacy formed from the caramelized coating of crunchy rice that forms at the bottom of a pan of cooked rice.
"Millennial Population Accounting for High Ice Cream Mix Consumption"
Demand for ice cream mix ingredients is constantly growing across the world as consumers are inclining toward easy-to-process food and dessert ingredients. Increasing consumption of easy-to-prepare food is surging due to lifestyle changes; additionally, ice cream was considered an occasional treat for families, but now holds appeal for adults as a dessert and is considered as a snack.
The millennial population has been a major influence on the rising demand for fast & baked food products. They seem to bring in new and exciting food trends that affect different classes of food ingredients over time. For instance, utilization of clean-label ingredients in the preparation of food products has become popular and is influencing their purchase decisions.
Ice cream mix suppliers will gain rising profits through increasing consumption by the millennial population.
"Health Halo Effect Possessed by Ice Cream Ingredients to Fuel Market Growth"
Prominent manufacturers have been using floral and botanical flavors in their ice cream mixtures regularly. Lavender, violet, and lilac flavors are popping up on commercial ice cream menus around the world, offering a mild flavor and a range of hues from light to brilliant purple, which are visually appealing.
Inspired-by-nature and health halo ingredients and flavors are being incorporated into the product portfolios of manufacturers and foodservice operators.
For example, Hay Rosie Craft Ice Cream Company, in New York, has a Sage Chocolate Chip flavor, and Boston's Loud Creamery has a blueberry-ginger-sage sorbet.
"Clean Label Product Trend Accelerating Sales of Ice Cream Mixtures"
Consumers are becoming more health-conscious, which has resulted in an increase in the consumption of food ingredients and foods with potential health advantages. Nowadays, consumers are more aware and careful about their diets, resulting in increased expenditure on a holistic approach to wellness and health, which encompasses nearly all aspects of life.
Furthermore, customers are becoming more interested in physical activities that promote well-being, including as eating natural, label-friendly, and organic foods. Thus, the market for clean label ice cream mixes is growing rapidly across the world due to increasing health and wellness consciousness among consumers.
The clean label ice cream mixes market is predicted to rise strongly as a result of the growing number of highly affluent consumers who are interested in the trend of healthy food and want to avoid artificial additives.
How is Growth of the Ice Cream Mixes Market Being Negatively Affected?
"Scarcity of Raw Materials for Production of Ice Cream Mixtures"
The production of ice cream mixes depends on various raw materials extracted from plants and animal-based sources. Due to climatic conditions, many plant-based raw materials cannot be produced across the world.
For example, in coconut-based ice cream mixes, the raw material used is coconut. Due to unfavorable climate it is not produce globally; the fruit is either exported from Latin America or from Asia Pacific countries where coconuts are available in abundance.
Brazil was the top coconut producing country till 2010; now three Asian countries the Philippines, Indonesia, and India are major producing countries. Almost 90% of the global supply comes from Asia. The Philippines exports more than US$ 1 billion worth of coconuts to the U.S. alone. However, there is still a lag of 8% in its demand, making the product costly.
Country-wise insights
What Ice Cream Mixes Markets are Leading the European Region?
Russia, Poland, and Spain are markets leading the European region and are expected to expand at CAGRs of 5.2%, 3.3%, and 2.9%, respectively, during the forecast period (2022-2032).
Demand for ice cream mixes is high in the European market due to growth of traditional trade and modern trade, which is likely to have a positive impact on the growth of the ice cream mixes market over the years to come.
Which Country is Showing Promising Growth in the North America Ice Cream Mixes Market?
In the North American market, Canada is showing promising growth for the forecast period and is expected to register a CAGR of 1.8%. Rising demand for ice cream mixes is due to the presence of various ice cream mix flavors in the country.
Market share of Canada in the North American market is around 33.1%, which is currently valued at US$ 408.7 Mn in 2022.
Category-wise insights
Which Ice Cream Mixture Type Hold Largest Volume Share?
Based on type, ice cream mixes are segmented into soft serve/gelato base ice cream mixes and hard pack ice cream mixes, among which, the soft serve/gelato ice cream mix base type is mostly utilized across the world.
Market volume share of soft serve/gelato base ice cream mixes is 72.8%, which is projected to be valued at 1,907,939 MT by the end of the forecast period, in the global market.
Which Ice Cream Mix Flavors are Most Popular Among Consumers?
Based on flavor, ice cream mixes are segmented into vanilla ice cream mixes, strawberry ice cream mixes, chocolate ice cream mixes, mango ice cream mixes, butterscotch ice cream mixes, and others.
Among all, vanilla ice cream mixes hold a major volume share in the global market, which is more than 29.6% in 2022. The segment is expected to account for 686,008 MT in 2022.
Competitive Dashboard
Key manufacturers of ice cream mixes are involved in catering to tailored solutions according to customer requirements, which helps users enhance the creativity, texture, and cost-effectiveness of their ice cream products. Moreover, prominent ice cream mixture manufacturing companies are collaborating and acquiring other competitive companies to reduce competition and increase their global presence.
In March 2021, AAK AB collaborated with Big Idea Ventures to support the growth of ingredient solutions for alternative dairy and meat products.
In March 2021, AGRANA Beteiligungs-AG successfully acquired Japan-based Taiyo Kagaku's fruit preparations business. The company started the production of fruit preparations with a volume of over 60,000 metric tons annually.
In April 2019, Dohler Group successfully acquired Zucasa, a Spanish sweet fruit processor. The Zucasa portfolio, including blended solutions, will be incorporated into the company's product offering.
In July 2021, Orkla Food Ingredients successfully acquired Hans Kaspar, a Swiss ice cream ingredients supplier.
Ice Cream Mixes Industry Report Scope
Attribute
Details

Forecast period

2022-2032

Historical data available for

2017-2021

Market analysis

USD Million for Value

Key regions covered

North America
Latin America
Europe
South Asia and Pacific
East Asia
The Middle East & Africa (MEA)

Key countries covered

U.S.
Canada
Mexico
Brazil
Germany
U.K.
France
Italy
Spain
Russia
Poland
China
Japan
South Korea
India
ASEAN
Australia
New Zealand
South Africa

Key market segments covered

Type
Flavor
Distribution Channel
Region

Key companies profiled

AAK AB
Classic Mix Partners
Dairy-Mix, Inc.
Scott Brothers Dairy Inc.
Bondi Ice Cream Co.
Meadowvale
SiccaDania
Foot Hills Creamery
SmithFoods Inc.
AssieBlends
Triple Scoop Ice Cream
PRIVATMOLKEREI NAARMANN GMBH
Rasa Royal
The Coconut company
SAPUTO FOODSERVICE
Anderson Erickson Dairy
Radiant International
Skyline Food Products LLP
Amrut International
Meadowvale
The Ice Cream Club
Others

Report coverage

Market Forecast
Company Share Analysis
Competition Intelligence
DROT Analysis
Market Dynamics and Challenges
Sstrategic Growth Initiatives

Customization & pricing

Available upon request
Ice Cream Mixes Industry Research by Category
Ice Cream Mixes Market by Type:
Soft Serve/Gelato Base Ice Cream Mixes
Hard Pack Ice Cream Mixes
Ice Cream Mixes Market by Flavor:
Vanilla Ice Cream Mixes
Strawberry Ice Cream Mixes
Chocolate Ice Cream Mixes
Mango Ice Cream Mixes
Butterscotch Ice Cream Mixes
Others
Ice Cream Mixes Market by Distribution Channel:
Traditional Trade
Modern Trade
Industrial
Ice Cream Mixes Market by Region:
North America Ice Cream Mixes Market
Latin America Ice Cream Mixes Market
Europe Ice Cream Mixes Market
South Asia and Pacific Ice Cream Mixes Market
East Asia Ice Cream Mixes Market
Middle East and Africa (MEA) Ice Cream Mixes Market