High Maltose Syrups Market Outlook (2022-2032)
The global high maltose syrups market is currently valued at around US$ 1.22 Bn, and is anticipated to progress at a steady CAGR of 4.4% to reach a size of US$ 1.88 Bn by the end of 2032.
| Attribute | Key Insights |
| --- | --- |
| High Maltose Syrups Market Size (2022E) | US$ 1.22 Bn |
| Projected Sales of High Maltose Syrups (2032F) | US$ 1.88 Bn |
| Value CAGR (2022-2032) | 4.4% |
| Value Share of Top 5 Countries (2021A) | 52.8% |
In the global market for high maltose syrups, South Asia & Pacific hold dominance and this regional market is projected to be valued at US$ 578.9 Mn by the end of 2032. High maltose syrup consumption across the world accounts for around 5% to 6% value share of the global starch sweeteners market.
High Maltose Syrup Demand Analysis (2017-2021) Vs Market Estimation (2022-2032)
Over the 2017-2021 historical period, the global high maltose syrups market registered a CAGR of 3.3%.
High maltose syrups are becoming increasingly popular owing to growing emphasis on health and wellbeing, as well as a positive perception of natural sweeteners.
High maltose syrups, being naturally produced, are allergen-free, which is favored by consumers. They offer less sweetness compared to table sugar, and do not contain fructose, which makes them a good substitute for high-fructose corn syrup.
High maltose syrup usage is mainly seen in the food and beverage industry. It is also used in various other sectors such as pharmaceuticals and nutraceuticals.
Over the forecast period (2022-2032), the global market for high maltose syrups is expected to register a market value CAGR of 4.4%.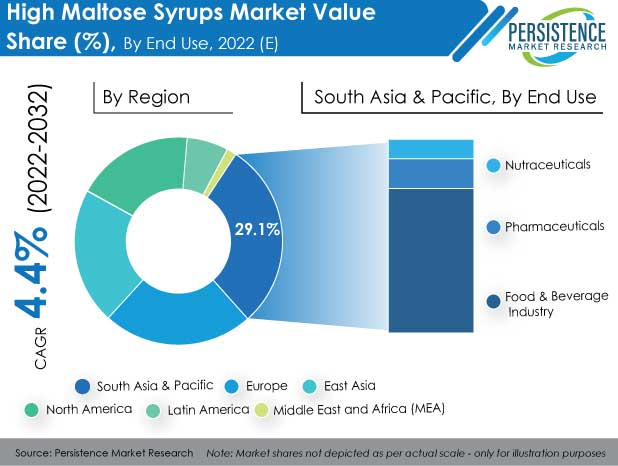 How is High Maltose Syrups Market Growth Being Aided?
"Rising Demand for Plant-derived Sweeteners Driving Sales of High Maltose Syrups"
Rising demand for plant-derived sweeteners with natural ingredients is a key area for manufacturers to sustain themselves in the moderately consolidated high maltose syrups market. Furthermore, use of high maltose syrups and packaged foods is expected to penetrate both, developed as well as developing markets.
Companies are developing low-calorie food products in order to sustain themselves in a market that is being influenced by changing demographics on a global scale. Demand for natural and low-caloric food additives is high among consumers, which will drive the market for such types of sweeteners.
Maltose is found in fruits, vegetables, and starch grains. It is used as a low-cost sugar in various end-use industries in the high maltose syrup form.
"Increasing High Maltose Syrup Usage in Sugar-free Bakery & Confectionery Products"
With changing lifestyles and increasing prevalence of lifestyle diseases, consumers across the globe are becoming more concerned about their diets. With a majority of consumers preferring the consumption of healthy food for keeping themselves fit, demand for low-calorie and low-sugar food products is expected to increase dramatically over the coming years.
To meet growing consumer requirements for low-calorie food products, manufacturers are introducing sugar-free product ranges in bakery, confectionery, chewing gum, dairy products, and sweet spreads.
Leveraging the increasing popularity of sugar-free bakery and confectionery products among the ever-growing health-conscious consumer base, food manufacturers are using high maltose syrup as a sugar substitute on a larger scale.
"Cosmetics & Hair Care Products Provide Lucrative Opportunity for High Maltose Syrup Suppliers"
High maltose syrup is rarely obtained for cosmetics via the breakdown of various natural starches such as corn, potatoes, and wheat. High maltose syrup can be used in the formulation of eye makeup, bath products, cleansing products, skincare products, makeup, and hair products.
Maltose syrup is used in lip products to create a thick, luscious texture. The sugar content in the syrup acts as a humectant that holds moisture on the lips for lasting softness.
Ingredion offers Famral HM 1461-high maltose syrup, which is produced through an enzymatic process. It is used in skin and hair care products since it is easy to remove and gentle on the skin.
"Increasing Utilization of Liquid Sweeteners in Functional Beverages"
Liquid sweeteners are commonly used in beverages because they dissolve easily. The market for liquid sweeteners is benefiting from increased usage of functional beverages due to their health benefits.
Functional beverages have a proper nutritional balance and come in a variety of flavors and tastes. Liquid sweeteners, such as high maltose corn syrup, provide additional benefits to functional beverages because they contain low sugar and high nutrient content.
Substitutes of sugar are generally recognized as healthy alternatives as they contain low calories. Growing trend of health and wellbeing around the world is also driving the liquid sweeteners industry. Consumers are looking for nutritious elements in their food to help them live a healthier lifestyle. This will provide growth opportunities for high maltose syrup suppliers over the years to come.
What's Denting Market Growth of High Maltose Syrups?
"Rising Preference for Natural Sweeteners across the World"
Availability of natural sweeteners and synthetic sweeteners produced using hydrogenation and other processes may restrain the growth of the high maltose syrups market. Companies are attempting to accommodate consumer demand for low-sugar, low-calorie foods & beverages. However, with so many alternative sweeteners in the market today, it is difficult to determine which new components will appeal to today's customers.
Due to the numerous sweeteners available in the market, consumers are confused about which sweetener is a better sugar substitute and also find it difficult to differentiate natural sweeteners from alternative sources.
The perception of consumers toward the consumption of sweeteners in confectionery treats is changing. They are becoming aware of the health consequences, such as heart disease, diabetes, and obesity, due to consumption of sweeteners.
The Centers for Disease Control and Prevention recommends that consumers restrict added sugar to less than 10% of their total daily calories and also try to reduce the consumption of food and sugar drinks (like replacing desserts with fresh fruits).
The American Heart Association also recommends reading the labels of sweeteners for nutritional facts.
Sugar, which is mentioned in the ingredient list of food products, includes both natural and added sugar such as high maltose corn syrup. For instance, a product contains 15 grams of sugar in each serving that is 60 calories just from sugar, which will negatively impact consumers purchase decisions.
Country-wise Insights
Why is Demand for High Maltose Syrups Rising in France?
The market for high maltose syrups is witnessing significant growth in France, in the European region, at a value CAGR of 5.2%.
This is owing to increasing awareness of health benefits such as natural, free from chemicals, and others, and high consumer awareness in the country.
Which Countries are Leading South Asia and Pacific High Maltose Syrups Market Expansion?
India, Indonesia, and Thailand are major countries that are accounting for the highest value share in the South Asia and Pacific region. Market value share of India and Indonesia are 44.39% and 12.44%, respectively.
Increasing disposable income of consumers is a key factor behind the growth of the food & beverage industry across South Asia and Pacific. Demand for processed and packaged food products is expected to increase at a significant growth rate owing to the rapidly increasing and highly urbanized population in developing economies, which will drive consumption of high maltose syrups.
Category-wise insights
How is the Pharmaceutical Industry Offering New Opportunities for High Maltose Syrup Manufacturers?
High maltose syrups are often added to pharmaceutical products as excipients to mask the bitter taste of the drugs and improve their palatability. These syrups are added to various oral drug preparation such as tablets, medicinal powders, capsules, and syrups.
Market value of high maltose syrups in the pharmaceuticals industry is projected to reach US$ 278.9 Mn by the end of the forecast period.
Which High Maltose Syrup Product Enjoy High Popularity?
Based on product type, high maltose syrups are segmented into maltose syrup (<50%), high maltose syrup (50-70%), and ultra-high maltose syrup (>70%) of which, high maltose syrups account for the highest market share of 48.29%.
Demand for high maltose syrups is increasing for use in bakery products, snack bars & cereals, frozen desserts, confectioneries, and others owing to their functional benefits that impart sweetness as well as improve the texture of the finished products.
COVID-19 Impact on Industry
The COVID-19 pandemic had serious ramifications on industries all across the world. The food and beverage industry was one of the most affected industries as a result of supply chain disruption caused by country-to-country movement restrictions.
Concerns were raised about food production, processing, and distribution around the world as a result of the disruption in the food supply chain. The pandemic also caused fluctuations in consumer demand, restrictions in food trade, and financial pressure on sweetener manufacturers.
However, with relaxation of restrictions, the food & beverage industry is expected to expand rapidly. In the midst of the pandemic, consumer demand for the addition of healthy food ingredients is proving favorable for high maltose syrups market growth.
Competitive Landscape
Manufacturers engaged in the production of syrups and are focused on expanding their product portfolios with continued reformulation of existing product lines.
Furthermore, key producers of high maltose syrups are providing tailored solutions to customers with the help of advanced machinery and state-of-art manufacturing techniques.
In 2020, Cargill invested US$ 100 Mn in a sweetener plant in Indonesia to meet the growing demand for animal feed ingredients, corn-based starches, and sweeteners.
In 2017, Samyang Corporation expanded its product portfolio and launched a premium sugar brand - Trusweet.
Nectafresh follows a diversified product line to enhance and strengthen its business in the market.
High Maltose Syrups Industry Report Scope
Attribute
Details

Forecast period

2022-2032

Historical data available for

2017-2021

Market analysis

USD Million for Value

Key regions covered

North America
Latin America
Europe
East Asia
South Asia and Pacific
Middle East & Africa

Key countries covered

U.S.
Canada
Germany
U.K.
France
Italy
Spain
Russia
China
Japan
South Korea
India
Thailand
Malaysia
Indonesia
Australia
New Zealand
GCC Countries
Turkey
Northern Africa
South Africa

Key market segments covered

Product Type
End Use
Source
Region

Key companies profiled

Bansal Starch and Foods Private Limited
Cargill, Incorporated
Guangzhou Shuangqiao Company Ltd.
Gujarat Ambuja Exports Limited
Hangzhou Zixiang Sweet Co. Ltd.
Ingredion
Jaya Glucose Sdn Bhd
Kasyap Sweeteners Ltd.
Meelunie B.V.
Midas Naturals Pvt. Ltd.
Nectafresh
Roquette Frères S.A.
Samyang Corporation
San Soon Seng Food Industries Sdn Bhd
Sanstar Biopolymers Ltd
Sayaji Industries Ltd.
Shafi Gluco Chem (Pvt) Ltd.
Sukhjit Starch & Chemicals Ltd.
Tate & Lyle
Universal Starch Chem Allied Ltd.

Report coverage

Market Forecasts
Company Share Analysis
Competition Intelligence
DROT Analysis
Market Dynamics and Challenges
Strategic Growth Initiatives

Customization & pricing

Available upon request
High Maltose Syrups Industry Research by Category
High Maltose Syrups Market by Product Type:
Maltose Syrup (<50%)
High Maltose Syrup (50-70%)
Ultra-High Maltose Syrup (>70%)
High Maltose Syrups Market by End Use:
Food & Beverage Industry

Bakery & Processed Cereals
Confectionery
Dairy & Frozen Desserts
Beer
Wine
Non-alcoholic Beverages
Other F&B Products

Pharmaceuticals
Nutraceuticals
High Maltose Syrups Market by Source:
Enzymatic Method
Non-enzymatic Method
High Maltose Syrups Market by Region:
North America High Maltose Syrups Market
Latin America High Maltose Syrups Market
Europe High Maltose Syrups Market
South Asia and Pacific High Maltose Syrups Market
East Asia High Maltose Syrups Market
Middle East and Africa High Maltose Syrups Market