Introduction
Floor care machines are widely used in various industry verticals such as electronic point of scale, factory automation and control, grid infrastructure, medical, healthcare & fitness, and space, avionics & defense. Various industry verticals use artificial intelligence-based floor care machines such as scrubbers, vacuum cleaners, floor dryers, etc.
In order to provide a hygienic work environment, industries are moving towards advanced and high-tech cleaning products and solutions. Moreover, working in a clean environment dictates the demand for floor care machines in various industry verticals. Consequently, the growth in the construction and manufacturing industries also increases the need for floor care machines at these sites, thus, acting as a driving factor for the floor care machine market.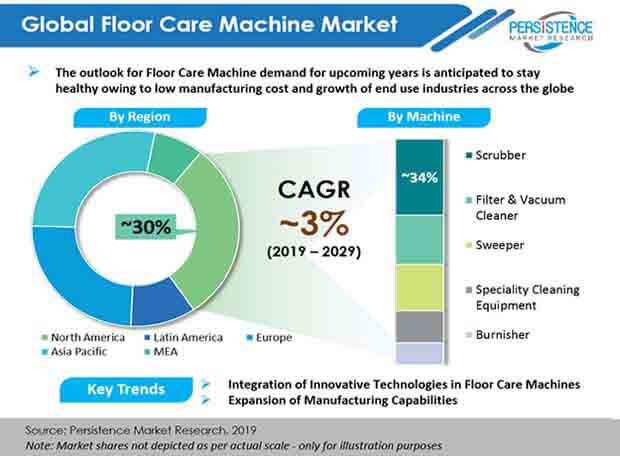 Acquisitions of Smaller Firms by Established Companies
In order to offer high performance and high tech floor care machines with cutting-edge technologies, prominent players in the floor care machine market are focusing on entering into acquisitions and agreements of partnerships with other players in the floor care machine market.
For instance, Nilfisk recently acquired US-based Hydro Tek and Pressure Pro. Moreover, in compliance with dust extraction classes, manufacturers are offering products for the suction of fine and toxic dust. Improvements in current floor care machines are going on. The incorporation of energy-efficient technologies to minimize energy loss is in the development phase.
Low-Cost Manufacturing and Growth of End-Use Industries
The need for a better working environment in industries and keeping manufacturing plants free from pollutants is driving the demand for cleaning machines. The economic growth in India and China also strengthens the end-use industries in Asia Pacific.
With the presence of low-cost manufacturing facilities, the Asia Pacific market attracts other companies from the world to set up manufacturing units here.
India and China are expected to account for more than two-thirds of the world's cement consumption. Consequently, this triggers the growth of the automotive and consumer electronics industries. Floor care machines are being used in nearly every stage of the manufacturing process in automotive and consumer electronic industries.
In parallel, several global companies are preferring to set-up their manufacturing plants in Singapore, China, Thailand, Malaysia, etc., owing to low manufacturing costs.
Expansion of Manufacturing Capabilities and Technological Advancements
Asia Pacific is the preferred center for global companies to set up manufacturing facilities. With the growing demand in this region for cleaning equipment to replace manual ones, floor care machines are picking up pace in end-use industries.
China and India are growing economies, and thus, focus on expanding their production infrastructure to manufacture floor care machines. This is expected to create a positive impact on the floor care machine market.
Latest innovations include alternatives for electric-powered vacuum cleaners, and unmanned floor cleaning machines (robotics and artificial intelligence-based floor care machines). Air-powered and battery-powered floor care machines are being developed with many more abilities.
Rising Demand for Machine-Assisted Cleaning Tools
An increase in the demand for cleaning machines, particularly industrial scrubbers and industrial vacuum cleaners, is driving the floor care machine market. With a projectile shift from manual cleaning to technological cleaning solutions, several are expected to change their approach towards maintaining hygienic conditions.
With the accordance of environmental requirements, GCC countries are expected to adopt high-tech innovations. For example, Bee'ah, a Sharjah-based waste management firm, has installed floor cleaner units.
Similarly, in October 2016, Dubai's Municipality Waste Management has installed sand scraper machines with beach cleaning.
Cairo International Airport, Egypt, is equipped with 57 Käkrcher machines, which include industrial vacuum cleaners and other high pressure machines.
Analysts' Viewpoint
A widespread view of the floor care machine market has led our analysts to conclude that the market is growing at a remarkable rate, with North America and Asia Pacific holding a prominent share of the global floor care machine market. The China floor care machine market is estimated to be an opportunistic market in terms of sales.
Rising number of prominent market players, increasing investments in research and development activities, increased productivity, and constant innovations will positively impact the floor care machine market.
The floor care machine market is characterized by the presence of few key players from North America, Europe, and China. The industrial segment in the floor care machine market is anticipated to dominate the global floor care machine market over the forecast period.
Collaborations along with technological innovations, as well as mergers and acquisitions by major market participants, will also push the floor care machine market growth.
Key Segments of the Floor Care Machine Market
PMR's study on the floor care machine market is divided into three significant segments- product type, application, and region. This report offers comprehensive data and information about the important market dynamics and growth parameters related to these categories.
Product Type

Burnisher
Scrubber
Sweeper
Filter & Vacuum Cleaner
Speciality Cleaning Equipment

Application

Residential
Commercial
Industrial

Manufacturing
Oil & Gas
Pharmaceutical
Others

Region

North America
Latin America
Europe
Asia Pacific
MEA
Key Questions Answered in PMR's Floor Care Machine Market Report
Which region is anticipated to hold a prominent market share over the forecast period?
What will be the key driving factors propelling the demand for floor care machines during the forecast period?
How current trends will impact the floor care machine market?
Who are significant market participants in the floor care machine market?
What are the crucial strategies of prominent players in the floor care machine market to upscale their positions in this landscape?