Introduction
In the chemical industry, many organic and strong acids are used for the manufacturing of products. When these compounds, which are often corrosive in nature, come in contact with concrete (which is alkaline in nature), they cause damage and spilling of the floor, which can lead to contamination, or worse, accidents. Also, stringent regulations regarding the maintenance of workplace hygiene and safety, as well as industrial requirements such as high thermal stability, corrosive resistance, acid resistance, low VOC emission/ VOC absorption, etc., are driving demand for industrial flooring.
The automotive industry primarily involves various medium- as well as heavy-duty operations. Frequent movement of heavy machines and parts, high temperature operations, spillage of oils & lubricants, etc., can constantly damage the floor and can also lead to accidents. In the automotive industry, test tracks and warehouses are an indispensable part of operations, and must be provided with proper flooring. Increasing concerns regarding the safety of staff have led to an increase in demand for anti-slip, anti-static, thermally stable floors, which, in turn, is expected to drive the expansion of the industrial flooring market size over the years to come.
Industrial Flooring Market Trends
Repair and Maintenance Creating Strong Revenue Stream: Industrial floor surfaces undergo periodic wear and tear during processes and operations involved in various end-use industries. This subsequently raises the need for repair and maintenance, and increases the scope of the industrial flooring market. Unique characteristic properties of industrial flooring offer various advantages over traditional flooring, which help shift preference toward industrial flooring. Thus, the industrial flooring market is not only dependent on new industrial construction, but demand from refurbishment, repair, and maintenance of existing facilities is also a key revenue stream for the global industrial flooring market.
Pharmaceutical & Biotechnology Industry: Wide Scope for New Opportunities: Stringent government regulations revolving around manufacturing of products and maintenance of hygiene & safety in pharmaceutical & biotechnology industries have resulted in more attention being given to manufacturing processes as well as workplace environment & facilities. Even minor contamination during product manufacturing may lead to hazardous health issues. In these industries, more emphasis must be given to proper hygiene and providing protective environment for production and R&D activities. Therefore, it is expected that, demand for industrial flooring will increase along with the growth of pharmaceutical and biotechnology industries during the forecast period, providing new opportunities for players in the industrial flooring market.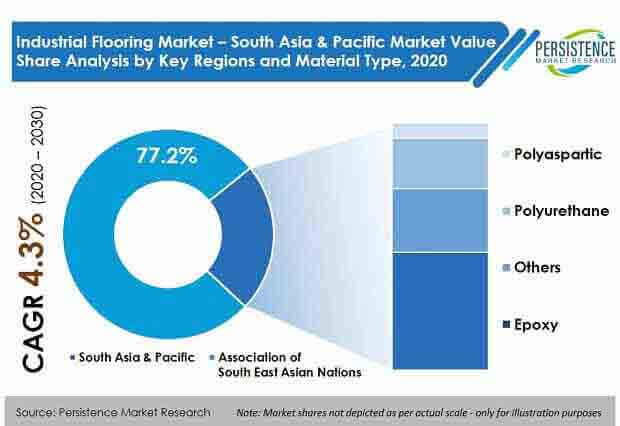 High Initial Costs: Key Market Challenge
In industrial flooring, cost of flooring varies and depends upon the thickness of material used as well as the service provider used. In most cases, the total cost of industrial flooring for end-use industries usually works out to be higher than the cost for traditional flooring. Also, application of industrial flooring and its cost largely depends on the operation section of a particular industry. Thus, high cost of flooring is likely to affect the growth of the industrial flooring market to some extent. Also, competitors are focusing on manufacturing tiles that can withstand heavy-duty operations, the cost of which works out to be even higher. These factors might restrain the growth of the industrial flooring market in some way.
COVID-19 Impact on Industrial Flooring Market
The COVID-19 pandemic has impacted most countries and economies. Most sectors have been adversely affected by this crisis, except the healthcare sector, to some extent. Until the pandemic subsides, demand from end-use industries will be sluggish, adversely affecting the growth of the industrial flooring market in the near term.
Industrial Flooring Market: Structure Analysis
Major international tier-1 players account for around 10%-15% of the industrial flooring market share. The global industrial flooring market is estimated to be highly fragmented in nature, with a large number of local- and regional-level manufacturers providing intense competition to multi-national players. Key participants in the global industrial flooring market are BASF SE, Sika AG, RPM International Inc., Mapei Group, Forsoc International Limited, Don Construction Products Limited, Cipy Polyurethanes Pvt. Ltd., Viacor Polymer GmBH, Twintec, Acrylicon, Cornerstone Flooring, Applied Flooring, and others. To gain a competitive advantage in the market, participants are focusing on new product launches and also merger & acquisition activities.
Analyst's Viewpoint
The global industrial flooring market is estimated to witness steady growth owing to its increasing use in various industrial set-ups. Europe is anticipated to account for around one-third of the global industrial flooring market share in 2020. However, this share is expected to decrease over the forecast period. Most of the new growth will come from developing regions of Asia Pacific. The epoxy segment is estimated to hold more than two-third of the market share, and projected to dominate the industrial flooring market over the forecast period. The COVID-19 pandemic has negatively impacted almost all industrial applications of industrial flooring, expect the healthcare sector to some extent. The industrial flooring market, in general, is poised to witness steady growth over the ten-year forecast period.