Introduction
Cutting tool inserts, as have a limited life span of mere 15 minutes, a majority of the revenues in the cutting tool inserts market is generated through replacement. Constant need for replacement via new units is expected to create an incremental growth for cutting tool inserts market in the near future. With high replacement rates and never ending demand, the scenario calls for great opportunities for the cutting tool inserts market.
Moreover, reduced aftermarket costs continue to prompt end users to use cutting tool inserts at a higher rate. Established sales and distribution networks across different geographical regions will remain pivotal in shaping the market for cutting tool inserts. Leading manufacturers remain focused on providing sound after sales services, which is another strong factor driving the growth of cutting tool inserts market
Proliferation of Metal Cutting Industries in Asian Markets Pushing the Growth of Cutting Tool Inserts Market in APAC
Developing regional markets, such as APAC and Europe, are projected to witness a steady growth in the cutting tool market spurred by rapid economic development. These regions are estimated to hold a prominent share in the cutting tool inserts market over the forecast period. Moreover, the North American region has substantially gained noteworthy market share of ~20% in 2018.
Increase in the demand for advanced technologies in the field of aerospace has given wings to the cutting tool inserts market. With rising competition in the field of aerospace and marine, the requirement of jet engines, turbines motor, transmission parts and other vital components of aircraft or submarine has significantly increased the need for machining these components thereby increasing the scope for cutting tool inserts market.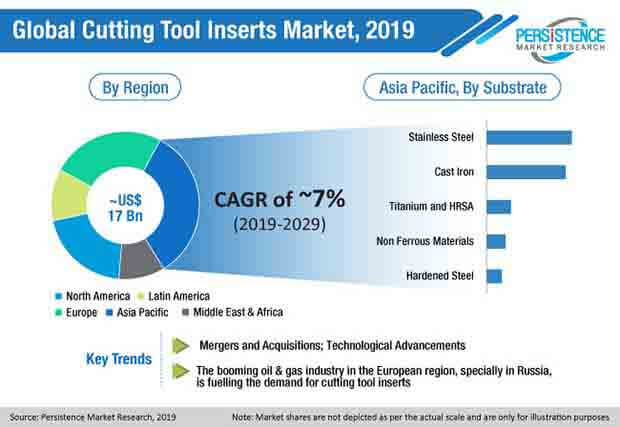 With the rise in the operations of metal cutting industry in the growing economies of APAC region, the scope for better sales of cutting tool inserts has increased. Metal cutting industries contribute to various end use sectors such as automotive, construction, railway etc.
The development of new manufacturing centers, in Asia Pacific is one of the prominent drivers of the market. The rising demand in the region is led by a healthy increase in manufacturing and industrial output in countries such as China & India. China, particularly, is expected to showcase a strong market growth owing to the country's growing investments in cutting tools and its swift expansion of manufacturing base.
Furthermore, in developing regions such as Bangladesh and Philippines, the infrastructure growth scenario, regulations and policies, and the steps taken to promote businesses, particularly in the manufacturing sector, is likely to have a favorable effect on the cutting tool inserts market proposing huge investment opportunities in the near future.
Thriving Automotive Industry Significantly Contributing to Market Growth
The automotive industry is rapidly expanding along with substantial growth in infrastructure-related industries including railways, energy, and road construction in countries such as India, Indonesia, Thailand, and Vietnam. The cutting tool inserts global market's application segment consists of Threading as the dominant player in this sector. The other applications are milling & shearing, parting & grooving and drilling & boring.
The third most preferred application segment is parting & grooving which is expected to go hand in hand with drilling and boring application segment. This is estimated to fuel the market growth owing to its various applications in the manufacture of engines, gears, transmission components, bearings, brake rotors, and other components. Based on these factors, it is estimated that the market for cutting tool inserts is likely to grow at a remarkable pace in developing countries. As a result, the companies are opening new centers to strengthen its customer support base in the market which is anticipated to show continued high growth.
Shortage of Skilled Labor Continues to Pose a Threat to Market Growth
The Asia Pacific market is emerging as a center for services and industrial production, thus providing a robust network for industrial exports globally, especially in electrical and technological goods. As a result, Asia Pacific has now become an attractive market for foreign investments, as most of the firms seek to benefit from available technical skills and comparatively low labor costs.
Yet, there is an increasing shortage of skilled labor due to the economic transition to services and economies which are highly industrialized. This may curb the economic growth owing to deterring foreign investments and reduced labor productivity. However, the impact will remain low as investments in education sector will offset the skilled labor shortage.
Increasing Influence of Regional Players
The global market for cutting tool inserts is evenly balanced between the large players, who hold 55%-55% share in the overall market with global presence through local distributors. The global market for Cutting Tool Inserts is dominated by the large players such as Sandvik AB and Kennametal Inc. in the overall market, capable of reaching out directly to customers through different sales channels managed by local distributors.
These companies are strategically focusing on creating flexible structure by reorganizing workforce and increasing sales through distribution sales channels to increase profitability.
Moreover, growth in the aftermarket business by the global roll-out of customer service centers, improved customer offerings, such as new e-solutions, and increased productivity through data-driven predictive maintenance will also remain key focus areas for the companies. The emerging players are focusing on launching new products and expansion of production capacities in order to enter into the market.
The Analyst's Viewpoint
A widespread view of the cutting tool inserts market has led analysts to conclude that the market is growing at an impressive rate with APAC and Europe holding a large share of the global cutting tool inserts market. The APAC cutting tool inserts market is expected to be an opportunistic market in terms of sales.
Increasing demand from the end use industries such as automotive and medical among others is expected to positively impact the cutting tool inserts market .The cutting tool inserts market is characterized by the presence of few big players from Europe and the Asia Pacific region. The carbide sector is expected to dominate the global cutting tool inserts market throughout the forecast period.
The carbide type of cutting tool inserts, especially Tungsten carbide inserts are used extensively across the APAC region accounting to more than 60% of the total market. The carbide type of cutting tool inserts are expected to cross 173 '000 Units by the end of 2029. Increasing demand from end-use industries such as transportation and construction has yielded to increase in the demand for stainless steel and cast iron machining which is performed using carbide type of tool inserts.
Technological innovations by key market participants will also give impetus to the cutting tool inserts market. The scope of increasing applications related to the use of cutting tool inserts is estimated to bolster the growth of the market during the forecast period.
Key Segments of the Cutting Tool Inserts Market
PMR's study on the cutting tool inserts market is divided into three significant segments, such as delivery form, application and region. This report offers comprehensive data and information about the important market dynamics and growth parameters related to these categories.
Material

Bulk Containers
Diamond/DLC
Carbides
CBN (Cubic Boron Nitride)
Ceramics

Substrate

Cast Iron
Stainless Steel
Hardened Steel
Non Ferrous Materials
Titanium & HRSA

Application

Threading
Milling & Shearing
Parting & Grooving
Drilling & Boring

End Use Industry

Transportation
Woodworking
Medical
Die & Mould

Region

North America
Latin America
Europe
APAC
MEA
Key Questions Answered in PMR's Cutting Tool Inserts Market Report
Which regions will continue to remain the most profitable regional markets for cutting tool inserts market players?
Which factors will induce a change in the demand for cutting tool inserts during the assessment period?
How will changing trends impact the cutting tool inserts market?
How can market players capture the low-hanging opportunities in the cutting tool inserts market in developed regions?
Which companies are leading the cutting tool inserts market?
What are the winning strategies of stakeholders in the cutting tool inserts market to upscale their position in this landscape?